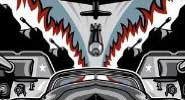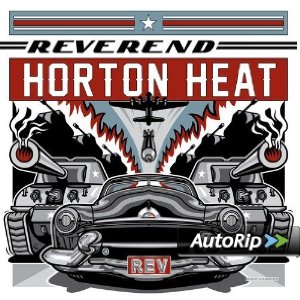 Jim Heath, the fleet-fingered and irrepressible godfather of psychobilly, is back, leading his trio, Reverend Horton Heat, through their first new long-player since 2009. And while some are hailing it as a return to form, truth is Rev serves up generous helpings of hot rockabilly, surf, and country licks that accompany references to internal combustion, hard women, the show-biz grind, and red, red meat – all standard fare that Horton Heat fans have come to love, lo these 23 years since the band's debut.
Rev kicks off with the aptly titled instrumental "Victory Lap," which segues sans break into "Smell Of Gasoline," à la the "Big Sky"/"Baddest Of The Bad" diptych from 1994's Liquor in the Front, a longtime opener in the trio's live set. Throughout, Heath's fluid guitar work seems effortless, abetted by his old compadre Jimbo Wallace on doghouse bass and stickman Scott his first RHH platter since '05.
But one of Reverend Horton Heat's strongest suits has always been Heath's humor, and once again he does not disappoint. "Let Me Teach You How To Eat," rivals 1996's "Big Red Rocket Of Love" for its innuendo, while "My Hat" (as in "is getting handed to me") is a priceless paean to the problems of Everyman.
Three things in life are constant: death, taxes, and Reverend Horton Heat. Rev proves you can count on all three, though you won't be blamed if you look forward to just one.
This article originally appeared in VG's May '14 issue. All copyrights are by the author and Vintage Guitar magazine. Unauthorized replication or use is strictly prohibited.