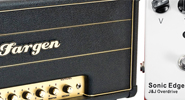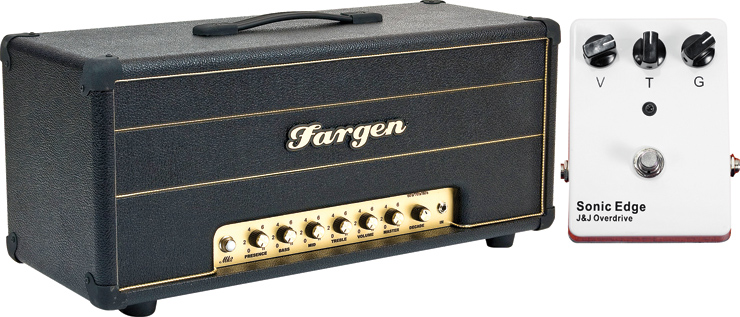 The Fargen Olde 800 MKII
Price: $1,949
Info: www.fargenamps.com.
For 10 years, Ben Fargen has established a reputation for building amps based on British and American designs, and for offering aftermarket mods to expand/enhance other builders' designs.
Fargen's new nod to the British stacks of yore is the Olde 800 Mk2. A 25-watt head fueled by two EL34 power tubes, the amp has diode rectification and a preamp with three 12AX7s. Via its three-position Decade switch, the amp aims to mimic the tones of stacks from the '60s, '70s, and '80s. The front panel also has dials for Drive, Master, Treble, Mid, Bass, and Presence. Mercury Magnetics transformers and SoZo Mustard Vintage Capacitors help dress the circuit.
To give the Olde 800 a run, we grabbed a Fender Strat and a Gibson ES-335, along with a Celestion-equipped 4×12 cab and a vintage Fender 2×12.
Our curiosity piqued, we set the Volume and Master low and the tone controls straight up. As we hoped, with the Decade switch set to "'60s," the amp behaved like a plexi-panel Marshall, exhibiting full bass and plenty of mids, as well as the characteristic brightness you expect in amps from that era; it went from warm and mostly clean to crunchier Hendrix and Clapton tones with a few simple tweaks of the tone, Volume, and Master Volume controls. Turning the Decade switch to the "'70s" setting tightened low-end response, lessened brightness, and gave a bit more headroom. Here, the 335's neck pickup rendered a nice Dickey-Betts-style clean with a bit of hair – turn up the Decade control for dirty, feedback-enhanced sustain (a little "Ramblin' Man," anyone?).
Turning the Decade switch to "'80s" produced much more gain; hard rock and metal tones became more prevalent, with a nice percussive pick attack that beautifully accentuated palm-muting techniques. In fact, we marveled at the variation of tones we could get from this, a non-modeling amp.
Build quality on the Olde 800 Mk2 is high, and the tone controls very responsive, with usable ranges throughout. At 25 watts and 35 pounds, this is a fine gigging amp for club musicians wanting classic British-stack tone without tone-robbing attenuation. It should also appeal to the Marshall lover who wants the characteristic sounds of those decades without having to haul around three heads. It scores high marks for construction, components and – most importantly – tone.
Earlier this year, Fargen began building effects pedals, and his first entry is the Sonic Edge J&J Overdrive, a JFET-based pedal with carbon-comp resistors and metal-film caps throughout its signal path. The pedal can be powered by a battery or a center-pin-negative 9-volt DC power supply, and has true-bypass switching. Its controls include Volume, Tone, and Gain.
Plugged into the Olde 800 Mk2, we twiddled with the Gain control and found a nice variation in "dirt," from mild to medium. The Tone knob is very usable; it will not give ice-pick highs or the warm, muffled sound most pedals' Tone controls produce. But, all positions are fat and pleasing. The Volume can render plenty of level to hit the front of an amp, even at the lowest gain settings. And no matter the settings, the J&J Overdrive gives a healthy midrange and bass boost.
Using a vintage Fender Bassman (head and 2×12 cab), the box lent the amp a convincing thump. And with the Fargen Olde Mk2, our favorite setting (Gain up about halfway, Tone at 3 o'clock, and the Volume just slightly punching up the overall level), the pedal gave a great lead boost.
In our tests, the J&J Overdrive worked best as a tone-fattening boost – perhaps just what you need to go from a ringing clean tone to a thumping midrange, for a big solo or cutting through a mix.
---
This article originally appeared in VG January 2013 issue. All copyrights are by the author and Vintage Guitar magazine. Unauthorized replication or use is strictly prohibited.
---