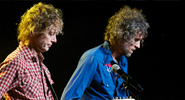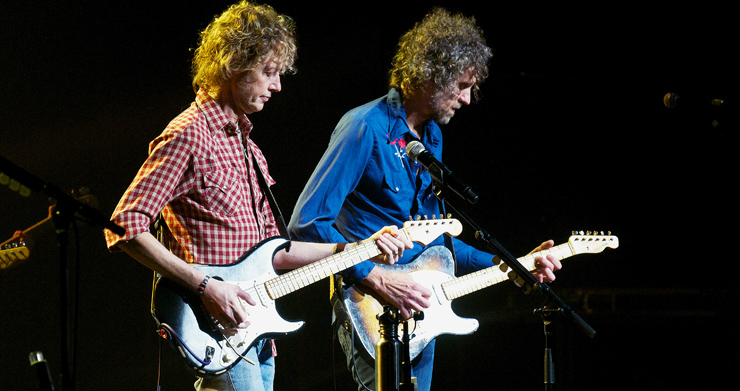 Many a noteworthy rock and roll band from the Cotton Belt has been propelled by guitar-playin' good ol' boys with names that ring through music lore in (sometimes) poetic-sounding tandems – Allman and Betts, Collins and Rossington, Caldwell and McCorkle, Petty and Campbell, Hlubeck and Roland (or Holland!), Medlocke and Hargrett, Van Zant and Carlisi, Hood and Cooley, Richards and Baird, Haynes and Trucks…. the list, as they say, goes on.
And sometime down the road, the names Stroud and Freed might similarly roll off the tongues of those who appreciate the sound, feel, and soul-cleansing effect two fine guitarists create when their minds meld and phalanges flail!
Both natives of North Carolina, the musical paths of Peter Stroud and Audley Freed have crossed for more than two decades, but only recently have their personal and professional schedules allowed them to push forward their long-held hope to work together. The result, a six-piece band called Big Hat, just released a four-song EP that does its part to further the cause of rock the way it's meant to be played.
Independently, Freed and Stroud have enjoyed careers with plenty of artistic high points. The former was the first to get a taste of rock stardom, when in the late '80s he co-founded Cry of Love, a rock band whose 1992 debut album, Brother, spawned a #1 hit ("Peace Pipe") on Billboard's Mainstream chart and put the group square in the middle of the scene – and on some of the world's biggest stages despite the fact it swam against a decidedly grungy tide.
Stroud's first brush with the big-time happened in a later incarnation of the highly regarded alt-rock band Dreams So Real, which led to working with Pete Droge in the mid '90s, and in turn to his highest-profile gig, backing Sheryl Crow starting in '98. While Crow took time away from touring in 2000, Stroud hit the road with Don Henley, and on the 2010 Lillith Fair tour he was asked to help back singer Sarah McLachlan. After playing both sets for the first five shows, he became part of McLachlan's touring band. Last year, he re-joined Crow as bandleader. And, he's co-founder of 65amps, a successful – and decade-old – boutique-amp maker.
We recently spoke with both men about their musical ventures, including Big Hat, which is fronted by vocalist/guitarist Keith Gattis and includes bassist (and Freed bandmate in Cry of Love) Robert Kearns, drummer Fred Eltringham, and organist Ike Stubblefield. All of them, by the way, now serve as Crow's backing unit, where they're joined by Josh Grange on pedal steel and Jen Gunderman on keyboards.
We started with Stroud…
You've been a busy guy in the nearly 10 years since we last spoke.
Yeah! I've been in Sheryl's band for 14 years now, and I'm very proud of that. A few years ago, she changed it up for a tour, which ultimately proved a good re-set for us all, and now I find I'm approaching her songs with a fresh perspective.
Touring with Sarah McLachlan was a completely different and wonderful experience – new family, new atmosphere, new set of rules. Same goes for a stint I did with Richie Sambora last fall, which was a complete blast.
It's really great to be back with Sheryl, especially with this new band. Her new album is due out in the fall, so we'll be busy for a while. It's an excellent record.
How long have you known Audley?
I first heard of Audley when he had Cry Of Love. They recorded at Southern Tracks, in Atlanta – which was an incredibly cool studio that, unfortunately, no longer exists; tons of vintage mics and outboard gear, and a fabulous-sounding room – around the time I was there with Pete Droge. The engineer, Ryan Williams, was raving about them. Years later, we met when he was playing with The Black Crowes. We'd occasionally run into each other on the road, and quickly became friends. We didn't get a chance to play together until years later, when we were both doing some recording in Nashville. There was a jam one night at Douglas Corner with Audley, Robert, and Fred, and it was soon after that I started thinking it would be great for us to put together a band. There seemed to be a connection with Audley right from the start. And once we cranked up Big Hat, it was automatic. It's the same, playing with Sheryl.
How did Big Hat come together?
The idea was to team with various singer/songwriter friends to write and record a batch of songs, thinking the setting would be a different slant from what you'd normally hear with these artists. Keith is the real deal on the Austin and Nashville scene, and lately a successful songwriter for folks like Kenney Chesney, Willie Nelson, and Randy Travis. We'll always consider it "a band" with Keith, ultimately. We're wanting to hook up with Pete Droge next, and our plan is to release EPs of four to six songs with whomever we team up with. We have another five or six songs underway with Keith, as well.
Last year, you brought everyone in Big Hat aboard for the new Sheryl band…
Yeah. Things had wound down with Sheryl's last tour and everyone in that group – which was a really cool band assembled by Doyle Bramhall, II – had moved on to different things. So, Sheryl wanted to pull together our previous guys, but I was the only one available – the rest were out with Noel Gallagher – and there was a discussion with Sheryl's manager over how we could play a handful of shows that were already booked. I off-handedly mentioned "my band"; the next week, we rehearsed for a couple days and it felt really great. They kept booking shows, and by the end of last summer she'd made it "the band." There was a bit of schedule juggling for a few of the guys, and Robert ultimately had to quit Lynyrd Skynyrd, which was a really tough decision, I'm sure. Fred and Josh had been touring with KD Lang – serious schedule juggling there, since KD was on tour at the time. Fortunately, it all worked out and we have a seriously killer band.
In terms of musical style, did you envision a particular direction for Big Hat?
None at all. I just wanted to see what would naturally happen with this bunch of stellar players coming from, in some ways, radically different musical places – Keith being from his country world, Ike on the other end with his deep jazz and R&B roots. The rest of us fall somewhere in the middle! Ike is one of the last real-deal Jimmy-Smith-style B-3 players out there. He'll take your breath away. Plays the pedals, too.
Who wrote the songs on the EP? 
Audley, Keith, and I wrote the three originals. Audley and Keith primarily wrote "Feather In the Breeze" and I had brought in the general ideas for "Delilah" and "The Light."
Talk about the vibe of "Delilah."
That was the first thing we recorded, and I think I was probably referencing Little Feat. We had not played that song once as a band until we stepped into the studio. When Keith recorded his vocal, it was the first I had heard his fully realized melody and lyrics, and I was blown away.
"The Light" is a very vibey ballad, with the B-3 and big chords going into the chorus. 
That song fell together beautifully. It was the third one we tackled on the first day, and we were pretty high after the first two. It was late evening, so we dimmed the lights and played through it a few times. That's Audley playing the phasered electric-guitar – one of those old Maestro units with three big switches. I played dobro and overdubbed the 12-string on the choruses. Ike's B-3 is so beautiful on that track.
There's a cover of Pearl Jam's "Supersonic." How did that come about?
I loved that song the first time I heard it, and thought it would be cool to cover. I've always appreciated how, in the late '60s/early '70s, everyone was covering each other's songs; no sooner would someone like Dylan write a song before Hendrix would put out his own version. Or "Woodstock," which was written and recorded by Joni Mitchell but became a hit by Crosby, Stills, Nash, & Young at the very same time… as well as Matthews' Southern Comfort.
I want to make that sort of thing part of the Big Hat thing.
How did the recording process go down? Was everyone jamming in the room together?   
Yes, initially we were all in the same room. We had booked two days at Southern Tracks; we had never rehearsed the songs or even played together, but Southern Tracks, with Nick DiDia producing, was the perfect setting. I've always loved Nick's recordings with Brendan O'Brien, so I was thrilled when he agreed to produce us. We recorded all the basic tracks together – just charted it, ran through it a few times to nail down the arrangement, then Nick would hit "Record." By the third or fourth take, we usually had it, then we'd throw down any quick overdubs and Keith would sing whenever he felt like it. By the second song, we were all pretty excited. Keith would be laughing, saying, "I ain't never done anything like this before!" It came together so easily. We immediately felt like we had a band.
How did you and Audley approach the guitar parts?
Well, we did our leads in an afternoon at Nick's, after spending a little time to work out parts. We recorded the solos together. Keith finished his vocals on his own time, and we added extra percussion and backing vocals with other good friends. Nick mixed it during Southern Tracks' last days.
What does each guy bring to the musical mix?
Well, Keith is an incredible B-bender Tele picker – he does the intro and first solo on "Supersonic." He's a pretty sick player, but he downplays his abilities. He's been a solo artist for most of his career, but did a few years as lead guitarist with Dwight Yoakam. Audley and Robert go back years, having played together in North Carolina, including with Cry Of Love in the '90s. Robert had been with Lynyrd Skynyrd up until he joined Sheryl's band. I think his bass parts on "Feather In The Breeze" are outrageous, and he can sing like a bird.
There's a bond between all of us, because of our musical influences and the fact we all grew up in North Carolina.
What gear are you using, for both the Sheryl gig and Big Hat? 
With Sheryl, I've downsized a bit. Originally, I had the Bradshaw rig and a handful of amplifiers, but now I'm a big fan of the Pedaltrain pedalboards, since I'm constantly switching out pedals.
Once 65amps cranked up, I began using the 65 London and the Monterey – London the majority of the time, Monterey for more headroom on cleaner stuff and slide.
For Big Hat, I'm not sure what I'll use live, but probably the 65 Empire. In the studio, I used a nice old Park 75 head for "Delilah." It's a '72 and has the original Genelec KT88s; it sounds ridiculous, and is probably my favorite head. I also used a blackface Deluxe Reverb; the slide on "Supersonic" was a '59 double-cut Les Paul Junior through a late-'60s Ampeg Gemini. I played the last part through that amp before it bit the dust – power transformer blew. I had blown the output transformer a few years earlier… and the speaker. That amp's had a tough life!
You've recently started working with Duesenberg on a signature guitar, right?
Yeah, I'm very proud of it. It's essentially their Dragster set up with a Multibender bridge for slide and bender tricks. We added a neck pickup, as well, and they put a really cool short-throw Tone pot on it. It's the first guitar to replace my original old beater G&L with the Bigsby Palm Pedal. It sounds really great and you can do some cool tricks with the two bender levers, even in standard tuning. Normally, I use it tuned to open E.
Audley Freed
Cry of Love made a pretty big splash in the early '90s despite being rather far removed from the favored flavor of the time. What do you think struck the fancy of rock-music fans at the time?
Well, I guess they liked the songs. I'd say the gateway was the fact it sounded familiar, yet unlike anything else on the radio back then. For many years, most current stuff on rock radio– back when they played a lot of new music – had tons of reverb and the mixes were super-dense and compressed. Our music was pretty much completely dry and the arrangements had a lot of space. So, even though we played a pretty traditional style of rock-and-roll, it sounded fresh, and I think people reacted to that. Once listeners discovered the music, the fact everyone in the band was really good and what we were doing was honest… maybe it resonated.
In '97, you hooked up with the Black Crowes. How did that come about?  
Without knowing it, I was recommended to the guys by mutual friends, which was amazing because I was a huge fan and was myself trying to figure out a way to let them know I existed (laughs)! As a result, a little while later I was asked to go to Atlanta and play an afternoon with them. We stopped one song short of the list I was given, and their drummer, Steve Gorman, said "If you get outta here now, you can beat the traffic." I thought that was the end of it! Luckily, they offered me the gig when they started touring again the next summer. It's a great band and I relate to their music, so I was stoked.
I sat in with them at the Ryman last month, and they were great; Jackie Greene is a great new addition on lead guitar.
As part of that gig, you got to spend a good bit of time onstage with Jimmy Page. What was that like?
That was incredible, to say the least. What can a rock-guitar player of my generation say about being given the opportunity to tour and make a live album with Jimmy Page! He was, and is, kind of the guy. I never thought would happen when I was a kid staring at the Circus magazine poster!
After that, you helped Chris Robinson…
Yeah, I co-wrote and recorded a couple of songs on his second record, then we toured behind it. It was a great musical experience, and a great guitar gig. I was really into it and understood the styles of music we were doing – lots of improv, the songs were terrific, and we played great covers in the live shows.
Another highlight was getting to play with and develop a friendship with the bass player, George Reiff. We've had a lot of musical adventures together.
You've since worked with a long list of musical heavies – Alvin Youngblood Hart, Joe Perry, Dixie Chicks, Jakob Dylan, Court Yard Hounds, Kevin Kinney, Paul Stanley, Peter Frampton, as a guest with Gov't Mule…
It has been quite an adventure, getting to play with so many great musicians in lots of different situations and styles. Just being around that is a gift, and I learn something every time. I enjoy the fact that every situation is different on some level, and cool musical challenges are presented along the way. I'm particularly grateful that people trust me to play in very diverse musical settings and that I can make music in the mainstream, left-of-center worlds, and points in-between. I wake up every day, grateful to be able to tell young folks that dreams really can come true.
What are some of the most-recent gigs?
Sheryl's schedule is pretty packed, but I do as much moonlighting as I can, mostly in town. A really fun gig I did not long ago at a club here in Nashville was a set of Big Star songs with Jody Stephens, Chris Stamey and Mike Mills. I'm such a fan, and playing those songs with Jody on drums was unbelievable. Some of the current or about to be released records I played on are Sheryl's, the Court Yard Hounds, Ray Wylie Hubbard, Kid Rock, and Kenny Chesney.
How did you meet Peter? 
On a festival gig in 1999. He had just started with Sheryl and I was with the Crowes. We come from a similar background, musically, we're close to the same age, and we're both from North Carolina, so we had a lot in common from the get-go. We crossed paths here and there and stayed in touch, and occasionally were on recording sessions together – in fact, he recommended me for the session that indirectly led to me moving to Nashville. I have a tremendous amount of respect for him as a person and musician.
What were your thoughts when Peter pitched the concept of Big Hat?
Well, he had been kicking it around for a while, and I think his instincts were on the money. We got together at that jam here in Nashville and made a great sound right off the bat; everything was really natural – the writing, the playing, the recording process, everything.
The first time we got together was the first day in the studio, when we arranged and recorded three songs. We didn't really know what to expect, but I think it turned out okay! The songs began with demos Peter and I had done, and I can't overstate Keith's contributions, lyrically, arrangement-wise, and vocally. He glued everything together. Keith is also an unbelievable guitar player. I saw him one night when he was playing with Dwight Yoakam and he blew my mind. He's the real thing.
When Peter called to talk about the Sheryl gig, what was your reaction? 
I was really excited, having been a longtime fan of hers – she has made some of my favorite records. In fact, her gig was on the short list of answers to the question, "If you could be in any band right now…?" I've been so fortunate, and couldn't believe it happened again – here I am, a big fan of an artist, but never dreamed a spot in their band would be offered to me.
Did he say what your role would be?  
We agreed that we'd just figure it out as we went along, and that's exactly what we've done.
What gear are you using most lately?
With Sheryl, I'm using my trusty Matchless Lightning head and a single-12 Reeves cabinet with a Celestion G12H. I love that amp, to me it's kind of like a low-volume Hiwatt – it has a ton of low-end and headroom. I have used in on all the tours I've done for the last six years and recorded a lot with it – engineers love it, too.
The guitars I play most on the Sheryl gig are a '52 reissue Tele, a Jeff Senn Pomona with a Parsons B-bender, and a '54 reissue Gold Top Les Paul on the Sheryl gig. A couple of pedals and I'm good to go. Simple set up and I like it that way.
On the Big Hat recordings, I used a '52 reissue Tele and the goldtop. For amps, I used a Germino Lead 55 and a 65 London. The solo on "Feather In The Breeze" is the goldtop and the Germino with an Analogman Beano Boost. On "The Light," I used my '65 Gibson B-25-12 string.
Has it gone as you expected, or have there been some pleasant surprises?
I was prepared to take a pretty straightforward, note-for-note approach on all of her material, and obviously, the signature parts and hooks need to be there. But she also seems to enjoy hearing what we bring to the songs as players, in terms of feel and improvised moments, which is very rewarding.
I'm still marveling that I'm in a band full of close friends and favorite players. We've played all sorts of situations and combinations outside of this gig, and that familiarity helps us get beyond just giving a professional – but maybe boring – presentation of her material. Everyone is emotionally invested in the music and you can hear that. Sheryl creates an environment that encourages that approach, and we make a sound that's special and unique. The opportunity to make that sound backing up somebody as great as Sheryl is pretty amazing.
---
This article originally appeared in VG September 2013 issue. All copyrights are by the author and Vintage Guitar magazine. Unauthorized replication or use is strictly prohibited.
---