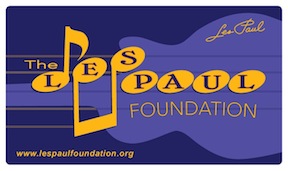 The Les Paul Foundation, formed by the late guitarist/inventor to encourage young people to pursue their interests in music, sound and engineering, has announced its latest round of grants. Organizations set to receive them include the VH1 Save the Music Foundation, to provide schools with instruments; the Wisconsin Foundation for School Music, for its garage-band competition (Launchpad) and Music Biz Day program for young musicians in Wisconsin schools; the Soulsville Foundation/Stax Music Academy of Memphis, for its Les Paul Spring Break Workshops program, which provides classes and clinics to middle- and high-school students; Guitars for Vets, which shares the healing power of music with military veterans by providing free private guitar lessons and a guitar to each student; the Waukesha County Historical Society and Museum, which houses a permanent exhibit in honor of Paul and operates the Les Paul Sound Lab for children; the Mahwah Museum in New Jersey, which hosts an exhibit on Paul that includes visual displays, interactive elements, artifacts and educational programs.
"We feel privileged and excited to support these organizations with [these] grants," said Michael Braunstein, Executive Director of The Les Paul Foundation. "Throughout Les' life, he remained steadfast in his belief that everyone deserved the opportunity to experience, enjoy, learn or heal through the gift of music. We know that the support we are providing will help continue his legacy through the programs and services being offered by these recipients."
Paul supported music education, engineering, innovation, medical research and several other causes throughout his life. For more on the foundation and this year's grants recipients, go to www.lespaulfoundation.org.