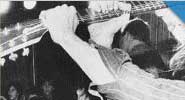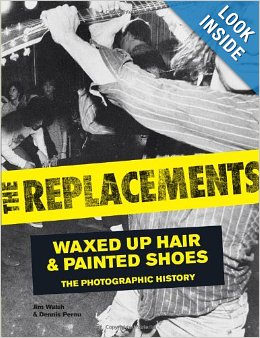 Of all the cool '80s alternative rock bands, the loveable ramshackle jag-offs in the Replacements were the least likely to give a toss about, oh, anything much at all. That attitude permeated everything about the Minneapolis quartet, and it was always a big reason for the band's appeal. It was also intrinsic to a creative process responsible for some of the most enduringly smart-yetstoopid pop rock of the last
30 years.
Think about it: This really wasn't a band you imagined collecting its own memorabilia. Hell, you got the feeling the members could barely collect enough cash for the month's rent. (I dunno, maybe Paul Westerberg has a issues old issues of Spin stuffed in a drawer somewhere.)
So if this new photo history were a Replacements album, they'd probably have titled it "Someone really saved all this crap?" But thankfully some fans did, and they've managed to cull everything together for this very worthy photo history that will have you chuggin' brews and cranking classics such as "I Will Dare" and "Bastards Of Young" until ungodly hours of the night.
Waxed-Up Hair and Painted Shoes is a gold mine of Replacements ephemera, made all the more special by the fact that a majority of the stuff included here was produced in those halcyon days of the early 1980s, that pre-internet world when everything in alternative music was basically done by word of mouth, word of zine, and word of flier.
Fliers, in particular, played an important part in the life of the bands of the '80s such as the Mats, and there are some great ones in this collection. Also special are the numerous live photos, most unseen by any fans and rounded up by co-author (and VG gear editor) Dennis Pernu. If you always heard about original guitarist Bob Stinson's penchant for wearing tutus and dresses at shows, but never got to experience it live, well, there are plenty of pictures here to satisfy your sartorial curiosity.
Overall, it's big fun to take a spin down memory lane with these boys. The band has aged well, particularly its songs, and the recent spat of attention cast its way is certainly warranted and welcome.
To sum up Waxed-Up Hair and Painted Shoes, one of the Replacements' song titles comes to mind: Color me impressed.
This article originally appeared in VG's March '14 issue. All copyrights are by the author and Vintage Guitar magazine. Unauthorized replication or use is strictly prohibited.