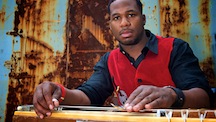 Robert Randolph (VG, September '13) will perform at the upcoming annual fundraiser for Notes for Notes, a 501 (c) 3 non-profit organization that provides young people with free access to musical instruments, instruction, and recording studios.
Slated for December 6 at the Libero Theater, Santa Barbara, the event will include a jam performance with Randolph, guitarist Slash, along with Jimmy Vivino and The Basic Cable Band along and surprise guests.
"I've spent years trying to put the resources in place for kids to express themselves through arts and music so that they could experience the opportunities that I've had," said Randolph. "By tying it in with Notes for Notes, I can have a bigger impact, going far beyond the places where I grew up and learned to play."
The fundraiser is one of several collaborative performances on Randolph's schedule. On November 26, 27, 29, and 30, he will  headline at The Brooklyn Bowl, welcoming guests including country singer Charlie Worsham. He will also take part in an all-star New Year's Eve Bash with Hank Williams, Jr., in Nashville, sail on the Jam Cruise with Bootsy Collins, Warren Haynes, and Les Claypool, and take part in the Greg Allman Tribute Concert at Atlanta's Fox Theater on January 10 along with Trace Adkins, Eric Church, and John Hiatt.
"Real musicians love to collaborate," said Randolph. "I've been lucky enough to play with family and friends onstage for a lifetime, but when I get the chance to play with guys like Slash or John Hiatt, especially if it is for a good cause, I'll always want to be involved."
He is also nearing completion of the Robert Randolph Music and Arts Resource Center in Newark, New Jersey.