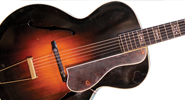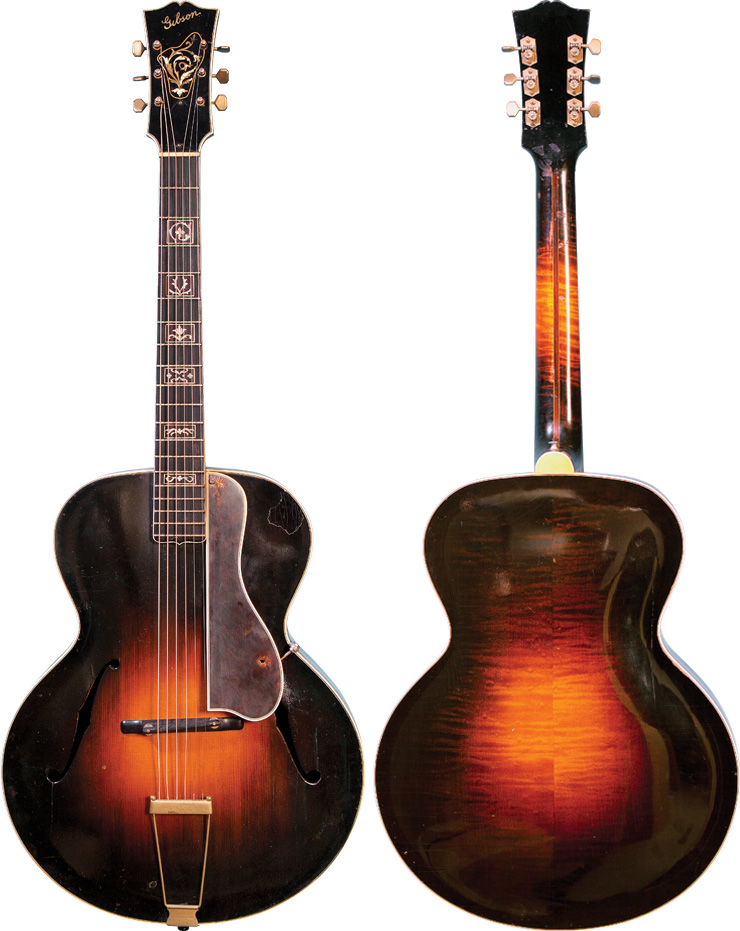 Though many collectors focus on instruments in fine original condition, every so often one emerges that, regardless of condition, is no less exciting than a paleontologist finding the "missing link." Everything there is to know about the Gibson L-5 designed by Carl Kress can be learned from this example, with the model designation "Special" hand-written on the interior paper label, all of its original parts, and serial number 89849 (consistent with a manufacture date of 1933).
While one's initial impression might be that this is a "floor sweep" model made by assembling whichever components were laying around due to wartime materials and labor shortages, the body is perfectly standard for a '33 L-5 with a 16″-wide body (they went to the 17″ Advanced body size in 1935). Its neck specifications include features from other Gibson models: the fingerboard inlay is the same as an option on '30s Style 3 Mastertone banjos and the Style 5 Deluxe Mastertone banjo; inlays are enclosed in rosewood rectangles with an ivoroid border like they were cut from a previously made fingerboard (it's possible that leftover banjo fingerboards were used); the peghead inlay (which also has an ivoroid border around the center inlay) is the same used on the style 5 trap-door banjo circa 1924; the body, pickguard, bridge, and tailpiece are all perfectly consistent with 1933. And though the tuners are a style encountered on some wartime instruments, these are not typical of an instrument from '33. However, the (wide and thick) neck and peghead dimensions, as well as the heel shape, are unlike any other Gibson instruments from '33; the neck is standard only in that its outer parts are maple. In '33, an L-5 would typically have two pieces of maple with a dark center lamination Gibson called "ebonized veneer" (many who have studied these instruments believe it to be stained pearwood) and though this has two pieces of maple, it has a very wide center rosewood lamination with two narrow ivoroid strips.
The semi-circular heel is also not typical of 1933, and the peghead shape is longer and significantly different in shape than any other Gibson. Though long, it's not the same as a Super 400. A few 17″ Advanced model L-5s from the late '30s were made with an identical peghead inlay used in the same manner with the same border, but they were standard L-5s except for the peghead inlay. The ebony fingerboard is typical of an L-5, but the inlays with rosewood blocks with pearl inlay and ivoroid borders are unlike anything on an L-5 (though there are some L-75 models with this pattern).
Joe Spann, author of Spann's Guide to Gibson 1902-1941, has researched Gibson's factory work orders, serial numbers, and shipping records, all of which indicate there were at least four of this model, all of which were shipped to New York Band, in Manhattan. There are also photos of Carl Kress holding one as an endorsement. Spann also points out this guitar was shipped from the factory in 1933. Like many of Gibson's more-expensive instruments, it was likely returned to the factory by the dealer in an exchange program. The extant Gibson shipping ledgers show it was shipped a final time on June 22, 1937, as an "Old Style L-5" in a #515 case to New York Band.
In '33, the L-5 was the top-of-the-line model in the Gibson catalog, costing $275 plus case. To put that in context, in the '30s, a Martin D-28 was $100, a D-45 was $200, and this guitar certainly couldn't have cost less than a standard L-5.
Carl Kress was a tenor- and plectrum-banjo player who transitioned to guitar in the '20s. Working in New York at the height of the swing-jazz era, he was one of the fathers of early jazz guitar along with Eddie Lang and Dick McDonough, both of whom recorded duets with Kress. Much of Kress' work was with popular bands of the era such as Paul Whiteman's band, Jimmy Dorsey, and Tommy Dorsey. He was also a first-call session musician in New York City with the top bands of the day as well as an independent solo artist on guitar, and a true innovator of early jazz guitar.
This guitar was made in the early days of big-band popularity. Kress and many early jazz guitarists were banjo players who had converted to guitar. Rather than adapting to standard guitar tuning, Kress used what is thought to have been (low to high) Bb F C G B D – a compromise of tenor and plectrum banjo tunings with the addition of bass notes of Bb and F on the low strings. This gave Kress a unique sound, which stood out amongst his peers of the day and made his playing quite recognizable. The unconventional width and depth of the neck of this guitar seem to cater to this tuning and allow for the heavier-gauge strings to accommodate the two lowest strings. Similarly, the string spacing would be desirable for the unusual chord shapes required to play in this tuning, and allow for the unique bass note options. It's a fascinating example of the segue from the jazz banjo (tenor/plectrum) to the jazz acoustic archtop guitar.
With the advent of the L-5 in 1923, there began a mass change within 10 years from banjo playing to guitar playing in the popular music of the day. This specific instrument from 1933 shows a holdover of the jazz banjo days with its banjo style inlays and custom design for banjo inspired tuning, and is a tangible representation of the transition that brought the guitar from the parlor and onto the stage.
This instrument is an interesting piece of Gibson history, with value far beyond its appearance or playability.
---
This article originally appeared in VG July 2013 issue. All copyrights are by the author and Vintage Guitar magazine. Unauthorized replication or use is strictly prohibited.
---