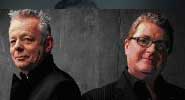 Tommy Emmanuel and Martin Taylor The Colonel & The Governor Jazz has a long tradition of guitar duets, from the "Blue Guitars" of Eddie Lang and Lonnie Johnson to Dick McDonough and Carl Kress (as well as Kress and George Barnes), Billy Bean and John Pisano, Herb Ellis and Joe Pass, Ralph Towner and John Abercrombie, and Pat Metheny with Jim Hall. What makes the teaming of Martin Taylor and Tommy Emmanuel different is that both of their reputations are largely based on their work as solo guitarists.
Taylor proved he could play well with others during an 11-year stint with legendary violinist Stéphane Grappelli, beginning when he was 23, and more recently with his Spirit of Django ensemble. But as Pat Metheny said, the Scotsman is "one of the most awesome solo guitar players in the history of the instrument."
As for Australia's Emmanuel, he was an in-demand sideman and studio musician before concentrating on the solo format that's brought him international acclaim.
With such self-contained stylists, a collaboration could spell overkill, but the taste and musicality both possess save this from being a chops fest. The repertoire is mostly jazz standards (Hoagy Carmichael's "The Nearness Of You," Irving Berlin's "Heat Wave"), offset by four Taylor originals – so it's well within Taylor's wheelhouse (check his steel-drum impersonation in the Caribbean-tinged "Down At Cocomo's"). But while Emmanuel's eclectic mix of country, blues, rock, and world styles makes him impossible to categorize, he's more than familiar with the jazz/standards canon.
With Emmanuel's instrument of choice an Australian flat-top Maton and Taylor employing his Martin Taylor Maestro archtop built by Peerless, the intimate sound here is the perfect balance of warmth and brightness. And the mood is spontaneous, as these master improvisers play off one another, seamlessly trading lead and rhythm chores or indulging in some dazzling single-note interplay, as in the swinging "Bernie's Tune," where Taylor's humorous dissonance elicits a laugh of surprise from Emmanuel.
To over-generalize slightly, Emmanuel's attack is sharper, Taylor's lines more fluid. But there's no "winner," since this never feels like a cutting session. At 56 and 58 respectively, Taylor and Emmanuel have combined to spend a century with a guitar in their hands, so there's no insecurity here; each is comfortable and confident in his own abilities. The result is a guitar fan's dream, a master class and then some, and one of the great guitar duos in jazz history.
This article originally appeared in VG's December. '13 issue. All copyrights are by the author and Vintage Guitar magazine. Unauthorized replication or use is strictly prohibited.