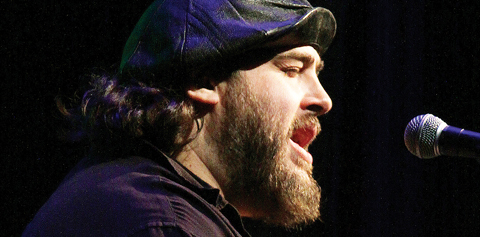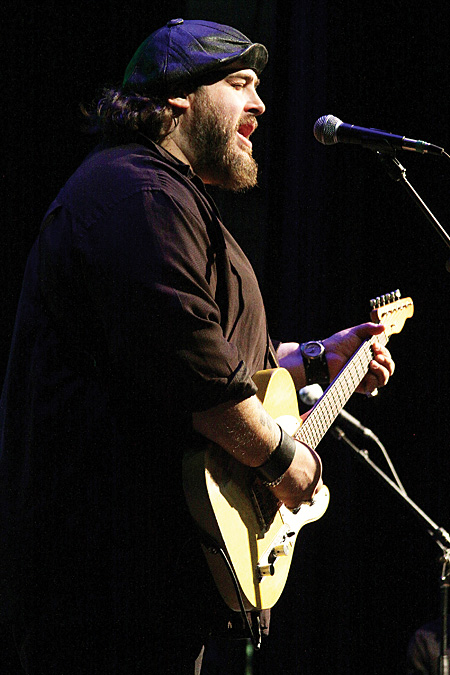 Since 2007, guitarist/vocalist Nick Moss has released five albums on his Blue Bella label, including two live discs. And while Moss still loves his Chicago-style blues, his most recent effort, Here I Am, is an adventurous album. Though it begins with a raucous Windy City-type rave-up called "Why You So Mean," by the third/title track, it's obvious Moss is up to something, as "Here I Am" is nothing less than a Led-Zeppelin-style stomp.
"That song was born out of frustration with people writing and talking about what I'm supposed to be," he explained. "So, it's a blatant statement from me directly, if they really want to know about me."
Another song makes a similarly assertive statement. "'Long Haul Jockey' is about ****ing, not making love… getting down late at night and 'driving,' so to speak!"
He noted the album's funk-type tunes such as "Candy Nation" and "Caught By Surprise" as being "…just fun grooves to play. I am big fan of all things funk. 'Candy Nation' is about America's fascination with medication and pharmaceutical infomercials; 'Caught By Surprise' is about a woman turning the tables on a man and using him for her ill-gotten pleasures!"
A perusal of the track list might lead one to believe there are religious connotations to Moss' songs, as with titles like "Here Comes Moses" and "Sunday Get Together," but Moss says he was trying to stay in secular mode.
"'Here Comes Moses' is my way of relating that there are a lot of good common-sense lessons in the Bible – I'm no religious zealot – and I even say in the song that 'I'm not without sin' – and it seems like there are an awful lot of people these days lacking some damn common sense!"
On the other hand, he noted the no-frills recording style of the instrumental "Sunday Get Together," detailing how it's "…my Les Paul Standard with ThroBak PG 102 MXV pickups, going through my Orange Dual Terror, recorded live in-studio with very ambient mic placement. The background chatter was added later; I wanted it to sound like a family get-together with kids running around and laughing, and people eating and drinking and having a good time."
"Katie Ann (Slight Return)" is a paean to Moss' spouse and business partner, and it originally appeared on an album a decade ago; he recorded an update, which, as he sees it, validated the addition of "(Slight Return)" to its title.
"I wrote the song in 2001 for Got A New Plan," he averred. "It originally had a Louisiana swamp blues feel. I decided to re-do it for my 10-year anniversary with Kate. I gave it a Hendrix feel, and just went over the top with guitar layers and feedback swells and the whole nine yards – and it was a blast! Just as Jimi did 'Voodoo Chile' and 'Voodoo Chile (Slight Return)' I called my new version 'Katie Ann (Slight Return)' as an homage to Hendrix."
After the road van, which contained his guitars and gear, was stolen in Montreal in 2008 (where he had played the International Jazz Festival), Moss was forced to "update" his guitar and amplifier collection.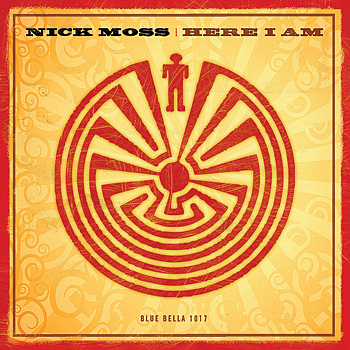 "I lost some really nice guitars, including a beautiful custom guitar made by Steven White, and some nice amps like my '66 Fender Super Reverb and a very nice '68 Pro Reverb."
After the theft, he scored a '67 Guild Starfire and now also owns several guitars he built himself, along with, "…a couple lawsuit-era Tokais and a great Fernandez Revival given to me by Craig Ruskey, who did the liner notes for Live At Chan's: Combo Platter No. 2. I'm also awaiting guitars by Kurt Wilson and some amps from Don Ritter at Category 5. I've been using them for more than two years."
Guitars used on Here I Am included an '81 Burny with ThroBak's SLE 101 MXV pickups, a custom-built Don Mare with Zepotone pickups, a custom-built guitar with Mare's Josie pickups, and a Les Paul Standard with ThroBak PG 102 MXV pickups. A Takamine 12-string acoustic is also heard on "It'll Turn Around." The slide guitars that are heard were tuned to Open G, and Moss uses a Coricidin bottle for slide. He used a Category 5 Tempest and the aforementioned Orange Dual Terror on most tracks, as well as a Marshall JCM 800.
Here I Am is an ambitious effort that shows just how Nick Moss' career has evolved.
---
This article originally appeared in VG September 2012 issue. All copyrights are by the author and Vintage Guitar magazine. Unauthorized replication or use is strictly prohibited.
---
– – – – – – – – – – – – –
Nick Moss photo: Jim McKinley.
.