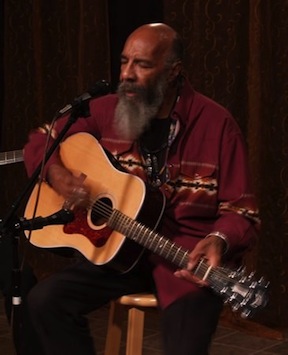 Renowned folk singer and guitarist Havens passed away April 22 after suffering a heart attack at his home. He was 72. Known for his hard-driving rhythmic style of play and use of open tunings that saw him bar the entire fretboard to change notes, Havens rose to prominence thanks largely to his appearance at the 1969 Woodstock music festival in New York state. Havens opened the show and, because subsequent acts were late arriving at the venue, was asked by promoters to extend his set. It ultimately lasted some three hours and included an interpretation of the spiritual "Motherless Child" that became one of his trademark songs, "Freedom."
As a teen, Havens formed doo-wop groups with neighborhood friends and would perform on street corners in Brooklyn. At 16, he began performing with The McCrea Gospel Singers, and by 20 had moved to Greenwich Village to perform. After learning to play guitar and establishing himself, he released two albums for Douglas Records, followed by a deal with the Verve label. By 1969, he had released a handful of albums, including the first to reach the Billboard magazine charts, Something Else Again. The Woodstock gig soon followed, as did an appearance at the Isle of Wight Festival soon after. In 1993, he performed at the inauguration ceremony for President Bill Clinton.
In 2000, Havens published an autobiography, They Can't Hide Us Anymore, co-written with Steve Davidowitz. He remained active until March of 2012, when he announced he would stop touring due to health concerns. A public service for him is planned.