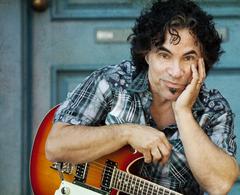 John Oates' single, "Stand Strong" will be featured in an ESPN2 telecast of the NASCAR Nationwide Series race March 16 from Bristol Motor Speedway. The song will be serve as the theme for the telecast, heard in the pre-race Countdown, which airs at 1:30 p.m. ET.
"I've had a longstanding relationship with the folks at ESPN and have been involved with motor racing for many years," said Oates. "I thought the song's lyrics and theme of brotherhood and teamwork were perfect for NASCAR, and when I sent it to my friend, Rich Feinberg, V.P. of Motorsports, he told me the images and vibe of were perfect for the Bristol race."
Oates, who was featured in the December '12 issue of Vintage Guitar, is half of Hall & Oates, and an accomplished solo artist. He is a member of the Songwriters Hall of Fame and a BMI Icon. In addition to touring with Daryl Hall, Oates recently completed a world solo tour with J.O.B. (John Oates Band) and has been producing and writing with some of the most well-known artists in the pop, R&B, and Americana genres. Learn more at johnoates.com.