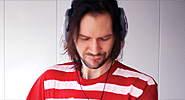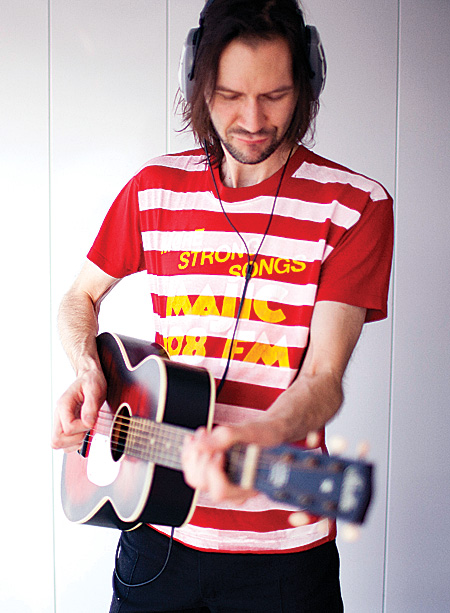 Paul Gilbert and the crew that makes up Mr. Big – bassist Billy Sheehan, drummer Pat Torpey, and vocalist Eric Martin – reunited a couple years ago on the heels of a Gilbert gig at the L.A. House of Blues where he, Sheehan, and Torpey jumped onstage together. Digging the vibe, they soon called Martin, then got after it.
The band's new album, Live From the Living Room, was recorded in January, 2011, in front of an audience at a television studio in Tokyo. It offers stripped-down versions of some of the band's hits and several tracks from its 2011 album, What If…, some accompanied by a string quartet.
So, the Mr. Big gig has been going well?
I keep hoping AC/DC will ask me to play drums for them… but in the meantime, playing guitar for Mr. Big is an excellent job!
We had a long tour last year, mostly doing headlining shows around the world and in the U.S. But also we did a lot of festivals in Europe. It was fun to play big stages and win over audiences that were comprised mostly of Judas Priest and Ozzy fans. It taught me to play with big, physical motions, and made me realize that as a guitar player, I don't want to be careless. I also don't want to be careful. I want to be carefree. Somehow, though I'm playing intricate arpeggios and scale patterns, I still want to put Pete Townshend energy into it. In a small club, you can get away with standing like a statue a little more. But at a big outdoor rock gig, you've got to rock. And that means movement.
You told us last year that writing the What If… album was an enjoyable experience – spontaneous, with minimal overdubs, etc. Why do you think it worked so well?
Everyone in Mr. Big formed their musical muscles playing in bands and playing live. I didn't even know that overdubs existed when I was a kid. I would hear "More Than a Feeling" by Boston and be mystified at how they could sound like that. I think some musicians work really well with the format of the studio and the options it gives. But for Mr. Big… We're just more comfortable jumping into the songs and trying to make them work as a live performance. That pays off when we take the songs on the road, because they tend to really blossom live. There were some overdubs in the studio, but it's funny; Kevin Shirley, our producer, would grab a guitar track from an earlier performance of a song and add it as a double to my live guitar. So I actually wasn't overdubbing to a recording. He'd always use takes that were tracked live with the band, and put those together. Even the lead vocals were recorded live with us on What If… That's a rarity these days, but was much more common in the '50s and '60s, when most of my favorite records are from. It's a good process.
Was there a particular strategy for touring to support the album?
We just asked our manager to book us everywhere. Japan was the first country we booked, and less than a month before our first show, the earthquake and tsunami hit the Tohoku area. Quite a few artists cancelled tours, but our promoter assured us the venues were safe, and audiences would be happy to have some rock and roll to give them respite from the turmoil. So we went, and had an amazing, very emotional time. I'm a guitar player… I don't have training as an ambassador of goodwill. But it was nice to have my guitar playing serve that purpose.
Were acoustic shows something the band did now and then to change it up on tour, or did you do the Living Room gig for the sake of recording the set that way, with an album in mind? 
As much as Billy and I are known for electric things, I sometimes prefer Mr. Big as an acoustic band. Certainly, the song "To Be With You" did very well for us, and I just like how the vocal harmonies stand out more when we play acoustically. It's also challenging because we often throw some of our athletic songs into the acoustic set. The big strings, higher action, and clean sound of an acoustic can make those 16th note triplets pretty tough. But I have a good time trying.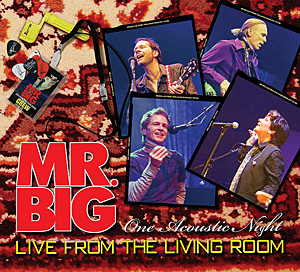 How did you pick songs for the set? 
Pat usually organizes the setlists, thank goodness. He knows the lengths of the songs down to the second and has a good sense for how they fit together, especially from the standpoint of groove and tempo.
How do your playing dynamics change when you shift from electric to acoustic? 
I usually plug into a compressor pedal. That gives me a fighting chance for getting sustain and volume out of the higher notes. Maybe the biggest help is just playing solos with chords instead of single notes. I'll try to use open strings, too, if I can find some that work for the key of the song. Maybe the toughest thing is trying to bend with a wrapped G string. It's really hard to bend that thing. So much of my phrasing vocabulary is based on bending, so when the G is taken away as a bending option, I have to re-think phrases by sliding or jumping to another string.
What's next on the agenda for the Mr. Big? 
I try to keep all my new projects a secret until they're ready to be unleashed on the world. Seriously, though, when we've got something new, we'll let the world know. Until then, we shall remain shrouded in mystery!
How about for you, as a solo artist?
The Great Guitar Escape! I've organized a guitar and music camp in New York this July. It's a week of workshops and concerts. I've put together a thoroughly overqualified staff; Guthrie Govan and Tony MacAlpine are my featured instructors. I also have Kid Andersen, who is an unbelievable rockabilly and blues guitarist; Scotty Johnson, who is a Berkeley instructor and has played on several of my albums and tours; and Sam Coulson, who has some of the best vibrato I've ever heard as well as some seriously ripping technique.
I also have world-class instructors for drums, bass, engineering, and guitar-tech skills, and I'll be doing workshops for beginning guitarists in addition to my daily workshops on advanced playing.
My overall concept is to give the students a huge amount of practical ideas to work on, and just as importantly, lots of inspiration to fuel their own practice and creativity. The location is the Full Moon Resort, which has been hosting music camps for people like Todd Rundgren, Dweezil Zappa, and the guys in King Crimson. I'm excited to try my own version of a total-immersion guitar camp.
---
This article originally appeared in VG May 2012 issue. All copyrights are by the author and Vintage Guitar magazine. Unauthorized replication or use is strictly prohibited.
---