HOW TO ACCESS
SUCCESS
The Official Vintage Guitar Price Guide 2024 Digital Streaming Edition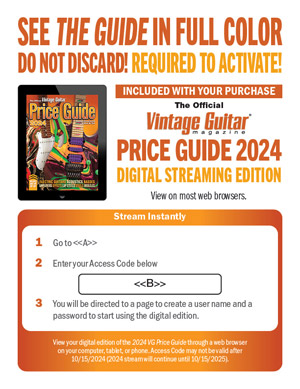 The bonus digital streaming edition is ONLY available with every Official Vintage Guitar Price Guide 2024 book purchased directly from VG! Stream your digital edition of The Guide instantly through a web browser on your computer, tablet, or phone. Access code may not be valid after 11/15/2024 (stream will continue until 11/15/2025).
Please Read Carefully before entering code.
1. Enter your "Access Code" below, if authenticated a link will appear at the bottom of this page to guide you to the registration page. Just follow the steps to create a USER NAME and a PASSWORD to start using the digital Streaming edition. If you have an active subscription to VG or registered a previous Bonus Digital Price Guide, our system may assign you your existing user name and password.
2. You will need to return and bookmark http://www.vintageguitar.com/vgpg24 after registering to access the streaming edition.
---
Already registered but need the bookmark or help to access the 2024 Price Guide?
Bookmark: http://www.vintageguitar.com/vgpg24
You will need the user and passwords you created using your 2024 "Access Code".
Need help with the digital streaming Price Guide? CLICK HERE
---