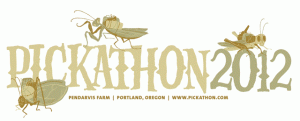 The 2012 Pickathon Music Festival will take place on Friday, August 3 through Sunday, August 5, returning to the beautiful Pendarvis Farm nearPortland,Oregonfor its 14th year. Pickathon has a well-curated 50-band bill where every artist plays at least twice. The festival provides six performance spaces spread throughout the 80 wooded acres of Pendarvis Farm. Past performers include Mavis Staples, Will Oldham, Michael Hurley, Bill Callahan, The Heartless Bastards, Iris Dement, and Freakwater, The Avett Brothers, Dr. Dog, Justin Townes Earle,BlackMountain, Frank Fairfield, and more.
Fifteen minutes from Portland, Oregon, Pickathon is a family-friendly festival. Tucked away on 80 s acres of wooded Oregonlandscape, Pickathon presents attendees with grounds for camping and miles of terrain for hiking. The six performance spaces spread throughout Pendarvis Farm provide a variety of environments to take in the music and atmosphere; including the tension-fabric strcture that covers the Mountain View and Fir Meadow Stages, which ranks as one of the largest temporary installations of its kind in the world.
For more information, visit pickathon.com.