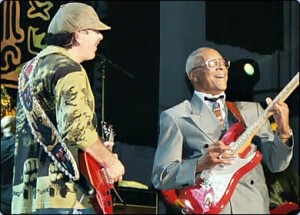 Hubert Sumlin, the renowned blues guitarist who gained respect for his work accompanying Howlin' Wolf, passed away December 4 in a New Jersey hospital after suffering heart failure.
Sumlin played with Howlin' Wolf from the mid 1950s until the latter's passing in 1976. In that role, he was credited for creating some of the most noteworthy guitar work in the blues realm, especially as it pertained to the "Chicago style," where Sumlin – who was born in Mississippi and raised in Arkansas – emerged. Among his most famous licks and riffs were those purveyed in "Smokestack Lightning,"  "Wang Dang Doodle," "Back Door Man," and "Spoonful," which was famously covered by Cream. "Killing Floor," which was most notably covered by Jimi Hendrix, featured Sumlin and a young Buddy Guy. After Wolf's death, Sumlin and the rest of Wolf's band continued performing as the Wolf Pack until about 1980. From the mid '60s until 2004, Sumlin also recorded 15 solo albums.
In 2002, Sumlin was diagnosed with lung cancer and subsequently had a lung removed. He remained a steadfast performer, however, even with an oxygen tank at his side. He was inducted into the Blues Foundation Hall of Fame in 2008, was nominated for four Grammy awards, and won multiple Blues Music Awards.