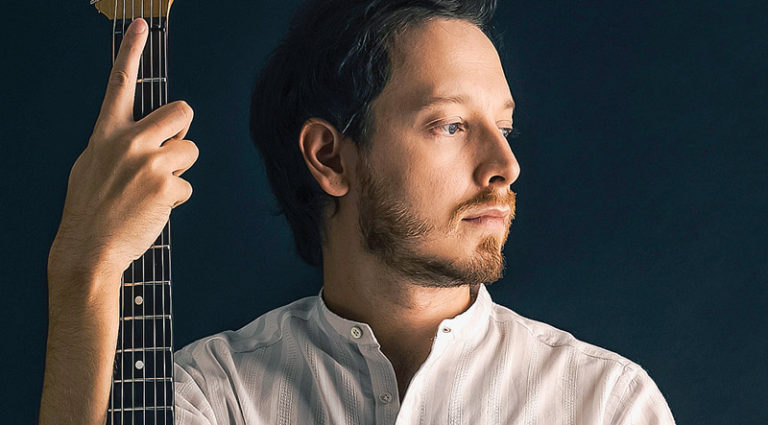 Italian guitar virtuoso Daniele Gottardo's latest album, Inkblot, combines the whimsy and wonder of the great early-20th-century classical composers with mind-blowing modern-rock guitar techniques. Sitting with a chamber orchestra, Gottardo's symphonic vision is on display with multidimensional themes, spellbinding counterpoint, and epic pastoral passages. It's also a banquet of two-handed tapping. More importantly, it's a diary of an artist's odyssey into the great unknown.
Why a classical record?
I was born a rock player influenced by American rock guitar. After a bit, I returned to my European roots and classical composers. I love Anatoly Lyadov's orchestral stuff. His early 20th-century compositions have great use of color, harmony, orchestration, and moods. All the film composers stole from him. I also like early Stravinsky.
The making of Inkblot suggests a massive undertaking.
I began writing the album years ago. I did all the pre-production in Logic Pro and created all the sounds with virtual instruments. When I completed the full score, I started recording real instruments in Italy. The musicians could hear what it sounded like, and everything was written on paper. I wanted to listen to the feel of the real players.
At the end of the day, we recorded everyone like a pop record; I recorded woodwinds and percussion on different days. Because everyone was isolated, I was able to edit like a modern recording. After the string quartet was recorded, I could play it back for the woodwinds, and they could play over it. I didn't have a big budget, but I had very good musicians who didn't need rehearsals. After the woodwinds, we recorded piano and percussion. I had a pretty advanced mix by then, so I could play guitar over it.
What's the album's theme?
In the beginning, it was a collection of pieces that needed a coherent overall sound. With instrumental music, there are no lyrics, so the meaning can be personal for everybody. I like the idea that people can listen to a piece of music and find their own interpretation. Inkblot is a reference to the Rorschach Test, and the album is about a time of transition for me of moving from Italy to the United States. It was a time of intense psychological challenges. I had to learn a new language and immerse myself in a new culture. Right after I got my green card, they shut everything down because of the pandemic. This relates to the album's theme because of all the changing feelings. There's a bittersweetness to the album because of all the moods. The feelings are ineffable and abstract, and relate to the subconscious mind.
Your legato technique is effortless.
In my earlier stages, I liked to pick a lot. I'm very harmony oriented. Because I like harmony and arpeggios, legato is a good technique for that. I began studying legato and two-handed tapping because you can play big arpeggios. And because of my interest in classical composition, I began to listen to the woodwind family. Listening to these instruments helped me develop this kind of articulation, which is a more-complete term than "technique." Playing softly comes from listening carefully to the woodwinds. Allan Holdsworth references the saxophone, but I listen to classical instruments. Legato doesn't sound better than alternate picking; it's all about the context. One of the challenges was placing the guitar within this sonic environment. Blending distorted guitars with soft instruments like strings and woodwinds can sound separate and doesn't work.
How did you record guitar?
I used a Two-Rock Bloomfield Drive head because it has huge dynamics, and I needed to follow the dynamics of the music. The volume was going up and down. I had to follow the orchestra's dynamics, and the Two-Rock was great for that. We had a three-amp system; dry signal was the Two-Rock with Gain all the way up, and we re-amped the wet signal using a Bogner Uberschall on one side and a Marshall JCM900 with a Pro Co Rat Distortion on the other. I recorded my takes very carefully, and it took a long time. The things I'm most happy about are not the compositions or the playing, but the blending of the electric guitar with the classical instruments.
Which guitar did you use?
It's a Charvel Custom Shop with a scalloped fretboard starting at the fourth fret. I like it for bends, vibrato, and holding notes. It has jumbo frets, and my strings are .011s. I like to fight the instrument.
What's next?
I have a side project where we do jazz-rock. I love improvisation, and spend a lot of time working on my chops. My next project will be more guitar-focused with trio stuff, but I'd like to compose a concerto for guitar and chamber orchestra. I like French neo-classicism and composers like Francis Poulenc. The next piece I'm recording is a jazz-rock version of Wes Montgomery's "Four On Six."
---
This article originally appeared in VG's January 2023 issue. All copyrights are by the author and Vintage Guitar magazine. Unauthorized replication or use is strictly prohibited.
---