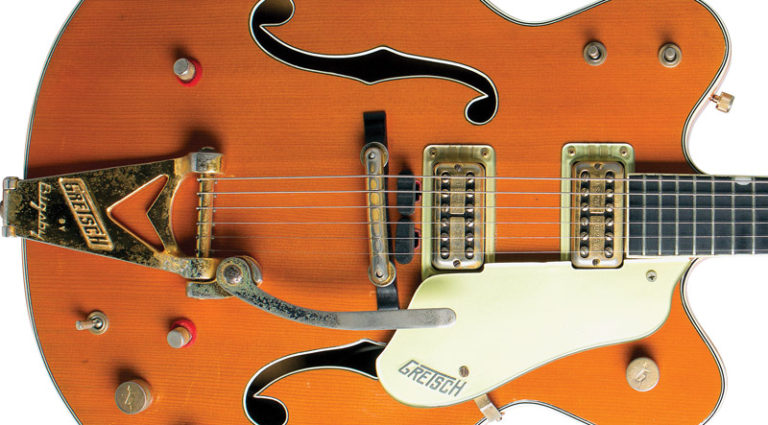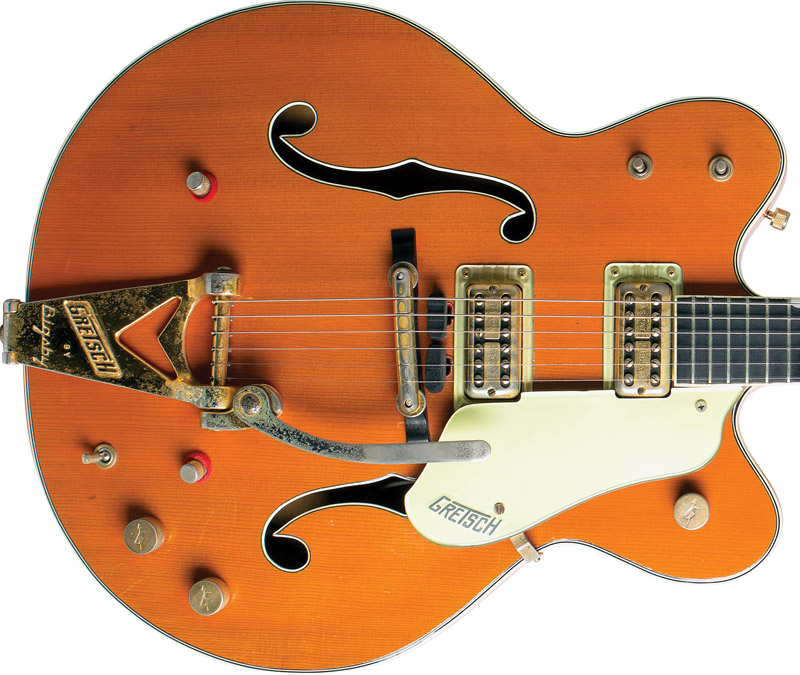 By the early 1960s, the Fred Gretsch Company was riding high with an array of eye-catching electric guitars highlighted with models endorsed by Chet Atkins. At the top were the PX6122 Country Gentleman, PX6120 Hollow Body, and PX6119 Tennessean.
The original Atkins models appeared in '55 – the 6120 proved a major success, while the solidbody 6121 never caught on. The 6120 – a 16″ archtop – is an icon famous for use by Eddie Cochran, Duane Eddy, and Brian Setzer, among others. One player it did not particularly satisfy, however, was Chet Atkins.
Though pleased to have his name on a guitar, Atkins was not happy with many of its elements. Some players in the '50s (and since) loved the distinctive Western Orange finish, but Atkins found it garish. He also disliked the "Western junk" adorning the initial models – "cows and cactus" fretboard inlay, rustic signpost logo on the pickguard, and especially the big "G" branded into the top. This "yee-haw" ornamentation – seemingly a Brooklyn attempt to appeal to a "cowboy" market – struck the reserved and dignified Atkins as chintzy.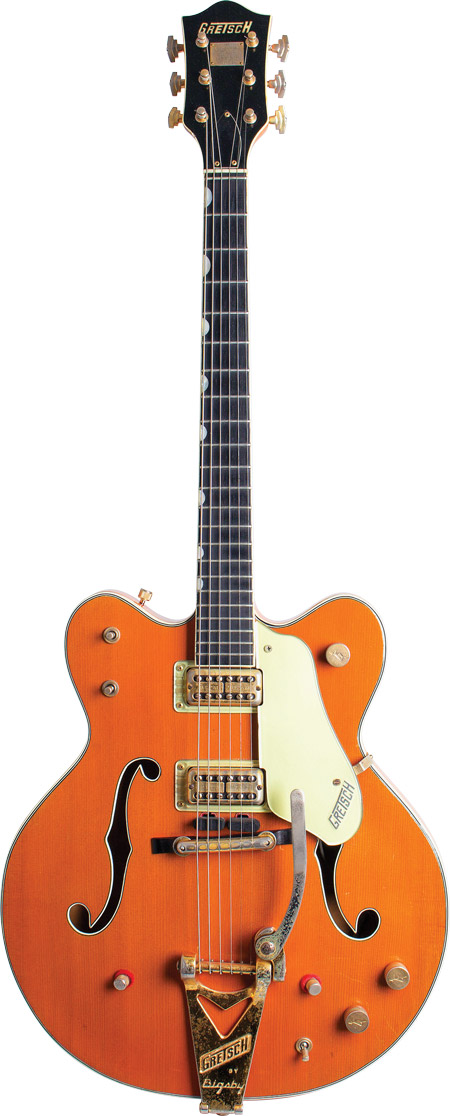 Another sore point was the DeArmond Dyna-Sonic pickups. Atkins thought the powerful pole pieces lessened sustain from the bass strings. He also disliked their sharp attack and the way they hummed. After meeting electronics engineer Ray Butts, Atkins asked him to design a pickup eliminating these shortcomings. Thrilled with the result, Atkins presented Butts' double-coil humbucker to Gretsch. Already having issues with DeArmond, the company was happy to have an exclusive new pickup to build in-house; they licensed the design and dubbed it "Filter'Tron."
Meanwhile, Chet's namesake 6120 had been toned down to better suit his taste. But what Atkins really wanted was a bigger, classier guitar. And because the endorsement was proving a huge success, Gretsch was happy to oblige. The result was the PX6122 Country Gentleman, named for one of Atkins' instrumental showpieces.
Built on a single-cutaway /17″ body with a thinner rim, the Country Gent's most-radical idea was "closed" sound holes – i.e. none at all. After making prototypes with blank tops, Gretsch decided it looked odd (which it does) and went with simulated sound holes. Initially, little plastic inserts were recessed on the top before they opted for a simple decal. Though it never quite lived up to Atkins' expectations, he felt more comfortable with the Gent than the 6120, and played it for years. But what Atkins really wanted was an archtop with center block; the Gent body was heavily braced but never had a solid core. The year after it was introduced (late '57), Gibson launched the ES-335, employing a solid center block.

Gretsch did give the Gent the new Filter'Tron pickups and a wiring rig with three Volume knobs – one for each pickup and a Master – and a two-way switch to replace the rotary Tone control. The standard Gent was finished in a sedate deep-brown stain instead of the bright colors of other Gretsches. Appointments were upscale, with gold-plated hardware, a Bigsby vibrato, solid-bar bridge, and Grover Imperial tuners. It was introduced at the end of '57 at the lofty price of $525, making it a high-end professional guitar. The Country Gentleman sold respectably, but far below the numbers of the still-hot 6120, which listed $100 lower.
The Gent remained largely unchanged until '62, when it and the 6120 were given a double-cutaway design. Solid on top, the new 2″-deep Electrotone body marked the Atkins line, with the 6119 Tennessean retaining the single cutaway.
Another new idea was the mechanical mute – a foam pad in front of the bridge that could be raised or lowered by a dial knob. Slightly later, it was replaced with a simpler flip-up lever. Both were largely ignored by players. Installing this hardware required a large opening in the back of the guitar, covered by a snap-on pad that was given a marketing twist describing it as "Cushioned for comfort during those long sets."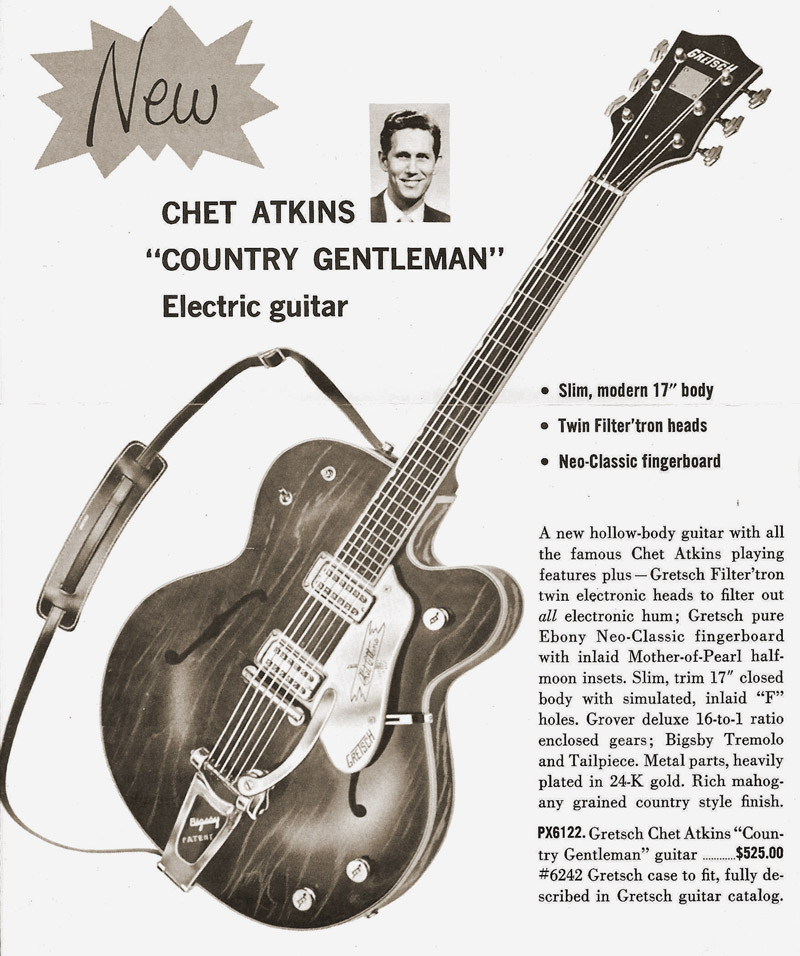 In this era, Gretsch was a large operation, but still entertained special orders that, while rare, included custom cosmetic touches or a combination of features from various models. The double-cut Country Gent you see here is a fascinating example. Its 507XX serial number indicates it was completed in late '62, when the double-cuts had been on the market for about a year. It would almost certainly have been ordered through a Gretsch dealer, as certain features make it unlikely it's a prototype or NAMM experiment.
While the headstock plaque confirms this a Country Gentleman, instead of the mahogany-grained 17″ body, it was given the 6120's classic Western Orange livery. Even stranger is the thin, laminated spruce top instead of maple; by '62, this feature was only on the Sal Salvador model and occasionally on a 6192 Country Club. There are no mentions of this as an option, but perhaps when a dealer or customer asked, and the company complied. Or – Gretsch being Gretsch – perhaps it just happened!
The top on this 6122 also has large open double bound f holes, a feature never used on the Gent, which again, as a selling point, had the closed-top Electrotone body.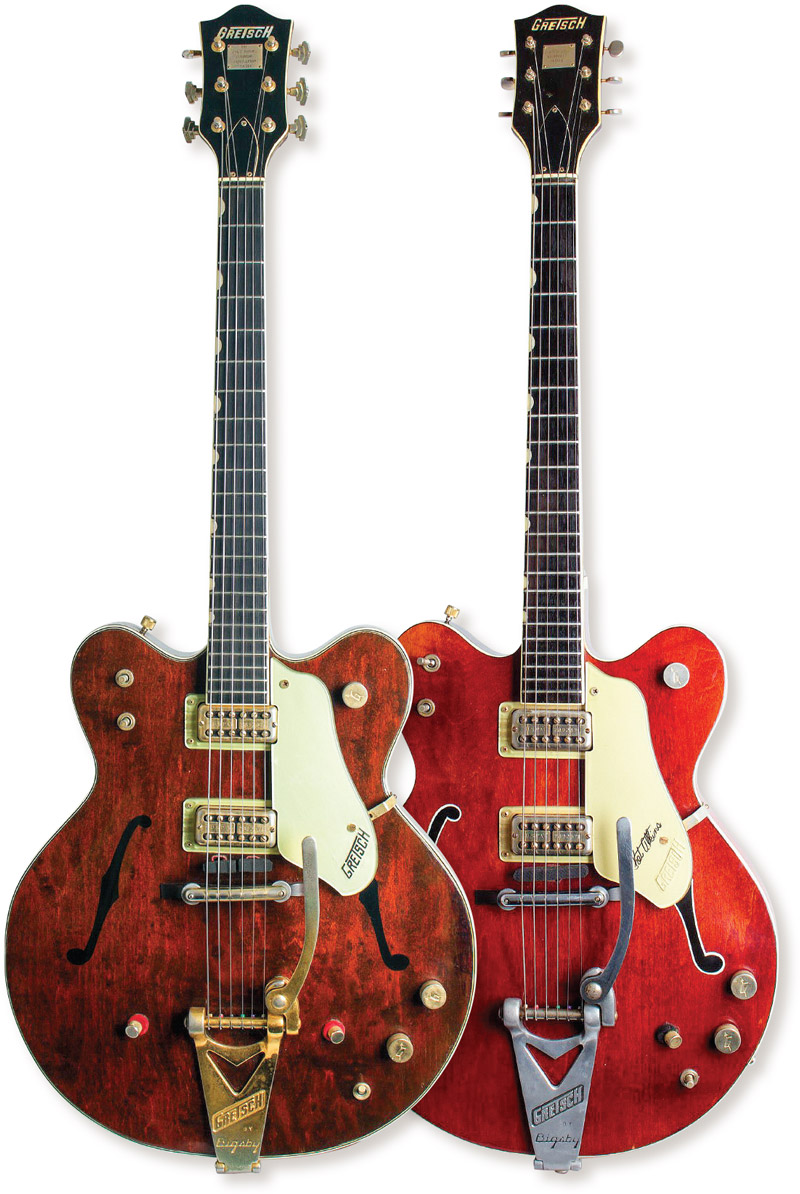 Other features are standard for the Gent in this period, including a laminated maple neck with a bound-ebony fretboard with "thumbprint" inlays. The body is five-ply bound, the head single-bound. It carries typical Country Gentleman hardware – gold-plated Bigsby, straight-bar bridge, and Grover Imperial tuners. Electronics include two "patent number" Filter'Trons and three-knob/three-switch wiring, including the recently added standby switch on the lower bout. The double mute allows treble and bass string pads to be operated independently by flip-up levers with red felt pads around the bases.
This would have been a very expensive guitar. In '62, the 6122 listed at $595 (a case added $58). It's likely there was a significant upcharge for the custom features, and a wait while the spruce-top body was constructed.
One-off instruments that surface decades later are often in well-preserved condition, perhaps beause the original owner took special care of it, or simply didn't use the guitar much. This one has seen some play time but exhibits only minor wear, mostly to the hardware plating. It's original except for new pads on the mutes, and lives in its original two-tone grey hardshell case. A fine-playing instrument, it has a slightly airier tone than the standard Gent with a closed top. The body is a bit lighter, which makes it slightly neck-heavy. Also, the Bigsby was misaligned at the factory and thus sits at a noticeable slant – not uncommon on Gretsches of the era. Still, as with many vintage Gretsch guitars, the quirks go hand-in hand with its charms.
---
This article originally appeared in VG's August 2022 issue. All copyrights are by the author and Vintage Guitar magazine. Unauthorized replication or use is strictly prohibited.
---