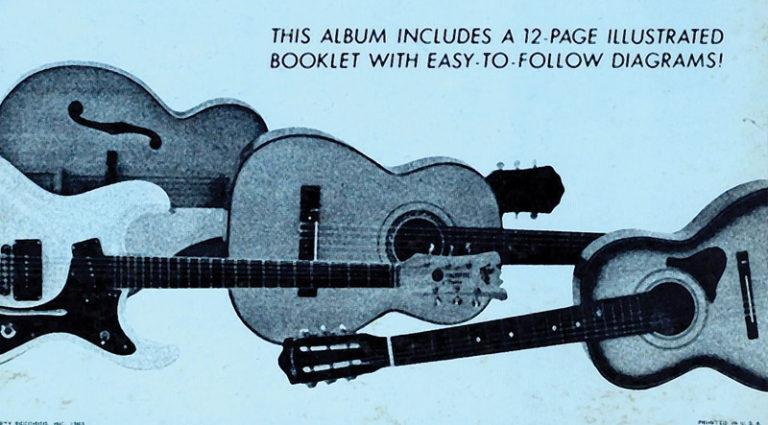 Think of your favorite rock band, and imagine sitting in with them – or better yet, being a member. The Beatles? Sure. Subbing for Keith Richards? Go for it. Going toe-to-toe with Kirk Hammett or surfing with Satch? Why not!
Well, I got to do just that. In 1983, I subbed for rhythm guitarist Don Wilson with the original Ventures for two weeks. It wasn't very glamorous – playing a Sirloin & Brew in Pueblo, Colorado, and a rodeo in Lander, Wyoming. But it was a thrill I'll never get over.
I was first captivated with the electric guitar after seeing Duane Eddy on "American Bandstand" when I was five. Those tremoloed bass-string melodies and whammy-bar dips were exotic and sexy at an age when I didn't know what exotic or sexy was. Then came the Ventures' first smash, "Walk, Don't Run." To fully appreciate it, find it in mono – the way it blasted out of car radios. That sound raises the hair on my arms to this day. Skip Moore, drummer on the session, snapping the snare, Don Wilson entering with those famous major chords – AAA-GGG-FFF-E – shadowed by Nokie Edwards' bass; I was hooked even before the melody came in. Bob Bogle's lead on a Jazzmaster (using both pickups) was clear, melodic, and perfect. Moreover, it rocked!
From 1960 to '69, the Ventures cranked out 32 studio albums and seven live discs, including a whopping six in 1965. When I took up guitar that year, in the midst of the British Invasion, their material was a staple. Play Guitar With The Ventures LPs were also a big part of my training – with chord charts and songs played at normal speed and slow, with lead, rhythm, and bass dropped out so the listener could play along.
By the '70s, the band was so popular in Japan that they played virtually no dates in America that entire decade. But, after KROQ disc-jockey Rodney Bingenheimer began spinning their hits alongside new-wave bands, the classic lineup – Edwards on lead, Bogle now on bass, drummer Mel Taylor, and rhythm man Wilson – played to a packed house at Hollywood's Starwood nightclub in December of 1980. Bingenheimer introduced them to the Go-Go's, and in '81 they recorded Charlotte Caffey's instrumental, "Surfin' and Spyin'."
As great as their records were, the Ventures were loads better live, brimming with energy. When they played Northern California, I interviewed them for a September '81 Guitar Player cover story, in which Wilson said he broke too many strings using a Stratocaster, never liked Mosrite's "too-sensitive" pickups, and switched to a Jazzmaster in the late '60s.
In '79, I'd formed an instrumental quartet called Cowabunga and, as the name implies, we played surf instrumentals. We got to open for the Ventures at the Sutter Creek Theater in the Sierras in '82, and they remembered me from that interview. So in '83, when Don was busy mixing an album for Japanese release, Mel called to see if I'd sub on tour for two weeks – after I'm sure they called other candidates who weren't available. He asked if I had a Jazzmaster (yes, a '64) and if I could play the famous "Pipeline" lick from the Chantays hit (which I'd fit into nearly every song in my repertoire). I was hired with no audition, no rehearsal, for $500 a week plus expenses.
I flew to L.A. and got together with Don at his house. Just the two of us, Jazzmasters unplugged, we ran down a set of about 18 songs. "Classical Gas" was the hardest, and they did one of those long "Stars On" medleys that were popular at the time, so I had to carry a cheat sheet. But those Play Guitar With albums came in handy. I adopted Don's percussive, all-downstrokes, "flogger" style for most songs; he switched to up-and-down for "Slaughter On Tenth Avenue" and some others.
The band always opened with a bang, doing "Walk, Don't Run," with just rhythm guitar following the well-known drum intro, so I knew I couldn't wimp out. I had to hit it hard, with confidence, ignoring the jitters in my every fiber. There were mistakes, and I learned a lot – both musically and in the reality of touring, which I'd never done.
When my little stint was over and Don rejoined the guys, there was a fire in the band's Winnebago, and Wilson broke his foot escaping the blaze. I joked that if I'd still been onboard, headlines would have read "Ventures Escape Fire," with "….journalist perishes" in tiny print.
In a documentary filmed years later, Don said that no matter how many times he played "Walk, Don't Run," he never got tired of it. We played it, as well as their follow-up, "Walk, Don't Run '64," with both of them reprised in the "Stars On Guitars" medley. So if there was a night when we did two shows, I got to play it eight times. And I, too, never got tired of it.
---
© 2022 Dan Forte; all rights reserved by the author.
---
This article originally appeared in VG's April 2022 issue. All copyrights are by the author and Vintage Guitar magazine. Unauthorized replication or use is strictly prohibited.