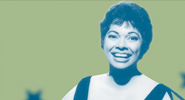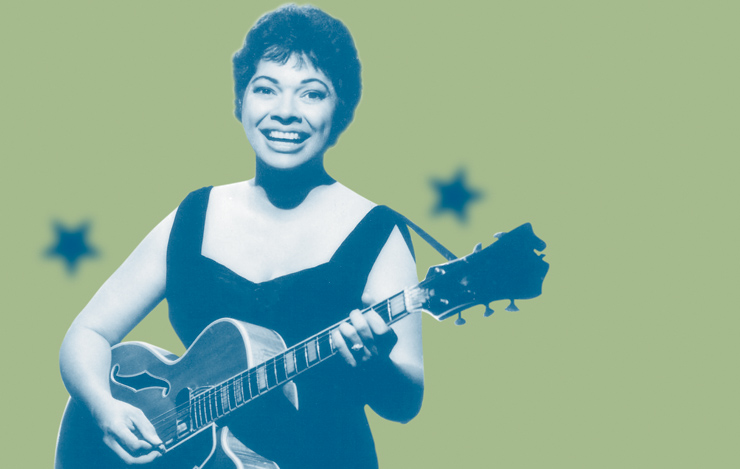 Most informed guitar enthusiasts associate veteran "lounge" guitarist Mary Kaye with the unique '50s Fender Stratocaster model (blond finish, gold hardware) that has assumed her proper name as its designation.
However, it's ironic that she never owned a "Mary Kaye" Strat in the time that she brandished one in publicity photos of the Mary Kaye Trio. What's more, she was an entertainer in Las Vegas in its very early days, before the Nevada locale evolved into a gigantic entertainment metropolis, and her band was at the forefront of the genesis of lounge acts
In a recent dialogue with VG, Kaye looked back on a memorable career, and offered recollections about the so-called Mary Kaye Stratocaster and her other guitars.
Vintage Guitar: I'm aware that your actual surname is Ka'aihue. Are you Hawaiian?
Mary Kaye: I am of royal heritage on my father's side – he was a pure-blooded Hawaiian. His name was Johnny Ka'aihue, and he was the son of Prince Koheo, Queen Liliokalani's younger brother. His stage name was Johnny Ukulele, and he was known as "the world's greatest ukulele player." He died in 1970.
At the age of 19, my father traveled to Michigan with the Duke Kahanamoko swim team, and met my mother, Maude VanPatten, who was a Detroit socialite; she was of Dutch and English descent. I was born on January 9, 1924. I'm originally from the "Island of Detroit!"
Considering your heritage, did you know Freddie Tavares before he went to work at Fender?
I knew Freddie Tavares as a part-time steel guitar player with my father's group. I'm not sure if he was with Fender prior to our first meeting.
What were the earliest musical groups you played in?
I was in my first group when I was 10 years old. My brother, Norman, played the ukulele and did the lead singing. Our friend, Freddie Meyers, played steel guitar. I was playing a Martin guitar or uke… I was only singing background to my brother; I was a little too shy to sing.
The group had no name, and the only other groups I played in were my father's groups and the [Mary Kaye] Trio.
When did you first start concentrating on guitar, and how did your style evolve?
I began playing on a Kalamazoo at the age of nine, and that lasted all of two weeks, when I switched to a Martin guitar. I never really concentrated on the instrument; my style evolved from knowing the four strings of the ukulele so well, and I wanted to use the extra strings of the guitar, as well. Between that and my ear, I developed my style. I hear it all in my head.
I played acoustic until 1949, when John D'Angelico introduced me to electric instrumentation by installing a pickup on a guitar he made for me. Later, Don Randall from Fender supplied me with a variety of Fender amps, and I continued to use them for the rest of my career. I've never used another brand, except at a guitar show, where I plugged into a Bad Cat amp, which was pretty nice.
How did the original Mary Kaye Trio form?
Musical differences with my father led to the beginning of the Mary Ka'aihue Trio, which later became known as the Mary Kaye Trio. All the members of the Trio had originally started with my father's group.
The group's main asset was vocals, and that the guitar was primarily used as a rhythm/accompaniment instrument. To what extent did the guitar figure into the mix when you performed in concert, and on recordings?
The group's main asset was comedy. Being from a vocal era, it was a given that the vocals were an asset, but the comedy was our ace in the hole. Songs like "How Did He Look?" and "You've Changed" are good examples of the true comedic genius of the group.
Our personalities, audience interaction, and communication, along with the constant ad libs, were other assets that made us who we were. The late Frank Ross, the funny man of the Trio, was the greatest comedian of our time. I'm not just saying that – it's been stated many times by a lot of the greats in the industry. He was a mentor to both Don Rickles and Shecky Green.
As for my guitar playing, it was our main accompaniment until we got to Las Vegas in 1950, where we added Frank Hudak or drums and Rudy Egan on piano.
The guitar became primarily part of the rhythm section. I led, and they followed. I played on all of the Trio's recordings.

Details about the move to Las Vegas? You were there in the very early days of the town.
While in Chicago, we hooked up with Billy Burton, who became our manager. He brought us to the Frontier Hotel in Vegas. We stayed to reduce the financial stress that traveling caused with the I.R.S.
As for my recollection of the early days of Vegas, I'm writing a book.
Your group was part of the genesis of the lounge act concept – that such venues developed as smaller, quieter facilities separate from the main Vegas showrooms, and were more like after-hours clubs.
While playing our first gig in the main showroom of the Frontier, we were asked to stay over after our four-week engagement had ended. Without a room to go to, I suggested a stage be built in the bar area, and it could be called a "lounge." Jack Kozloff, the owner, and Eddie Fox, the general manager, had it constructed immediately.
During its first week of operation, Frank Sinatra and friends dropped $120,000 on the tables during which became known as the "dusk 'til dawn" hours. This impressed the other hotels to the point where they began to stay open 24 hours. A little-known fact was that all of the Vegas hotels operated from 6 a.m. to 1 a.m. in the old days.
Hotels began hunting for entertainers to fill their newly constructed lounges. Not all entertainment worked, but smaller, tight-knit groups were working out better than the big bands of that time. I remember Cab Calloway and Artie Shaw didn't do so well outside of the main showrooms.
You must have played for or in front of many celebrities…
Judy Garland, Marlene Dietrich, Vic Damone, Sammy Davis Jr., Shelly Berman, Loretta Young, Dean Martin, and many, many more sat in with us. Because we performed so late in the evening, entertainers were the bulk of our audience.
One of the more notable fans of the Trio was Elvis. He'd always ask me, "Where'd ya get those grabs?" referring to my guitar playing.
How many singles and albums did the original Trio release?
At last count, we estimated 21 singles and 11 albums, all on major labels. There are a variety of albums with singles by the Trio on them, and occasionally some oddities turn up.
Some have cited "You Can't Be True, Dear" as an early – if not the first – rock and roll single by a band fronted by a female.
The top rock producer of that time was Don Ralke, who arranged that song for us. With his name on it, it landed in Billboard as a rock tune, and was distributed to all the school jukeboxes in the U.S., along with other rock and roll singles. There's no other listings of another female singer in the rock genre that we could find prior to this.
You've owned more than one D'Angelico…
The first D'Angelico I played was owned by my ex-husband, and was built in the early '40s. His mother bought it for him from Mel Bay, in St. Louis. It was white, and can be seen on the Trio's Live On The Sunset Strip album cover.
I got John D'Angelico's address from Mel Bay, and while in New York, we ordered a natural-finished D'Angelico with my name inscribed in pearl on the neckboard, for $495. Later on, I ordered an ebony Concert D'Angelico for $500. That was a lot of money in the early '50s! John measured the necks of both guitars to fit my hands.
I fell on hard times thereafter, and needed money, so I sold them. No other guitars in the world could compare to those, except for my custom guitars.
You are most closely related to the mid-'50s blond Stratocaster with gold hardware. But it's been reported that due to some kind of mixup, you didn't get to keep the one you were holding in that famous Fender publicity picture.
Guitarist Steve Gibson of the Red Caps, another lounge group we rotated with, introduced me to Don Randall. Around 1954, Don brought me a Fender guitar – not the Strat – to play onstage. Though I refused to play it, Don started bringing me Fender amps to use with my D'Angelicos. In '55, Fender delivered the blond Strat to me, prior to the Trio going onstage at the Frontier Hotel for the famous publicity shot, taken backstage. (The guitar) was returned to Fender later that evening.
Six months later, Billy, our manager, set up an arrangement with Fender to let me use the blond Stratocaster in a Columbia movie, and again it was returned to Fender.
By this time, everyone was referring to it as the "Mary Kaye Strat," and I remember Billy was upset that the guitar was returned to Fender after Leo Fender had promised it to me. We were too busy with the Trio's career to ever look back and correct the mistake.
I've since come back into contact with that same Mary Kaye Strat via the internet. Ian Ashley Hersey now owns that one, and another '59 Mary Kaye Strat, as well.
After hearing his CD, Fallen Angel, I became an instant fan, and we've since become good friends. Our relationship has led to him producing my first-ever rock CD of songs written by my nephew, John Kaye.
So you did visit the original Fender factory in Fullerton?
It was a small mom-and-pop shop, like a carpenter's factory, with the floor covered in the day's wood debris. It was what I had expected. I was greeted by Leo Fender himself; he was very nice.
I also saw my old family friend, Freddie Tavares. I was surprised to see him there; I never knew the connection until then.
The movie that Strat appeared in was Cha-Cha-Cha BOOM!, a musical. The Trio also appeared in another film called Bop Girl Goes Calypso.
I knew very little about either film. I'd arrive, get dressed, get escorted to a Vegas-type stage with lots of extras as the audience sitting at tables, applauding our performances. I had a speaking part with an actor whose name I can't remember. Do makeup, hair, do the shoot, and out.
Neither movie was too memorable an experience. I've been trying to locate a copy of Cha-Cha-Cha BOOM! ever since.
What about soundtracks for other movies, such as Boy On A Dolphin?
The owner of Fox Studios, Stanley B. Meyers, his wife Dody, and their family invited my children and me to a dinner at their home. He mentioned he had several movie projects he wanted me to sing the theme songs for; the first was Boy On A Dolphin, then there were the title tracks for Home Before Dark and Spring Reunion. I'm not sure they were all for his studio, but he was my introduction to these movies.
Wasn't your biggest single, "Kookie, Lend Me Your Comb," a novelty song?
"Kookie, Lend Me Your Comb" was a fluke hit; I really don't remember much about those recordings. We did nightclub scenes for other songs for "77 Sunset Strip," the TV series, but that (song) was the biggest hit. Eddie Burns, who played Kookie, was not a singer, but was a good-looking young actor who could rap.
Our appearances were arranged by Billy Burton. As for our biggest song, it was "My Funny Valentine," by Rogers and Hart – that song put the Trio solidly into the recording industry.
There were times when you were nominated for the Playboy jazz poll.
We had no idea about the Playboy jazz polls until Billy brought me the certificate. We were surprised to be picked the winners; our collaborations with Robert Smale won us this award twice. Nelson Riddle, Frank Sinatra's conductor, called Robert Smale one of the most talented arranger/conductors in the industry, and this proved it.
Of all of your albums, do you have any favorites?
A Night in Las Vegas and Jackpot! are two of my favorite albums; they have everyone's talents showcased. Up Front! and Live on the Sunset Strip are my favorite comedy albums.
How many are available on CD?
I've seen several copies of all my material floating around the internet on CD. The labels never properly compensated us for [the recordings], and they've made ridiculous demands for us to recover the masters.
How long was the Mary Kaye Trio in existence? You were seen playing a Telecaster in that phase of your career.
All of the members of the original and the New Trio are some of the greatest musicians in the world. Ray Malus and Ronnie Douglas were with me from 1966 to '68, after the original Trio split.
From '69 to '71 I worked with Dave Sullivan on guitar, Paul Delacato on guitar, and Larry Ahuna on guitar and vocals. I played with Jimmy Caravan on keyboards, and Jone Johnson – who gave me the Telecaster – on drums, from '71 to '73.
In '74 and '75, there was Jim Yates on guitar and Stephanie Haynes on vocals. I had the pleasure of working continuously with Nadine Jansen on keyboards, flugelhorn, and vocals, Jim Simmons on bass and vocals, and Dave Wilson on drums and vocals from '74 through '79, I had to retire at that time due to health reasons.
In 2002, Fender presented you with a new Custom Shop Stratocaster – "The White Beauty."
I'm honored Fender presented me with such a beautiful piece of art; one of my favorite guitars ever. Not to confuse the issue, but The White Beauty was my Fender Squire Strat I played for three years, prior to receiving my new Strat.
My nephew had been soliciting Fender for quite some time, and they responded with my new addition to the family! You can see pictures of it at the Mary Kaye Trio website. It has an inscription on the neckplate which reads, "To Mary Kaye from your friends at Fender."
It came with a certificate from the Custom Shop which reads "Model 'Mary Kaye Stratocaster', serial #MK001." I believe this will be the only one made by the Fender Guitar Company because of an endorsement issue.
What keeps you busy these days?
My nephew, my daughter, grandchildren. My family keeps me on my toes at home; my granddaughters that are still at home are four and 12. That'll keep anyone hopping!
And as of [this February], I've officially been playing out in public again. I'm recording the rock CD, and am also recording two contemporary CDs of the standard nostalgic songs from my era, like Diana Krall is now doing. She's great!
I intend to find the more obscure hits that were just as famous as those Diana does, but less high-profile. These CD projects of the standards will showcase my guitar playing more than ever before.
My nephew presented me with several guitars to use on these recordings. I'll be selling my own Mary Kaye guitars made to my own specifications, and that will have to pass my standards of quality. I plan for these to be the finest electric guitars available; the main feature will be ease of playability. I've never had callouses from playing guitars that are set up right.
Besides learning new songs and working on the book, I personally answer anyone who signs the guestbook on the Mary Kaye Trio website.
You still reside in Las Vegas. How do you feel about the way the city has grown and evolved from the time you moved there over 50 years ago?
From 1980 to '86, I lived in the San Fernando Valley of California, creating porcelain dolls for the Mary Kaye Doll company. I moved to Las Vegas in '86 to live with my daughter, Donna, and have been here ever since.
The growth of Las Vegas has been sensational! It was a little town that became a city. I'm proud to be a Las Vegan; it's the greatest city of them all!
*For more about Mary Kayes' Stratocaster, check out this article at www.vintageguitar.com/3255/
---
This article originally appeared in
VG
's Aug. '03 issue. All copyrights are by the author and
Vintage Guitar
magazine. Unauthorized replication or use is strictly prohibited.