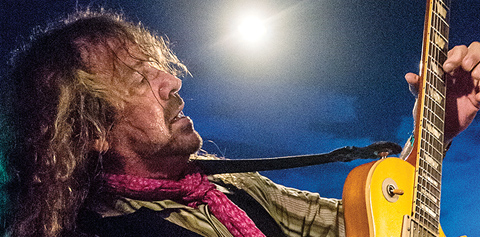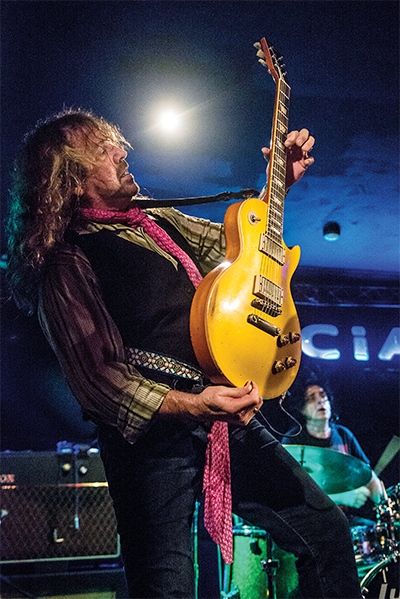 If your ear was at all tuned to "alt-country" (a.k.a. cowpunk) in the late '80s or you were lucky enough to be informed of it in the years since, you're aware of the path carved by Jason and Scorchers. Popularly associated with the wiry appearance and lead vocal of Jason Ringenberg and the Tele-through-a-dimed-Marshall tone of guitarist Warner Hodges, the band teetered on the precipice of the rock big-time before being leap-frogged by grunge.
In the years since, Hodges, who confesses to being "Not much on sittin' still," has thrown his Tele (and Les Paul and SG) tones into the mix with several bands including the Bluefields, friend/neighbor/former Georgia Satellite Dan Baird and his outfit, Homemade Sin, and more recently, with Georgia's own Drivin' N Cryin'. On top of it all, he occasionally kicks out a solo album; his second, Gunslinger was released in late 2014 and co-opts Baird on bass ("He also did a bit of guitar," Hodges said), Brad Pemberton on drums, and Joe Blanton's engineering handiwork and background vocals. Efforts like it are where grown-ups go these days to find real rock and roll.
How did Gunslinger come together?
The songs were written from June to September of 2014, while the Bluefields were touring Europe; Joe squirreled away many gems on the road, so we had good starting points. "Homage" and "You Don't Owe Me" were written during the Homemade Sin sessions for Circus Life.
Dan and Joe really wanted to make sure it was a guitar record, but sounded like we had put some thought into the songs, not just the solos. And I wanted it to be a rock and roll record. Living in Nashville, I get to scratch lots of itches, and wanted to stay out of the country vein this go-round. Centerline [Hodges' 2008 album] was more country-influenced.
Not being a lead singer in the traditional sense, what was your approach to the vocals?
I wanted to do another record with me hollerin' in the can (laughs). I don't think of myself as a singer, but I do know – and get to make music with – some really good singers. If you hang with Joe, Dan, and (Drivin' N Cryin's) Kevn Kinney, you're gonna learn to sing a bit… hopefully.
There's nothing on the album that sounds or feels much like a JATS tune.
We just started writing a new JATS record, so I shied away from anything I can use for that. Given that band's history, I'd like to have something new to say. We're really excited about the prospect of another record.
Which guitars and amps do we hear on Gunslinger? 
I used my Gibson '57 VOS Gold Top on 60 to 70 percent of the album. It's my go-to these days. I also used a '58 VOS and a white Fender Custom Shop Tele. Dan used Joe's Nash, and I used one of Joe's Strats on the solo of "You Don't Owe Me." The acoustics were Dan's old Gibson J-45, which looks rough but sounds great, Joe's old J-200, and an Epi J-200.
We recorded with a few amp rigs. Dan has a Hiwatt DR103 that we use a lot. That amp is amazing. We also use Danny's JTM 45 – not as much, but some. I'm also a big fan of the Orange Dual Terror, which we use with either an Avatar 2×12 or 1×12 with Hellatone 30 speakers. We also used Joe's old Fender Vibrolux.
How about effects?
I have a bunch of BearFoot FX pedals and a bunch of Mad Professor stuff, a Wampler tape echo for long delays, and an MXR Carbon Copy for what we call "JPOT" – Jimmy Page Outdoor Tone – that great slap. I'm a huge fan of the Baby Pink by Bearfoot. I also love the Little Green Wonder by Mad Professor, and their Royal Blue Overdrive. I just got the Mad Professor Simble Overdrive, but haven't recorded or toured with it – yet!
Are you doing solo shows in support of the album?
Late last year, I did six solo shows, all in Great Britain. I'll be doing more this year.
Do you get to step up to the mic during one of the other gigs?
I did one song on the last Dan Baird And Homemade Sin tour of Europe. It was fun.
What's on your calendar for the foreseeable future?
Next up is a run of Drivin' N Cryin' shows. I've been fortunate to know the guys in that band for many a year, and have been asked to join their stable of guitarists – Warren Haynes, Audley Freed, Sadler Vaden, Aaron Lee Tasjan. Nice company! May and June are Homemade Sin Euro shows, then in July we'll do American dates. Late October through November, we'll do another Euro run. Inside all of that, I'll try to do some solo shows, and work on the Jason and the Scorchers record, plus we'll either write a Bluefields or another Homemade Sin record, too. I'm kinda busy (laughs).
---
This article originally appeared in VG's May 2015 issue. All copyrights are by the author and Vintage Guitar magazine. Unauthorized replication or use is strictly prohibited.
---