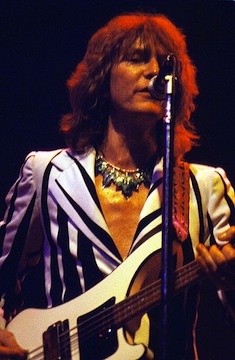 Chris Squire, co-founder of the legendary British progressive rock band Yes, died June 27, following a brief battle with acute erythroid leukemia, a rare and aggressive form of the blood malignancy. He was 67.
Yes formed in 1968 and quickly earned praise for its complex arrangements of original material and unique reworkings of songs by other artists. The band eventually became as an icon of progressive rock, best known for songs such as "Roundabout," "I've Seen All Good People," and "Owner of a Lonely Heart."
Squire's unique playing style was primarily purveyed on a Rickenbacker 4001, and the company marketed a Chris Squire signature model. He also used Lakland and Mouradian basses, as well as a Wal triple-neck.
He was the only original member of Yes to have played on every album. In the mid '70s,  he recorded a notable solo album, Fish Out of Water, and also played in offshoot groups such as Conspiracy.
One brief experiment occurred while Yes had briefly broken up in the early '80s was a collaboration between Yes members Squire and Alan White, along with guitarist Jimmy Page. The aggregation was named XYZ (for "Ex Yes and Zeppelin"), but it recorded only four demo songs. – Willie G. Moseley