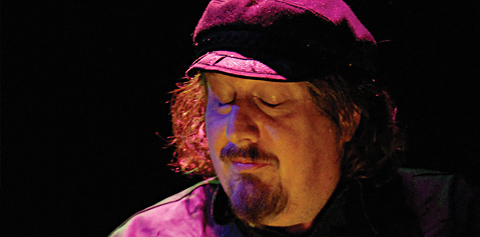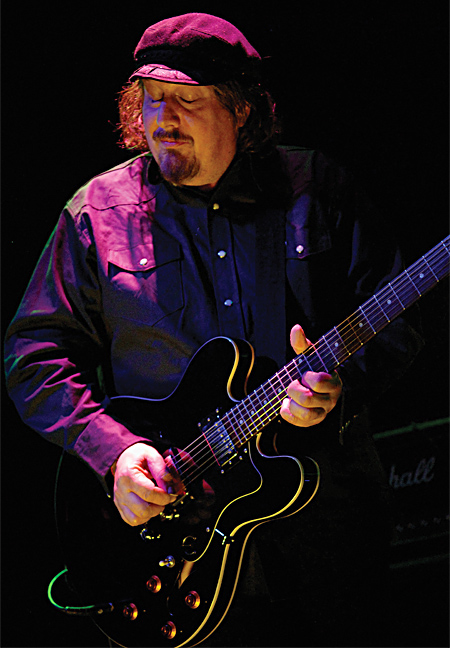 As any fan of Drivin 'N Cryin can attest, Kevn Kinney at his creative best surrenders little to the greatest singer/songwriters in pop – his message is delivered in succinct, pointed turns of phrase transmitted by a voice like no other and accompanied by riffs that sink deeper than a treble hook.
Drivin 'N Cryin was formed by Kinney and bassist Tim Nielsen in 1985, several years after Kinney had moved to Atlanta from Milwaukee. With the help of a few rotating drummers, they gained quick popularity and within a year of their first gig, recorded Scarred But Smarter for the indie 688 Records label. The following year, they signed with Island and recorded Whisper Tames the Lion, followed in '89 by Mystery Road. Though each disc nudged the band further up the fame ladder, the label began pressuring it to step away from its inherent sound. Kinney at first resisted, then worked a compromise that saw him record a solo folk album (MacDougal Blues) while agreeing to move the sound of DnC toward mainstream rock.
The band spent the summer of 1990 in a Memphis studio with producer Geoff Workman and emerged with Fly Me Courageous. Released in early January of '91, it offered a sound that, perhaps by its sheer simplicity, was distinctly separate in the atmosphere of the day – it wasn't trendy, kitschy pop, didn't emulate their friends in R.E.M. (who were huge at the time), and wasn't as noisy as the grunge that had begun its plunge into overexposure. And it stood out thanks to Kinney's songwriting.
The masses got their first taste thanks to the MTV videos for "Fly Me Courageous" and "Build a Fire," and the resultant surge pushed DnC up the cliff that is rock stardom.
The ensuing years saw the band record a few more times and remain active into the 21st century, its sound always pulled together by Kinney's distinguishable voice, a guitar tone birthed from Mosrite guitars, and Nielsen's pocket-favoring style.
In 2012, DnC released the first in a series of themed EPs aimed at keeping fresh music bouncing off fans' eardrums. The first three carried a theme that addressed the band's musical influences. The initial release, Songs from the Laundromat, revisited its Southern-fried jangle-rock roots and was followed by Songs About Cars, Space and The Ramones, Songs From the Psychedelic Time Clock, and, finally, Songs For the Turntable.
The concept came to Kinney during a conversation with his wife. "I was writing [songs] one morning while she was listening to music. As a particular song was playing, she said, 'You should record that.' I said 'I did…' She was listening to the last song on my most-recent album!
"It dawned on me that people don't usually listen past five or six songs," he added. "So, I thought, 'I'll make a record with five or six songs. In fact, I'll do four or five – or maybe the rest of my records that way!"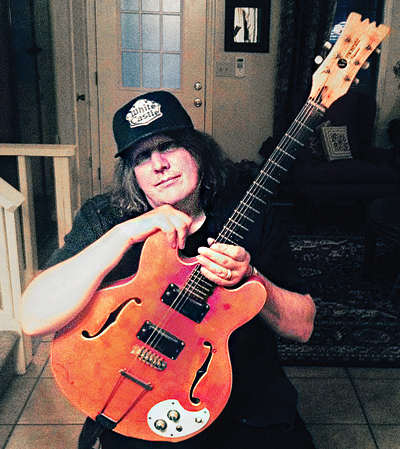 The scheme, he said, addressed several issues for Drivin 'N Cryin.
"We have never shied away [from our] influences, but sometimes, combining them on one record can be disconcerting," he said. Beyond that, he was attracted to the idea of offering contrasting sounds by different producers, and concedes to a lack patience for drawn-out recording projects, which he equates to "a big buildup, as if you're J.D. Salinger!" followed by the obligatory tour and the subsequent return to reality.
"I don't like hype," he said. "I just want to offer my art to fans."
As with nearly all DnC music, the four EPs were well-received by critics and fans – including some artists who themselves have enjoyed the view from the precipice.
"Kevn most often reminded me of Neil Young in his commitment to a personal honesty that carry forth into every set," said Dan Baird, whose Georgia Satellites led a guitar-rock resurgence of their own in the early '80s. "That's what was appealing about him – and remains so. His set of personal values is reflected consistently. It's always good to watch and listen to someone playing with their own money on the table."
Baird isn't the only rock star who considers Kinney a rock star.
"He's a great guy and a great artist," added guitarist Audley Freed, himself a musical icon for his work with Cry of Love. "He's a real treasure."
Seeking to dig deeper, we talked with Kinney.
When were you first impacted by music?
There was a band from Milwaukee called Michael and the Messengers – psychedelic band kind of like Paul Revere and the Raiders or The Shadows Of Knight – and they got to be kind of big. They played in the parking lot of the Dineen Park pool one day, and I could hear the drums from my house. I was, like, "What is going on? That sounds like a rock and roll band." So, we jumped on our bikes to check it out, and that was the first time I saw a band up close, not at a state fair or something! They were right there, on this little stage. It blew my mind, and I remember thinking, "I wanna do that."
The second one was in the summer of '77, when I saw the Ramones play at Summer Fest, in Milwaukee. I had been thinking I could actually become a musician and play the guitar, but when I listened to Zeppelin and the Stones, I thought, "I can't make music like that…" But when I saw The Ramones, I thought, "Wow! That's amazing. Music can be energy and intention, as well as craft," you know? Still, it took me years. I became a roadie for a while, and finally formed a band in 1980.
Does the Ramones influence explain why you've played Mosrite guitars since the early days of Drivin 'N Cryin?
Well, there's three bands – The Ventures, MC5, and the Ramones – that all played Mosrites, along with other guys. Maybe "In-A-Gadda-Da-Vida," and Glen Campbell. My goal in life is to have Glen Campbell autograph one of my Mosrites – maybe my [Celebrity]. That would be the holy grail for me.
Listening to the Ramones and the MC5, were you drawn specifically to the guitar sounds?
They were everything, yeah. Bands like the Human Beins, Davie Allan and the Arrows… The way Johnny Ramone made it sound – to this day, I think Johnny Ramone, Jimmy Page, and Keith Richards are the three best lick players ever.
What was your first guitar-and-amp setup?
Well, I had a Teisco Del Ray, but I didn't really learn to play it because I didn't know anything about adjusting the action. But, I bought my first Mosrite for $75 at a pawn shop in Milwaukee – an Avenger that Semie Moseley later told me was a copy. I had a Vibrolux with it, then a Bassman stack, then used Vibrolux stack with the Bassman stack; I had amps and guitars on both sides of the stage when we were a three-piece. That was my thing!
When you first started bashing it out with a band, were you doing cover songs or did you work originals into the mix?
We did a lot of covers. I had my punk-rock songs – seven or eight of those – and then we did some covers like "Last Train to Clarksville," "Do You Want to Be In My Gang" by Cub Koda, "It's My Life" by the Animals – Nuggets-era stuff. I did The Who's "Legal Matter" because my band at the time was called The Prosecutors.
Why did you move from Milwaukee to Atlanta?
Well, it's warmer (laughs)! But, the story is my brother lived in Atlanta, working at a backpacking store. He told me, "Maybe you could come down and be a laborer at a construction site, it's like $5.50 an hour." I was making two bucks an hour at a record store in Milwaukee, so $5.50 an hour was a lot of money! I didn't know how hard the work would be, especially in the summer.
I just needed something different, musically; in Milwaukee, I didn't see that anybody would ever care about my music, so I went south, did a couple gigs, and people went, "That's interesting." So, Tim Nielsen and I started a band. We took it seriously and saw it as a great opportunity; in the '80s, a lot of college fraternities down South hired rock bands, and we'd make $1,000 a night. In Milwaukee, we'd split 30 bucks, go to a restaurant, get our coffee and a burger. And we were good with that, you know? But this was people paying us real money. I don't remember that sort of community in the Midwest. [Crowds] liked to hear original bands. You didn't have to learn covers, they were just happy you were there and rockin' out.
The Atlanta music scene, when I got there, was just starting to cross over to national – the B-52s, Georgia Satellites, R.E.M. After we recorded our first album, Scarred But Smarter, we were always on the radio – every station in town. But, of course, when "Fly Me Courageous " became a hit, college radio didn't play us anymore (laughs)! We weren't cool anymore.
That song helped push the album to gold status at the time. Were you cool with becoming a rock star?
You know, at that moment, yeah, I was. The thing was, when Fly Me Courageous came out, it defined us. That was an era where it usually took three or four records to become somebody, and that was our last try. If it didn't do well, the label was going to drop us.
I don't really love that record; it's not what I would've liked it to be. I sold out a bit, you know? I did the video with the funny hats because I was like, "Yeah, whatever." Pop art, pop life, integrity… I don't know what the balance of it was, but it was fun. I got everything I ever asked for; I was on MTV, we toured the world, and then, when it was over, I made a couple more albums for a major label.
"I've since made a dozen more albums, and I'm more proud of the fact that I've never chased that again. I had my share. A lot of my fans are taken aback by that. They ask, "Don't you want to be huge again?" And I'm like, "Why?" I don't know… That's about reliving the past, and I'm really happy now.
Does that reluctance have anything to do with the fact you're really a folk singer at heart?
Maybe part of it is the folk singer in me, but part of it is also about the legacy, especially now that it doesn't matter if we're huge. I think if you just keep making stuff you believe in, like these five-song EPs, maybe my granddaughter and her friends, when they're 25, will find Drivin' 'N Cryin somewhere and be like, "That was a good band." And that will be fine with me. So I have to keep producing records, especially in the digital age, where you're in the system – you're never going to disappear. I remember when Whisper Tames the Lion was cut from the label's catalog, I thought, "No one's ever gonna hear this record… ever!" That was the truth back then. Mystery Road, Scarred But Smarter, Fly Me Courageous… they were all cut.
But they're are all available now, digitally…
They are, but there was a moment where I thought they were going to be available only as "collectibles." Which, for seven people, that's cool! There's seven collectors in every city – seven guys who have everything (laughs)!
Were the four EPs inspired by the current state of the music business, or are they more about your personal attention span?
Well, [R.E.M. guitarist] Peter Buck and I re-did some songs from [Kinney's 1990 folk album] MacDougal Blues, so it's actually five. But, I wanted to explore… wanted to explain myself. I wanted to do a Drivin' 'N Cryin' roots record, so the first one [Songs from the Laundromat] is our Southern-rock roots, the second [Songs About Cars, Space and the Ramones] is our punk-rock roots, the third [Psychedelic Garage] is our psychedelic roots, and the fourth [Songs For the Turntable] is Drivin' 'N Cryin' as we are today.
The second part of the equation is, I think, 12 songs on a record is too much. I do listen to records that have 10 songs on them, but I don't know if people have time to hear 12 songs. Every day, I get CDs from various bands, and I'll listen to the first two or three songs; I don't have time to listen to the 15th song!
Part three is I love the 45. When I was a kid, I would buy a 45 and listen to it over and over and over again. The EPs kind of let you do that. You're not exhausted from the journey; it's a neat way to spend 25 minutes.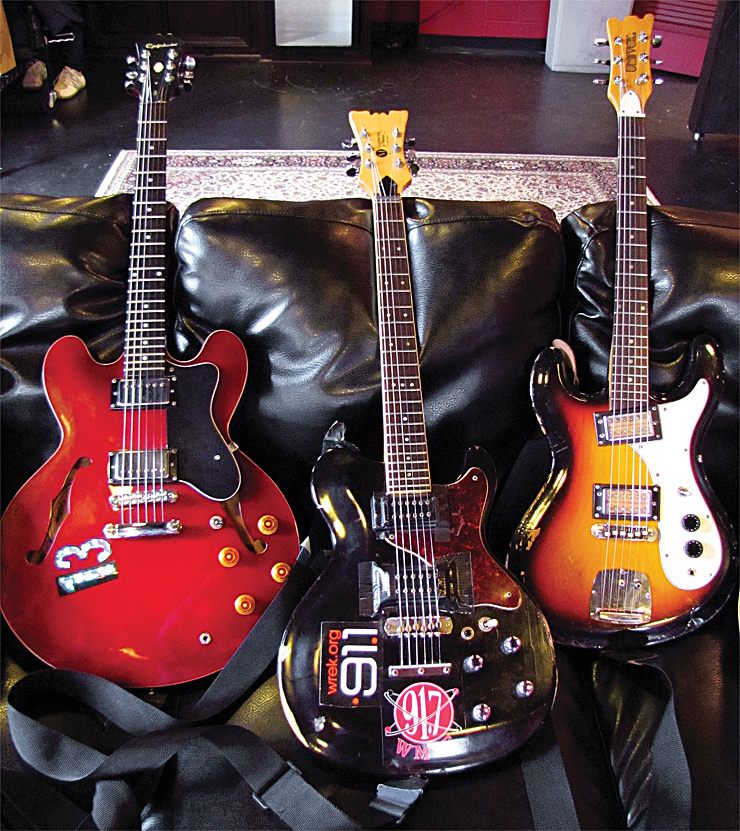 So, does Songs For the Turntable most closely compare to Fly Me Courageous?
Well, it's very commercial, like when Drivin' 'N Cryin' was goin' for it.
Would you describe Laundromat as a series of homages?
Songs From The Laundromat is kind of the country-circuit record – it's a little bit of the rock and roll that Drivin' 'N Cryin' had, Georgia Satellites, the hard rock, and things like that. There's an obvious homage to R.E.M., which goes back again to something you would hear on Nuggets – like a B-side where a band sings about another band (laughs). I just think it's funny.
It sounds very much like them…
Yeah, well, I've spent a lot of time inside the R.E.M. world, so I understand it. What we did for that, specifically, was a week before we recorded the song I told everybody, "Don't listen to anything but the first two R.E.M. records, Murmur and Reckoning." Sadler Vaden (the band's second guitarist for the sessions) and [drummer] Dave Johnson had heard their music, but weren't fans like me and Tim are. "Just listen to these records over and over and just see what they're doing," I told them. "Then we'll come in and record this." We kind of pretended it was the only world that existed. If we'd had a little more time, I would have added some more-subtle tie-ins and maybe some harpsichord falling on the floor and other weird things, you know?
Did you use a 12-string on the track?
Definitely. And, I told Tim, "Man, play the bass like Mike; play a lot of notes and (mimics a bass-line octave jump)."
Who did the high vocal harmonies?
That's Sadler. And before that, he was only familiar with "The One I Love." I don't think his generation knows about Murmur… but he does now because I made him listen to it for a week (laughs).
Songs About Cars includes instrumentals that sound Ventures-ish or like space rock. Did you play your Mosrite on those?
Absolutely. That's my black '60s Mosrite; it might be a '65, probably what the Ventures were playing before they put their names on the brand. It's a really good guitar, made before they became inconsistent. I have some Mosrites that sound really rockin' – really dirty – and then some that are really thin. The pickups are never the same.
How many do you have?
I have two Ventures Mark I models, the black pre-Ventures one, and the fake Avenger, which has the best-sounding pickup, actually. I have two semi-hollowbodies, a red one and a sunburst combo that's like a 335. I have a small acoustic that looks like something the Beatles would've played, and I have a red Ventures bass. I also have an acoustic resonator Mosrite, which is beautiful but just doesn't work for a dobro sound (laughs); it's, like, really poorly made. But it looks cool as s**t!
Do you still take any Mosrites on the road?
No, because about three years ago, we had a trailer stolen. Luckily, my guitar tech had taken the Mosrites out of trailer that night. When I called to tell him the trailer had been stolen, he said, "I've got your Mosrites at my house. I was going have them set up." So now, I buy Epiphones [for touring]. The Mosrites are too valuable and I love them so much.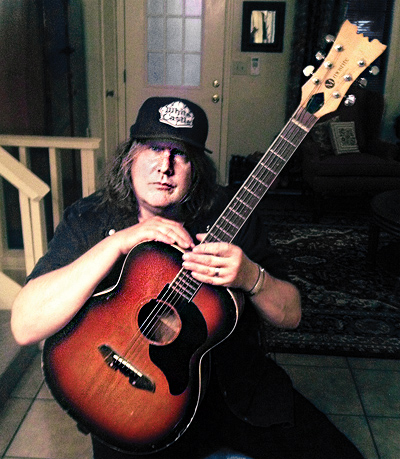 Which amps did you use on the EPs?
I used my Fender Bassmans and my Marshall.
How about effects?
I have a Big Muff and a DOD Overdrive.
Are you cool with the end result of the EP concept, or do you think you'll more likely go back to making full-length albums?
If I have a theme where I think I can do 10 songs that make sense, I'll do that. I don't know… I'm not stuck on the five-song thing, but I do like to give fans something they can enjoy for the price of a beer or a shot; some people don't have $12 after a concert to buy a full record.
I'm definitely going to make another record. It might be themed, like [DnC's 2009 album] The Great American Bubble Factory. I love that record because it's about what happened to America's working class. Every song on there has to do with fighting or working your way through things.
You recently contributed music to the FX television series "Archer"…
Yes, I did all the music for Cherlene, one of the characters who is trying to become a country star. I wrote seven songs and produced a cover of "Baby Please Don't Go" for the show. ["Archer" creator] Adam Reed is an old friend who lives in Atlanta. He told me, "I need someone to do some country songs for a character." So, we took some of my songs and re-wrote the lyrics to fit the series.
Were you familiar with the storyline of the show before he hit you up?
No, I was not aware of his amazing show. When we met to talk about doing the music, he said, "Here's some DVDs," and I watched them non-stop. The stuff is smart! And hilarious. The music is me and our new guitar player, Aaron Lee Tasjan, who also wrote one of the songs. I'm very excited about it.
Speaking of Aaron, you have always treated the co-guitarist slot as something of a revolving door. Why?
The thing about us is we started off as a trio, but when we play live, we need another guitar. The first thing I told Sadler, was, "This is a stop-off. Play here as long as you can, but there's much bigger bands out there, and there's your own career and your own songwriting." Same thing I told Aaron; "When you need to go, go. I don't want you feeling like you have to stay." I'm not that guy. I always thought what they did in the jazz era was cool, where guys would play a couple tunes with Miles [Davis], then not play with Miles, then play with Miles again. Most of the musicians that play with me are welcome to come back to do a show or two, or a tour if they want. It's an open thing.
You encourage them to keep their options open…
Oh, absolutely. My options are open; today, I have a rock band. Tomorrow, I might play solo. Why shouldn't their options be open?
When and how did it occur to you that you had a natural ability to write songs?
Well… I don't know that. But, when I first started practicing with the band, I came up with what I thought were some pretty good things. It wasn't until the early '80s that I put together music and words that made sense. I think I wrote my first good song in probably 1982. I incorporated what I was feeling and who I was into "Scarred But Smarter," and it actually made a lot of sense, and I could play it every night. I still do.
When I tried to become a folk singer, I realized, "Wow, I'm not really saying anything." And I still write songs that don't make sense but have great riffs – I like a great riff even if I don't have a heavy lyric. Sometimes, I just let the riffs be the riffs (laughs), and there's nothing wrong with that!
Is there a method to the way you write melodies and lyrics?
I think everybody in this world comes up with songs in their heads. The only difference is that when it happens to me, I stop what I'm doing and I write it down or record it on my phone. Three of the songs on the last EP are from soundchecks where I was just waiting around. I'd come up with a riff and think, "Ooo, that's good," hit the voice memo on my phone, record it, then listen to it when I got home. Sometimes it's like, "I've got to make something out of that." I think the only skill I have that some people don't is it dawns on me, "That could be a good song."
Do you understand the reverence that other musicians have for you and Drivin' 'N Cryin' music?
I don't know… Not really. I think a lot of people see me as a musician who's totally unaffected. People who respect me respect me because I've taken an approach to music that's like, "Hey, man, it's all good. I'm happy to be here. I'm happy to be making music and playing with my friends and I'm really blessed to have this opportunity. Let's all create some stuff together and maybe it'll be a good thing." If people are inspired by me, I think they're more inspired by my attitude than anything.
---
This article originally appeared in VG August 2014 issue. All copyrights are by the author and Vintage Guitar magazine. Unauthorized replication or use is strictly prohibited.
---