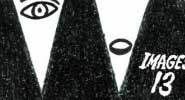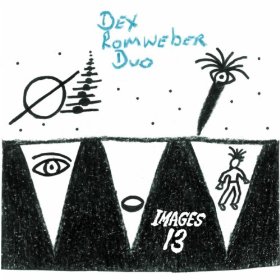 Dex Romweber and his trusty Silvertone have been kicking over the gnarly dustbins of American music since he was a teenager. (The uninitiated are advised to seek out a mini-documentary that aired on MTV's "Cutting Edge" in 1987.) Many guitar nuts will no doubt recall Jack White gushing about the inspiration he derived from Romweber's proto power duo, Flat Duo Jets, in It Might Get Loud. After Flat Duo Jets imploded like one of Dex's poor, overburdened pawnshop amps, the North Carolina native motored on, and Images 13 finds him and his evocatively aged baritone ripping their way through a collection as varied as a box of garage-sale 45s.
It's true that much of the vocabulary here is familiar. "Blue Surf" and "Blackout!" are recognizable as instrumentals before the needle even drops, though the latter is a swingin' update of Henry Mancini's "Peter Gunn Theme." And "Beyond The Moonlight" is classic School of Sun rockabilly, while "One Sided Love Affair" could be Faron Young working out a new song on his front porch.
What makes Images 13 fascinating, though, is how Romweber keeps his listeners off balance, whether by dropping an unexpected chord change amid an otherwise comfy genre or with his song selection. Prime examples include the maudlin "We'll Be Together Again" (penned by Eddie Cochran's girlfriend, Sharon Sheeley, after his death and formally released here for the first time), and the Who's semi-obscure "So Sad About Us," which rears its stylish coif like a nattily attired mod amid a gang of knuckle-dragging greasers.
A handful of moody ballads, such as "I Don't Want To Listen," drip with atmosphere, sounding like Gene Pitney begging to score the creepiest scene in the next David Lynch movie.
Romweber even mines the catalog of one Harry Lubin, best known (to the extent he's known at all) for scoring '60s TV sci-fi. Closing out with Lubin's appropriately titled, saw-accompanied "Weird (Aurora Borealis)," Romweber offers something for the hard-core geeks.
Perhaps the album's highlight, though, is another instrumental, "Prelude In G Minor," with its cinematic and tension-mounting progression and quiet-loud-quiet dynamic that would send the most lionized '90s indie rockers back to the woodshed.
The result is fantastically skewed Americana, which, it needs to be noted, is backed by the truly badass drumming of Romweber's sister, Sara. Check out "I Don't Want to Listen" for evidence.
This article originally appeared in VG's August '14 issue. All copyrights are by the author and Vintage Guitar magazine. Unauthorized replication or use is strictly prohibited.
<iframe width="560″ height="315″ src="//www.youtube.com/embed/uiNr6YMbf3A" frameborder="0″ allowfullscreen></iframe>