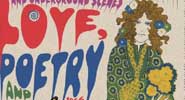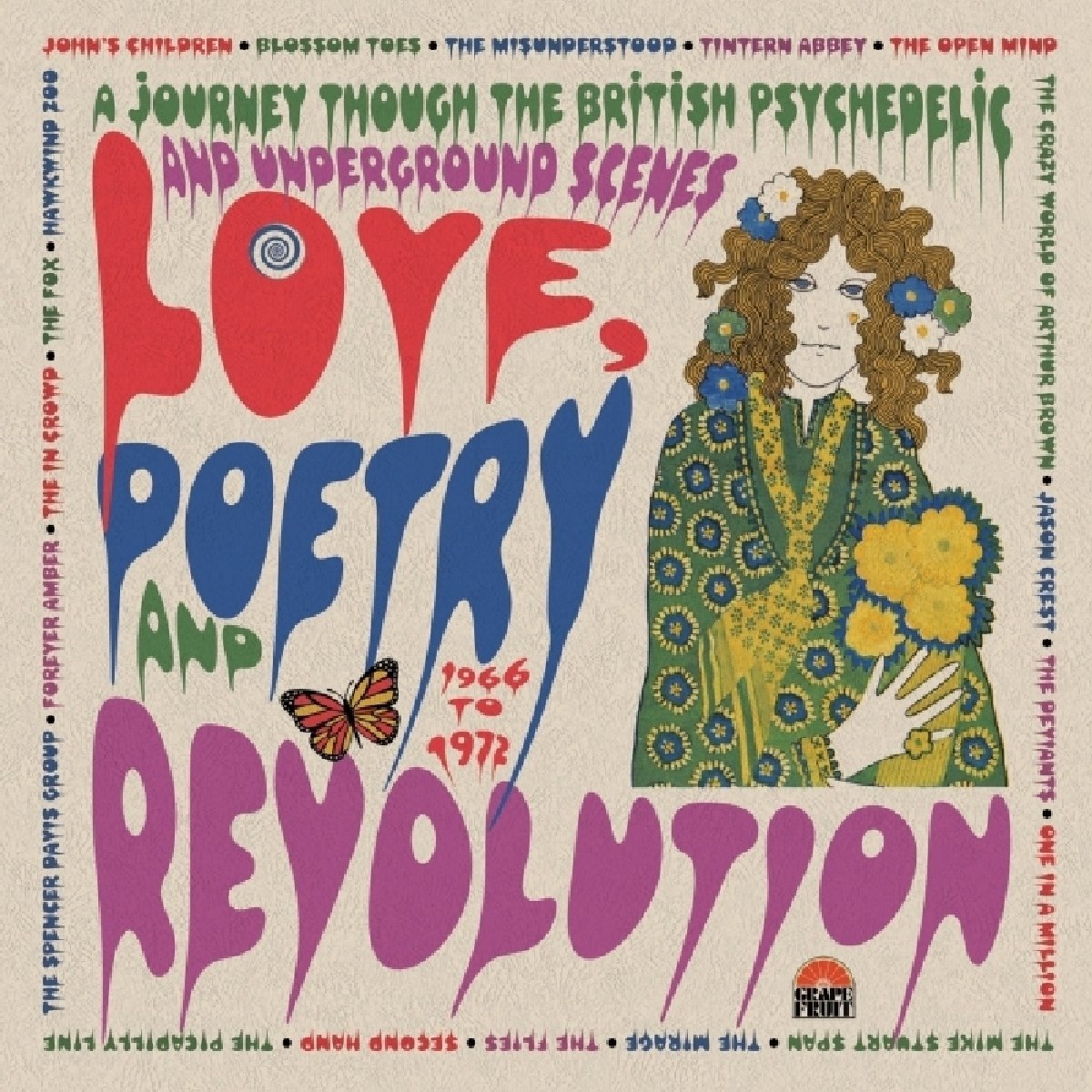 The 1972 Lenny Kaye-compiled Elektra double-LP Nuggets: Original Artyfacts From The First Psychedelic Era, 1965-1968 spawned the Pebbles series, Rhino's various regional Nuggets volumes, and eventually 2001's Nuggets, Vol. 2: Original Artyfacts From the British Empire & Beyond.
While Vol. 2 featured such established Brits as the Pretty Things, the Creation, Small Faces, and Love Sculpture, Love, Poetry And Revolution shines a long-overdue light on such obscure acts as Crocheted Doughnut Ring, Blossom Toes, and the Cortinas (named for the British Ford compact car). A few familiar names pop up among the three CDs, like the Spencer Davis Group (post-Steve Winwood), the Crazy World of Arthur Brown, Noel Redding's post-Hendrix Fat Mattress, and pre-Be Bop Deluxe Bill Nelson, while the only overlap is the Misunderstood – ironic, since they hailed from Riverside, California, before moving to England in '66. They're represented here with "Find The Hidden Door," featuring lap steel guitarist Glenn Ross Campbell, later of Juicy Lucy.
Accompanying the 65 tracks, which clock in at nearly four hours, is an impressively illustrated 36-page booklet, with a paragraph on each cut/band, although in most cases personnel are unfortunately not listed. So, for example, we don't know the identity of the Drag Set's lead guitarist on "Day And Night," who's sort of a cross between Jeff Beck and the Music Machine's Sean Bonniwell (redundancy noted).
The Mirage's "Ebaneezer Beaver" borrows more than a little from "I Am The Walrus," and Jason Crest sounds like a cross between Procol Harum and Small Faces. Future Wings guitarist Jimmy McCulloch's One In A Million are dead ringers for the Who, while Deep Feeling sported a pre-Traffic Jim Capaldi and excellent lead guitar courtesy Luther Grosvenor, later of Spooky Tooth and, as Ariel Bender, Mott The Hoople. And not satisfied with one song each on Axis: Bold As Love and Electric Ladyland, Experience bassist Noel Redding returned to his main instrument, guitar, with Fat Mattress.
There are plenty of fascinating finds here, but even the clunkers have a sort of "Listen To The Flower People" charm. The Deviants, with guitarist Paul Rudolph, offer an acoustic, spacey "Child Of The Sky," while "Jagged Time Lapse" by John's Children was allegedly inspired by a migraine endured by guitarist Geoff McClelland. If a Rutles track was slipped in, you'd hardly notice.
Forty-plus years hence, it's refreshing to discovery a parallel pop universe that never reached American airwaves.
This article originally appeared in VG's July '14 issue. All copyrights are by the author and Vintage Guitar magazine. Unauthorized replication or use is strictly prohibited.