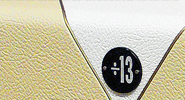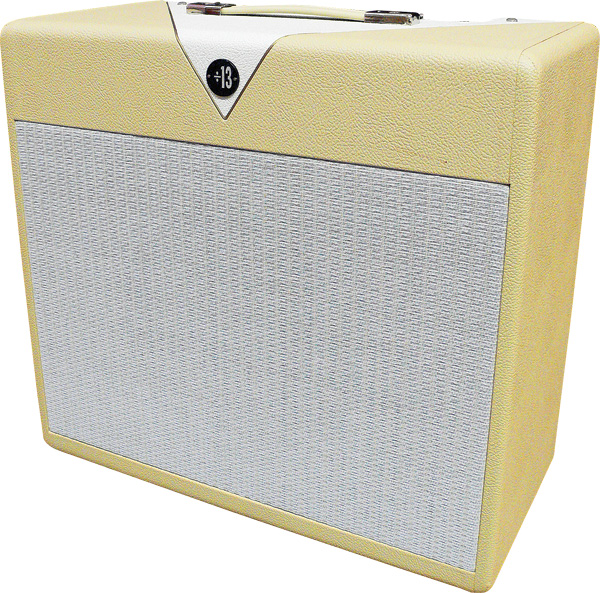 Divided By 13 BTR23C
Price: $2,800
Info: www.dividedby13.com.
After years of repairing and modding amps for himself and pals like Lyle Workman, Joel Shearer, and Corky James, guitarist Frederic Taccone began building amplifiers from the ground up to better meet his needs and those of his friends. Divided By 13 thus evolved with the philosophy of hand-building high-quality amplifiers one at a time with a keen focus on detail and craftsmanship. The philosophy seems to have worked out – today, the short list of Divided By 13 users includes Ron Wood, Billy F Gibbons, Joe Walsh, Tom Petty, and Paul McCartney.
One of latest additions to the Divided By 13 lineup, the BTR23 is based on the Rusty Anderson RSA23. Brian Ray, Anderson's mate in the Paul McCartney Band, liked the RSA23, but suggested a few mods that Taccone decided were substantial enough to make it a Ray signature model.
"What I was looking for was a 50-watt Marshall small-top metal front circa '69," Ray explains, "but with a good musical master volume and lower wattage. What Fred came up with was genius! Featuring big-bodied KT88s, it has that gut-punch concussive bottom you get from a Marshall, good natural compression, and plenty of definition and British pedigree. It has sweet high-mid, bell-like tones when you back off the guitar's volume, and it cleans up great. You can set it to be beastly aggressive at any volume with the Master, and the push/pull Volume knob gives it another stage of gain."
At 22-watts the BTR23C 1×12 combo is a handsome point-to-point-wired Class AB1/A amp with KT88 power tubes; 12AX7 preamp tubes; two discreet channels; 4-, 8-, and 16-ohm output; and a G12H Celestion speaker. The adjustable chicken-head knobs are labeled Volume, Treble, Mid, Bass, and MV (Master Volume), with the Volume knob offering a push/pull feature for more gain. Weighing in at a portable 56 pounds, the eggshell-cream tolex exterior is striking, and the amp comes with a black protective slip-on cover. (The BTR23C can also be ordered in forest green, pistachio, black, purple, pippin green, navy blue, plum, red, orange, gold, powder blue, and silver.)
We tested the BTR23C with a boutique "superstrat" and a '78 Yamaha SG2000. Chords played through the neck pickup of the SG2000 exhibited smooth articulation, warmth, and clean upscale headroom. With the Volume and MV controls set around 3 o'clock, it's a loud 22 watts. Experiments in raising the Volume control and lowering the MV elicited some very nice low-volume dirt. Successive cleaner variations of grit were available in spades as the Volume control was decreased.
Careful tweaking offered sweet low-maintenance tonal options with the best qualities of an AC30, a cranked Deluxe Reverb, and a cleaner Marshall. The lack of reverb was never a factor. The amp inspired old-school dirty-rock chord work, as well as single-note Brit-rock blues in the Paul Kossoff and Mick Ralphs vein. A warm low-end with a silky treble offered just the right amount of sustain from single notes to make them feel like they had been worked for. The speakers were tight, clean, and punchy, and offered some fab early-Beatles jangle.
Conversely, with the Volume control set to 3 o'clock, and the MV cranked, clean voluptuous headroom made an onstage '70s funk gig sheer pleasure. Full-bodied, strident, and dirt-free Nile Rodgers-style cleanliness erupted, empowering the Strat's single-coils with substantive kick, thickness, and copious dynamics. The BTR23C has a very luxurious but no-nonsense sound full of complexity. It shines as a standalone amp with very user-friendly EQ chicken-head knobs, and the touch response is a wet dream for guitarists who ride their guitar's Volume knob for tone and level management.
Plugged into a medium-sized pedalboard, there were no compatibility issues. Time-based effects, wah, and various overdrive pedals made a seamless transition to the BTR23C. Single-coils sparkled and humbuckers barked while never sounding flabby or saggy. It's a muscular, bold-sounding amp that can be easily adjusted for harder or softer applications.
Engaging the push/pull gain feature on the Volume control is the icing on a very tasty cake, conjuring up snarling Keith Richards impersonations as well as a buffet of grittiness ranging from ZZ Top sizzle to AC/DC clang and filthy Chicago blues, with only a smidgeon of extra boost in the bass.
The Divided By 13 BTR23C is a great amp for the player who relies on feel. It's also great for the nuanced, expressive rock guitarist who plays on the verge of overdrive, and wants a plug-in-and-go amp with an English flavor.
---
This article originally appeared in VG July 2013 issue. All copyrights are by the author and Vintage Guitar magazine. Unauthorized replication or use is strictly prohibited.
---