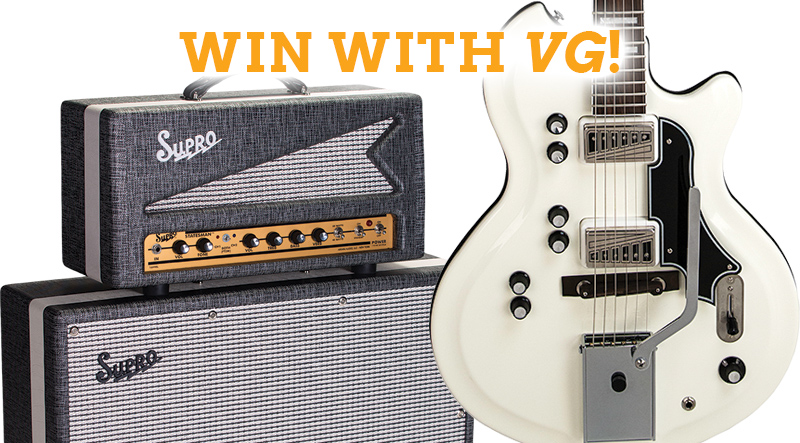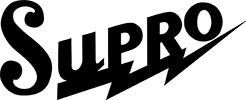 Enter your vote in the form below for a chance to win a Supro guitar/amp prize package valued at $4,379!
Each year, Vintage Guitar magazine honors those who inspired and awed us as guitar players, fans, and listeners by inducting great players, innovators, and instruments to the VG Hall of Fame. We also choose Album of the Year, Featured Artist of the Year, and Player of the Year in four categories. See the list of prior inductees.
Nominations are solicited from editorial contributors and visitors to VintageGuitar.com, then a list of finalists is compiled with input from VG staff. So, please take a minute to vote below for an instrument, person, and music in all eight categories! By submitting a ballot, you will automatically be entered in our 2017 Readers' Choice Awards Giveaway with a chance to win a Supro guitar/amp package worth $4,379!
Deadline for entries is November 20, 2017. The contest is open to everyone, but void where prohibited. New inductees and contest winners will be announced in the April '18 issue.
Players

Tony Iommi One of the most influential rock guitarists, he pushed past what might have been a career-ending hand injury to develop a unique technique and distinct tone. After hearing Hank Marvin, he learned to play guitar, but Django Reinhardt inspired him after he lost two fingertips. He soon after formed Black Sabbath, which conjured dark and heavy riffs in a style unlike other music of the time. For five decades, his playing has inspired others and led to honors including signature guitars and amps.
Michael Bloomfield Born a silver-spoon kid in Chicago, as a teen just learning guitar, he'd sneak to the city's South Side to catch old blues players – many of them legends in the making – and ask to sit in. By his late teens, he had recorded with the Paul Butterfield Blues Band and on Bob Dylan's Highway 61 Revisited, both efforts benefitting from a fluid, informed style that drew praise from the likes of B. B. King, Muddy Waters, Bob Dylan, and Buddy Guy. Though he favored a Telecaster early on, he later took to a '50s Les Paul Standard and today is one of a handful of players credited with making the model supremely collectible.
Joe Bonamassa Symbolic of the modern blues guitarist, his nose-to-the-grindstone attitude – and a whole lot of skill – is exactly what's required to be a successful musician in the 21st century. He's a record-label head, oversees the Keeping The Blues Alive Foundation, and never stops making new music for fans, then touring to play it for them. Plus, his tools are all vintage!
Scotty Moore As a kid, he listened to jazz and country music and was especially influenced by Chet Atkins. In 1954, producer Sam Phillips teamed him with bassist Bill Black and a young singer named Elvis, and together – with the help of Moore's hollowbody Gibson – they cranked out a few rockabilly tunes that caught fire. He has also worked as a music producer and is an inductee of the Rock and Roll Hall of Fame and the Rockabilly Hall of Fame.
Terry Kath Fed early by the music of the Ventures, Johnny Smith, George Benson, Kenny Burrell, Howard Roberts, along with Bloomfield, Clapton, and Hendrix, he pushed aside the drums and focused on guitar when he helped form the band that became Chicago Transit Authority in 1967/'68. Its primary musical force on 11 albums, his vocals carried much of early workload and his guitar (mostly a Strat, Tele, or Les Paul Recording) impacted its sound via his influences – jazz, blues, salsa, rock. He was just 31 when he died in early 1978.
Innovators
Bill Collings At 19, he left Ohio to work in a Houston machine shop, keeping busy in his free time by building guitars in his apartment with only basic hand tools. By 1980, he was a full-time luthier, making custom-order acoustics for a client list that eventually included Keith Richards, Lyle Lovett, Emmylou Harris, Pete Townshend, and others. Renowned for the personal effort he dedicated to quality control, Collings would work in various departments whenever issues arose, personally helping solve the problem. He was 68 when he died earlier this year.
Nat Daniel As a teen, he developed an interest in radio that spread to guitar amps. In the mid '30s, he began building amps of his own design, which led to founding Danelectro. He holds patents on tremolo and reverb amp circuits, as well as a combined bridge/tailpiece for guitars, but didn't even pursue patents on several amazing innovations including the six-string electric bass, the 12-string electric Bellzouki, the "amp in case" rig, and the acoustic/electric "convertible" guitar.
Mario Maccaferri The native of Cento, Italy, was just 11 when he became an apprentice to guitarist/luthier Luigi Mozzani. Afterward, he became a virtuoso classical guitarist and established a factory to design and build Selmer guitars (before the company's affiliation with Django Reinhardt), then emigrated to the U.S. in 1939 and developed plastic woodwind reeds and instruments including a ukulele. In the August '05 issue, VG contributor Michael Wright called Maccaferri's G-40 guitar "…one of the greatest achievements of the modern plastics industry."
Paul Rivera After making a name for himself in the early '70s building top-notch effects systems for stars like Van Halen, Lee Ritenour, and Toto, in 1981 he went to work at Fender, charged with improving its amp-building operations; among his most-noted achievements was designing the Princeton II, Twin II, Deluxe Reverb II, Super Champ and others. He returned to helming his own company in late '84 and was a pioneer in the boutique market – first to offer a tube-driven stereo combo, and an all-tube acoustic-guitar amp.
Instruments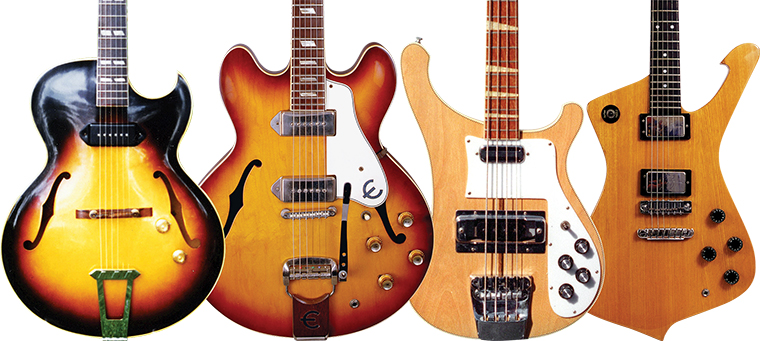 Gibson ES-175 Debuting in 1949, it was Gibson's mid-level hollowbody offering and the first Gibson given a Florentine cutaway. Its tone at first came from a single P-90 pickup, then later two, followed by humbuckers in '57. Along the way, it was favored by noted players including Scotty Moore in his days with Elvis, jazzers Joe Pass and Herb Ellis, and rocker Steve Howe in Yes.
Epiphone Casino The budget version of Gibson's ES-330, it's a true hollowbody with chrome-covered P-90 pickups. Though louder and brighter than the 335, its lack of a center block makes it more prone to feeding back. Its big break came when Sir Paul (McCartney) scored a used one in the mid '60s before the other Beatles asked the company for a few. Today, Epi makes several versions.
Rickenbacker 4001 "The instrument that moved the bass player to center stage" was introduced in '62 with a new level of flash for a four-string – checkerboard binding on its top, a bound neck, large triangular fretboard inlays, and a second pickup – that was reflected in a list price higher than even the fanciest electric guitars. By '64, it was $429.50 while a custom-color Jazz was $293.47 and Gibson's Thunderbird IV was $345.
Ibanez Iceman The initial push by Japanese guitar builders to move beyond the "copy era," it was designed by Hoshino's Fritz Katoh, launched as The Flash, then re-named in the U.S. by Jeff Hasselberger. While traditional in function, with mahogany body, set neck with heel-less joint (a bolt-neck version followed later), and two humbuckers, the company also used it as a platform for a moveable three-coil pickup. Early adopters included Steve Miller and Paul Stanley, who was given a signature model that proved key to the model's success.
Album of the Year

Sonny Landreth – Recorded Live in Lafayette A double album that fully displays his supernatural slide mastery, it includes material old and new with discs split between electric and acoustic tracks and featuring Landreth with friends backing him on ukulele, bass, cajón, and accordion.
Gov't Mule – Revolution Come… Revolution Go Showcasing the band's stylistic and thematic range – introspective to topical – its 12 tracks bear witness to contentious politics and social matters while displaying guitarist Warren Haynes' array of influences. With help from the skilled ensemble behind him, its colorful-yet-sincere sonic portraits are relayed with help from high-profile producers.
Gary Clark, Jr. – Live/North America 2016 Having only his 2015 studio album, The Story of Sonny Boy Slim, and a whole lot of touring to draw from, this effort includes much of that material along with covers of Jimmy Reed's "Honest I Do" and Elmore James' "My Baby's Gone," both showcasing Clark's slide guitar deployed with great taste.
Rolling Stones – Blue & Lonesome Recorded in three days, the group's first all-blues album focused on covers of classic songs written by Willie Dixon, Howlin' Wolf, Little Walter, Magic Sam, and others and includes two guest guitar solos by Eric Clapton. Gathered in Mark Knopfler's studio, they acclimated by jamming on a version of Little Walter's "Blue and Lonesome" that spurred them to keep going. Its overall feel is very much about the groove and lends the impression they were playing for the simple pleasure of doing so.
Featured Artist of the Year

Dan Auerbach One of the first modern alt-rockers to employ B-list guitars, for his latest album, Waiting On A Song, he used licks from Mark Knopfler, Duane Eddy, and others to create some of the most soulful guitar-driven music in recent memory. Plus, he plays vintage gear including the Gibson Trini Lopez that once belonged to Mississippi Fred McDowell.
Rik Emmett He led the power trio Triumph to success in the late '70s and early '80s, earning platinum albums and radio hits like "Fight the Good Fight," "Lay It On the Line," and "Hold On" before moving to solo work in 1990. His latest alubm, RES 9, includes guest spots by other prog-rock heavyweights as well as Triumph bandmates Gil Moore and Mike Levine.
Allan Holdsworth One of the greatest improvisers in jazz-rock, he dazzled fans with fast legato lines in various contexts on guitars made by Gibson, Fender, Charvel, Ibanez, and others including Keisel. His liquid phrasing and vibrato chops created seismic impact on players from Eddie Van Halen to Alex Lifeson and many others, and led veteran music journalist Tom Mulhern to cite him as "his own branch of the musical tree, almost a new species of guitar."
Gretchen Menn A former commercial jet pilot, she studied classical music along with the licks of Morse, Zappa, and Page. Her latest album, Abandon All Hope, is rich in concept, weaving melodic sensibilities amidst violin, cello, and viola in original scores that join nylon-string polyphony with soaring rock guitar to tell the story of the journey through Dante's underworld.
Andy Timmons After a decade pushing his craft to new creative realms that included fusion and an instrumental re-tooling of the Beatles' Sgt. Pepper, his latest album, Theme from a Perfect World, had him once again playing instrumental guitar rock on compositions with a remarkably complete feel and employing classic instruments like a '60 hardtail Strat, '67 Tele, and a '57 J-45.
Steve Vai A player of unparalleled range and vision, while his work largely involves rock grooves and distorted tones for solos, his playing is uncategorizable, built on blues-rock but employing phraseology that crosses into virtually every genre. Beyond his ability to shred, though, he is a remarkable composer as well as entrepreneur, producer, singer/songwriter, instrument designer, and philanthropist.
Player of the Year
VG's Player of Year nominations are chosen by staff and followers of VintageGuitar.com and based on each players' efforts (recorded, live, etc.). We offer nominees in four categories.
Rock
Jazz
Blues
Country
• Joe Bonamassa
• Mike Campbell
• Richie Kotzen
• Steve Vai
• Zakk Wylde
• John Abercrombie
• Kenny Burrell
• Allan Holdsworth
• John Scofield
• Mike Stern
• Gary Clark, Jr.
• Buddy Guy
• Samantha Fish
• Sonny Landreth
• Walter Trout
• Glenn Campbell
• Brent Mason
• Chris Stapleton
• Marty Stuart
• Keith Urban
Deadline for entries was December 14, 2017. New inductees and contest winners will be announced in the April '18 issue.
---
*ELIGIBILITY. VOID WHERE PROHIBITED OR RESTRICTED BY LAW. NO PURCHASE NECESSARY.
One entry per customer. Winners will be drawn at random. Prizes are not transferable or assignable and they are not redeemable for cash. All winners outside the continental United States are responsible for shipping costs. All winners are responsible for the payment of any and all taxes and/or licenses and/or other related local, State, Federal fees that may apply to such winnings. Taxes on prizes are solely the responsibility of the winners. Vintage Guitar magazine reserves the right to replace the advertised prize(s) with a prize of equal or greater value if the advertised prize(s) is/are no longer available. Vintage Guitar reserves the right to identify winners in all VG media.