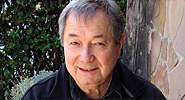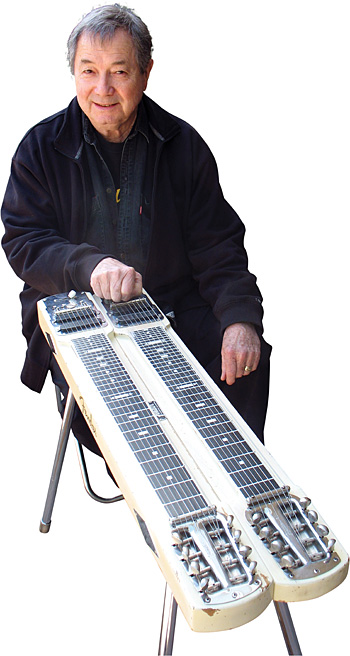 When he got the invitation, Bobby Black wasn't sure. The pedal-steel virtuoso, a 20-plus-year veteran of San Francisco's music scene, had just been asked to join the long-hairs in Commander Cody and His Lost Planet Airmen.
It was the fall of 1971, and Black was in a comfortable situation – he owned a recording studio in San Carlo and, alongside his guitarist brother, Larry, was the driving force behind the Black Brothers, house band at a local club. But the Airmen needed a new steel player and the Commander was impressed by Black's virtuosity. So they gave him a copy of their then-new debut album, Lost In the Ozone.
"At first I thought, 'These guys, they're dreamers'," he laughs. "I thought, 'No, I don't think I want to play with them.' But they persisted."
In the end, Black not only joined the band, he transformed it, and today, Cody alumni remain in awe of his talents.
"When Bobby came in, as far as I'm concerned, that made the classic lineup of the band," declared Billy C. Farlow, the Airmen's lead singer. Fellow vocalist John Tichy calls Black's playing "super tight, accurate, professional, and everything perfectly in tune. Every lick, he nailed."
In 1974, Black move to Nashville, where two years with Cody "got me a lot of recognition and just opened a lot more doors." Later, that reputation took him to the New Riders of the Purple Sage and Asleep at the Wheel, whose leader, Ray Benson, marveled at the depth of Black's skills, explaining, "Bobby spanned the era from the earliest Western swing – Spade Cooley, Bob Wills – throughout the time when steel guitar was out (of favor)."
"Bobby, for me, was the living link to the past," adds Bill Kirchen, original Lost Planet Airmen Telecaster wizard. "But he also was the most advanced player in the band. We could look all the way back and all the way forward with him. He was the guy who met Hank Williams, started playing in the '40s on a straight (lap) steel… And on the other hand, he was the best bebop player in the band. It was just extraordinary."
At 76, Black remains in demand, his experiences the envy of any steel guitarist. When he started, at the dawn of the '50s, he played Western swing and country behind some of the biggest names in the business before moving to pop and rock, then eventually returning to country, swing, and the Hawaiian music he loves.
Country music was not part of his Southwestern, solidly middle-class roots. His father, Robert, swept floors in a Woolworth's department store before rising into management. His mother, Ruth, played a bit of piano. Robert Lee Black was born in Prescott, Arizona, in 1934; Larry followed in '36. Both studied piano once old enough, but, "I always dreaded the day the teacher was coming," Bobby laughs. "I usually hadn't practiced as much as I should have. But to this day, other than steel guitar, my favorite instrument is the piano. It helped me understand harmonies, chords, and construction."
The family relocated to Tucson until 1942, when a promotion took them to Burbank. By then, Black had gravitated to pop and big-band sounds on the radio. Hearing Harry Owens and His Royal Hawaiians, he zeroed in on Eddie Bush's steel. "I thought 'What is that?' It was simple stuff, sliding notes. All I knew was I wanted to learn how to do that, whatever that was." Another form of steel soon grabbed his interest.
Texas-Oklahoma roots aside, Western swing's California fanbase exploded as World War II defense jobs attracted tens of thousands from the Midwest and Great Plains regions. Bob Wills and his Texas Playboys settled there in '43, while Hollywood fiddler Spade Cooley created a band blending Western players and schooled musicians playing sophisticated, distinctly West Coast swing – the kind Black favored. He particularly relished the playing of Cooley's brilliant, eccentric teenage steel guitarist, Earl "Joaquin" Murphey.
"I don't think anybody ever topped him. For me, he was head and shoulders above most, the kind of player who never played anything exactly the same way twice. Usually, he just went for it. He would be in the moment."
Black also enjoyed Texas Playboy steeler Noel Boggs, who replaced Murphey in Cooley's band. "Noel was a chord guy; most of his solos were chordal. He was really good at that. I never heard anybody play like him. Joaquin was a little more fluid in his playing… really advanced with his single-note stuff. He could do both. He had a great chordal style, totally different from Noel."
In 1947, the family was on the move again after Robert Black was promoted to a new position in San Francisco. The family settled in San Mateo. Bobby, despite his stash of California Western swing records, didn't yet own a steel guitar. That changed on his 14th birthday in '48, when he took possession of a six-string Rickenbacker and amp. Two lessons from a nearby amateur who used an arcane Hawaiian tuning left him frustrated, until he heard Jerry Byrd's 1949 recording, "Steelin' The Blues."
Formerly with Grand Ole Opry star Ernest Tubb's Texas Troubadours, Byrd at the time was America's most visible, influential country (as opposed to western) steel player. Along with his solo records, Byrd enhanced hits by Tubb, Hank Williams, and Red Foley, among many others. "He and Joaquin were my very favorite players, the most influential and inspirational," Black asserts. "They were opposing styles. Jerry had more of a Hawaiian, smooth, legato type of playing, Joaquin more of a sizzle. I'd recognize those guys the minute I heard them.
"I wrote a letter to the Grand Ole Opry – to Jerry Byrd – and told him I bought his record." Though Byrd had left the Opry, "Within a few days, I got this letter back and he gave me his C6 tuning. He was so kind. I put that tuning on, and it started me on steel guitar. I immediately recognized what was in that tuning from what I heard on the records. I learned how to play by ear, thanks to Jerry Byrd. Joaquin also used C6; that's what got me started playing. From there on, I started copying all the solos on those records."
Ruth Black fretted over her son's obsession. When his doctor asked, "Does he have any heroes?" she cited Byrd, explaining he was a musician, not an athlete. Inexplicably, the physician prescribed cold showers! Even his brother "…thought I was odd. But when I got my steel, I finally convinced him he needed to learn how to play the guitar so he could accompany me with the rhythm – we'd be a team."
Black's rapid progress soon had him playing a short-scale Fender Dual 8 Professional, with two eight-string necks and a 221/2″ scale.
He and Larry never forgot seeing Murphey up-close when Tex Williams and the Western Caravan played San Jose's Balcony Ballroom. He normally played a non-pedal Bigsby, but this night was different. "Joaquin was up in front, cussin' up a blue streak and trying to set up his first Bigsby with pedals… totally ignoring everybody and looking unhappy. But he was playin' terrific." When Robert Black asked Williams for "Oklahoma Stomp," Murphey's signature instrumental, the bandleader gladly obliged. "Tex said, 'Oklahoma Stomp!' Joaquin looked away and went, 'S**t!' Years later," he adds, "Tex told me that was the first and the last time Joaquin ever played (that Bigsby). He never did like it. The pedals were new to him."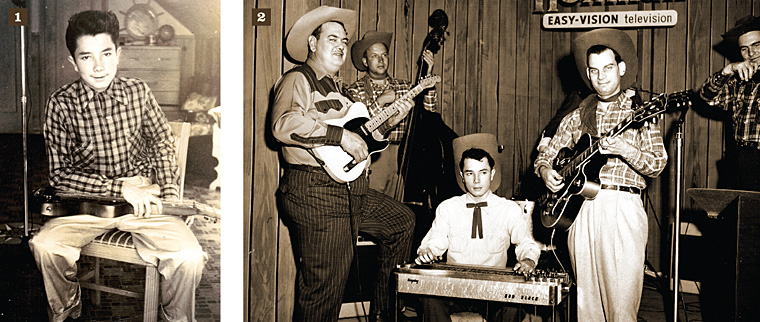 1) Black as young lap-steel student with his Rickenbacker in 1948. 2) "Big Jim" DeNoon (left), Vern Orr (bass), Bobby Black (steel), Wild Bill Hendricks (guitar) and Tex Neal (fiddle) on "Hoffman Hayride," KPIX, 1953.
The brothers joined their first actual band in 1950 – a swing unit called the Double H Boys, which played dances around Palo Alto. A year later, they joined Shorty Joe Quartuccio and his Red Rock Canyon Cowboys, the house band at Tracy Gardens, which Bobby recalls as "a big old-fashioned dance hall where almost anyone of note in the hillbilly/Western swing field played at one time or another." The brothers recorded two singles with the band, the opening act when touring stars played Tracy Gardens. Onstage, they accompanied local amateurs like a serviceman stationed at nearby Moffett Field known as Little Georgie Jones. "We'd just call him 'the singing Marine.' George would come out and sing Lefty Frizzell songs – and he sounded a lot like Lefty."
Late in 1952, Larry remained behind as 18-year-old Bobby joined Blackie Crawford and his Western Cherokees, in Oklahoma City. The band, who'd backed Frizzell and Webb Pierce, relocated to Beaumont, Texas, in '53. As they played Houston and Gulf Coast dance halls, Black awaited delivery of his first pedal steel – a triple-neck, four-pedal Bigsby (A6, C6, and E13 tuning) with his name inlaid on the front. It arrived at Beaumont's railroad station in May. As Black and another band member opened the crate to inspect the instrument, ex-Marine George Jones happened by. He was back home and ready to sing professionally.
Neva's, a Beaumont club, became the Cherokees' home base. Owner Jack Starnes had just co-founded Starday Records, and used them as house band on the label's early recordings. Black was showcased on a Western Cherokees' single titled "Cherokee Steel Guitar." They also backed singer Arlie Duff on "Y'All Come," Starday's first national hit, and accompanied George Jones on the Starday session that kicked off his storied career. Black's Texas days, however, were numbered. "At that time, I was so homesick and my high school sweetheart wanted me to come home and get married." Jimmy Day replaced him on steel.
The newlyweds settled in San Mateo, and Black went to work for Pacific Bell; Larry married soon after and worked at Lockheed. The brothers joined fiddler Big Jim DeNoon's band on the local "Hoffman Hayride" TV show (later renamed "California Hayride"). Hosted by Cottonseed Clark, Black calls it "one of the biggest live shows on TV around here." On the program, and onstage, DeNoon's band backed local and national acts. As featured instrumentalists, the Blacks played the latest Jimmy Bryant-Speedy West tunes, Larry using a brand-new Strat and a Fender Pro, Bobby through a Fender Twin. "We didn't realize how great those amps were. This has always been kind of mystifying to me, but Fender products were, by accident or design, the best, and they still are. That stuff is better than anything you could get today. The sound has never been matched, and it was before reverb. We had to buy those big old spring (reverb) units. We went to Standel after a time. We didn't get tired of Fender, but thought we'd try something new."
Western swing's fading popularity didn't stop them from joining a second group, the swing-oriented West Coast All Stars. Along with juggling two bands and day jobs, the brothers faced a problem at the "Hayride." Cottonseed Clark, feeling Bryant-West instrumentals too jazzy, insisted they play other songs. After they ignored him, they were fired. The All Stars later disbanded, and with rock and roll becoming dominant, steel guitar's popularity faded for a time. That began changing in 1959, with Santo and Johnny's guitar-steel pop hit "Sleepwalk." The Blacks, both divorced, and ex-DeNoon drummer Jack Greenback began writing songs and recording on a two-track Ampex in Larry's bedroom.
They shopped the tape around L.A. in 1960, and in early '61, Dore Records issued several vocal singles by The Tides, and the instrumental "Gently My Love" by The Triplets. It reached # 15 in San Francisco. In an era when disc jockeys routinely demanded that local acts with singles perform shows for free as payback for airplay, "Gently" brought them popularity – and problems. Asked to play a San Francisco concert gratis, the band refused. "In one week (the single) was gone! They took us off!" says Bobby. "We didn't have a clue about payola."
Dolton, the Ventures' label, issued three instrumentals under the name the Five Whispers from 1962 to '64, and their eerie rendition of Lionel Hampton's ballad "Midnight Sun" hit #1 in Bakersfield. Now full-time musicians, Black, playing an early Sierra steel built by Chuck Wright, ditched his pedals and stood onstage, using electronic effects to mask the twang. Reacting to the British invasion, the band, wearing green Beatles wigs, renamed themselves the Green Beans. When they visited Nashville, Pete Drake, one of Nashville's top pedal-steel players, got them signed to United Artists Records. But musicians they knew there didn't buy the emerald image. "You guys are too good," Jimmy Day told Black. "You don't have to resort to this crazy stuff." Off went the wigs. Renamed by the label and now going as U.S. 6, they blended vocals, choreography, and also backed up singers in the Bay Area.
As Country Cut Ups, they recorded Corn Shuckin' Time, a low-budget 1965 instrumental LP of originals, oldies, and current hits Billboard called "superbly done." It symbolized the brothers' weariness with rock. "My playing suffered. Larry's did, too," Black says. "We weren't really playing the stuff we wanted to be playing. We were just goin' with the times to make a living. We decided, 'Let's get a country band and go back to the clubs and play like we used to.'" The Black Brothers band, including several U.S. 6 members, became house band at Cowtown. Robert Black helped his sons open Peninsula Sound, a San Carlos recording studio. In '67, Bobby adopted a Baldwin Sho-Bud Crossover, allowing the player to switch pedals between necks. "It had a few bugs and as a result it never really caught on," he says. "But I really liked mine, and it was probably the prettiest guitar I've ever owned."
The next phase of his career began at Cowtown, where in 1970-'71, Wednesday Amateur Nights offered a $50 prize. Contestants included Lost Planet Airmen Kirchen, Tichy, who sang, and fiddler Andy Stein, whipping up crowds with a dazzling "Orange Blossom Special." Despite their looks, Black recalls, "The audience liked them. They were different to look at and sounded pretty good." Lost in the Ozone also showcased Farlow, pianist-rapper George "Commander Cody" Frayne, bassist Bruce Barlow, and drummer Lance Dickerson. Original pedal steel player Steve Davis (The West Virginia Creeper), relatively new to the instrument, had departed, and Stein, impressed by Black's virtuosity, urged him to join.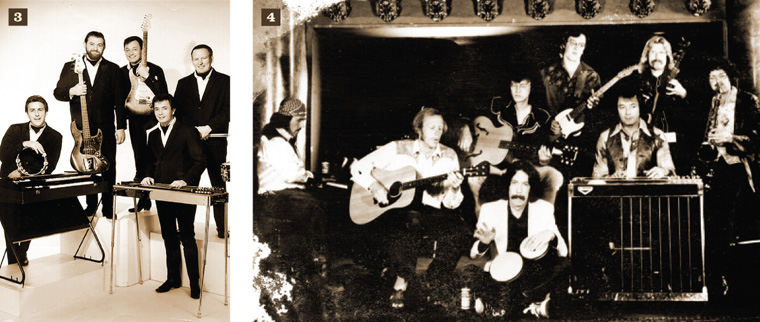 3) U.S. Six: (from left) Mel Larson (keys), Hoyet Henry (bass), Larry Black (with Strat), Bobby Black (steel), and Roy McMeans (drums). 4) Commander Cody and his Lost Planet Airmen in 1975 (from left); George Frayne (a.k.a. Commander Cody), John Tichy, Lance Dickerson, Billy C. Farlow, Bill Kirchen, Bobby, Bruce Barlow, Andy Stein.
Forty years later, Stein still marvels at his friend's artistry. "He was a master! He had beautiful tone and so much knowledge, so much background in Western swing. He was the right guy. He had the E9 neck completely (covered) – most steel players spend their life on that. But it turned out with the C6 neck, Western swing, he was also a total master." Kirchen agrees. "By then, we had three or four years of listening to tons of really good (country) music on record. To see someone sitting in our midst, able to play that, was stunning."
Black, who'd worked with many of the acts the band admired from afar, wasn't sure about joining. "I remember Andy called me several times," he says. While not impressed by the album, he grew to appreciate the Airmen's quirky but admiring spin on country. "They did a lot tongue in cheek, weren't making fun, but doing it in sort of a respectful way, like 'Mama Hated Diesels,' a play on the maudlin part of country. They listened to all that old stuff with respect. It wasn't like Poco or the Burrito Brothers. They had their own way of doing it, closer to the source, much more than others."
Black, toting his doubleneck Sho-Bud Professional and Fender Twin, signed on in December, and early in '72 they recorded Hot Licks, Cold Steel, Truckers' Favorites at Peninsula Sound, and his E9 intensity ratified his role as a musical catalyst. He infused authority into trucker classics "Truck Driving Man" ("He burns on that," says Kirchen), "Looking at the World through a Windshield," Kirchen's original "Semi-Truck" and Blackie Farrell's doleful "Mama Hated Diesels."
"I always thought we were a bunch of inspired amateurs," Tichy reflects. "All of a sudden, Bobby joins, and the whole thing came together. I realized, 'Oh, we're actually pretty damn good!' He tied together all these loose ends, and turned it into a great band."
Kirchen agrees. "It certainly was a revelation to hear somebody who could play like that in our band. Make no mistake, we knew he was special. Bobby could play rhythm steel, which you don't hear that many people doing. He wasn't sitting there smoking a cigarette, waitin' for his turn to show off. Just to hear him comp along with stuff was a whole music lesson in itself. That's an aspect of steel guitar that isn't as known – him back there, kind of propping you up. I'd play a solo and there'd be some little cool thing under there that would kick me up a notch."
"We started whippin' out those Western swing tunes. With him and Bill and Andy, it suddenly became a real Western swing band," adds Farlow. On rockers, I thought he was just awesome. At first, I didn't know how much he wanted to play the rockin' stuff. But we worked out how he would take the first solo on 'Good Rockin' Tonight,' at the start of the set, when all eyes were on everybody. And he'd jump right into it, totally out front."
Cody's future was bright in the spring of '72. It had a devoted rock following; "Hot Rod Lincoln" from the Ozone album became a Top 10 pop single. That fall, at Nashville's annual country disc jockey convention, they won over a hostile, conservative audience so completely that country radio began programming their music. Black did sessions with rockers Link Wray and Robert Gordon. Kirchen also appreciated his forbearance during the band's wilder offstage moments. "My hat's off to him for putting up with the shenanigans going on around him, and being of good cheer on the whole thing."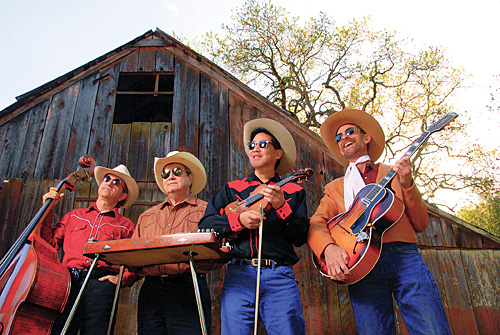 If Hot Licks demonstrated Black's E9 skills, Country Casanova unleashed his C6 side on "My Window Faces the South" "Rock That Boogie" and "Everybody's Doin' It." On the latter, a remake of the notorious 1937 Modern Mountaineers Texas swing tune "Everybody's Truckin'," the Airmen faithfully reprised the original F-bomb lyrics. Record labels added stickers on LPs sent to radio identifying any tracks unsuitable for broadcast. Casanova's, unfortunately, flagged the wrong song. The band's country-radio airplay quickly evaporated.
It was a different story in Austin, where the convergence of country and rock differed from Nashville or L.A.'s softer country-rock. Cody became favorites at the city's iconic Armadillo World Headquarters. Late in '73, Paramount recorded Live From Deep in the Heart of Texas, a bracing blend of rockabilly, Cajun, country, and boogie, at the Armadillo, capturing Black's blazing solo on "Good Rockin' Tonight." By the time of the album's 1974 release, Bobby had left, and with Larry, moved to Nashville. Jimmy Day briefly replaced him before Ernie Hagar filled the Airmen's steel chair.
Pete Drake again rolled out the welcome mat. "He was always willing to help people he liked," Black explains. He ran Drake's song publishing and the brothers did extensive session work at his studio, Pete's Place. The brothers then joined singer Barbara Mandrell's band, a far cry from the Airmen since Mandrell, a gifted pedal steel guitarist, and her manager/father, ran a tight ship so far as dress and deportment. "She wanted every solo the same on every show – no deviations. If (yours) was different, you were asked about it. She was a whip-cracker." He'd adopted Peavey's then-new Session 400 amp.
Upgrading to an Emmons 12-string doubleneck proved more challenging. "I felt like I added twice as many strings. I never could get used to it." On "Mama Don't Allow," a Mandrell concert showcase, she played every band member's instrument. Familiar with the knee lever setup on Black's Sho-Bud, she'd never played the Emmons. After cluing her in about the 12-string neck and its setup, he says, "She never missed a note. She was a real pro – never got a chance to warm up on the guitar. She jumps behind the steel, sits down and just knocks out this solo. Amazing! She's just that kind of a person!"
Larry remained behind when Bobby, tired of Nashville's musical politics, returned to California in '75. He found Cody and the Airmen in turmoil. Their new label, Warner Brothers, anxious to widen the band's audience, pressured them to add generic California country-rock to its first album. Sales proved anemic. Hagar, despite his talents, was a less-than-optimal fit. So Black re-joined, but Tales From the Ozone, the second Warner album, faltered thanks to singer Hoyt Axton's inept, hands-off production. "The only thing he ever said to me, and I thought he was just goin' through the motions, was, 'Now, what I want you to do, Bobby, on these songs, just come up with a hook.' As if I hadn't heard that before!"
Black lost his Emmons when the Airmen's equipment truck was burglarized in New Jersey. Though Emmons began building a replacement, shows were pending. Cody's road crew contacted steel players in each town and Bobby rented various instruments. Things occasionally were bizarre. In Chicago, he says, several steels were "lined up side-by-side, each owner standing in front. It was bizarre… made me very uncomfortable." Once he decided, "The other guys would go 'Awwwww!,' turn away and sigh." Nine months after receiving the replacement Emmons it, too, was stolen.
An early-'76 European tour became the Airmen's finale. Tichy had departed; with Norton Buffalo in on harmonica, Warners recorded three British concerts, material for the double album We've Got A Live One Here! Everyone, Black included, was in top form, playing longtime Cody favorites. At the tour's end, tired and frustrated, the band dissolved. Black later toured with Frayne's Commander Cody Band.
With Larry returning to California in '77, the Black Brothers band reunited and worked with Bobby on his '78 solo album, California Freedom, issued by the Pedal Steel Guitar Record Club. Soon after, playing a 10-string Franklin, he replaced Buddy Cage in the New Riders of the Purple Sage for an uncomfortable year and a half, explaining, "They were trying another type of country-rock approach, tied to the Grateful Dead. I never thought I fit too well. Some of the gigs back east, people were hollerin' out, 'Where's Jerry?'''
The next gig was a far better fit; at Cowtown in late '71, Black met Asleep at the Wheel founding members Ray Benson and Lucky Oceans, soon after the group arrived from West Virginia and settled in at the Airmen's house in Oakland.
"The Wheel were there when I went to the first rehearsal with the Cody band," Black recalls. "We became friends quickly. I really liked the Wheel." In 1980, with Lucky departing for Australia, Black stepped in. "That was our dream, to get Bobby," says Benson. He played on Framed, the Wheel's sole MCA album (and at the label's insistence, a non-Western-swing effort). "Live, it was a pleasure to listen to his solos," Benson adds. "Bobby came up with the greatest influences and fulfilled them. What's so cool is he also had that Hawaiian flavor. It never left his tone." The feeling was mutual. "The band I had the most fun in, musically, was the Wheel," Black says. "For me, it was closer to the kind of stuff I'd grown up listening to. I really did enjoy it."
After leaving the Wheel, "I just decided I was not going on the road again. I did casinos in Nevada, lived in Lake Tahoe." Around the time he joined the Wheel, he met longtime hero Jerry Byrd during a Hawaiian vacation (Black later performed there). A second solo album, Honky Cat, appeared in 1981. Now back in the Bay Area, "I pretty much get first call on steel guitar, because I've been in the business so long," he says. He plays sessions, restaurants, parties, festivals, and luaus. "I don't play clubs anymore; the club scene is pretty much gone," he says.
Since 1985, he's played with the Western swing band Lost Weekend, and worked in San Francisco with Jim Campilongo. In '92, he was inducted into the Western Swing Hall of Fame. He and Larry remained in constant touch, reuniting for jobs (and for Black's 2001 album The Steel Guitar of Bobby Black) until shortly before Larry died in '05 (see sidebar). A few years ago, he joined the Saddle Cats, a Bay Area quartet led by ex-Dan Hicks violinist Richard Chon, that blends cowboy songs with Western swing.
He has done his share of steel-guitar events, as well, including the 2011 Southwestern Steel Guitar Convention, in Phoenix, and earlier, the annual International Steel Guitar Convention, in St. Louis. "It's hard to play for your peers," he reflects. "Lloyd Green said it was the toughest stage to play. They're recording, taking pictures. You're under the microscope." He entered the Steel Guitar Hall of Fame in '04, and a few years ago reacquired his '53 Bigsby. "I let that thing go way too soon," he reflects. "It showed up a few years ago in New Mexico. I bought it back and paid 10 times as much!" It remains, he insists, "the best sounding steel I ever heard." But, he adds, "I realized it's kind of clunky and heavy, and I wouldn't be using it much." He sold it back to a friend, who then sold it for $20,000.
An early 10-string doubleneck Carter is his primary pedal-model. "It works good – well made." His lap-steel arsenal includes several older Fenders, his favorite being a short-scale triple-neck Custom that "sounds almost as good as my Bigsby." Others include a Deluxe single-eight and a Dual 8 Stringmaster. His Rickenbackers are a B6 and a D8 Electro. Others include a single-neck 12-string MSA Super Slide, a single 12 custom-built West Coast, and single 10 Alkire E Harp. Amp-wise, "I just recently got a Peavey Nashville 112 (with a 12″ speaker). Most people prefer 15″ speakers, but it's a good amp – smaller and not as heavy. I'm trying to downsize." E9 and C6 remain his core tunings, though he recalls the days when "Some guys were inventing secret tunings. Now it's become standardized." One older tuning, E13th, remains on a neck of his Fender Custom.
Having played Cody/Airmen reunion shows in 2001, he also relished Asleep at the Wheel's 2010 40th Anniversary concert with a chunk of band alumni. "I had such a ball," he says. "That was a really great time. We had five steel players, seven fiddles, six or seven horns, and they all remembered the parts! There were a few times we all got up together. Willie Nelson was there. For the closer, we all played, then all of us played with him. It was incredible. Everything went off without a hitch, amazingly! Ray had the right people in place to pull that off."
Summing up six decades, he quotes hero and friend the late Jerry Byrd. "He said, 'Don't worry about it, Bobby. Everything's okay. I have done more than I ever thought I would ever do in my life with the steel guitar and the business. And I'm content. It's okay. It's quite all right.' I can't say that totally, but I think I can almost say it. I'm happy enough, I'm content. Not that I've done a lot. I feel very fortunate that I've been able to do what I've done, and to experience what I've experienced in my life. I'm not through. I'm going to keep on doing it 'til I drop."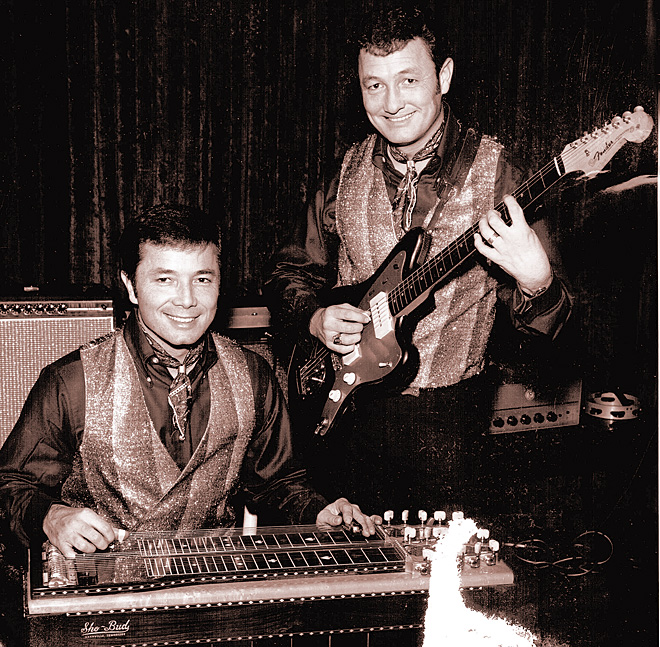 LARRY BLACK
TEAM PLAYER
"Larry and I, we were a team," says Bobby Black about working with his younger brother. "We could play stuff almost without even talkin' about it. That's what happens when you're workin' with family. We could blow away a lot of people. We got a chance to back up Jim Reeves and Little Jimmy Dickens. Both those guys told us on different occasions, 'You two should go to Nashville! You're too good to be around here.'"Bobby had higher visibility, but Larry Dean Black made his own contributions. As a teenager, he turned down a job offer from country's biggest star. Born in 1936 in Inglewood, California, he grew up in Tucson with the same piano training as Bobby. In the late '40s, Larry heeded his brother's advice to learn guitar so they could play together. He soon had a Kay K-42 archtop with a pickup attached, and an amp. His musical heroes included Nashville sideman Zeke Turner, known for rhythm licks and leads on numerous country hits and later, Jimmy Bryant. In '51, he upgraded to an Epiphone Triumph and in '52, to a Fender Telecaster. Two years later, he went to a Strat.
Working with Shorty Joe in '52, they met Hank Williams when he headlined at Tracy Gardens. Arriving early, Larry and Bobby found him in a backstage room, "All by himself with his guitar and a bottle of whiskey. He was the nicest guy, sittin' there havin' a good time. He said, 'I'm workin' on this new song, boys. See what you think,' and started singing 'Kaw-Liga.' We thought, 'Wow, that's really different!' You weren't used to hearing a country singer singin' in a minor key. He said, 'Why don't you get your axes and jam a little bit?' Larry got his guitar; I didn't. Hank passed the bottle and my brother took a couple slugs. Larry did the Zeke Turner thing. Hank said, 'I'd like to take you home. Would you go with me?' Larry said. 'My mama wouldn't let me!'"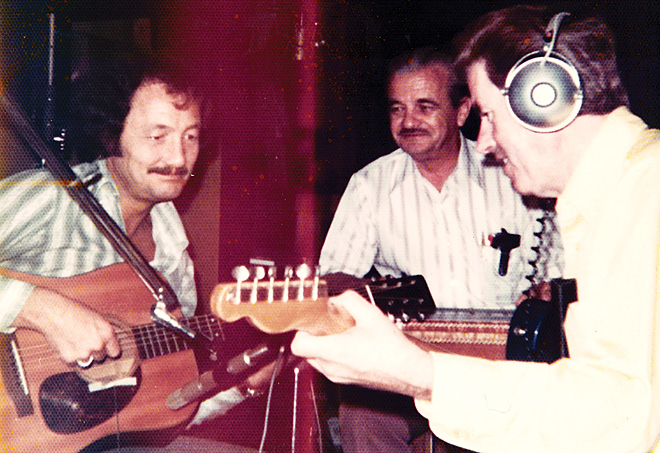 After their 1974 move to Nashville, Larry remained behind when Bobby returned to the West in '75. He engineered and, while working sessions at Pete Drake's studio, got to know longtime hero Jimmy Bryant. Larry played rhythm guitar on the 1975 Bryant-Speedy West reunion album Drake produced. Bryant used a Gibson hollowbody by then, not the Tele he'd used on the '50s Bryant-West duets. At Larry's and Speedy's urging, he re-created his old sound on Larry's '52 Tele.
Back in California in '77, Bob and Larry reconstituted the Black Brothers band for a time before he returned to Nashville, played, engineering, remarried, and raised horses. He and his brother remained in constant touch and in 1984 recorded the live album Pickin' In A Skull Orchard. They'd planned an album "lookin' at the recording adventures we went through… mostly country, some swing, maybe a little jazz. We could have gotten it done with top players, but Larry got too sick." Their final gig was 2004's International Steel Guitar Convention. Larry died in '05. Vince Gill, who attended the '04 Convention, purchased Larry's '52 Tele, two '53 Teles, and a Martin from his widow, Linda Henson-Black.
"I promised Linda I was going to try to scrape up a bunch of stuff we had done. I'm still thinking about doing that… Just go in the studio and do a memorial." He plans to title the album For Larry. – Rich Kienzle
---
This article originally appeared in VG December 2011 issue. All copyrights are by the author and Vintage Guitar magazine. Unauthorized replication or use is strictly prohibited.
---