Current Issue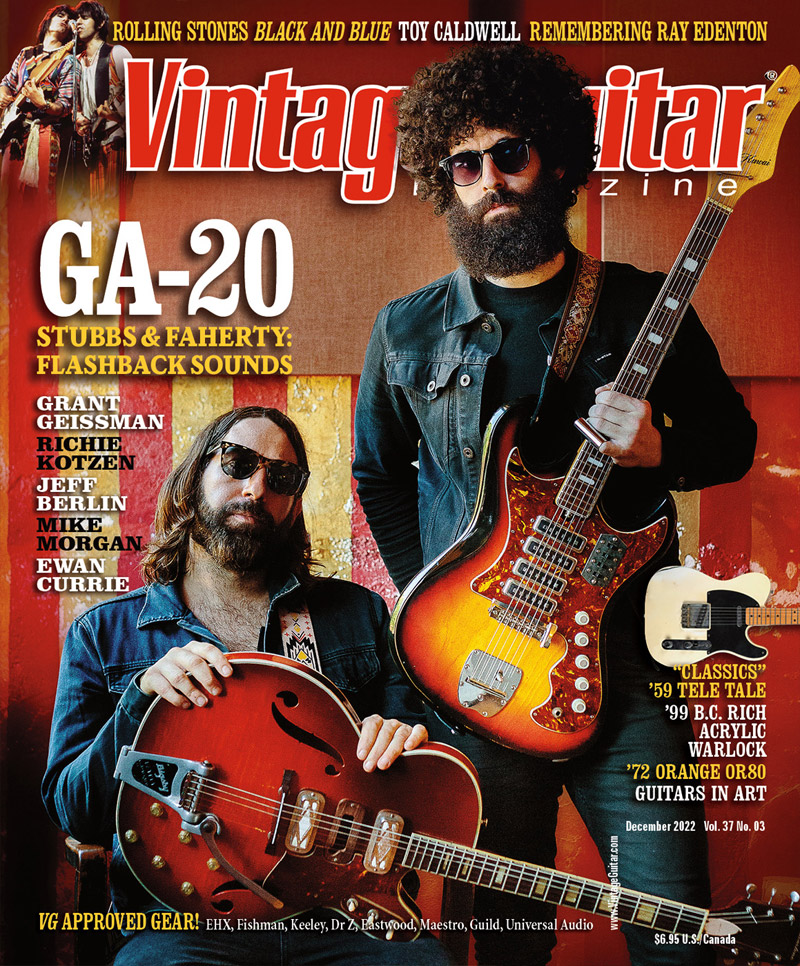 GA-20's Matt Stubbs is a disciple of Johnny "Guitar" Watson, Earl Hooker, and the guitar Kings, while Pat Faherty's influences are more-modern. Their new album, Crackdown, reaches back while moving the blues forward.
Also dropping by to discuss their latest music are Richie Kotzen, Jeff Berlin, Mike Morgan, Steve Knight, Ewan Currie, and Grant Geissman. Wolf Marshall recalls the legendary work of Toy Caldwell, while "Pop 'N Hiss" examines how Black and Blue stands out in the catalog and history of the Rolling Stones.
Reid Farrell bought a used Fiesta Red '59 Tele for $125, then used it and later sold it to Billy F Gibbons, who used it on two of ZZ Top's biggest hits. "Classics" tells its story.
B.C. Rich closed the 20th century with its version of a "see through" guitar. In case you've forgotten, here's the tale of the Acrylic Warlock.
Orange amps are known for their raucous British sound. Created when amps were huge and men were men, the OR80 Combo screams bell-bottomed rock style and attitude. Here's the how and why.
Leo Mazow's vision for an exhibit at the Virginia Museum of Fine Arts stemmed from the guitar's overwhelming popularity. Given its rich history, he knew it would make for an engaging exhibition. We knew it'd make for a cool magazine spread!
Our "Hit List" review staff screens the latest music from CCR, Jimi Hendrix, Albert Lee, Sonny Landreth, Pat Travers, Robben Ford and Bill Evans, Mark Knopfler, and more!
With the holidays approaching, it's time to drop hints to Santa. We tell you why the EHX J Mascis Ram's Head Big Muff, Fishman Loudbox Mini, Keeley Dark Side Hero, Dr Z Z28 Mk II, Eastwood Classic 6, Maestro Ranger Overdrive/Invader Distortion, Guild Starfire I-12, and the Universal Audio Dream '65 Reverb/Ruby '63 Top Boost/Woodrow '56 will keep you from wasting St. Nick's precious time.
It's all in the December issue of Vintage Guitar!
Table of Contents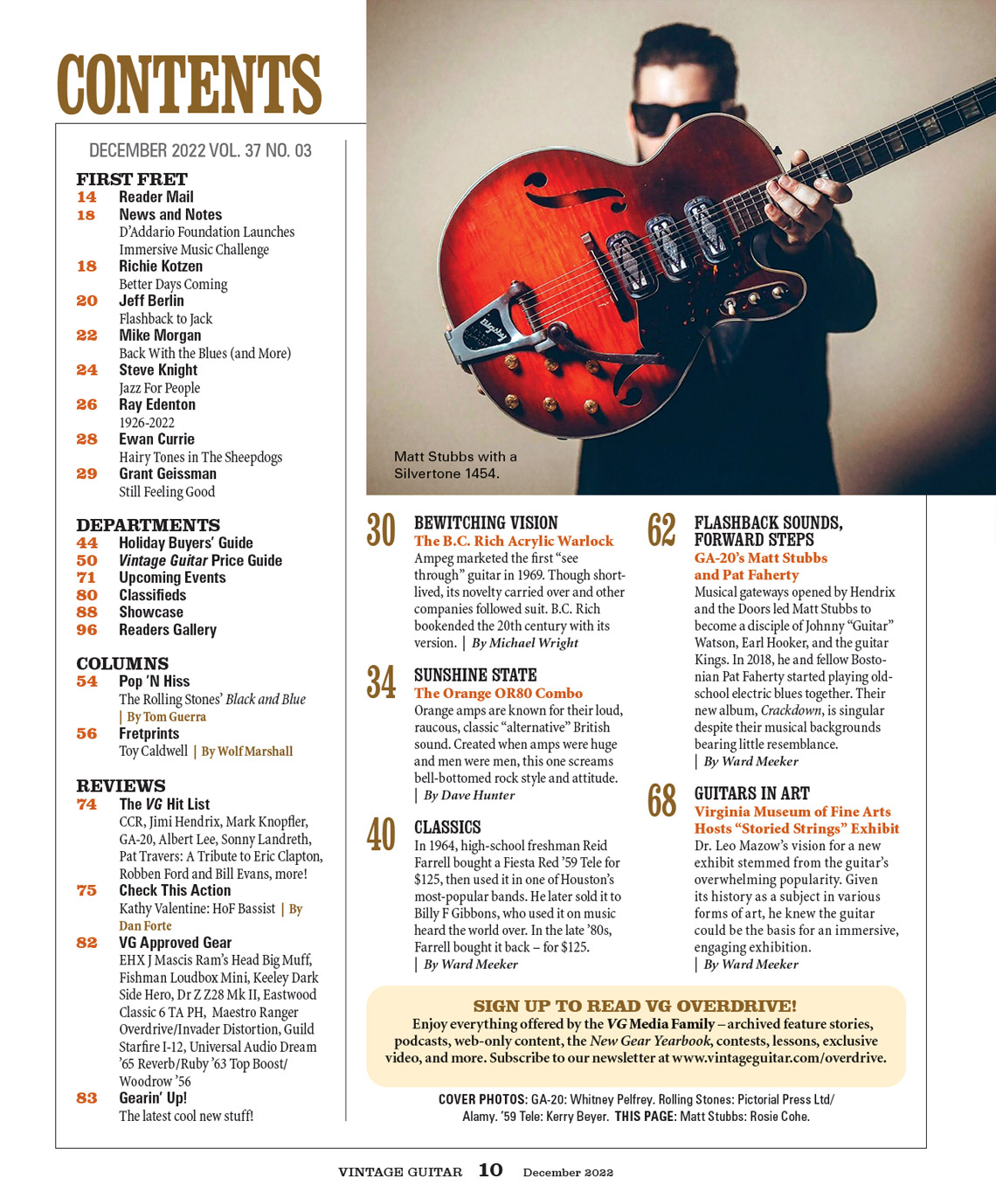 GET YOUR VG FIX
Your complete guitar coverage all starts with a new subscription to VG!
Print Copies Order print copies of the current issue or back issues in the VG Store. Vintage Guitar's 33 year archive of the best guitar related info is a customizable tribute to the memories shared with your best friend, band mates, you name it. Commemorate a life event by gifting Vintage Guitar magazine from an exact month and year. Browse the covers and descriptions of over 250 issues for a specific guitar or player. A well thought-out gift awaits.
Digital Edition Read for FREE in a web browser (Chrome, Firefox, Safari, etc.). The browser edition works on most computers or hand-held devices. Digital FAQ
Over time, Vintage Guitar magazine has become much, much more than the vibrant print magazine in your mailbox. Jump-start that passion for guitar with VG's Media Family the best and brightest selections from VG's vast archive of interviews, instrument profiles, and reviews of the hottest new gear and outstanding new music. See it all →
FROM READERS
Reader Mail Send letters to ward@vintageguitar.com or mail to: Vintage Guitar, Inc. Attn: Reader Mail, PO Box 7301, Bismarck ND 58507.
Readers Gallery Send your photos to: doug@VintageGuitar.com or mail to: Vintage Guitar, Inc. Attn: Readers Gallery, P.O. Box 7301, Bismarck, ND 58507. Readers submit photos with the understanding that they may be used in any VG, Inc. project. Due to the volume of photos we receive, we are unable to return them, please do not send us your only print.
Guitar Shows
Click on an event to see more information. Submit your upcoming event info to this form. See full calendar and past show photos at www.VintageGuitar.com/Upcoming.

VG Youtube Uploads