Current Issue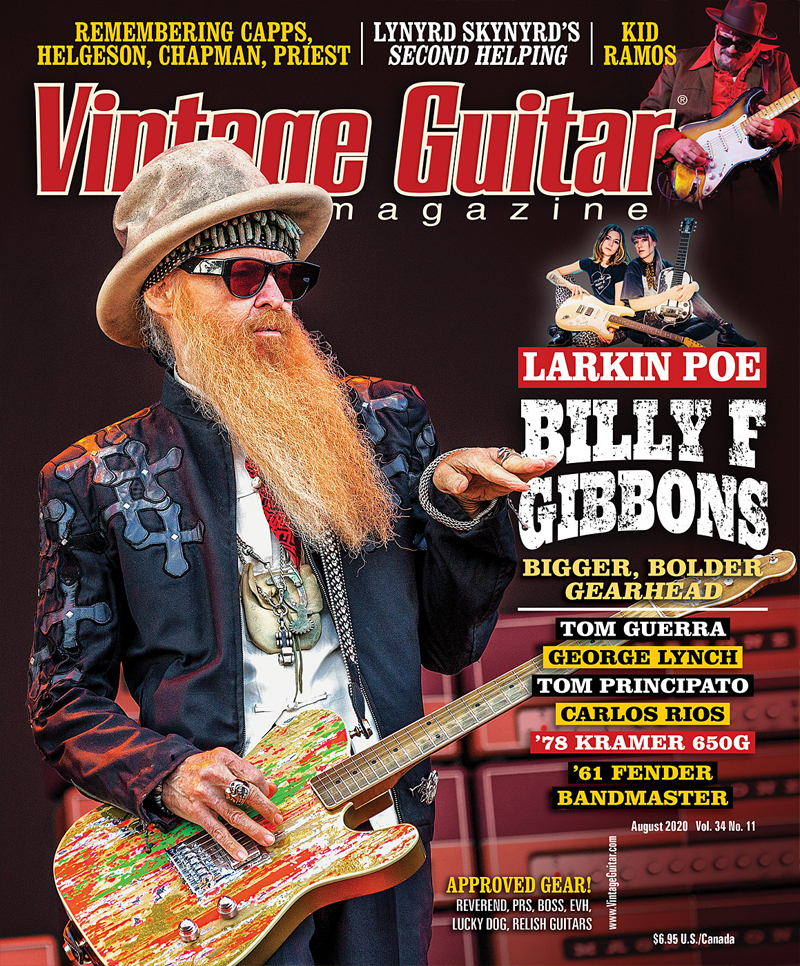 When it came time to reissue his 2005 book, Rock + Roll Gearhead, Billy Gibbons dug deeper into his collections. We get the lowdown on the upgrade. In another exclusive, we visit with sisters Rebecca and Megan Lovell, a.k.a. Larkin Poe, whose new album is hotter than a Rickenbacker frying pan sittin' on a Mississippi sidewalk in the summertime! Plus, we tell the riveting stories of the Kramer 650G and Fender's '61 Bandmaster. Need a big ol' dose of vintage wire and wood? Check out Tom Guerra's collection. We talk new music with Kid Ramos, Jimmy Capps, Tom Principato, Kurt Rosenwinkel, George Lynch, and Josh Smith. Then, grab your guitar and strum along as Wolf Marshall breaks down career-making licks from Carlos Rios. Join us in revisiting Skynyrd's Second Helping, and build new playlists from our reviews of the latest music from George Barnes, Webb Wilder, Rory Block, Eli Cook, and many more. Everybody loves new gear, but before plunking down your hard-earned cash, catch our reviews of great stuff from Boss, Lucky Dog, Valco, EVH, Relish Guitars, PRS, and Reverend.
Table of Contents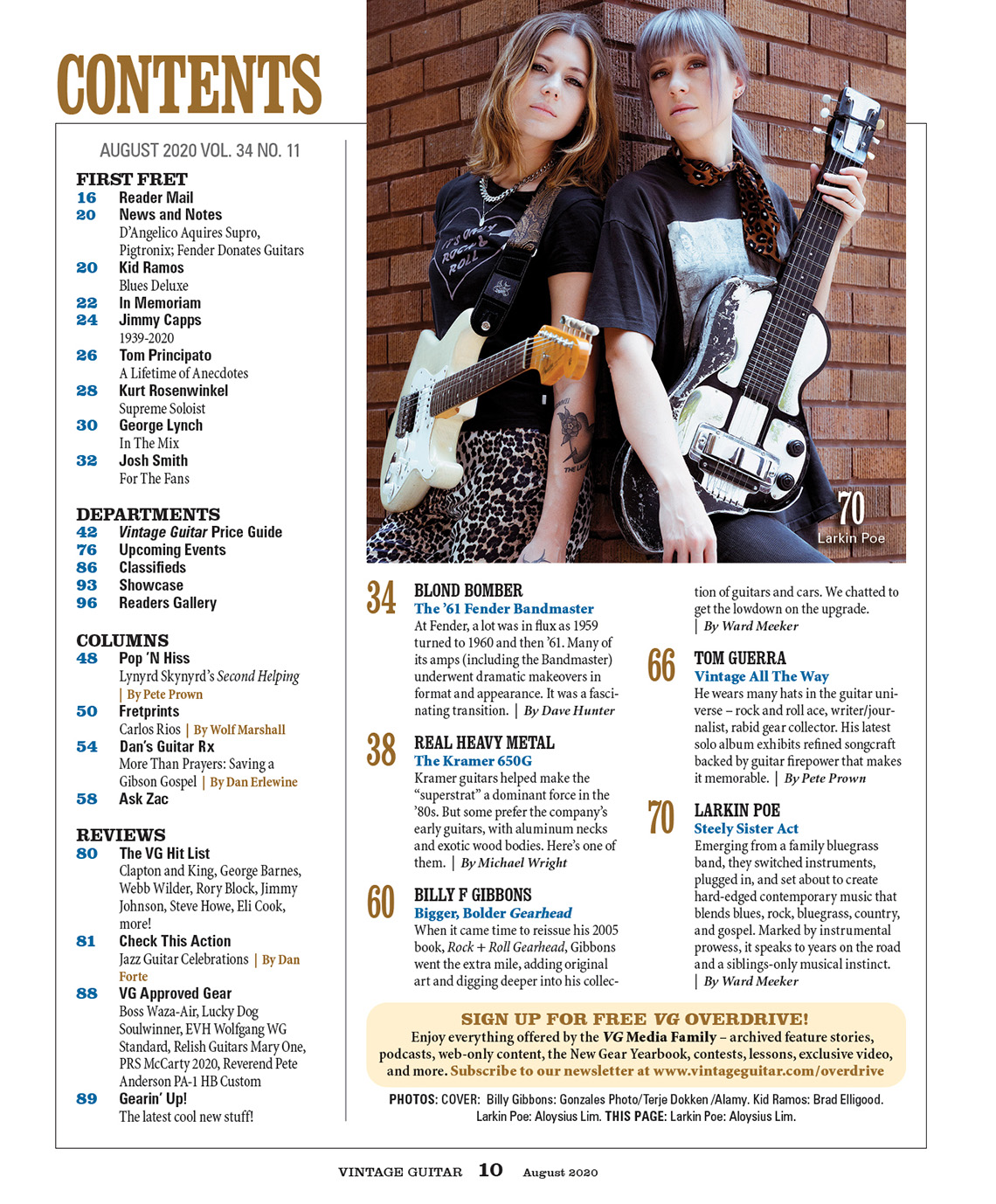 GET YOUR VG FIX
Your complete guitar coverage all starts with a new subscription to VG!
Print Copies Order print copies of the current issue or back issues in the VG Store. Vintage Guitar's 33 year archive of the best guitar related info is a customizable tribute to the memories shared with your best friend, band mates, you name it. Commemorate a life event by gifting Vintage Guitar magazine from an exact month and year. Browse the covers and descriptions of over 250 issues for a specific guitar or player. A well thought-out gift awaits.
Digital Edition Read for FREE in a web browser (Chrome, Firefox, Safari, etc.). The browser edition works on most computers or hand-held devices. Digital FAQ
Over time, Vintage Guitar magazine has become much, much more than the vibrant print magazine in your mailbox. Jump-start that passion for guitar with VG's Media Family the best and brightest selections from VG's vast archive of interviews, instrument profiles, and reviews of the hottest new gear and outstanding new music. See it all →
FROM READERS
Reader Mail Send letters to ward@vintageguitar.com or mail to: Vintage Guitar, Inc. Attn: Reader Mail, PO Box 7301, Bismarck ND 58507.
Readers Gallery Send your photos to: doug@VintageGuitar.com or mail to: Vintage Guitar, Inc. Attn: Readers Gallery, P.O. Box 7301, Bismarck, ND 58507. Readers submit photos with the understanding that they may be used in any VG, Inc. project. Due to the volume of photos we receive, we are unable to return them, please do not send us your only print.
Guitar Shows
Click on an event to see more information. Submit your upcoming event info to this form. See full calendar and past show photos at www.VintageGuitar.com/Upcoming.

VG Youtube Uploads