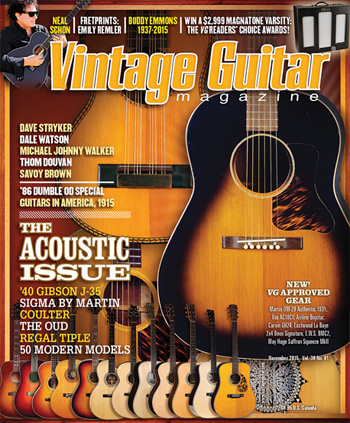 In this issue, we feature…
Acoustic instruments – the guitar and beyond! From a bizarre – and super-rare – 1920s Coulter to Martin's Sigma line, the Regal Tiple, the history-laden oud, Gibson's classic J-35, and 50 modern instruments, no issue of VG has never delved so deep into the topic.
We also talk new music with Neal Schon, Dave Stryker, bassist Tom McGuiness, Dale Watson, Michael Johnny Walker, and Thom Douvan, honor Buddy Emmons, and offer some very non-acoustic reading in a feature on a Dumble OD Special amp. Plus, we take a look (way) back to the American guitar scene as it was in 1915, Will Kelly shows how to make a trapeze tailpiece, Dan Erlewine continues work on a vintage Gibson L-48, and Wolf Marshall studies the style of jazz great Emily Remler. Our music reviewers take a listen to new offerings from the Rolling Stones, Kentucky Headhunters, Yes, Dave Edmunds, Debbie Davies, Doyle Lawson, The Bellfuries, Laura Orshaw, and many other artists, while the gear-review staff grab Martin's OM-28 Authentic 1931, the Vox AC10C1, Airline's Bojotar, Carvin's GH24, the Eastwood La Baye 2×4 Devo Signature, the E.W.S. BMC2, and the Way Huge Saffron Squeeze MkII.
Finally, we're loaded with contests this month, including our $5,000 Super Pickup Giveaway and our VG Readers' Choice Awards Giveaway, with its grand prize being a Magnatone Varsity Reverb amp worth $2,099! 
Or download our app at iTunes for your iphone or ipad and purchase the current digital issue! Use the app to stay up-to-date on the VG newswire, and it's a great place to buy digital single issues and take advantage of the monthly subscription option.

---

The Regal Tiple
If its diminutive stature reminds you of a ukulele, that's because this peculiar instruments sports more than a little influence from the Hawaiian "jumping flea." By Michael Wright
1986 Dumble Overdrive Special
The amps of Alexander Dumble are legendary in part because many notable makers today are inspired by his designs. It's a rare thing to find an original-owner Dumble, and hear its full back story. By Dave Hunter
The Gibson J-35
A year after introducing its Jumbo model, Gibson offered the 1936 J-35 as a direct (and far cheaper) option for those considering a Martin D-18. Similarly sized and shaped, its budget construction today equates to outstanding tone. By George Gruhn
The Coulter Company
More Rarities from the Pacific Northwest
In the early 20th century, oddball luthier Frank Evans Coulter built one-off guitars, mandos, ukes, and violins in Portland. Today, the instruments are so scarce few guitar enthusiasts have laid eyes on one. By Peter Blecha
Sigma By Martin
Follow the Line
Relegated to a corner of the collectible market, Sigma guitars have recently gained popularity even as data on the brand has mostly been anecdotal and suppositional. Here's the essential information. By Kevin Dunham
The Oud: Ancient to Modern
Known only to the most adventurous musicians, it's an instrument with a deep, mysterious sound and colorful history. Plus, a look inside the oud. By Neil Haverstick
50 Modern Acoustic Guitars
One of the greatest tools of artistic expression, whether your tastes favor Segovia over Tommy Emmanuel or James Taylor over John Fahey, every picker needs an acoustic (or two… or three). We offer a look at 50 modern models.
CLICK HERE to view our PDF of the 50 Modern Acoustic Guitars!
---

Reader Mail
News and Notes
Savoy Brown Marks 50 Years
Neal Schon
"The Guitar Is My Voice"
Ask Zac
Dave Stryker
Honky-Tonk Hammerin'
VG on Facebook
Dale Watson
Honky-Tonk Hammerin'
Buddy Emmons
1937-2015
Michael Johnny Walker
Vintage Attitude Required
Thom Douvan
Motown and More
---

Vintage Guitar Price Guide
The VG Super Pickup Giveaway
$5,000 in Prizes
The VG Readers' Choice Awards
Win a Magnatone Varsity Reverb worth $2,099!
Builder Showcase
LsL Instruments
Upcoming Events
Dealer Showcase
Vintage Guitar Classified Ads
Dealer Directory
Readers Gallery
---

The (Way) Back Beat
The American Guitar Scene, 1915
By Peter S. Kohman
Q&A With George Gruhn
Fretprints
Emily Remler
By Wolf Marshall
Dan's Guitar Rx
Better Late Than Never
By Dan Erlewine
Shop of Hard Knocks
Trapeze Artistry
By Will Kelly
---

The VG Hit List
Rolling Stones, Kentucky Headhunters, Yes, Dave Edmunds, Debbie Davies, Doyle Lawson, The Bellfuries, Laura Orshaw, more!
Check This Action
The Blues Band's Tom McGuinness
By Dan Forte
VG Approved Gear
Martin OM-28 Authentic 1931, Vox AC10C1, Airline Bojotar, Carvin GH24, Eastwood La Baye 2×4 Devo Signature, E.W.S. BMC2, Way Huge Saffron Squeeze MkII, Airline Bojotar
Gearin' Up!
The latest cool new stuff!