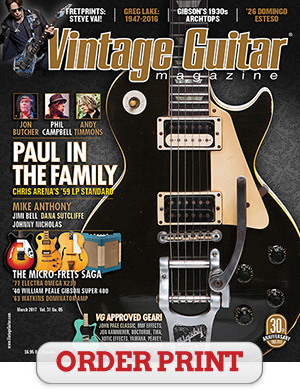 Read about one lucky player's super-rare '59 Les Paul Standard! Plus, we interview Jon Butcher, Phil Campbell, and others, Wolf Marshall unveils the magic behind Steve Vai's playing, and we go deep into the saga of Micro-Frets. All this along with our renowned instrument profiles including a beautiful one-off 1940 Gibson Super 400, the Watkins Dominator amp, "Approved Gear" reviews, "Hit List" music reviews, and much more!
All this and more…
GET THIS ISSUE — order the print edition in the VG Shop, download a digital copy in the VG app, OR browse now, the FREE online digital issue.
IN THIS ISSUE…
FEATURES
› Not a Paul, Not a Strat…
The Electra Omega X230
The mid '70s saw an explosion of guitars like this, on which designers gave players more control of their tones via the instrument itself rather than forcing them to rely on pedals or racks full of black boxes. | By Michael Wright
› Crying V
The Watkins Dominator
Delightfully twee, this was the flagship of a pioneering amp maker who, like Leo Fender, was amongst the first to address the needs of a new breed of guitarist. | By Dave Hunter
› Sharp-Shooter Special
The William Peale, Jr. Gibson Super 400
Ordered by a genuine Texas cowboy and inductee to the National Skeet Shooting Hall of Fame, it needed an extra something. So, Gibson customized it with the owner's name in mother-of-pearl inlay on the fingerboard and a few other decorative details. | By George Gruhn and Staff
› Mike Anthony
Jazz Big-Leaguer
A protegé of the great Howard Roberts, he spent decades as a first-call session player. Lauded by peers for his talent and work ethic, today he plays to honor other jazz-guitar greats and teaches the form to college students. | By Jim Carlton
› Genius in MD
The Micro-Frets Saga
Ralph Jones should be listed alongside Leo Fender and Ted McCarty in the pantheon of pioneering guitar builders; when he started making guitars in a small shop in Maryland, Jones was doing something very different for 1965. | By Ward Meeker
› Paul in the Family
Chris Arena's '59 LP Standard
While parents typically cringe when a child declares their intent to be a professional musician, Steven Arena not only encouraged his eldest son to make a living by playing music, he unabashedly offered a bribe in the form of a six-stringed family heirloom. | By Ward Meeker
FIRST FRET
Reader Mail
News and Notes
Cropper Guitars to the Smithsonian; Gill and the Songbirds Museum; Clapton Sells Guitars; PhD "Guitar Heroes" Survey
Greg Lake
1947-2016
Ask Zac
Johnny Nicholas
Musical Polyglot
Andy Timmons
Back to the Bread 'N Butter
Jon Butcher
Beyond the Axis
Dana Sutcliffe
Here's the Scoop
Phil Campbell
Motöring Ahead
Jimi Bell
Lord of Shred
DEPARTMENTS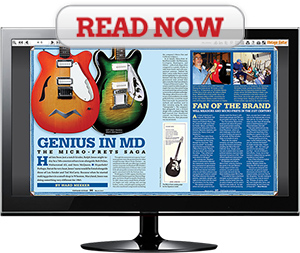 Vintage Guitar Price Guide
Order the 2017 VG Price Guide AND get the bonus digital edition FREE! The digital edition access code will be delivered with your print edition.
Upcoming Events
Vintage Guitar Classified Ads
Dealer Directory
Builder Showcase
Dealer Showcase
Readers Gallery
COLUMNS
The (Way) Back Beat
Depression, Deco, and the L-Something | By Peter S. Kohman
Fretprints
Steve Vai | By Wolf Marshall
Guitars With Guts
1926 Domingo Esteso | By R.E. Bruné
Q&A With George Gruhn
Dan's Guitar Rx
An "Easy" Repair? | By Dan Erlewine
Shop of Hard Knocks
Blending Tones | By Will Kelly
REVIEWS

The VG Hit List
Rolling Stones, Don Rich, Eric Clapton, Taj Mahal, John Lee Hooker, Robbie Robertson, Bob Dylan, more!
Check This Action
Jazz: Swinging and Swooning | By Dan Forte
VG Approved Gear
John Page Custom AJ, BMF Effects GeSpot Fuzz, Jon Kammerer Dorado, Nocturne Dyno Brain Booster, TWA WR-3 Wah Rocker, Xotic Effects RC Booster V.2, Yamaha LL-TA TransAcoustic, Peavey 6505 Piranha, Gizmotron 2.0, Fender Johnny Marr Jaguar
Gearin' Up!
The latest cool new stuff! To be included in Gearing' Up, contact us at vguitar@vintageguitar.com.
VG'S GIVEAWAYS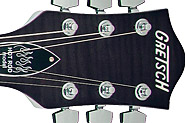 Gretsch G6120 SH valued at more than $4,000!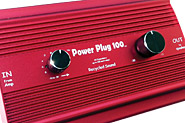 Recycled Sound Power Plug 100 attenuator from – $199.95 value!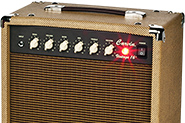 Carvin Vintage 16 – $699 value!
FROM READERS
› Reader Mail
Send letters to vguitar@vintageguitar.com or mail to:Vintage Guitar, Inc. Attn: Reader Mail, PO Box 7301, Bismarck ND 58507.
› Readers Gallery
Check out the current issue Readers Gallery or VG's Online Readers Gallery
Send your photos to: doug@VintageGuitar.com or mail to: Vintage Guitar, Inc. Attn: Readers Gallery, P.O. Box 7301, Bismarck, ND 58507.
Readers submit photos with the understanding that they may be used in any VG, Inc. project. Due to the volume of photos we receive, we are unable to return them, please do not send us your only print.