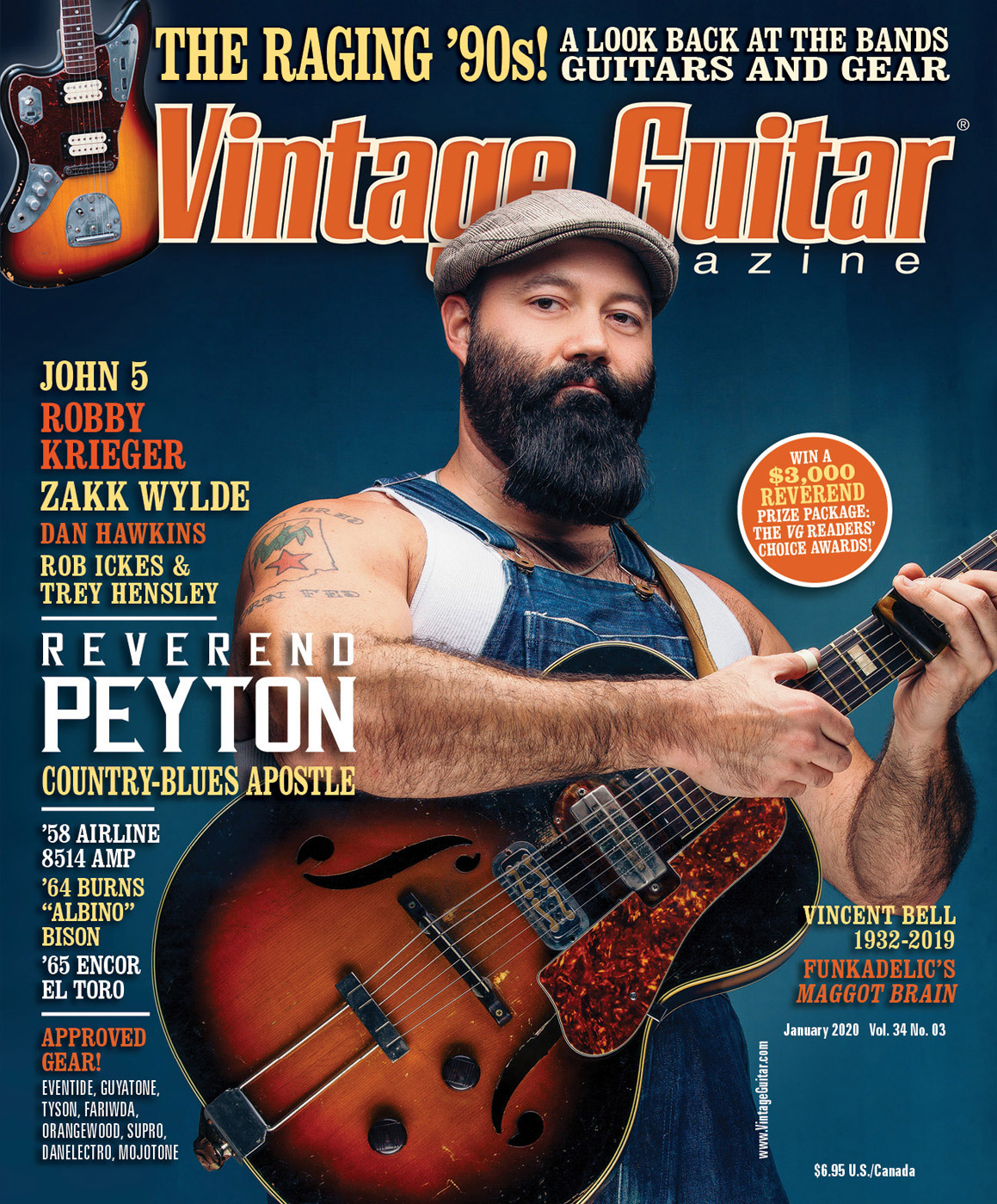 A mix of serendipity and adversity helped make country-blues apostle Reverend Peyton a leading torch-bearer in the genre. We highlight the guitars, amps, and effects that propelled the Raging '90s, and tell why C.F. Martin, Sr. might've been the first "boutique" builder. We also reveal the stories behind the super-rare Burns "Albino" Bison and Encor El Toro, then detail why the Airline Model 8514 is an alternative gem to certain collectible (and expensive!) tweed-covered amps.
Need proof the guitar is as vital as ever in new music? Our interviews with Rob Ickes and Trey Hensley, John 5, Robby Krieger, Dan Hawkins, Marc Bonilla, and Reb Beach will keep you believing.
This month's "Pop 'N Hiss" details the deep significance of Funkadelic's Maggot Brain, Wolf Marshall's "Fretprints" breaks down three monster licks in the life of Zakk Wylde, and our gear reviewers tell the truth about the Eventide Space, Guyatone's Cooler Booster, Tyson Tone PAFs, Farida's OT-12 VBS, the Orangewood Sage Live, Supro's Ozark 1261AW, Danelectro's Breakdown and Eisenhower pedals, and the Mojotone Custom BlackOut.
Looking for new tunes to build a playlist? We steer you to great new stuff from Robben Ford and Bill Evans, Gov't Mule, The Doors, John 5, Steve Howe, NRBQ, The Darkness, Ramones, Elvis, and more!
Table of Contents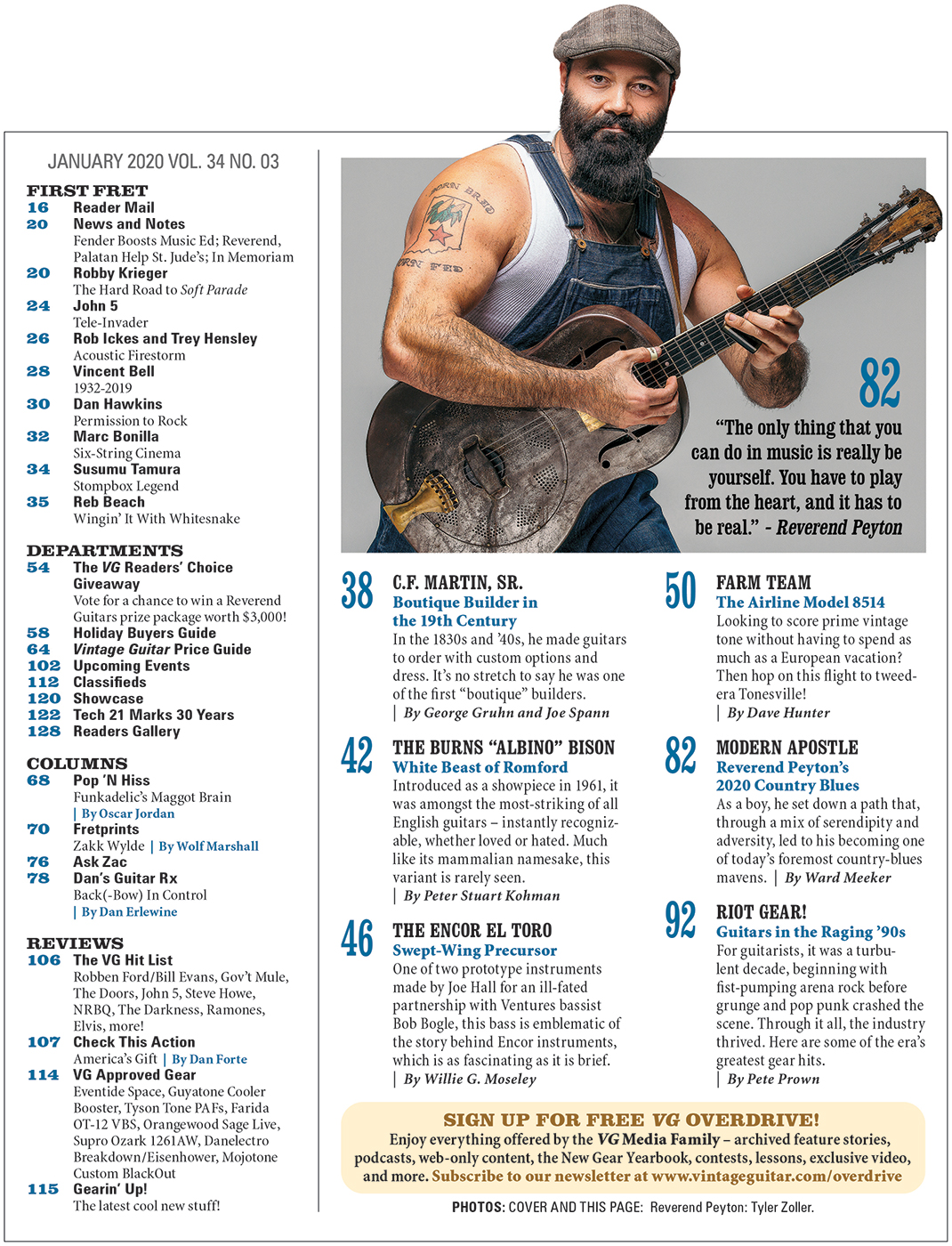 GET YOUR VG FIX
Your complete guitar coverage all starts with a new subscription to VG!
Print Copies Order print copies of the current issue or back issues in the VG Store. Vintage Guitar's 33 year archive of the best guitar related info is a customizable tribute to the memories shared with your best friend, band mates, you name it. Commemorate a life event by gifting Vintage Guitar magazine from an exact month and year. Browse the covers and descriptions of over 250 issues for a specific guitar or player. A well thought-out gift awaits.
Digital Edition Read for FREE in a web browser (Chrome, Firefox, Safari, etc.). The browser edition works on most computers or hand-held devices. Digital FAQ
Over time, Vintage Guitar magazine has become much, much more than the vibrant print magazine in your mailbox. Jump-start that passion for guitar with VG's Media Family the best and brightest selections from VG's vast archive of interviews, instrument profiles, and reviews of the hottest new gear and outstanding new music. See it all →
FROM READERS
Reader Mail Send letters to ward@vintageguitar.com or mail to: Vintage Guitar, Inc. Attn: Reader Mail, PO Box 7301, Bismarck ND 58507.
Readers Gallery Send your photos to: ward@VintageGuitar.com or mail to: Vintage Guitar, Inc. Attn: Readers Gallery, P.O. Box 7301, Bismarck, ND 58507. Readers submit photos with the understanding that they may be used in any VG, Inc. project. Due to the volume of photos we receive, we are unable to return them, please do not send us your only print.
Guitar Shows
Click on an event to see more information. Submit your upcoming event info to this form. See full calendar and past show photos at www.VintageGuitar.com/Upcoming.

VG Youtube Uploads