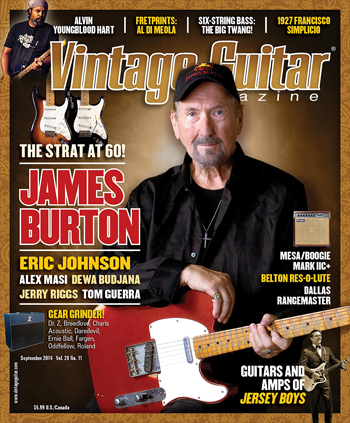 We speak with James Burton, who was just 13 when his parents took a chance and bought him a new Telecaster. This year, he turns 75 and that Tele helped him become a legend. We also interview Eric Johnson, Alvin Youngblood Hart, Alex Mazzi, Jack Petruzelli, Jerry Rigger, Tom Guerra, and Dewa Budjana.
We also touch on the 60th anniversary of the Stratocaster, including a primer on collecting the venerable offset-double-cut, and George Gruhn and Sarah Rose Jones relay the stories of two important early Strats. Michael Wright profiles the Belton Res-O-Lute mandolin, Dave Hunter tells why the Mesa/Boogie Mark IIC+ is such a unique animal, and Michael Dregni explains why the Dallas Rangemaster is perhaps the most collectible effects box on earth. Jim Elyea explains the process of selecting instruments seen in the new film, Jersey Boys. And, we take a close, critical run on new gear by Dr. Z, Breedlove, Charis Acoustic, Daredevil, Ernie Ball, Fargen, Oddfellow, and Roland. 
Or download our app at iTunes for your iphone or ipad and purchase the current digital issue! Use the app to stay up-to-date on the VG newswire, and it's a great place to buy digital single issues and take advantage of the monthly subscription option.

---

The Beltone Res-o-lute Mandolin
Vintage mandolins are are typically bowl-back or pear-shaped with designs inspired by Gibson. But, every once in a while you get one that pushes the envelope, like this faux-resonator model. By Michael Wright
The Mesa/Boogie Mark IIC+
Early Mesa/Boogie Mark Series amps caused a sensation, with the line having stretched to the feature-laden Mark V. But, many fans of these powerful little beasts feel its evolution peaked here, at the end of the Mark II range. By Dave Hunter
Perfect Curves
Fender's Stratocaster Turns 60
Mankind's default image of the electric guitar, it has always been a stalwart, at hand for superstars, bedroom pickers, garage-band grinders – players of all ages, skill levels, and stylistic inclinations. George Gruhn and Sarah Rose Jones profile two historically significant Strats, and we offer a primer on collecting the offset-double-cut legend.
The Dallas Rangemaster
With his Bluesbreaker dimed and this box in line with his Gibson SG, Eric Clapton created his "woman tone." Though its impact was felt most in England, it became one of the most sought-after vintage effects. By Michael Dregni
Hooray For Hollywood!
The Guitars and Amps of Jersey Boys
Traditionally, Hollywood hasn't paid close attention to certain details in regard to guitars and amps in movie portrayals – a fact lowlighted in 1978's The Buddy Holly Story. More recently, though, it's trying harder, as proven by a new film about Frankie Valli and the Four Seasons. By Jim Elyea
James Burton
Guy and Lola Burton took a chance when, in 1953, they bought a new Telecaster for their 13-year-old son. This year, he turns 75 and that Tele helped him become a legend – and it's still his favorite guitar. By Ward Meeker
---

Reader Mail
News and Notes
Experience Hendrix Fall Dates; ZZ Top News; Timmons Update; In Memoriam
Eric Johnson
Epiphanies
Ask Zac
By Zac Childs
Tom Guerra
Rock and Roll Swagger
VG on Facebook
Dewa Budjana
Fusion/Progressive/World Music from Indonesia
Alvin Youngblood Hart
Electric Gutbucket
Alex Masi
Danger Zone
Jerry Riggs
Heavy Metal Forever
Jack Petruzzelli
Fab Sideman For Osborne, Wainwright, Smith
---

Vintage Guitar Price Guide
Builder Showcase
Killer Guitar Components
Dealer showcase
Vintage Guitar Classified Ads
Dealer Directory
Readers Gallery
---
The (Way) Back Beat
The Big Twang, Part 2
By Peter S. Kohman
Fretprints
Al Di Meola
By Wolf Marshall
Q&A With George Gruhn
Guitars With Guts
1927 Francisco Simplicio No. 146
By R.E. Bruné
Dan's Guitar Rx
Tight Squeeze
By Dan Erlewine
Shop of Hard Knocks
Left is Right
By Will Kelly
---

The VG Hit List
Eric Johnson, Neil Young, Chris Robinson Brotherhood, Hank William, Johnny A., Seth Walker, more!
Check This Action
Harvey Mandel: A True Original
By Dan Forte
Vintage Guitar Gear Reviews
Dr. Z Z Wreck, Breedlove FF and KO, Charis Acoustic SJ, Daredevil Atomic Clock, Ernie Ball MVP, Fargen Pete Anderson, Oddfellow Caveman, Roland Cube Lite
Gearin' Up!
The latest cool new stuff!