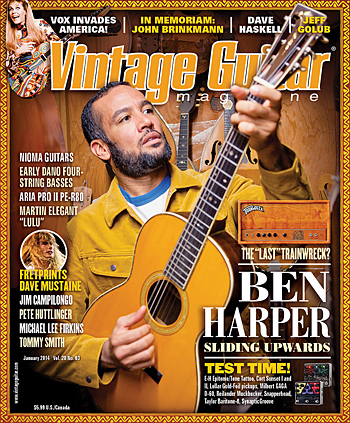 Whether it was genetics or environment, Ben Harper experienced a near-perfect musical upbringing – and we're all better for it! We talk with him to learn the complete story, and take a look at his extensive collection of guitars. Peter Blecha digs into NIOMA  guitars, another regional brand that has remained  obscure. We also talk about the latest music from Pete Huttlinger, Jim Campilongo, Dave Haskell, and rockers Michael Lee Firkins and Leogun's Tommy Smith. This month's instrument profiles include what may be the last Trainwreck built by the legendary Ken Fischer, the Aria PRO II PE-R80, a  fancy custom-ordered Martin Elegant, Danelectro's renowned four-string basses. We add another dash of old-school hard rock with Wolf Marshall's "Fretprints" column on Dave Mustaine. Music reviews  include Pete Anderson, Dave Van Ronk, The Clash, Dinosaur Jr., the Allman Brothers, The Martin Ukulele, and more, while Dan Forte takes a closer look at Danny Kirwan's time in Fleetwood Mac. And (just in time for Christmas shopping!) our gear reviewers offer up in-depth looks at the Cort Sunset I and II, the Electro-Harmonix Epitome and Tone Tattoo pedals, Lollar's Gold-Foil pickups, Milbert's GAGA D-60, Reilander Muckbuckers, the SynapticGroove Snapperhead, and Taylor Guitars' Baritone-8.

---

The Aria PRO II PE-R80
There's nothing like a guitar with a pedigree like this. A thoroughbred all the way, its family lines include an underrated brand, a legendary manufacturer, and a legendary designer. By Michael Wright
The "Last" Trainwreck?
Renowned amp builder Ken Fischer made fewer than 100 of his highly sought-after Trainwreck amps before his passing in 2006. This one may have been his last. By Dave Hunter
The Martin Elegant, A.K.A. "Lula"
Extraordinarly ornate, this instrument was found in a Nashville pawn shop in the mid '70s, and three letters in the Martin archive reveal its story. By George Gruhn and Grieg Hutton
Danelectro's Four-String Basses
Danelectro's early four-string basses have always had a "cool" factor. Underrated in their time, bassists appreciate their unique sound. By Willie G. Moseley
NIOMA Guitars
Rarities from a West Coast Music School
With their Hawaiian-looking name, guitars carrying the NIOMA brand have mystified enthusiasts over the decades. Surviving examples help tell the saga of a 1930s franchise school founded in Seattle. By Peter Blecha
Ben Harper
Sliding Upwards
Whether you argue genetics or environment, there's no denying Ben Harper experienced a near-perfect musical upbringing – and we're all better for it! Plus, a look at "Harper's Guitars." By Dan Forte
---

Reader Mail
News and Notes
PRS, Hard Rock Donate to School; Catalinbread Builds Cancer-Awareness pedals; In Memoriam
Jeff Golub
Unfinished Business
Ask Zac
By Zac Childs
Dave Haskell
Wings and Strings
VG on Facebook
Michael Lee Firkins
Meditations on Southern Rock
John Brinkmann, 1937-2013
Pioneering Promoter of the Vintage-Guitar Market
Tommy Smith
Leogun's Led Zeppelin Connection
Pete Huttlinger
A Narrative (and Album) From the Heart
Jim Campilongo
"I'm a Guitar Player"
---

Vintage Guitar Price Guide
Builder Profile
Fargen Amplification
Dealer showcase
Vintage Guitar Classified Ads
Dealer Directory
Readers Gallery
---

The (Way) Back Beat
From Dartford to Sepulveda: Vox Guitars Invade America
By Peter S. Kohman
Acousticville
The Bad Stuff: Otherwise-Helpful Chemicals That Don't Help Your Guitar
By Steven Stone
Fretprints
Dave Mustaine
By Wolf Marshall
Dan's Guitar Rx
Too Many Choices?
By Dan Erlewine
Shop of Hard Knocks
A Decades-Old Decca
By Will Kelly
---

The VG Hit List
Pete Anderson, Dave Van Ronk, The Clash, Dinosaur Jr., Allman Brothers, The Martin Ukulele, more!
Check This Action
Fleetwood Mac: The Kirwan Years
By Dan Forte
Vintage Guitar Gear Reviews
Cort Sunset I and II, E-H Epitome/Tone Tattoo, Lollar Gold-Foil pickups, Milbert GAGA D-60, Reilander Muckbuckers, SynapticGroove Snapperhead, Taylor Baritone-8
Gearin' Up!
The latest cool new stuff!