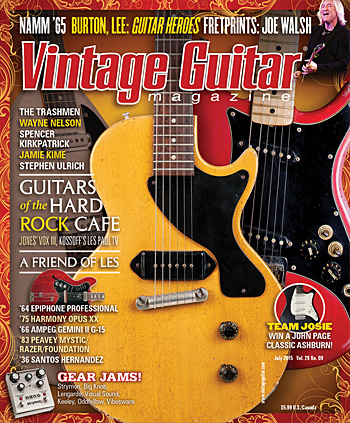 We offer a look behind the scenes at the guitars of the Hard Rock Cafe – one of the preeminent collections on earth. The feature sets the table for a series of profiles on the people and instruments of the HRC, beginning with the Vox Mark III custom-built for Brian Jones in 1964, and the late-'50s Les Paul TV Model once owned by Paul Kossoff. We also introduce you to Jim Wysocki, who spent three decades hanging out at Les Paul's house, and now hosts exhibits of some of the guitars and gear given to him by the late legend. Our instrument profilers offer in-depth looks at the Harmony Opus XX, Ampeg's Gemini II G-15 amp, the bizarre Epiphone Professional guitar-and-amp, a 1936 Santos Hernandez classical, and Peavey's lineup-enlivening Mystic, Razer, and Foundation. We talk new music with Spencer Kirkpatrick, Wayne Nelson, Jamie Kime, the legendary Trashmen, Stephen Ulrich, and offer a look at the new album featuring Telemasters James Burton, Amos Garrett, Albert Lee, and David Wilcox. Peter Kohman continues his look at what was shiny and new at the '65 NAMM show, Wolf Marshall digs into some licks by Joe Walsh, Dan Erlewine finishes an extensive overhaul of a vintage Glaesal guitar, and Will Kelly builds a tenor neck for a Tele. Finally, our review staff offers thoughts on new music by Curtis Knight and the Squires, George Van Eps, Jorma Kaukonen, Robben Ford, as well as gear by Lengardo, Big Knob, Visual Sound, Keeley, Oddfellow, Strymon, and Vibesware.
Or download our app at iTunes for your iphone or ipad and purchase the current digital issue! Use the app to stay up-to-date on the VG newswire, and it's a great place to buy digital single issues and take advantage of the monthly subscription option.

---

The Harmony Opus XX
One of the last guitars offered by a survivor of the '60s "guitar boom," its flamed-maple body and mustache bridge gave it a decided Gibson appeal. But its voice was unique, and compared favorably to any well-made jumbo.
By Michael Wright
The Ampeg Gemini II G-15
At a glimpse it seems to say "intended for use in jazz club." But, crank it up and something grimy, rich, and raw starts to happen, opening a world of sonic possibilities.
By Dave Hunter
The Epiphone Professional
Manufacturers have always created ways to make different sounds with electric guitars and amplifiers. The approach offered by this set – with amp controls and effects mounted on the guitar – was unique to this model.
By George Gruhn
Contrasting Chronologies
Peavey's Mystic, Razer, and Foundation
Looking to enliven its lineup, Peavey used the August '83 price list to launch three new models with "special rock 'n roll" shapes designed to appeal to prevailing tastes of the era.
Willie G. Moseley
Friend of Les
Sharing a Legacy
A phone call late on a winter night led an 18-year-old New Jersey kid into the relationship of a lifetime – and a desire to share with the world 30 years worth of history delivered first-hand by Les Paul.
By Ward Meeker
Guardians of Grandeur
The Men Who Tend to the Guitars of the Hard Rock Cafe
From the desire to bring burgers and fries to London stemmed one of the world's greatest collections of star-owned guitars. Today, Jerry Fraize and Jeff Nolan are in charge of TLC at the HRC.
By Ward Meeker and Jim Carlton
Rock-Star Request
Brian Jones' Vox Mark III
Perhaps the first custom guitar commissioned by a rock star, the Rolling Stones guitarist asked for a lute-shaped axe with a bridge similar to a Strat. In July of '64, Vox delivered his wish.
By Jim Carlton
Koss' "Beast"
The Les Paul TV of an Underrated Legend
The first Les Paul obtained by Free guitarist Paul Kossoff, today it is remarkably close to stock and retains all the tonal girth made famous by the model and its P-90 pickup.
By Jim Carlton
---

Reader Mail
News and Notes
Friends Gather for Golub; Hoeft Re-Acquires Michael Kelly; In Memoriam
Wayne Nelson
Little River Anchor
Ask Zac
Spencer Kirkpatrick
Jammin' Southern Hero
VG on Facebook
Jamie Kime
Lord of the Jam
Telecaster Summit
Burton, Garret, Lee, and Wilcox Join Forces
Return of the Trashmen
Bird Is Still The Word
Stephen Ulrich
Film Noir Guitar
---

Vintage Guitar Price Guide
Builder Showcase
EKlein Guitars
Dealer showcase
Vintage Guitar Classified Ads
Dealer Directory
WIN BIG! The Team Josie American Cancer Society Relay for Life Raffle
Win a John Page Classic Ashburn Valued at $1,499
Readers Gallery
---

The (Way) Back Beat
Guitar Futures, 50 Years Ago
By Peter S. Kohman
Fretprints
Joe Walsh
By Wolf Marshall
Guitars With Guts
1936 Santos Hernández
By R.E. Bruné
Q&A With George Gruhn
Dan's Guitar Rx
Tough Old German, Part 2
By Dan Erlewine
Shop of Hard Knocks
Tone Twister
By Will Kelly
---

The VG Hit List
Curtis Knight and the Squires, George Van Eps, Jorma Kaukonen, Robben Ford, more!
Check This Action
The Beautifully Chaotic Pretty Things
By Dan Forte
Vintage Guitar Gear Reviews
Lengardo Milano JBE Series, Big Knob pedals, Visual Sound Route 66 V3 American OD, Keeley Compressor Pro, Oddfellow Napoleon Boost, Strymon Deco Tape Saturation/Doubletracker, Vibesware Guitar Resonator GR-Junior II
Gearin' Up!
The latest cool new stuff!