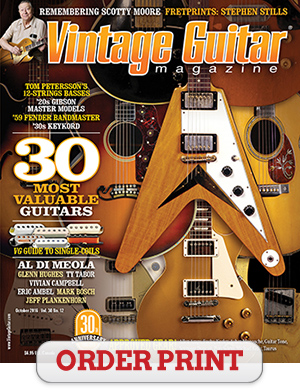 IN THIS ISSUE… We interview jazz legend Al Di Meola, gather thoughts from players on the passing of Scotty Moore, survey "The 30 Most Valuable Guitars," and take a look at modern single-coil pickups. 
All this and more…
Get this issue!
Order
the print edition in the
VG
Shop,
download
a digital copy in the
VG
app, OR
browse now
, the FREE online digital edition.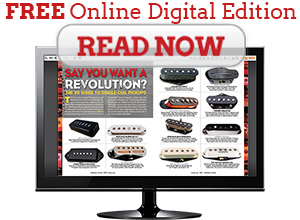 TABLE OF CONTENTS
The Keykord
At first a contract instrument made by Stromberg-Voisinet, their story is a fascinating ride racing from Cleveland to Indianapolis to Chicago… and back. | By Michael Wright
Tricked-Out Trio
Tom Petersson's Gretsch 12-String Basses
Cheap Trick fans are aware of his contribution to the band's songs, but few know he actually invented the 12-string electric bass and has been using one since 1977 to create the bright-but-dense sound that fills so much sonic space in its music. | By Willie G. Moseley
Silver Lining
Gibson and Master Models
Recognized today as visionary, when introduced in 1922, Gibson's Master Model L-5 and F-5 were expensive to produce and lacked a market. For a time, they placed a considerable burden on the company. | By George Gruhn and Staff
Fender's 5E7 Bandmaster
There's something about the 3×10 Bandmaster that drives vintage-Fender nuts gaga. Introduced in 1953, it underwent substantial design changes in its first few years, earning status as a true classic every step along the way. | By Dave Hunter
Strings for a King
Remembering Scotty Moore
Credited with creating the trio format and incorporating country and Atkins-style hybrid picking into the burgeoning rock-and-roll style, he was thrust into the spotlight thanks to a young singer named Elvis. Plus, players react to Moore's passing, and a look at his famed Gibson ES-295. | By Ward Meeker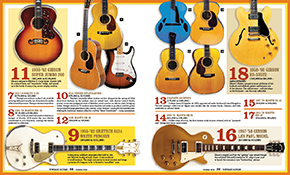 The 30 Most Valuable Guitars
To mark VG's 30th anniversary, we dig into the 30 most-valuable production guitars.
Al Di Meola
Elegant Warrior
An evolved, technical player and soulful composer, his work has been staggering – from spellbinding compositions employing diverse jazz, rock, flamenco, and other influences to highly dynamic live shows. | By Oscar Jordan
Say You Want a Revolution
The VG Guide to Single-Coil Pickups
When George Beauchamp began tinkering with combinations of wire wrapped about magnets in an effort to make guitars louder, there's no way he could have fathomed what would ultimately become of the device he created for the task.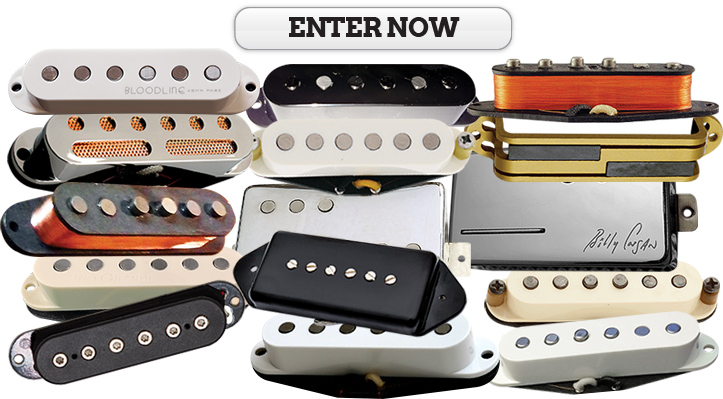 ---

Reader Mail
News and Notes
Emmanuel Stages Gretsch Chet Prototype; Team Josie Raffle Winners; In Memoriam
Glenn Hughes
Golden-Voiced Bassist
Ask Zac
Jeff Plankenhorn
New Innovations For Lap Steel
Eric Ambel
Proficient Professional
Vivian Campbell
Back In Line
Ty Tabor
On a Roll
Mark Bosch
New York State of Mind
Guitar Glory
Summer NAMM '16

---

Vintage Guitar Price Guide

Upcoming Events
Dealer Directory
Vintage Guitar Classified Ads
Builder Showcase
Vibrawood Custom Instruments
Dealer Showcase
Readers Gallery
---
The (Way) Back Beat
A Solid Jangle Box |
By Peter S. Kohman
Fretprints
Stephen Stills | By Wolf Marshall
Acousticville
Guitar Bodies: Is Bigger Always Better? | By Steven Stone
Dan's Guitar Rx
The 68-Year Checkup | By Dan Erlewine
Shop of Hard Knocks
Loving La Loca, Part Two | By Will Kelly
---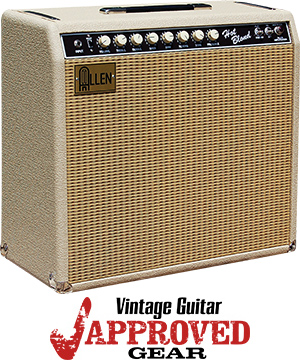 The VG Hit List
Eric Clapton, Santana, Jeff Beck, Duke Levine, Tinsley Ellis, Eric Ambel, Dave Mason, Van Morrison, Bob Dylan, more!
Check This Action
'Hat Box | By Dan Forte
VG Approved Gear
Allen Amps Hot Blond, Fuchs Full House-50, Keeley Monterey, Asher Ben Harper, Manouche Latcho Drom Swing 42, Guitar Tone Compnay Bloody Finger, Seymour Duncan Shape Shifter, PureSalem effects, Michael Kelly 55 Ebony, Taurus effects
Gearin' Up!
The latest cool new stuff!
---