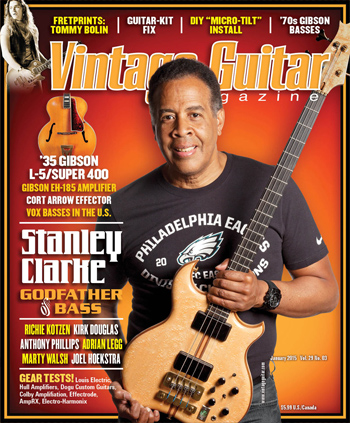 In this issue… Stanley Clarke talks about his musical background, the role he played in moving the bass toward center stage, and the instruments he has used along the way. We also sit with Richie Kotzen, Adrian Legg, Kirk Douglas, Marty Walsh, Joel Hoekstra, and Anthony Phillips. If you're looking to supplement your stock of licks, check out Wolf Marshall's breakdown on three from Tommy Bolin. Then, Michael Wright digs into the Cort Arrow Effector, Dave Hunter tells us why the Gibson EH-185 is a key piece of electrified-music history, George Gruhn tells the story of a Gibson prototype archtop that became the Super 400. Getting even deeper, Peter Kohman discusses the venture that was Vox basses in the U.S. in the '60s, and our tech wizards (Dan Erlewine and Will Kelly) explain why certain DIY guitar kits have a high "buyer beware" factor and the benefits of installing your own Micro-Tilt. Our music-review staff takes a listen to new offerings from Eric Clapton, Gary Clark, Jr., Ronnie Earl, Slash, Elvin Bishop, Jim Hall, and many others, while the gear reviewers tackle the latest from Louis Electric, Hull Amplifiers, Dogu Custom, Colby Amplification, Effectrode, AmpRX, and Electro-Harmonix.
Or download our app at iTunes for your iphone or ipad and purchase the current digital issue! Use the app to stay up-to-date on the VG newswire, and it's a great place to buy digital single issues and take advantage of the monthly subscription option.

---

The Cort Arrow Effector
By the late '80s, Korean-made guitars had become nearly as commonplace as those from Japan. Today, with more being made in Indonesia and China, there's a sort of nostalgia attached to early Korean models like this interesting example from the era. By Michael Wright
The Gibson EH-185
Gibson's top-of-the line amplifier in the first "epoch" of electrification, it was initially paired with a lap steel, but quickly proved popular with those who played early ES-model guitars, including Charlie Christian. By Dave Hunter
L-5 to Super 400
The Story of Gibson's Big Archtops
The archtop guitar is a uniquely American instrument that traces to the creative genius of Orville Gibson, and this one is likely a prototype that shows the progression of one of his company's most influential models; it's also the earliest 18″-wide archtop f-hole guitar made by any builder. By George Gruhn
Gibson Basses in the '70s
Plucky Trio From the "Downer Decade"
Relegated to near-obscurity until '90s rockers "grabbed 'em cheap," Gibson's Ripper, Grabber, and G-3 were launched in the mid '70s with trendy new body styles, bolt-on maple necks, and then-cutting-edge electronics. Though fun and intriguing, collectors today stop short of calling them "classics." By Willie G. Moseley
Stanley Clarke
Godfather of Bass
In the years before his arrival on the music scene in Philadelphia, the bass in pop music was used to fill the frequencies below the guitar and help drummers keep time – its role decidedly secondary to the guitarist and singer. That changed when he emerged in the early '70s, and despite having greatly influenced two generations of players, he remains deferential and unassuming. By Ward Meeker
---

Reader Mail
News and Notes
Stan Jay Passes; Strange Effects Wanted; Zelinsky Helps G4V; In Memoriam
Adrian Legg
The Wizard of Strings
Ask Zac
By Zac Childs
Kirk Douglas
Music In a Blender
VG on Facebook
Marty Walsh
With a Little Help From Friends
Joel Hoekstra
Busy Smilin'
Anthony Phillips
Progressive 12-String Master
Richie Kotzen
Fight For Familiarity
---

Vintage Guitar Price Guide
Builder Showcase
Tone Pump Amplifiers
Dealer showcase
Vintage Guitar Classified Ads
Dealer Directory
Readers Gallery
---

The (Way) Back Beat
The Lowdown From Sepulveda: Vox Basses in the U.S.
By Peter S. Kohman
Fretprints
Tommy Bolin
By Wolf Marshall
Q&A With George Gruhn
Dan's Guitar Rx
Easier Said Than Done: Trials and Tribulations with a DIY Guitar Kit
By Dan Erlewine
Shop of Hard Knocks
What's Your Angle?: Installing a DIY Version of Fender's Micro-Tilt
By Will Kelly
---

The VG Hit List
Eric Clapton and Friends, Gary Clark, Jr., Dave Ray, Ronnie Earl, Slash, Elvin Bishop, Charlie Haden and Jim Hall, more!
Check This Action
Last Fair Deal Gone Down?
By Dan Forte
Vintage Guitar Gear Reviews
Louis Electric Gattone, Hull Amplifiers' H5, Dogu Custom MOS-1, Colby Amplifiation Park 45, Effectrode Fire Bottle, AmpRX Brown Box, EHX Tortion
Gearin' Up!
The latest cool new stuff!