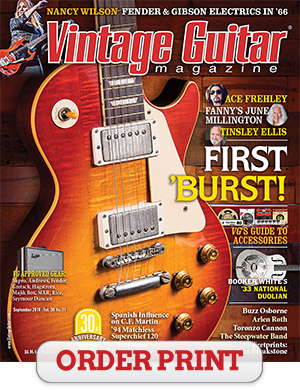 IN THIS ISSUE… Walter Carter talks about the recent surfacing of the first Les Paul given a sunburst finish! Plus, we dig into Booker White's 1933 National Duolian, speak with June Millington (of the '70s all-girl rock band Fanny), as well as Tinsley Ellis, Nancy Wilson, Arlen Roth, and many others.
Get this issue!
Order
the print edition in the
VG
Shop,
download
a digital copy in the
VG
app, OR
browse now
, the FREE online digital edition.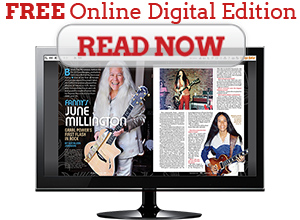 TABLE OF CONTENTS
The Ovation Breadwinner
The first solidbody electric offered by the truly innovative Ovation, it stands as exemplary of a brand that often polarizes players. Whether or not our eye finds beauty in it, there's no denying this guitar was ahead of its time. | By Michael Wright
Border Crossing
C.F. Martin and the Influence of German and Spanish Guitar Designs
Though his first guitars bore heavy influence of German-made Stauffer instruments, in a creative burst lasting five years, he shifted to a design influenced more by Spanish builders – specifically, the squared peghead, heel shape, body shape, and other features associated with modern Martins. | By George Gruhn and Staff
The Matchless Superchief 120
Made by a latter-day master of tone, this amp caters to players whose groove relies on being backed by at least 100 watts. With four EL34s running in Class-AB, it generates an awe-inspiring playing experience. | By Dave Hunter
Fanny's June Millington
Grrrl Power's First Flash in Rock
Before The Runaways, Go-Go's, and Bangles, there was Fanny, an all-female quartet that played danceable, boogie-based rock and roll, and scored a couple of minor hits. What it lacked in commercial successes it made up for with an impressive list of high-profile fans. | By Kathleen Johnson
First 'Burst
The Les Paul Standard bearing serial number 8 3087 stayed out of the public eye for nearly six decades. It was also one of two guitars to serve as a trial run for the sunburst finish – the final improvement in Gibson's efforts to keep the model alive. | By Walter Carter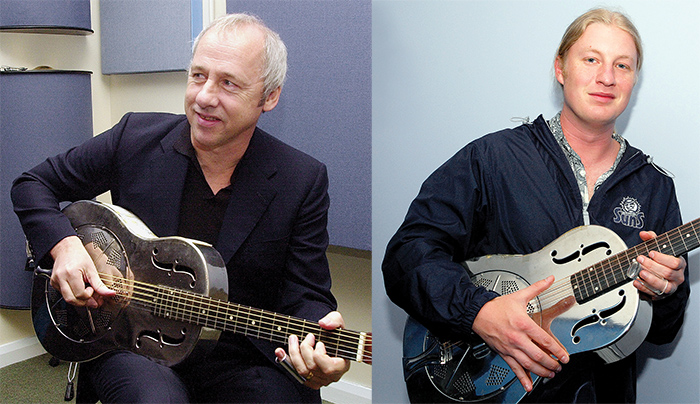 Hard Traveled
Booker White's 1933 National Duolian
The Mississippi legend used this guitar during the blues revival of the 1960s/'70s, on stages from the Avalon Ballroom to both Fillmores. Together, they helped inspire today's appreciation for resonators as played by heavy hitters like John Hammond, Jr. and Mark Knopfler. | By Michael Dregni
Soup To Nuts
The VG Guide to Accessories
From strings to cables to capos to preamps and all the "tools" required to be a musician, we offer a look at less-heralded gear.
---

Reader Mail
News and Notes
Ride for Ronnie; Les Paul Foundation Honors Bob Weir; In Memoriam
Tinsley Ellis
Screaming On The Inside
Ask Zac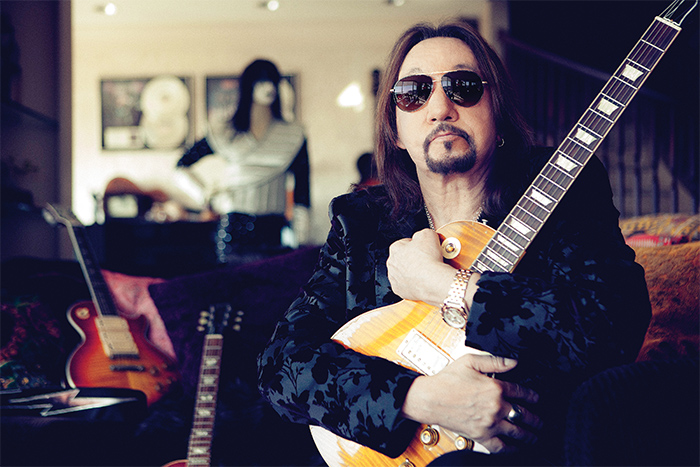 Ace Frehley
The Space Man's Cover Plan
Toronzo Cannon
Blues The Chicago Way
Arlen Roth
No Stone Unturned
The Steepwater Band
More Players, More Music
Buzz Osborne
Heavy Bass
Nancy Wilson
Beautifully Unbroken
---

Vintage Guitar Price Guide

Upcoming Events
Vintage Guitar Classified Ads
Builder Showcase
Towner Vibrato Guitar Systems
Dealer Showcase
Readers Gallery
---
The (Way) Back Beat
Solid Comparisons, 50 Years On: Fender, Gibson, and the Electric Market in 1966 |
By Peter S. Kohman
Fretprints
Joshua Breakstone | By Wolf Marshall
Guitars With Guts
1967 Daniel Friederich | By R.E. Bruné
Q&A With George Gruhn
Dan's Guitar Rx
Baked In Goodness, Part Two | By Dan Erlewine
Shop of Hard Knocks
Loving La LOCA | By Will Kelly
---
The VG Hit List
Bonnie Raitt, Allman Brothers, John Mayall's Bluesbreakers, Bad Company, Paul Gilbert, Ace Frehley, Sonny Rollins, more!
Check This Action
Remembering Lonnie Mack | By Dan Forte
VG Approved Gear
Andrews Amps Spectraverb 16, Majik Box Body Blow Jake E Lee Mod, Hagstrom H II, Gretsch Vintage Select Edition '55 Falcon, Rice Osprey Standard, Seymour Duncan Catalina Chorus, Fender American Elite Stratocaster HSS Shawbucker, Supro Black Magick 1695T
Gearin' Up!
The latest cool new stuff!
---