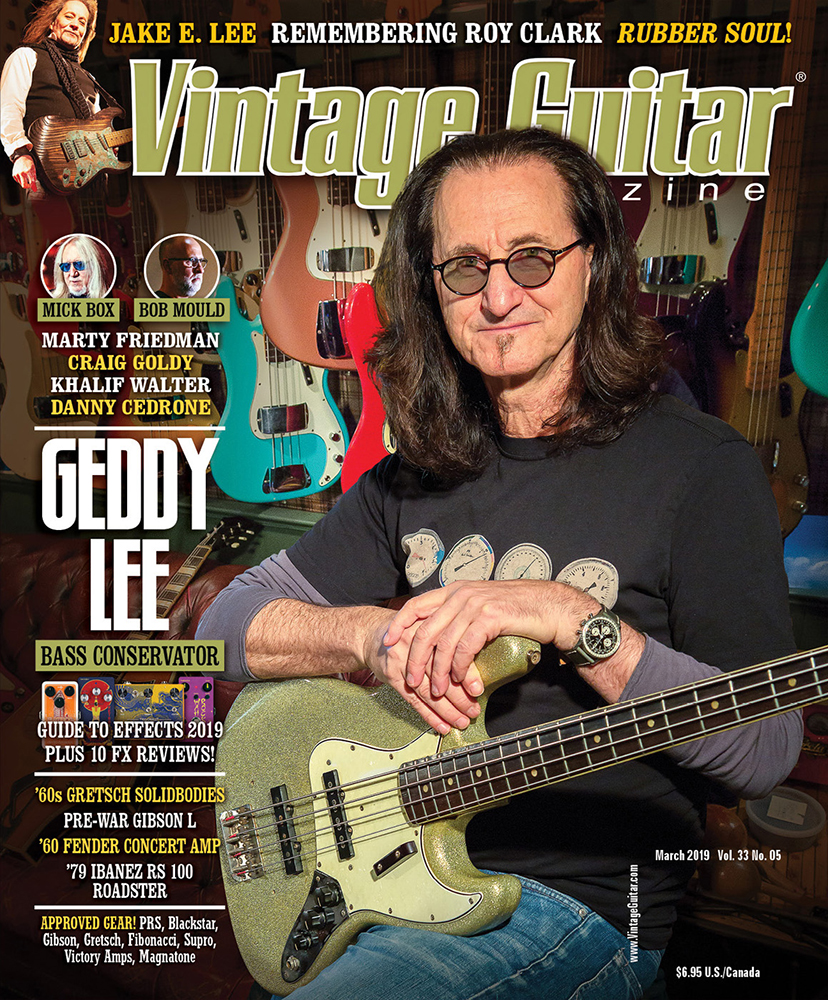 One of the world's foremost rock stars, Geddy Lee is staggeringly deep into collecting vintage basses and the stories behind them. We talked with him about them and his new book on the instruments. We remember the late musician/entertainer extraordinaire Roy Clark.
We also speak to Uriah Heep co-founder Mick Box, who's helping the band keep on rollin' through its fifth decade, as well as Bob Mould, Craig Goldy, Marty Friedman, Khalif "Wailin'" Walter, and Jake E. Lee. Wolf Marshall takes his first turn at our new "Pop 'N Hiss" feature to take a closer look at the Beatles' Rubber Soul. This month's deep-dive instrument profiles key on the original Fender Concert Amp, Gibson's L-series acoustics from the 1930s, and the Ibanez RS 100 Roadster.
Our "Hit List" reviewers reveal new music worth discovering including the latest from Mark Knopfler, Tom Petty, the Eagles, Wayne Kramer, Jeff Tweedy, Red Dragon Cartel, and Metallica, while our VG Approved Gear will help you make good choice. You'll love the March issue, available now!
Table of Contents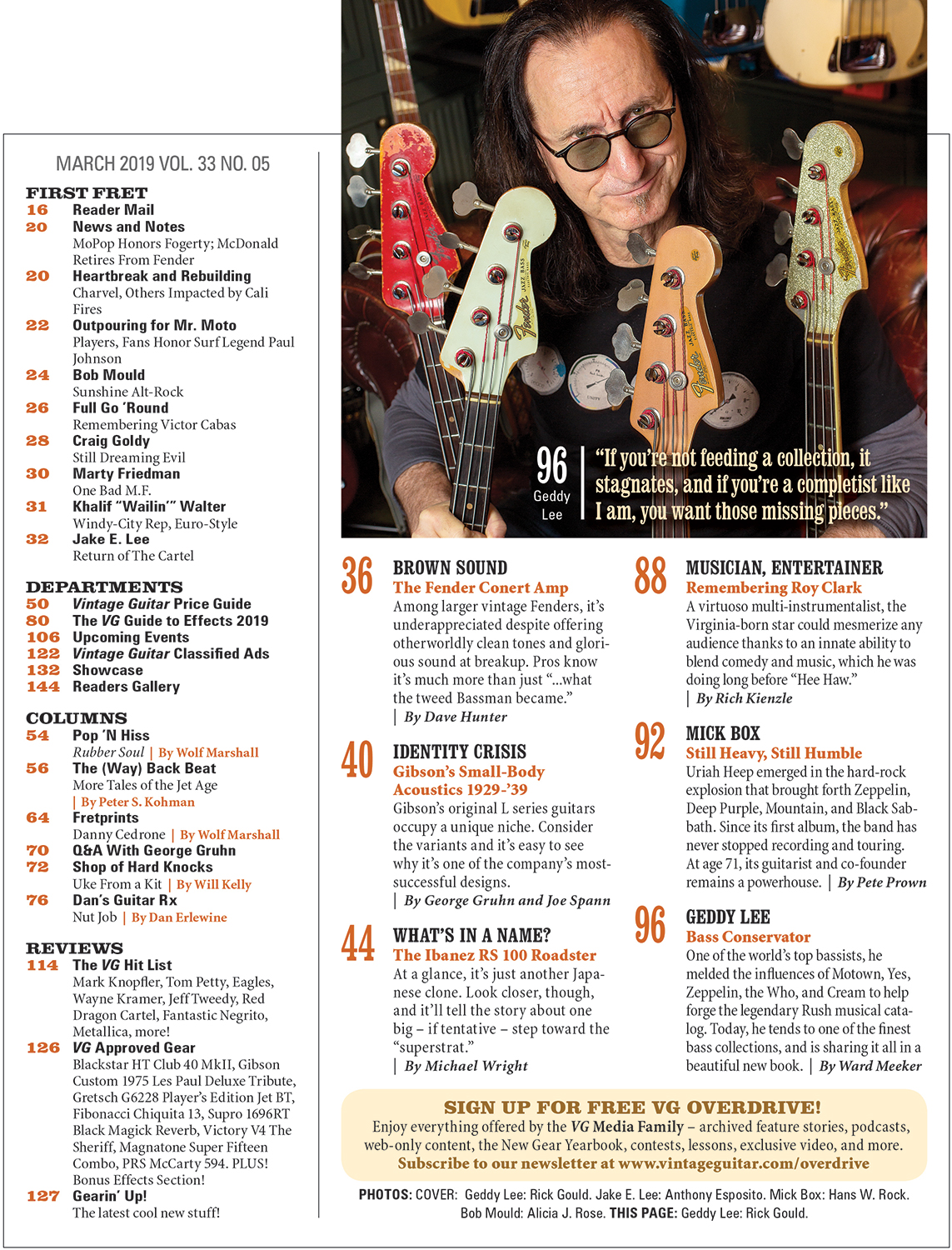 Over time, Vintage Guitar magazine has become much, much more than the vibrant print magazine in your mailbox. Jump-start that passion for guitar with VG's Media Family the best and brightest selections from VG's vast archive of interviews, instrument profiles, and reviews of the hottest new gear and outstanding new music. See it all →
FROM READERS
Reader Mail Send letters to ward@vintageguitar.com or mail to: Vintage Guitar, Inc. Attn: Reader Mail, PO Box 7301, Bismarck ND 58507.
Readers Gallery Send your photos to: ward@VintageGuitar.com or mail to: Vintage Guitar, Inc. Attn: Readers Gallery, P.O. Box 7301, Bismarck, ND 58507. Readers submit photos with the understanding that they may be used in any VG, Inc. project. Due to the volume of photos we receive, we are unable to return them, please do not send us your only print.
GET YOUR VG FIX
BEST OFFER ↓

Print & Digital Subscription

FREE digital with the print copy!
1 Year (12 issues) $24.95
2 Years (24 issues) $46.95

Print Subscription

70% off newsstand price!
1 Year (12 issues) $24.95
2 Year (24 issues) $46.95

Digital Subscription

88% off newsstand price!
1 Year (12 issues) $9.95
2 Year (24 issues) $18.95
Print Copies Order print copies of the current issue or back issues in the VG Store.
Digital Edition Read for FREE in a web browser (Chrome, Firefox, Safari, etc.). The browser edition works on most computers or hand-held devices. Digital FAQ
Gift Sub Gift a subscription to a business you'd LOVE to share Vintage Guitar magazine with. The next wait will be the highlight of your day! Call to mind the local barber shop/beauty salon, dentist, doctor, veterinary, car dealership, auto shop, tax preparation… 1 or 2 year term for just $24.95/year. You name it, we'll get VG there! GIFT NOW →
Guitar Shows
Click on an event to see more information. Submit your upcoming event info to this form. See full calendar and past show photos at www.VintageGuitar.com/Upcoming.