Current Issue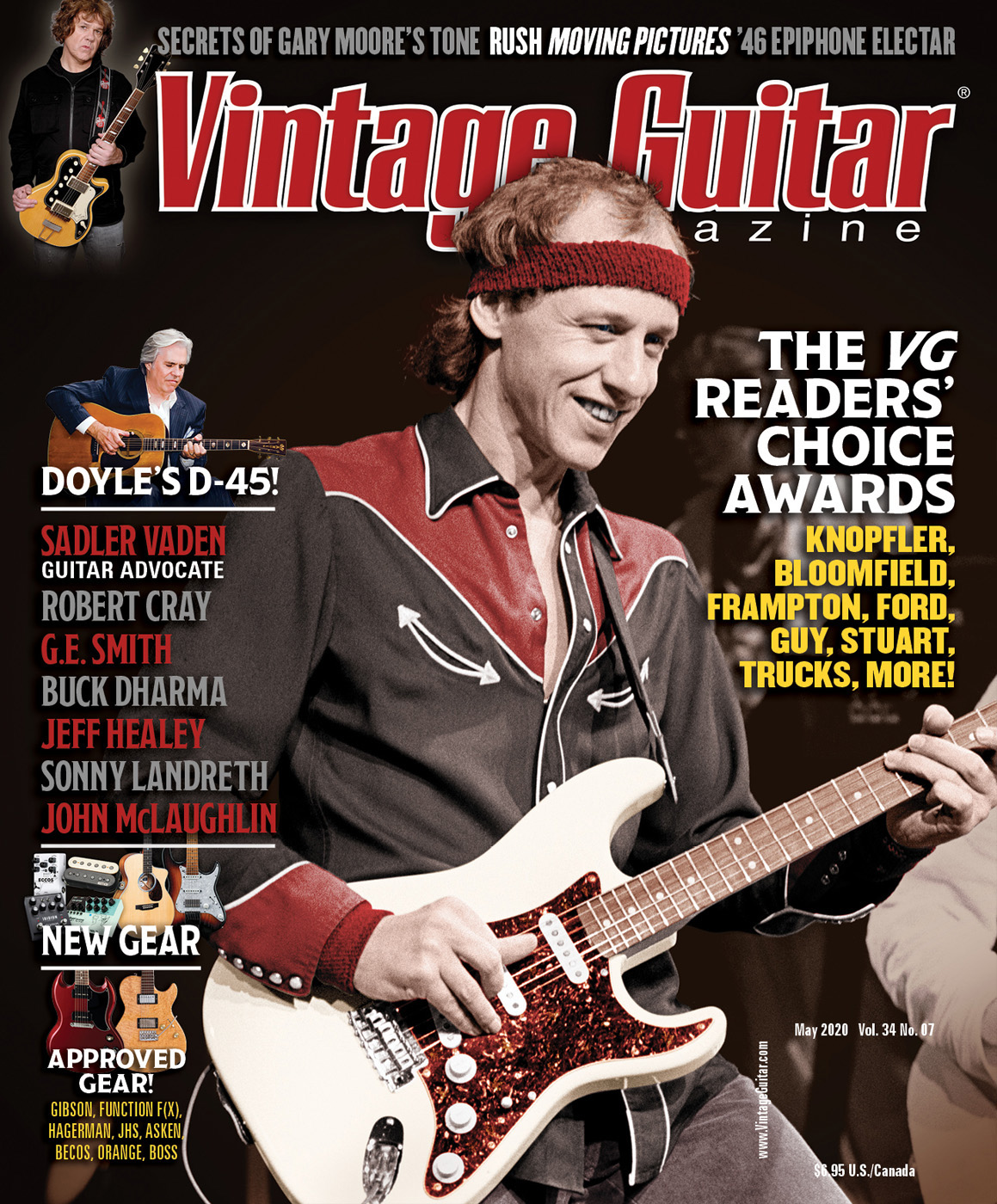 Time once again to honor an elite group of guitarists and builders whose playing and innovation have held immeasurable influence over millions. The VG Hall of Fame this year welcomes Mark Knopfler, Peter Frampton, the late Michael Bloomfield and Jim Dunlop, along with Alexander Dumble's Overdrive Special. Recognition continues with this year's winners of the Readers' Choice Awards, including Derek Trucks, Marty Stuart, Robben Ford, Buddy Guy, and Joe Bonamassa.
We interview all-star guitar advocate Sadler Vaden, discussing his new album and life backing artists from bar-grinders to the internationally revered. Doyle Dykes tells the amazing story of his cherished Martin D-45, and we deep-dive on the Epiphone Electar Century combo. The late blues phenom Jeff Healey gets the full treatment in Wolf Marshall's "Fretprints," and "Pop 'N Hiss" reveals new details on the Rush classic, Moving Pictures.
We talk new music with Robert Cray, G.E. Smith, Buck Dharma, John McLaughlin, Luther Dickinson, Sonny Landreth, and Gary Moore guitar tech Graham Lilley.
Your never-ending search for the coolest new gadgets and toys should start with our list of "Approved Gear" – the Function F(x) Cannon Dual Fuzz, Hagerman Boost & Overdrive, JHS Colour Box, Asken Intercooler, Becos CompIQ Pro, Orange TremLord 30, Boss Katana-100 MkII, and the Gibson SG Special.
New music keeps us vital, right? Let our "Hit List" guide you to the best new stuff, including the latest from Sonny Landreth, Robert Cray, Jake Shimabukuro, Motörhead, Booker T & The M.G.'s, Warren Haynes, and many others.
Table of Contents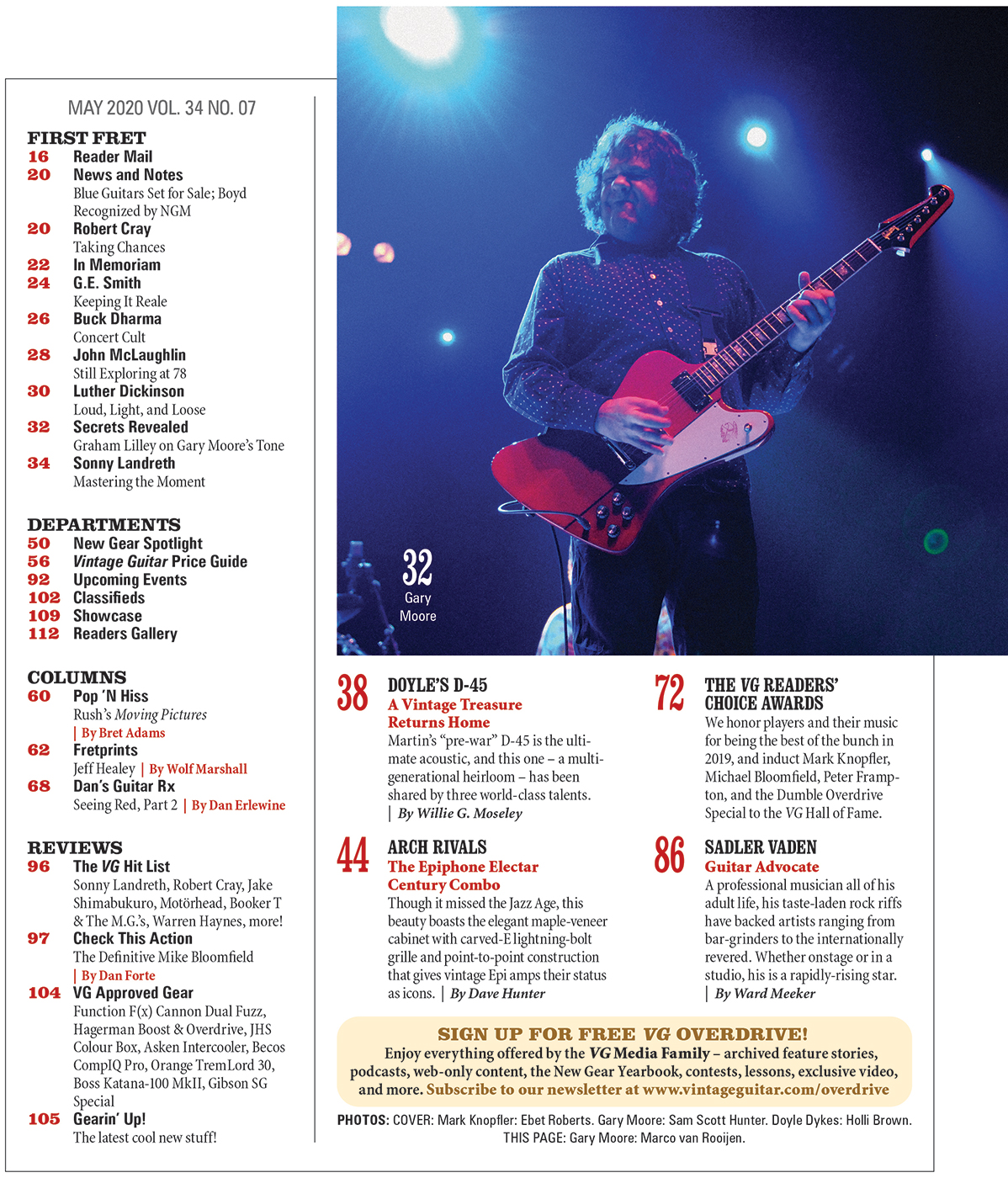 GET YOUR VG FIX
Your complete guitar coverage all starts with a new subscription to VG!
Print Copies Order print copies of the current issue or back issues in the VG Store. Vintage Guitar's 33 year archive of the best guitar related info is a customizable tribute to the memories shared with your best friend, band mates, you name it. Commemorate a life event by gifting Vintage Guitar magazine from an exact month and year. Browse the covers and descriptions of over 250 issues for a specific guitar or player. A well thought-out gift awaits.
Digital Edition Read for FREE in a web browser (Chrome, Firefox, Safari, etc.). The browser edition works on most computers or hand-held devices. Digital FAQ
Over time, Vintage Guitar magazine has become much, much more than the vibrant print magazine in your mailbox. Jump-start that passion for guitar with VG's Media Family the best and brightest selections from VG's vast archive of interviews, instrument profiles, and reviews of the hottest new gear and outstanding new music. See it all →
FROM READERS
Reader Mail Send letters to ward@vintageguitar.com or mail to: Vintage Guitar, Inc. Attn: Reader Mail, PO Box 7301, Bismarck ND 58507.
Readers Gallery Send your photos to: ward@VintageGuitar.com or mail to: Vintage Guitar, Inc. Attn: Readers Gallery, P.O. Box 7301, Bismarck, ND 58507. Readers submit photos with the understanding that they may be used in any VG, Inc. project. Due to the volume of photos we receive, we are unable to return them, please do not send us your only print.
Guitar Shows
Click on an event to see more information. Submit your upcoming event info to this form. See full calendar and past show photos at www.VintageGuitar.com/Upcoming.

VG Youtube Uploads
Our 400th Issue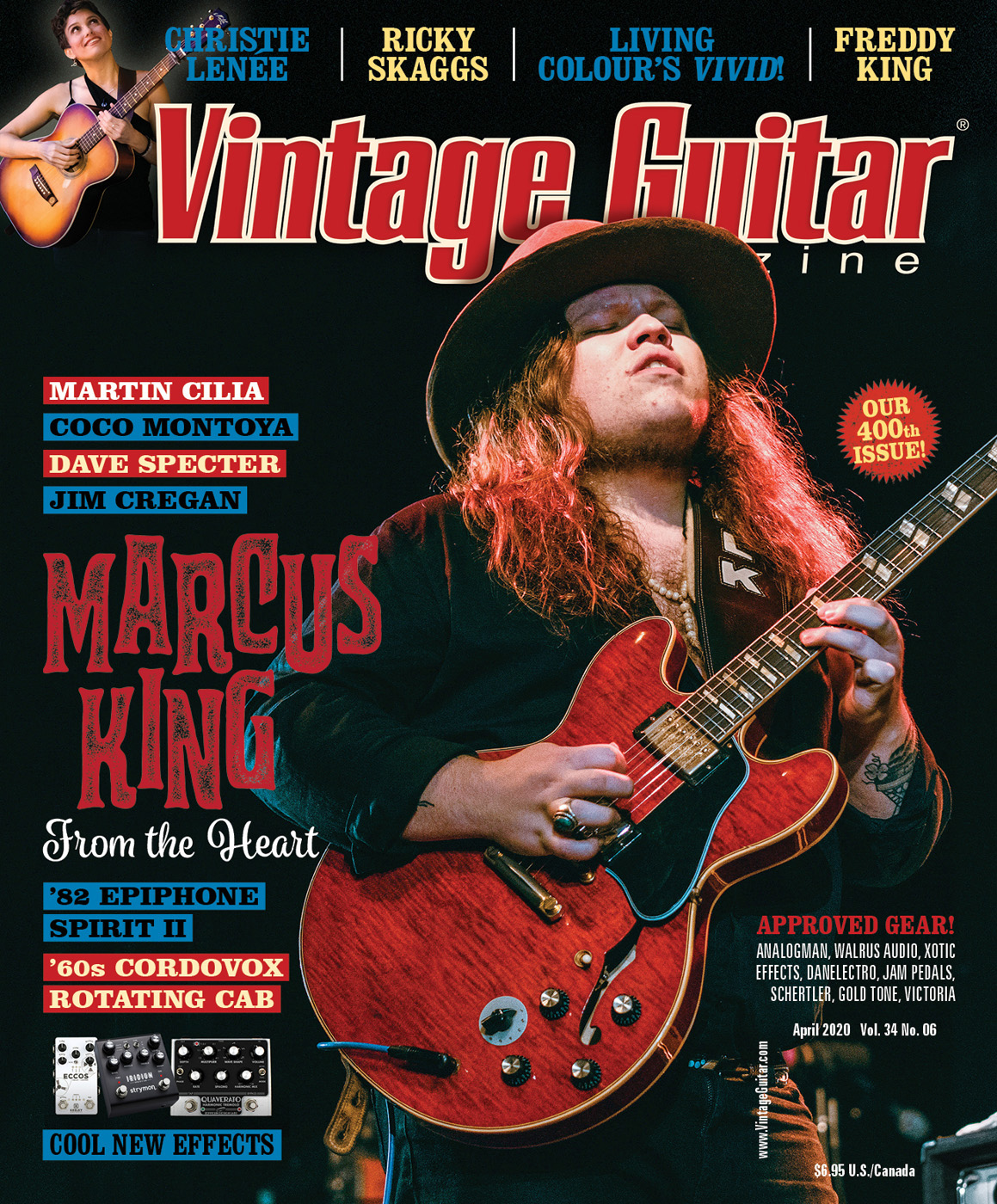 An old soul, 23-year-old Marcus King has been a performer since age 11, and new album shows off his mature songwriting and vocals. It's also bursting with splendid guitar playing and dirty blues riffs. We also speak with Aussie intro-guitar legend Martin Cilia, who plays stages worldwide with some impressive vintage guitars.
We dig into new music with Jim Cregan, Yasi Hofer, Jonathan Kreisberg, Don Latarski, Christie Lenée, Coco Montoya, and Dave Specter. Michael Wright looks at the symbolism behind the Epiphone U.S.A. Spirit II, while Dave Hunter unearths a fascinating Cordovox Rotating Speaker cab. Country legend Ricky Skaggs goes under Wolf Marshall's "Fretprints" microscope, and Living Colour's Vivid is re-examinged in "Pop 'N Hiss."
Anyone on the lookout for new gear (and who isn't?) will want to see our objective reviews of AnalogMan's Peppermint Fuzz, the Walrus Audio EB-10, Xotic Effects' XVP-250K, the Danelectro 59X12, Jam Pedals' Rooster Limited, the Schertler Unico, Gold Tone's F-12, and Victoria's Deluxe 1×12.
And because you're always on the hunt for new music, we tell our thoughts on the latest from Pink Floyd, Marshall Tucker Band, Black Stone Cherry, Coco Montoya, Frank Zappa, Toto, Richard Thompson, and more.
Table of Contents