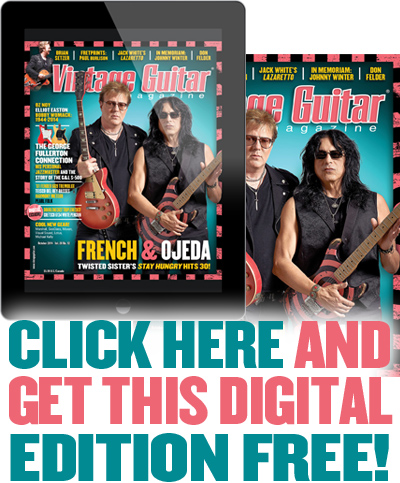 To mark the 30th anniversary of Stay Hungry – one of the best-selling metal/glam-rock albums of all time – we talk with Jay Jay French and Eddie Ojeda, whose dual-guitar licks helped give the band its edge. We talk new music with all-stars including Brian Setzer, Don Felder, Elliot Easton, Oz Noy, and Ray Bonneville, and pay homage to Johnny Winter and Bobby Womack. Of course, we offer the usual feast of gear-geek forage! From George Fullerton's personal Jazzmaster and the G&L S-500 he helped develop, to the Pearl Folk, Harmony Meteor, and Teisco Del Rey basses to Fender's "experimental" '61 6G9 Tremolux, there's something for everyone. Wolf Marshall breaks down some legendary licks by Paul Burlison, Dan Erlewine starts a fix on an Earthwood Bass, Will Kelly details a fret-buzz fix that's well within your grasp (yes, even you!), and Steven Stone helps you make a kit of essential tools that any serious guitar-show attendee must have.
We also screen new music, including the latest from Jack White, Billy Joe Shaver, Richard Thompson, and many others, then dig deep into new gear by Marshall, SeaGlass, Route6jr, Maxon, Visual Sound, Lotus, and Michael Kelly!
To start enjoying your FREE digital copy, simply click HERE
CLICK HERE to order a single copy print issue.
---

The Pearl Folk
Clearly inspired by the Gibson J-200, this "copy era" guitar reveals that at the time, there was more than meets the eye when it came to the efforts of guitar builders in Japan. By Michael Wright
Fender's 6G9 Tremolux
Long before the Pro Junior and Blues Junior made the EL84 a "thing" at Fender in the mid '90s, there was this short-lived 1961 oddity. By Dave Hunter
A Master's Pallet
George Fullerton's Fender Jazzmaster
A fascinating example of what went on behind the scenes at Fender R&D in the late '50s and early '60s, this guitar had the high-pressure task of following in the footsteps of the most successful solidbodies in history. By George Gruhn and Sarah Rose Jones
Teisco Del Rey Basses
Exemplary of the Japanese-made instruments that swept into the American market like a tsunami during the "guitar boom," untold numbers of American teenagers honed their beginners' chops on these. By Willie G Moseley
Jay Jay French and Eddie Ojeda
The Un-Twisted Tale of Stay Hungry
Punk-inspired glam rockers Twisted Sister are marking the 30th anniversary of their watershed album, Stay Hungry, by revealing new details behind its making and the surprising ride created by anthems like "We're Not Gonna Take It." By Ward Meeker
Out-Stratting The Strat
The Story of the G&L S-500
The model is examplary of the efforts of Leo Fender and George Fullerton after they left Fender Musical Instruments and began cranking out converging designs to create new instruments. By Gabe Dellevigne and Greg Gagliano
---

Reader Mail
News and Notes
Memphis Music Hall of Fame announces inductees; Johnny Winter In Memoriam
Brian Setzer
Rocking Back to the Future
Ask Zac
By Zac Childs
Ray Bonneville
Easy Groove
VG on Facebook
Bobby Womack
1944-2014
Oz Noy
Dishing Out More Twisted Blues
Don Felder
Six-Stringed Summer Stock
Elliot Easton
Shifting Gears Again
---

Vintage Guitar Price Guide
Builder Showcase
Steen Guitars
Dealer showcase
Vintage Guitar Classified Ads
Dealer Directory
Readers Gallery
---
The (Way) Back Beat
The Meteor's Tale: Harmony's First Thinline Electric
By Peter S. Kohman
Fretprints
Paul Burlison
By Wolf Marshall
Accousticville
Essential "Buying Tools"
By Steven Stone
Dan's Guitar Rx
Small-Brace Bass
By Dan Erlewine
Shop of Hard Knocks
All Abuzz
By Will Kelly
---

The VG Hit List
Brian Setzer, Jack White, Oz Noy, Billy Joe Shaver, Yes, Richard Thompson, Mark Makin, The Gibson Les Paul: The Illustrated History Of The Guitar That Changed Rock, more!
Vintage Guitar Gear Reviews
Marshall Handwired 2245THW/1960A, SeaGlass Route6jr, Maxon Fuzz Elements, Visual Sound H20 V3/VS-XO, Lotus Snowjob Underdrive, Michael Kelly 1957
Gearin' Up!
The latest cool new stuff!