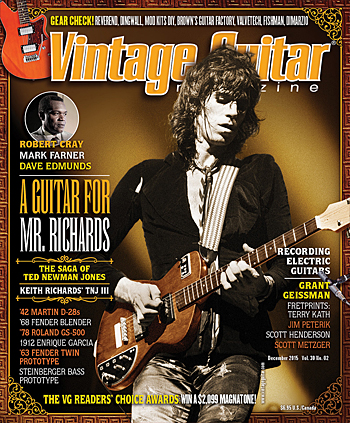 We bring the world up to date on Ted Newman Jones – the world's first guitar tech and cohort/personal luthier to Rolling Stones guitarist Keith Richards; we also take a close look at two "Newman" guitars, including one that was part of Richards' stash. We also feature the collection of Grant Geissman, whose career includes work backing many notable artists (and whose lead break you heard a million times in the late '70s on Chuck Mangione's "Feels So Good"!). George Gruhn discusses a Steinberger prototype bass, and speaking of… Dave Hunter tracked down a early-'63 Fender Twin Reverb, while Michael Dregni tells why the Fender Blender is an important part of effects lore. Michael Wright explains how Roland's GS-500 was a vital weapon in the late-'70s war on the guitar. We talk new music with Robert Cray, Scott Metzger, Dave Edmunds, Kenny Lovelace, Scott Henderson, Mark Farner, Jim Peterik, and Vic Johnson. If you've wondered how best to record your guitar at home, check out "The Art of Home Recording, Part Three," where Dave Hunter explains in the intricacies of mic placement and other facets of the job. Peter Kohman continues his discussion on the harp guitar, R.E. Brune looks at a 1912 Garcia model, Will Kelly lists 10 must-have tools for the guitarist, and Wolf Marshall studies the history and a few licks of Terry Kath. We take a listen to new music by Ronnie Earl, The Who, Dale Watson, John Pizzarelli, Jeff Healey, Steve Vai, and more. And, since it's about time to start dropping hints to Santa, our gear-review staff takes a look at potential stocking stuffers from Reverend, Dingwall, MOD Kits, Brown's Guitar Factory, Valvetech, Fishman, and DiMarzio.  All this and a chance to win a $200 gift card from Stewart MacDonald! 
Or download our app at iTunes for your iphone or ipad and purchase the current digital issue! Use the app to stay up-to-date on the VG newswire, and it's a great place to buy digital single issues and take advantage of the monthly subscription option.

---

The Roland GS-500
In the late 1970s, the guitar was in danger of becoming obsolete; punk devalued the player's role and synth-heavy disco was king of pop. Guitar companies fought back, however, and this was the first salvo. By Michael Wright
Fender Twin Reverb Prototype
This early/transitional example of Fender's flagship high-watt amp lacks the very feature that gave the Twin its name, and has an incredible history all its own. By Dave Hunter
Steinberger Bass Prototype
Its designer wasn't a musician, but his fascination with ergonomics inspired an interest in design, modern materials, and the way instruments fit the human body. By George Gruhn and Sara Rose Jones
The Fender Blender
Extreme Fuzz
Traditionally focused on guitars and amps, Fender dipped its toes into the effects pool in 1968, at the peak of the fuzz-pedal wars started by Gibson. Though a cautious latecomer, the big F did it right. By Michael Dregni
A Guitar for Mr. Richards
The Saga of Ted Newman Jones
From a humble backyard shed/shop, he served as guitar builder and repairman to Keith Richards when the Rolling Stones' were a touring and creative megaforce. Obsessively appreciative of fine tonewoods, Jones has a reputation for being a jovial, attentive builder. To Richards, he was much, much more. By Ward Meeker
Keith Richards' TNJ III Five-String
An unusual, highly customized guitar, its design, shape, and function are all classic Ted Newman Jones. By Jim Carlton
The Art of Home Recording
Part Three: Recording Electric Guitars
The process might seem simple – stick mic in front of amp, press "Record." Truth is, though, that even just one guitar and amp can render results that vary greatly. Here's a walk-through. By Dave Hunter
Grant Geissman
Jazz-Rock Renaissance
An Emmy-nominated composer and guitarist with 14 solo albums to his credit, he's also a sought-after session cat with names like Quincy Jones and Chuck Mangione's "Feels So Good" on his resumé. Through the decades, he has be
---
Reader Mail
News and Notes
Ovation Plant to Re-Open; Leider Buys McKenzie River Music; In Memoriam
Robert Cray
Four Nights of 40 Years
Ask Zac
Scott Metzger
Spontaneous Composition
VG on Facebook
Dave Edmunds
Full Solo Circle
Mark Farner
Keen to Collaborate
Scott Henderson
Vibe Station
Jim Peterik
The Ides of a Century
---
The VG Readers' Choice Awards
Win a Magnatone Varsity Reverb worth $2,099!
Vintage Guitar Price Guide
Builder Showcase
Vanz Houser Custom Guitars
Upcoming Events
Dealer Showcase
Vintage Guitar Classified Ads
Dealer Directory
Readers Gallery
---
The (Way) Back Beat
If 6 Was 9, or 10, or 11: A Harp Guitar Sampler
By Peter S. Kohman
Fretprints
Terry Kath
By Wolf Marshall
Acousticville
A Tale of Two D-28 Serial Numbers
Guitars With Guts
1912 Enrique Garcia No. 129
Shop of Hard Knocks
Ten "Must Have" Tools
By Will Kelly
---
The VG Hit List
Steve Vai, Ronnie Earl, Lynyrd Skynyrd, The Who, Dale Watson, John Pizzarelli, Jeff Healey, The Knack, more!
Check This Action
The Wrecking Crew and its Biggest Solo Artist
By Dan Forte
VG Approved Gear
Reverend Descent H90 Baritone, Dingwall Super P, MOD Kits DIY 102+, Brown's Guitar Factory Lap Steel, Valvetech Suplex, Fishman Fluence Classic Humbucker, DiMarzio Black Angel
Gearin' Up!
The latest cool new stuff!