Current Issue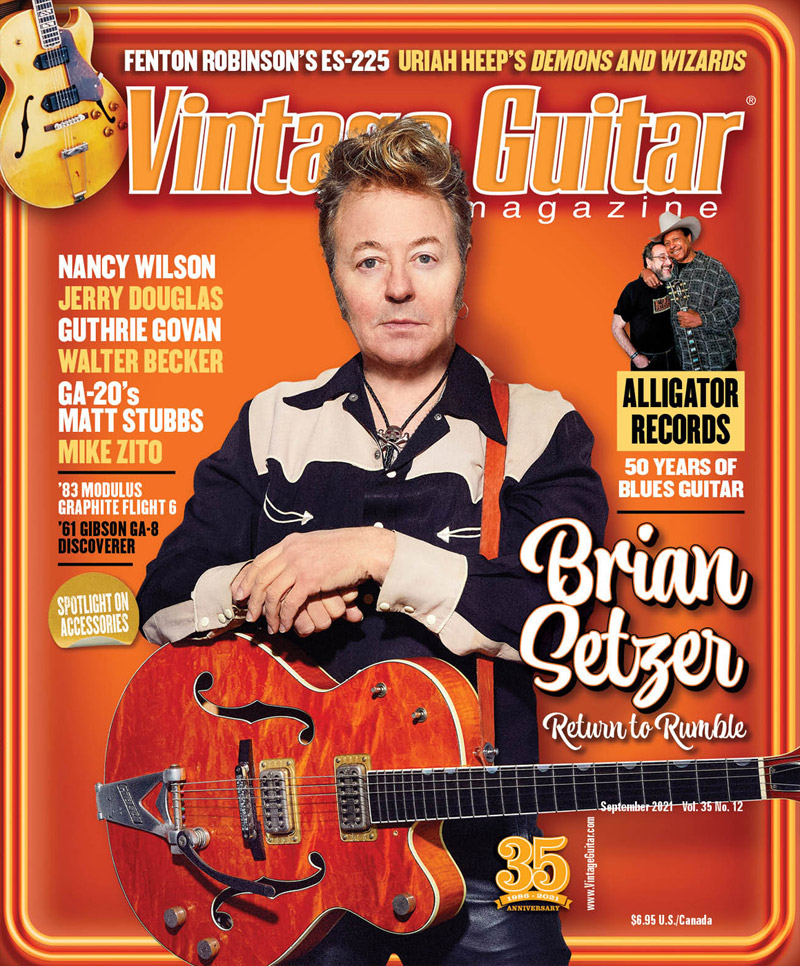 Brian Setzer's new album revisits the rockabilly themes that have spurred him for decades, but also meets his personal challenge to keep it fresh – and laden with great guitar tones. We sit wit him to learn how it came together. We also talk to Alligator Records founder Bruce Iglauer about the great guitarists who've helped make the label a blues stalwart.
No matter your taste, you'll dig the variety of artitsts discussing their latest work, from Nancy Wilson and Jerry Douglas to Guthrie Govan, Greg Koch and Sunny War to Mike Zito and Dave Wyndorf. Also, GA-20 helps us dive into their new album, a tribute to Hound Dog Taylor.
Speaking of great blues guitarists (and their guitars), this month's "Classics" feature tells the bittersweet tale of Fenton Robinson's ES-225. Dave Hunter reveals the spacey history of the Gibson GA-8 Discoverer, and Michael Wright details how Modulus employed futuristic materials in making the Graphite Flight 6.
Wolf Marshall reminds us of the brilliance of Walter Becker in "Fretprints," while "Pop 'N Hiss" tells why Uriah Heep's Demons and Wizards is watershed prog-metal.
As always, you're interested in hearing the best new guitar music, and our expert review staff tells why the latest from Tedeschi Trucks Band, Billy F Gibbons, Mike Zito, Mick Fleetwood & Friends, Frank Zappa, Guy King, Night Ranger, John McLaughlin, Motörhead, and others is worth lending an ear.
If you're also into making great music, read out "Approved Gear" reviews to learn about usable, high-quality new equipment. This month, our staff strums tests the Cicognani SexyBoost2, McGregor Crunch/Crunch Plus, MXR Eric Gales EG74 Raw Dawg, Orangewood Echo 12 Live, Supro Delta King 10, Universal Audio Astra Modulation Machine, Eastman SB55, and the Eastwood Bob Weir Artist.
It's all in the September issue of Vintage Guitar!
Table of Contents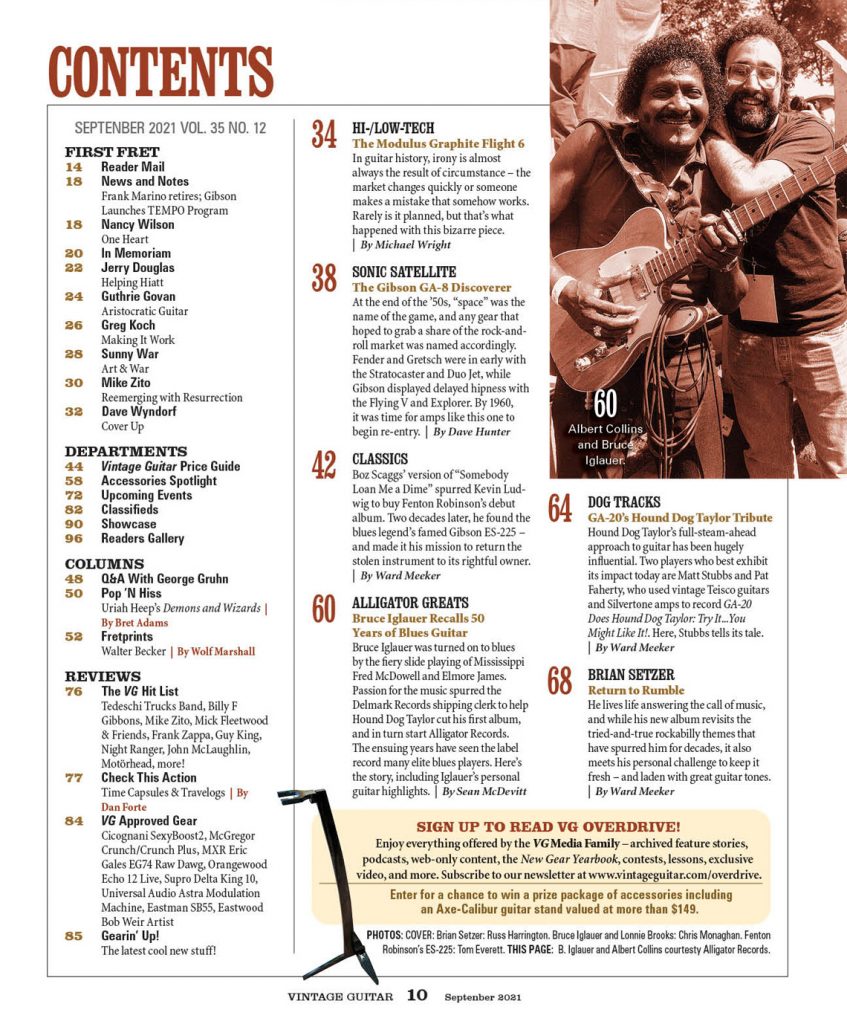 GET YOUR VG FIX
Your complete guitar coverage all starts with a new subscription to VG!
Print Copies Order print copies of the current issue or back issues in the VG Store. Vintage Guitar's 33 year archive of the best guitar related info is a customizable tribute to the memories shared with your best friend, band mates, you name it. Commemorate a life event by gifting Vintage Guitar magazine from an exact month and year. Browse the covers and descriptions of over 250 issues for a specific guitar or player. A well thought-out gift awaits.
Digital Edition Read for FREE in a web browser (Chrome, Firefox, Safari, etc.). The browser edition works on most computers or hand-held devices. Digital FAQ
Over time, Vintage Guitar magazine has become much, much more than the vibrant print magazine in your mailbox. Jump-start that passion for guitar with VG's Media Family the best and brightest selections from VG's vast archive of interviews, instrument profiles, and reviews of the hottest new gear and outstanding new music. See it all →
FROM READERS
Reader Mail Send letters to ward@vintageguitar.com or mail to: Vintage Guitar, Inc. Attn: Reader Mail, PO Box 7301, Bismarck ND 58507.
Readers Gallery Send your photos to: doug@VintageGuitar.com or mail to: Vintage Guitar, Inc. Attn: Readers Gallery, P.O. Box 7301, Bismarck, ND 58507. Readers submit photos with the understanding that they may be used in any VG, Inc. project. Due to the volume of photos we receive, we are unable to return them, please do not send us your only print.
Guitar Shows
Click on an event to see more information. Submit your upcoming event info to this form. See full calendar and past show photos at www.VintageGuitar.com/Upcoming.

VG Youtube Uploads