GET THIS ISSUE — order the print edition in the VG Shop, download a digital copy in the VG app, OR browse now, the FREE online digital edition.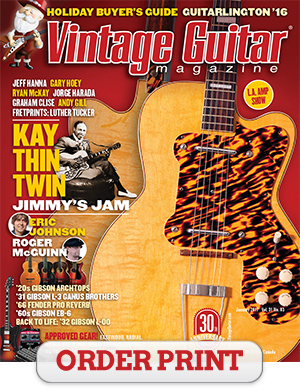 Eric Johnson steps away from Strats and amps on his new album, EJ. We ask him why. Plus, we dig into the fascinating story of the Kay K-161 Thin Twin, and speak with Roger McGuinn about how his Rickenbacker 360/12 helped shape decades worth of "jangle pop."
All this and more…
IN THIS ISSUE…
FEATURES
› The Kay K-161 Thin Twin
As the electric guitar became a force in popular music, certain models took on "roles." But nobody could have foreseen that this unlikely guitar would become that quintessential bluescaster, tied to one of the most popular bluesmen of the '50s. | By Michael Wright
› The Fender AA165 Pro Reverb
Viewed with disdain because its arrival in '65 signaled the end of Fender's pre-CBS 1×15″ combos, its circuit was nonetheless lifted from the Vibrolux and Deluxe Reverbs. So, should it be treated as an ugly stepchild, unworthy of the admiration heaped on others of its ilk? | By Dave Hunter
› One of Two of a Kind
Gibson's L-3 Ganus Brothers Special
Making custom instruments has always been problematic for companies designed to manufacture in quantity. Though it had an unenforced policy against one-off projects, this guitar illustrates how the company did just that and demonstrates the struggle between accounting and public relations. | By George Gruhn and Staff
› Intriguing Twosome
A Look at Gibson's EB-6
As the '50s drew to a close, Gibson was locked in a heated battle with Fender for a share of the high-end electric-guitar market. But when it came to the six-string bass, the staid company from Kalamazoo managed a definite one-up. | By Willie G. Moseley
› Eric Johnson
Acoustic Resonance
Famously meticulous in his approach to recording, on his new (and first) all-acoustic album, the renowned rock shredder relays a more-immediate feel – using a Martin D-45, a nylon-string Ramirez, and a Maton – while revealing a greater depth of artistry. | By Oscar Jordan
› Roger McGuinn
Head Byrd Looks Back
His famous "jangle pop," rendered with a Rickenbacker 360/12, had an unparalleled influence, and his two decades of Folk Den recordings are keeping alive a treasured musical form. Here, he discusses his career, instruments, and approach to recording. | By Greg Prato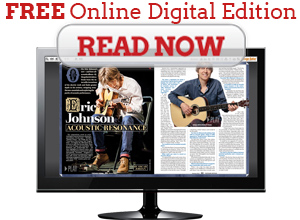 › 30 Years, 30 Favorites
To help mark its 30th year of publication, VG asked readers to submit a list of five favorite guitarists via written ballot in the August issue, and online. Here, we present the top 30 vote-getters in order of overall popularity.
› First-Rate Second Fiddles
Jimi's Gibsons at the Hard Rock Cafe
Yes, Jimi Hendrix was a Strat guy. But he was never completely loyal to any instrument, and in the final couple years of his life/career, he occasionally grabbed one of a small handful of Gibsons in his arsenal. Here, we offer a close look at two of them. | By Jim Carlton
---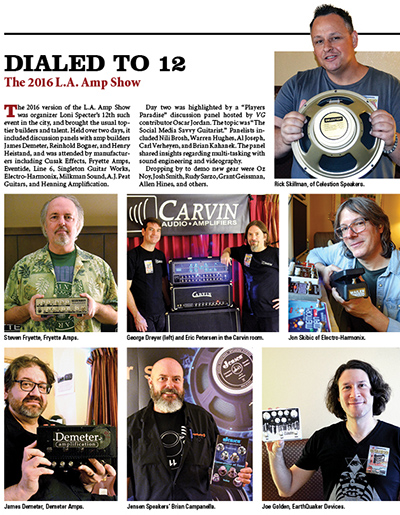 FIRST FRET
Reader Mail
News and Notes
Experience Hendrix Tour; Janis Ian Donates D'Aquisto
Jeff Hanna
A Half-Century of Dirt
Ask Zac
Ryan McKay
Swingin' Jazz Cat
Gary Hoey
Reverence and Feel
Jorge Harada
Whole Lotta Rockabilly
Graham Clise
Bay Area Blaster
Andy Gill
The Gang's All Here
Dialed to 12
The 2016 L.A. Amp Show
Gems By The Score
The Arlington Guitar Show 2016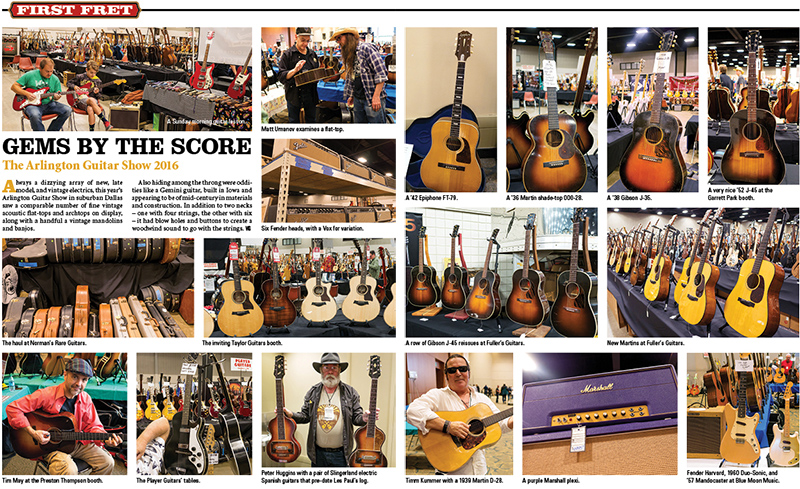 ---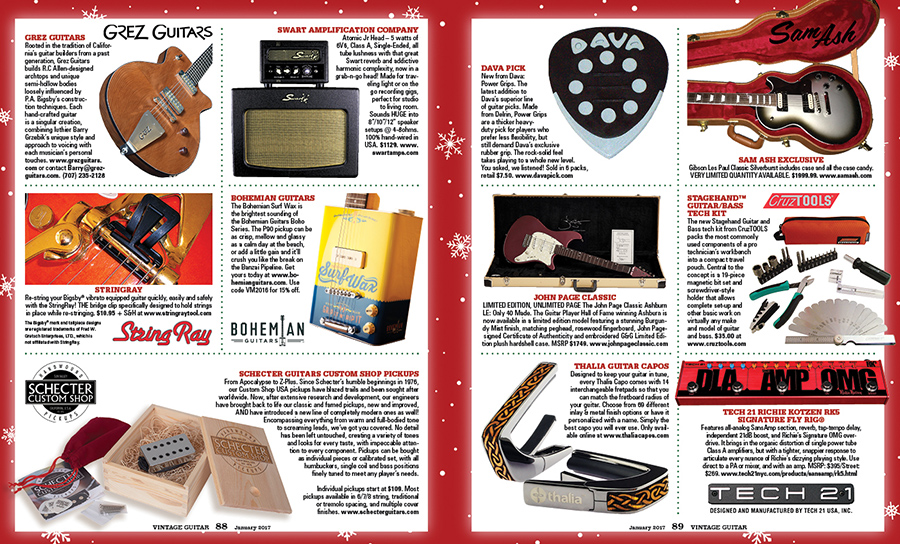 DEPARTMENTS
2016 Holiday Buyers' Guide
Because there simply isn't room on Santa's sleigh for 'Bursts and slab-board P-Basses for everyone, here's a list of stocking stuffers that are perfect for that special musician in your life!
Vintage Guitar Price Guide
Order the 2017 VG Price Guide AND get the bonus Digital Edition FREE! The Digital Edition access code will be delivered with your print edition.
Upcoming Events
Vintage Guitar Classified Ads
Builder Showcase
Dealer Showcase
Readers Gallery
---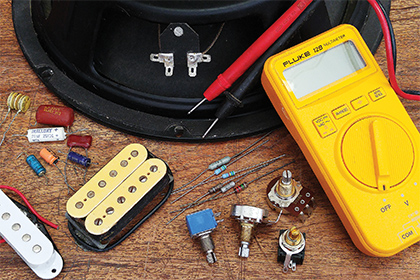 COLUMNS
The (Way) Back Beat
Six Strings Into the Jazz Age | By Peter S. Kohman
Fretprints
Luther Tucker | By Wolf Marshall
Dan's Guitar Rx
A Second Life | By Dan Erlewine
Shop of Hard Knocks
Electronic Super Tool | By Will Kelly
---

REVIEWS
The VG Hit List
David Bromberg, Led Zeppelin, Ronnie Earl, Bobby Rush, Time Jumpers, Duke Robillard, Joanna Connor, David "Honeyboy" Edwards, Emerson, Lake & Palmer, more!
Check This Action
Rolling Stones Right Down the Middle | By Dan Forte
VG Approved Gear
Guild S-200 Thunderbird, Vox AC30CH/V212C, Iconix Pickups Black Mass, Eastwood RD Artist, Mario Guitars Serpentine, Lollygagger FX Canaglia Overdrive, Radial Tonebone Shotgun/Mix-Blender, Gibson ES-275, Mu-FX Boostron 3, Preston Thompson 12 Fret 000
Gearin' Up!
The latest cool new stuff! To be included in Gearing' Up, contact us at vguitar@vintageguitar.com.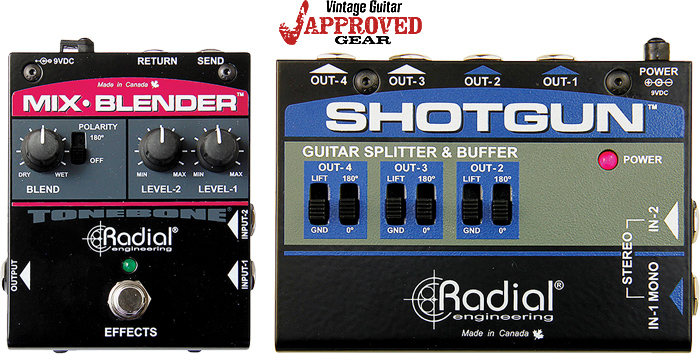 ---
VG'S GIVEAWAYS