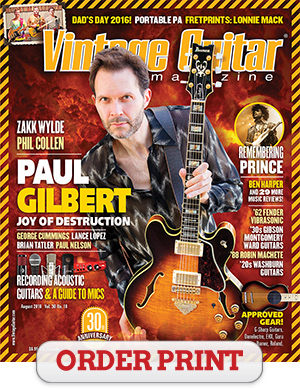 IN THIS ISSUE… We feature Paul Gilbert, who discusses his latest album, Joy of Destruction, and his collection of Ibanez Fireman guitars. We also remember Prince and his impact on music, with help from notable guitarists. This, our renowned instrument profiles, "Approved Gear" reviews, and much more!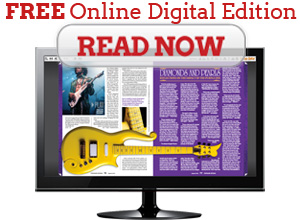 Get this issue!
Order
the print edition in the
VG
Shop,
download
a digital copy in the
VG
app, OR
browse now
, the FREE online digital edition.
TABLE OF CONTENTS
The Robin Machete
Conceived as a piece of sculpture, its inspiration came from two vintage classics, yet it marked a high point in the evolution of '80s guitar design. By Michael Wright
The Fender 6G13-A Vibrasonic
Amid the classics in Fender's "golden-era" amp line, some remained in production only a short time because of timing, misjudgment of the market, or both. Such is the case with this brownface model. By Dave Hunter
Built to Survive
Gibson and Montgomery Ward in the Great Depression
In our nation's darkest economic times, one of its most-revered guitar manufacturers was treading headlong toward extinction before an unlikely hero started placing big orders. By George Gruhn and Staff
Prince
Rhapsody in Purple
A musical revolutionary, his emergence was jarring, even for the most youthful and open-minded. Supremely talented on several instruments, guitar was an early and obvious love. Plus, guitarists recall the impact Prince had on them. By Oscar Jordan
The Art of Home Recording
Part Four: Recording Acoustic Guitars
Recording an acoustic guitar is very different from recording an electric, employing different microphones, placement, and technique. Here are a few essential steps. By Dave Hunter
Mics and Preamps for your Home Rig
This is the "golden age" of home recording, with unparalleled options including a selection of microphones and preamps in all price ranges.
Paul Gilbert
The Joy of Destruction
His 17th solo album reunites him with producer Kevin Shirley and a band setting in the studio. Though bearing marks of "maturation," it surrenders none of the punch or fire of his earlier work. Plus, we tour his collection of Ibanez Fireman guitars. By Oscar Jordan
Dad's Day 2016: VG's Annual Ode to Fathers Who Inspire
Have Sound, Will Travel
Portable PA Systems
---

Reader Mail
News and Notes
Blues Foundation Honors; Gallery Growin'; In Memoriam
Phil Collen
A Rock Cat Plays the Blues
Ask Zac
George Cummings
Remembering Mississippi and Dr. Hook
Brian Tatler
Still Evil
Zakk Wylde
Electric Heart, Acoustic Soul
Paul Nelson
Sideman Steps Out
Lance Lopez
Supersonic Blues Machine
---

Vintage Guitar Price Guide

Upcoming Events
Dealer Directory
Vintage Guitar Classified Ads
Builder Showcase
EarthQuaker Devices
Dealer Showcase
Readers Gallery
---
The (Way) Back Beat
A, Deluxe, and The Bell: Washburn's Top-Line Guitars in the 1920s
By Peter S. Kohman
Fretprints
Lonnie Mack
By Wolf Marshall
Acousticville
Best-Case Scenario
By Steven Stone
Dan's Guitar Rx
Baked-In Goodness
By Dan Erlewine
Shop of Hard Knocks
Heavy Bendin'
By Will Kelly
---
The VG Hit List
Ben Harper, Ten Years After, Sturgill Simpson, CCR, Judas Priest, Peter Frampton, Taj Mahal, Luther Dickinson, Steve Gunn, more!
VG Approved Gear
Danelectro The '64, EHX Lester G Rotary Speaker, G-Sharp Guitars OF-1, Guru Amps Echosex 2, Ibanez M522S, Roland Blues Cube Hot
Gearin' Up!
The latest cool new stuff!