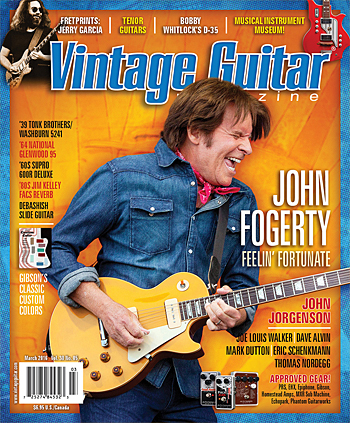 We interview John Fogerty, who is happy, healthy, and back to playing classic songs on classic instruments, having looked past his experiences with the pitfalls and dangers of the rock and roll business. We talk new music with John Jorgenson, Joe Louis Walker, Mark Dutton, Dave Alvin, Thomas Nordegg, and Eric Schenkmann. Then, Andre Duchossoir continues his in-depth look at classic custom colors, this time focusing on Gibson's offerings in the '60s. We also tell how Bobby Whitlock discovered his famously inlaid Martin D-35, give you a guided tour of the Musical Instrument Museum, and profile the Jim Kelley FACS Reverb amp, the Tonk Brothers/Washburn 5241, a classical guitar built by Enrique Coll in 1933, and Supro's 600R Deluxe reverb unit. Wolf Marshall analyzes the impact of Jerry Garcia's guitar playing, Dan Erlewine restores a 1953 Gibson ES-295, and Will Kelly builds a slide guitar for Rick Vito. If you're on the hunt for new gear, check out our honest reviews of the PRS CE 24, EHX's Bad Stone/C9/Pitch Fork, the Epiphone Joe Pass Emperor II-Pro, Gibson's L-5S Ron Wood, Homestead Amps' HS50, MXR's Sub Machine, and Phantom Guitarworks' Teardrop. Plus, our music-review staff takes a listen to new releases by Jimmy Bryant and Speedy West, the Wrecking Crew, Buddy Guy, Los Lobos, Pat Metheny, the Doobie Brothers, and more.  
Or download our app at iTunes for your iphone or ipad and purchase the current digital issue! Use the app to stay up-to-date on the VG newswire, and it's a great place to buy digital single issues and take advantage of the monthly subscription option.

---
The Jim Kelley FACS Reverb
Though under-recognized among amp builders, his work has shared stages with some of the highest-profile guitarists. Known for lacking a Master Volume control, their attenuator helped players reel-in output while enjoying lush, touch-sensitive tone from hot-running 6V6 tubes.
By Dave Hunter
Tonk Brothers/Washburn 5241
From the late 1920s through the early '40s, Gibson produced instruments under a variety of brand names for retailers and mail-order houses. This one is in some ways typical, but far more rare. By George Gruhn and Staff
Supro's 600R Deluxe
Supro and Fender were pioneers of guitar reverb. Who came first? Hard to say, but with this unit, Supro offered a suprisingly different take. By Michael Dregni
Burning Embers, Chilled Whites
Gibson Custom Colors in the 1960s
While Fender, Gretsch, and Rickenbacker were offering many colorful finishes, Gibson held off until it introduced the Firebird in '63. Then, it was all-in… for awhile. By André Duchossoir
John Fogerty
Fortunate, Son
His is a cautionary tale of the pitfalls and dangers of the rock and roll business. These days, though, he's happy, healthy, and back to playing classic songs on classic instruments. By Michael Dregni
Blooms in the Desert
The Musican Instrument Museum
A trip to the American desert southwest can be full of surprises. One is the Musical Instrument Museum, in Phoenix. Surrounded by sand, cacti, camelback mountains, and palm trees, it showcases instruments from every country. Plus, up-close looks at two special pieces from the MIM collection. By Michael Wright
---
Reader Mail
Click Here
To read the complete "Readers Mail" in the current digital edition.
News and Notes
Benefit for Tony MacAlpine, Vaughan Marches On; In Memoriam
John Jorgenson
Stringed-Instrument Ecstasy
Mark Dutton
A.K.A. "Muddy": Vintage Vibes, Retro Grooves
Storied Board
The Tale of Bobby Whitlock's D-35
Ask Zac
Joe Louis Walker
Indisputable Cred
Dave Alvin
Return of the Battlin' Brothers
Eric Schenkmann
Funk, Blues, and Thunder
Thomas Nordegg
Indispensible
---
Vintage Guitar Price Guide
Builder Showcase
Upcoming Events
Dealer Showcase
Vintage Guitar Classified Ads
Dealer Directory
Readers Gallery
---
The (Way) Back Beat
The Fewer-String Theory
By Peter S. Kohman
Fretprints
Jerry Garcia
By Wolf Marshall
Guitars With Guts
1933 Enrique Coll "Sinópoli Model"
By R.E. Bruné
Q&A With George Gruhn
Dan's Guitar Rx
Old, Wrinkled, Still Going Strong
By Dan Erlewine
Shop of Hard Knocks
Puzzle Box
By Will Kelly
---
The VG Hit List
Jimmy Bryant/Speedy West, Wrecking Crew, Buddy Guy, Los Lobos, Pat Metheny, Doobie Brothers, more!
Check This Action
Even More Confessions of a Folkaholic
By Dan Forte
VG Approved Gear
PRS CE 24, EHX Bad Stone/C9/Pitch Fork, Epiphone Joe Pass Emperor II-Pro, Gibson L-5S Ron Wood, Homestead Amps HS50, Echopark Traditional American Acoustic, MXR Sub Machine, Phantom Guitarworks Teardrop
Gearin' Up!
The latest cool new stuff!