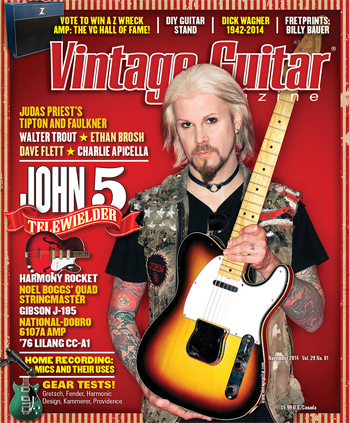 In the November issue, we talk with guitarist John 5, who is dedicated to spreading the gospel of guitar while artfully dodging the pigeonhole of "rock shredder." A very devoted Tele guy, his new album offers something for all tastes. We also talk new music with Walter Trout, Judas Priest axe men Glenn Tipton and Richie Faulkner, as well as Ethan Brosh, Dave Flett, and Charlie Apicella. Then, George Gruhn tells us why the J-185 is widely regarded as Gibson's best-sounding flat-top, Dave Hunter details the workings of the National-Dobro 6107A from the dawn of guitar amps, and he also explains the importance of microphones in a home-recording setup.  Michael Wright examines the Phillipines-made Liland CC-A guitar, and we learn the story of how one of Noel Boggs' Fender Quadmaster steels recently made its way back into the family. VG's resident guitar techs, Dan Erlewine and Will Kelly, show us more great tricks, Wolf Marshall lays out a few riffs and the backstory of Billy Bauer, and our gear-review staff digs into new "toys" from Fender, Gretsch, Harmonic Design, Kammerer, and Providence. The music-review staff didn't slouch, either, and offers their thoughts on new music by Marty Stuart, B.B. King, Nils Lofgren, Johnny Winter, Joe Bonamassa, Tweedy, and many others! After you've soaked it all in, you can jump online and vote in the VG Hall of Fame contest, which automatically makes you eligible to win a Dr. Z Z Wreck combo – a $2,999 value!
Or download our app at iTunes for your iphone or ipad and purchase the current digital issue! Use the app to stay up-to-date on the VG newswire, and it's a great place to buy digital single issues and take advantage of the monthly subscription option.

---

The Liland Model CC-A
The guitar was first brought to the Phillipines by Ferdinand Magellan in 1521, so it's no surprise that excellent instruments like that have been built there through the centuries. By Michael Wright
The National-Dobro 6107A
A fine piece from the dawn of amplification, one can only imagine the look on the face of someone who plugged it in, and for the first time heard an electrified guitar. By Dave Hunter
The Gibson J-185
Introduced in '51 with a Sitka spruce top, maple back and sides, and a mahogany neck, it was regarded by many as the finest-sounding Gibson flat-top made after World War II. Though similar to the J-200 in many ways, it's a very different instrument. By George Gruhn
John 5
Telewielder
Since ditching his spot backing alt-metal singer Marilyn Manson 10 years ago, he has used his skills to spread the gospel of guitar, and along the way artfully dodged the pigeonhole of "rock shredder." Here, he discusses his new album and guides a tour of several favorite Telecasters from his impressive collection. By Ward Meeker
The Art of Home Recording
Part Two: Microphones and Their Uses
The means to make high-quality home recordings are well within the grasp of every guitarist. But, they can only as good as what you put in. This month, we dig into the most essential piece of gear outside the recording system itself – the microphone. By Dave Hunter
Boggs' Quad
Four-Neck Fender From a Friend
The late Noel Boggs was one of the most-acclaimed steel guitarists to ever bar the strings. This is the story of how one of his instruments recently returned to the family after four decades. By Ward Meeker
---

Reader Mail
News and Notes
PRS Hosts Kimmel Center benefit; Hendrix Park Set for Seattle; In Memoriam
Walter Trout
Battling Back
Ask Zac
By Zac Childs
Dave Flett
From "Blinded…" to a New Solo Album
VG on Facebook
Charlie Apicella
Swinging, and Growing
Halford, Tipton, and Faulkner
Judas Priest Redeems Its Soul
Ethan Brosh
Living The Dream
Return of the "Guitar Show"
Summer NAMM, 2014
---

Vintage Guitar Price Guide
The VG Hall of Fame Giveaway
CLICK HERE Vote for a chance to win a Dr. Z Z Wreck combo worth $2,999!
Builder Showcase
Trem King
Dealer showcase
Vintage Guitar Classified Ads
Dealer Directory
Readers Gallery
---

The (Way) Back Beat
The Rockets' Red Glare: Harmony's Thinline Electrics
By Peter S. Kohman
Fretprints
Billy Bauer
By Wolf Marshall
Q&A With George Gruhn
Dan's Guitar Rx
Small-Bass Brace, Part 2
By Dan Erlewine
Shop of Hard Knocks
Many Guitars, One Stand
By Will Kelly
---

The VG Hit List
Marty Stuart, B.B. King, Nils Lofgren, Johnny Winter, Joe Bonamassa, Tweedy, more!
Check This Action
Tribute to Johnny
By Dan Forte
Vintage Guitar Gear Reviews
Fender '68 Custom Deluxe Reverb, Gretsch G5655ST-CB Electromatic, Harmonic Design VP-90, Kammerer Pegasus, Providence Velvet Comp, Red Rock, and Phase Force
Gearin' Up!
The latest cool new stuff!