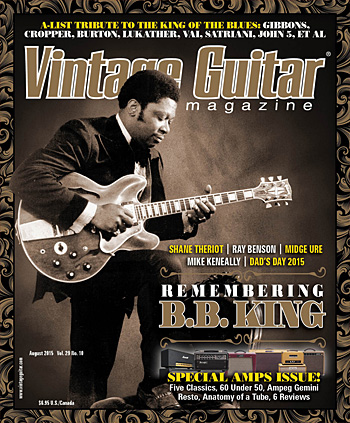 VG's "Ode to the King of the Blues" offers thoughts on the passing of B.B. King from some of most renowned players in the guitar universe. We also honor fathers everywhere with "Dad's Day 2015," interview guitarist Shane Theriot, reveal "Five Classic Amps" to cover any style of music and offer a look at 60 modern low-watt amplifiers. The roll call of instrument profiles includes George Gruhn's look at the Gibson Granada five-string banjo and Michael Wright's in-depth study of the Daion '81 Caribou. We talk new music with Ray Benson, Midge Ure, Darin and Brooke Aldridge, Jim Singleton, Mike Kenneally, and Fred Newell, then review new releases by Jeff Beck, Arlen Roth, Tony MacAlpine, and many others. Dan Erlewine restores the cabinet on a vintage Ampeg Gemini II amp, Peter Kohman digs into the saga of the Guild Starfire, Wolf Marshall focuses on key licks by B.B. King, and Will Kelly shows how to cut vinyl if you need to replace the pickguard on your guitar. Our gear-review staff tells the good and bad of the Mesa/Boogie Mark Five: 25, Siegmund's Midnight Special, the Firebelly Tweed 1955SE/PR3512SE, Supro's Dual-Tone 1624T/Coronado 1690T, BC Audio's No. 10 Mk. II, the Redplate BluesMachine66, and Riversong's Tradition One Performer.
Or download our app at iTunes for your iphone or ipad and purchase the current digital issue! Use the app to stay up-to-date on the VG newswire, and it's a great place to buy digital single issues and take advantage of the monthly subscription option.

---

The Daion '81 Caribou
A "perfect storm" vintage guitar, it combines innovative design, excellent build quality, and a great story. Break out your rainslickers for the Daion Caribou cloudburst!
By Michael Wright
Gibson's Granada Five-String
Unsurpassed by any banjo made before or after World War II, the Granada is mostly known for being played by Earl Scruggs. More scarce than a pre-war D-45, Les Paul Standard, or early Flying V, today it enjoys the same level of collectibility.
By George Gruhn and Sarah Rose Jones
Ode to the King of the Blues
Guitarists Reflect on the Passing of B.B. King
Noted guitarists offer thoughts on B.B. King, who had the rare ability to lift an audience with a single note, exhibited incomparable charisma and style, and had an influence that carried far beyond the way he plucked a guitar.
Dad's Day 2015: VG's Annual Ode to Fathers Who Inspire
Shane Theriot
Diggin' Daryl's
We speak with the acclaimed arranger/studio musician about what it takes to be lead guitarist and musical director for a celebrated pop duo then transition between funk, rock, country, blues, and Cajun for "Live At Daryl's House" and other gigs.
By Will Kelly
Five Classic Amps
A Tone Spotter's Arsenal to Cover It All
Whether they play blues through a Dumble, country through a Fender, rock through a Marshall, or jazz through a Roland, every player knows tone involves a potion. Is it possible to cover the spectrum with just five classic tube amps? We'd like to think so. Plus, an anatomical breakdown of the good ol' vacuum tube.
By Dave Hunter
60 Under 50:
 Low-Watt Guitar Amps
Guitarists revel in the tones afforded by everything from the smallest Fender combo to a Marshall Major. The latest trend is practice/small-venue amps that offer classic tube-driven tone without an overdose of volume. We look at 60 examples designed to get your motor runnin'.
---

Reader Mail
News and Notes
Blues HoF Gets New Home; Dio SuAS Cancer Fund
Ray Benson
Where There's a Wills, There's a Wheel
Ask Zac
Midge Ure
Many Facets and Musical Stylings
VG on Facebook
Picture Perfect
Darin and Brooke Aldridge's Family Album
Six-String Kicks
Wood from Famed Bowling Alley Set to Sing
Jim Singleton
Clarksdale Collaboration
Mike Keneally
Gainfully Employed
Fred Newell
Steelin' Away
---

Vintage Guitar Price Guide
Builder Showcase
Forrest Custom Guitars
Dealer showcase
Vintage Guitar Classified Ads
Dealer Directory
Readers Gallery
---

The (Way) Back Beat
The Star That Gets No Respect: Guild's Starfire Saga, Part 1
By Peter S. Kohman
Fretprints
B.B. King: Requiem for the King of the Blues
By Wolf Marshall
Acousticville
Summertime Blues: To DEET or Not to DEET
By Steven Stone
Dan's Guitar Rx
Diamond in the Rough: Restoring an Ampeg Gemini II
By Dan Erlewine
Shop of Hard Knocks
A Pickguard of Record
By Will Kelly
---

The VG Hit List
Jeff Beck, Judas Priest, Dave Stryker, Chris Stamey, Arlen Roth, Tony MacAlpine, Joe Bonamassa, and more!
Check This Action
Putting the "Classic" in Classic Rock
By Dan Forte
Vintage Guitar Gear Reviews
Mesa/Boogie Mark Five: 25, Siegmund Midnight Special, Firebelly Tweed 1955SE/PR3512SE, Supro Dual-Tone 1624T/Coronado 1690T, BC Audio No. 10 Mk. II, Redplate BluesMachine66, Riversong Tradition One Performer
Gearin' Up!
The latest cool new stuff!