Current Issue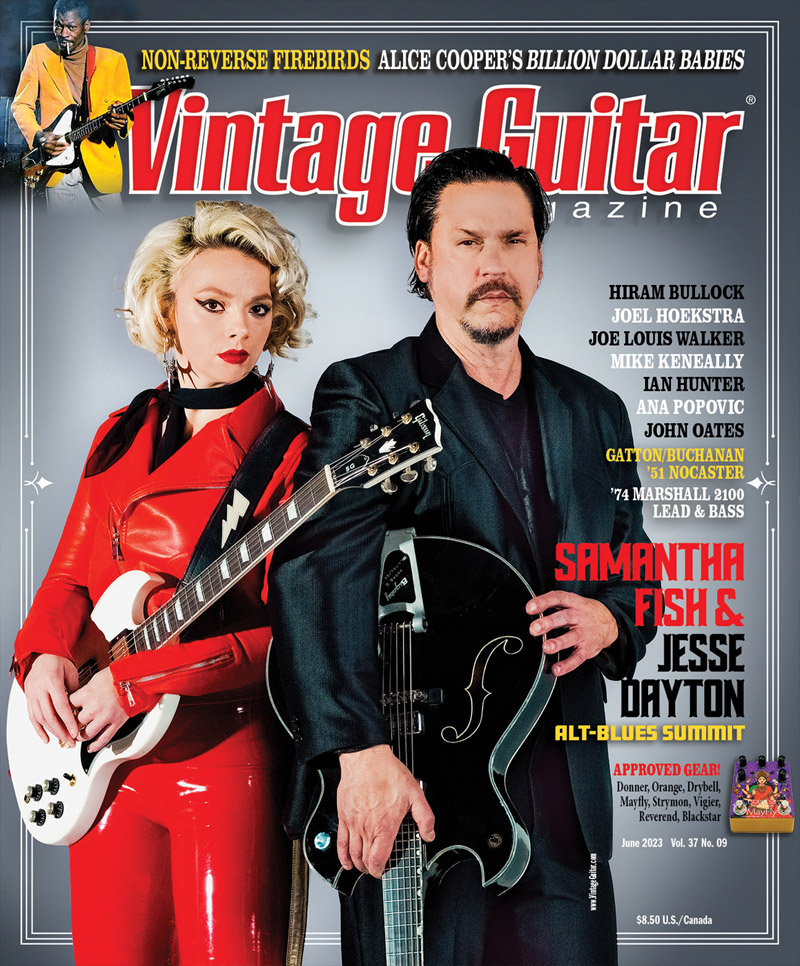 Their new album is edgy, guitar-intensive music informed by blues, pop, and rock. Read about the alt-blues summit that is Samantha Fish and Jesse Dayton.
We also talk new music with Ana Popovic, Ian Hunter, Joe Louis Walker, John Oates, Joel Hoekstra, Mike Keneally, and Kevin Comeau.
Gibson's original Firebirds are classics, no doubt. But did the "non-reverse" version that replaced them deserve the criticism? Peter Stuart Kohman re-examines these intriguing basses.
Eric Clapton and his Model 1962 may have launched "the Marshall sound," but the EL34/50-watt 2100 Lead & Bass brought its own appeal – but only to mail-order buyers in the U.K. Dave Hunter reveals its story.
In the '70s, Danny Gatton sold a '51 Nocaster (that once belonged to Roy Buchanan) to a young Bob Fener. Of course it has a story.
Gibson blazed a trail when it came to archtop design. But it took at least one wrong turn with an experimental archtop. George Gruhn and Walter Carter tell its tale.
Wolf Marshall's "Fretprints" column dives into the story of studio legend Hiram Bullock, Dan Forte eulogizes lap-steel legend Freddie Roulette, and "Pop 'N Hiss" take us behind the scenes with players who were there discussing Alice Cooper's Billion Dollar Babies.
Our gear reviewers bring their informed, objective opinions on the Donner DST-700, Drybell Vibe Machine, Mayfly Goddess, Reverend Rick Vito Soul Agent, Strymon Cloudburst Ambient Reverb, Vigier G.V.Wood Hollow, Blackstar Amped 2, and the Orange Rockerverb 50 Mk III.
There's no better way to roll into summer than with fresh tunes. Spruce your playlists with help from our reviews of new music by The Who, Cash Box Kings, Tommy Emmanuel, Ana Popovic, Arlen Roth and Jerry Jemmott, Eric Clapton, Rodrigo Y Gabriela, and many more!
It's all in the June issue of Vintage Guitar!
Table of Contents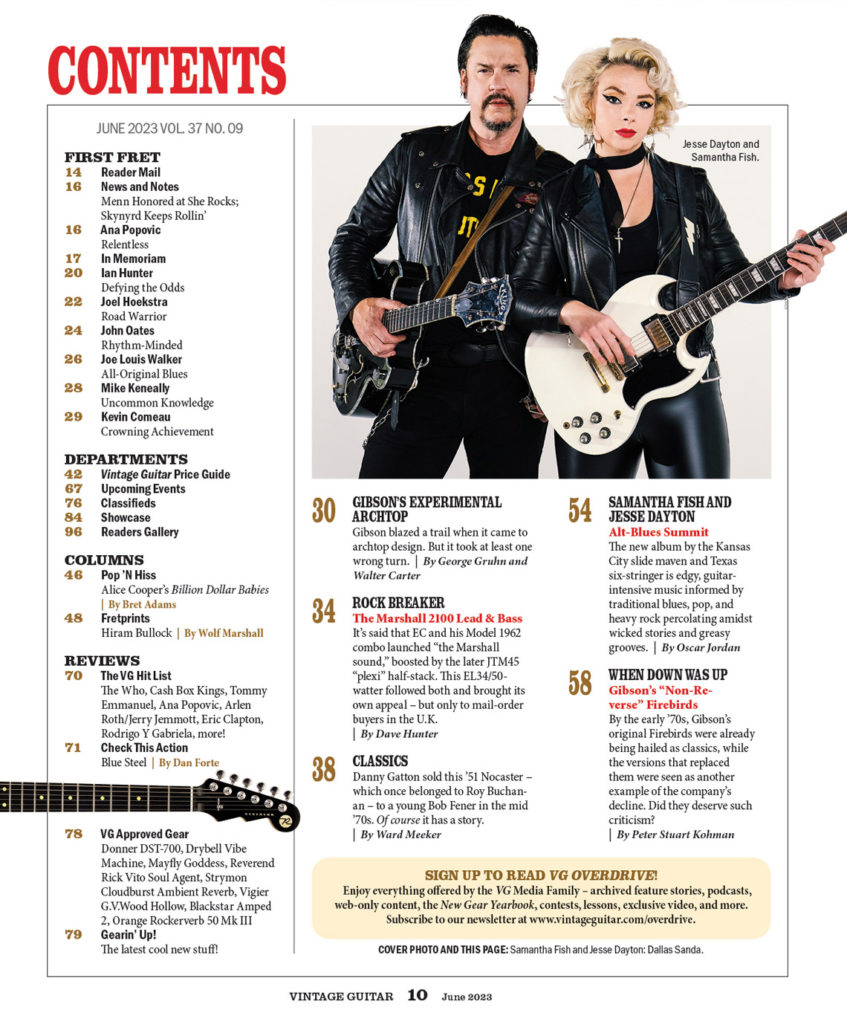 GET YOUR VG FIX
Your complete guitar coverage all starts with a new subscription to VG!
Print Copies Order print copies of the current issue or back issues in the VG Store. Vintage Guitar's 33 year archive of the best guitar related info is a customizable tribute to the memories shared with your best friend, band mates, you name it. Commemorate a life event by gifting Vintage Guitar magazine from an exact month and year. Browse the covers and descriptions of over 250 issues for a specific guitar or player. A well thought-out gift awaits.
Digital Edition SUBSCRIBE NOW or view our Complementary Digital Issue. The browser edition (Chrome, Firefox, Safari, etc.) works on most computers or hand-held devices. Digital FAQ.
Over time, Vintage Guitar magazine has become much, much more than the vibrant print magazine in your mailbox. Jump-start that passion for guitar with VG's Media Family the best and brightest selections from VG's vast archive of interviews, instrument profiles, and reviews of the hottest new gear and outstanding new music. See it all →
FROM READERS
Reader Mail Send letters to ward@vintageguitar.com or mail to: Vintage Guitar, Inc. Attn: Reader Mail, PO Box 7301, Bismarck ND 58507.
Readers Gallery Send your photos to: doug@VintageGuitar.com or mail to: Vintage Guitar, Inc. Attn: Readers Gallery, P.O. Box 7301, Bismarck, ND 58507. Readers submit photos with the understanding that they may be used in any VG, Inc. project. Due to the volume of photos we receive, we are unable to return them, please do not send us your only print.
Guitar Shows
Click on an event to see more information. Submit your upcoming event info to this form. See full calendar and past show photos at www.VintageGuitar.com/Upcoming.

VG Youtube Uploads