Current Issue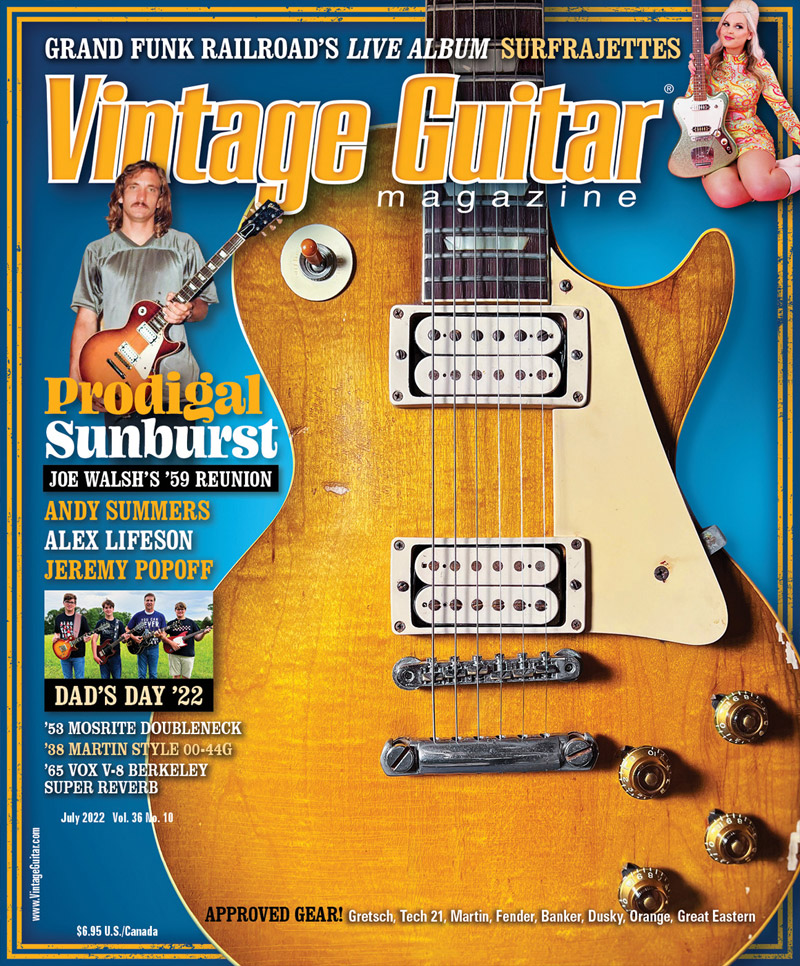 Joe Walsh played the lick that starts "Life In The Fast Lane" and learned slide from Duane Allman before using it on "Hotel California," "Rocky Mountain Way," and other megahits. He recently welcomed this '59 Les Paul Standard back to his world.
Nearly 200 artists have a "signature" Martin, but only one was given their own style number. That's right, Vahdah Olcott-Bickford ranks above all with her 00-44G.
In 1954, Jack Jones walked into a pawn shop and noticed a strange doubleneck guitar. For more than a decade, he used it at country-western gigs six nights each week, never knowing it was a rare custom Mosrite.
Certain classic Vox amps of the '60s later became disappointing solid-state mutations. But the V-8 Berkeley Super Reverb stands as a nifty, California-made tube build.
"Pop 'N Hiss" reminds us how Live Album helped make Grand Funk Railroad the biggest band from the Motor City. Speaking of big, perhaps no guitarist impacted early rock and roll as much as Fran Beecher did in Bill Haley's Comets. Wolf Marshall's "Fretprints" digs in. And, Dan Forte's "Check This Action" examines the many hues of blues.
In the age of "influencers," it's difficult to find objective reviews like you'll find in "Approved Gear." This month, we explain why the Banker Derringer Excalibur, Martin D-42 Modern Deluxe, Gretsch Electromatic Jet Baritone, Tech 21 Steve Harris, Dusky Electronics Toasted OD, Fender Nile Rodgers Hitmaker Strat, Orange Super Crush 100, and Great Eastern Small Speaker OD are worth your time and money.
And as always, our "Hit List" review staff is ready to help you find the best new music. This month, their list includes Robin Trower, Popa Chubby, the Rolling Stones, MSG, Surfrajettes, Mike Campbell, Rush, and more! Stopping in to talk about their new music are Andy Summers, Alex Lifeson, Davy Knowles, Shermy Freeman and Nicole Damoff of The Surfrajettes, Harvey Valdes, and Jeremy Popoff.
It's all in the July issue of Vintage Guitar!
Table of Contents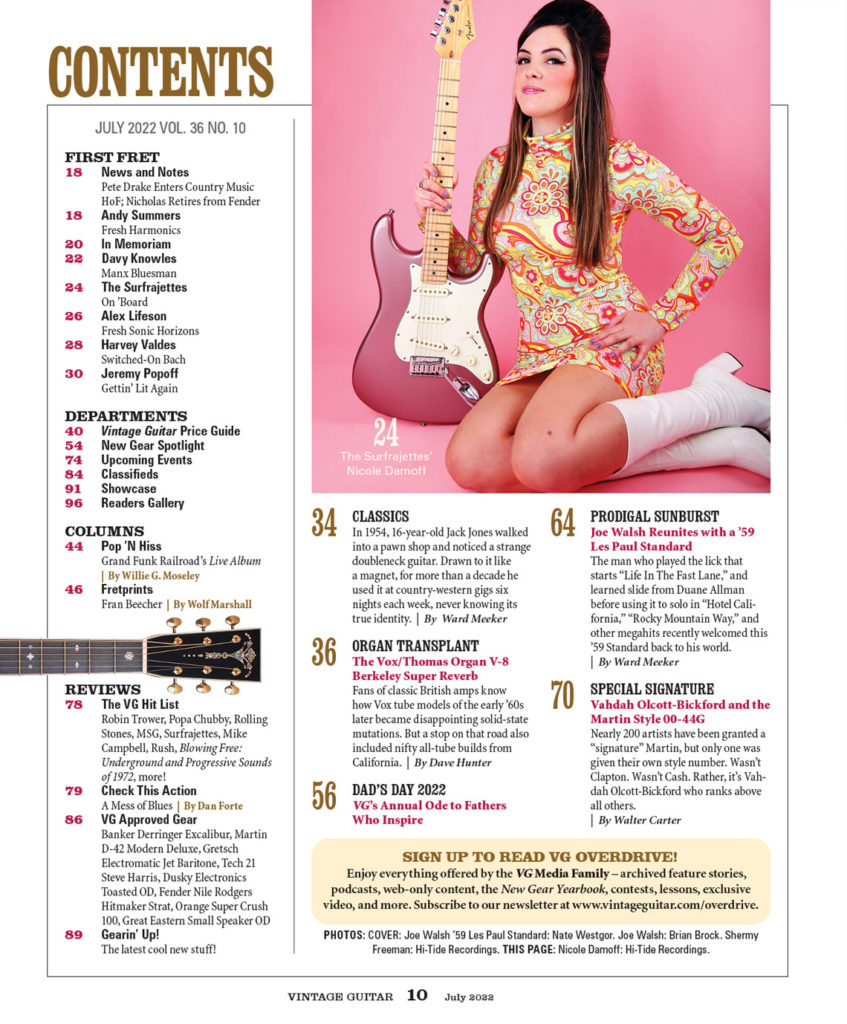 GET YOUR VG FIX
Your complete guitar coverage all starts with a new subscription to VG!
Print Copies Order print copies of the current issue or back issues in the VG Store. Vintage Guitar's 33 year archive of the best guitar related info is a customizable tribute to the memories shared with your best friend, band mates, you name it. Commemorate a life event by gifting Vintage Guitar magazine from an exact month and year. Browse the covers and descriptions of over 250 issues for a specific guitar or player. A well thought-out gift awaits.
Digital Edition Read for FREE in a web browser (Chrome, Firefox, Safari, etc.). The browser edition works on most computers or hand-held devices. Digital FAQ
Over time, Vintage Guitar magazine has become much, much more than the vibrant print magazine in your mailbox. Jump-start that passion for guitar with VG's Media Family the best and brightest selections from VG's vast archive of interviews, instrument profiles, and reviews of the hottest new gear and outstanding new music. See it all →
FROM READERS
Reader Mail Send letters to ward@vintageguitar.com or mail to: Vintage Guitar, Inc. Attn: Reader Mail, PO Box 7301, Bismarck ND 58507.
Readers Gallery Send your photos to: doug@VintageGuitar.com or mail to: Vintage Guitar, Inc. Attn: Readers Gallery, P.O. Box 7301, Bismarck, ND 58507. Readers submit photos with the understanding that they may be used in any VG, Inc. project. Due to the volume of photos we receive, we are unable to return them, please do not send us your only print.
Guitar Shows
Click on an event to see more information. Submit your upcoming event info to this form. See full calendar and past show photos at www.VintageGuitar.com/Upcoming.

VG Youtube Uploads