Find what's in this issue, enter the latest exclusive VG giveaways and contests, or learn the 3 ways to get your Vintage Guitar fix!
Table of Contents
Dan Auerbach's fixation with B-list guitars began when he was a kid, and his new solo album is a showcase made with help from guitar icons. Plus, we look at a very special addition to his collection. We also speak with Richie Kotzen about his amazing new album, and visit Songbirds Guitar Museum, the newest guitarhead-gotta-see joint in Memphis. Our world-class staff digs into the classic Fender Super Reverb, Gower guitars, and the Guyatone SG-22T. Then, we check in with Reggie Young, country superpicker Marty Stuart, Punky Meadows, Glenn Phillips, and Gretchen Menn. All this, along with our "VG Approved Gear" reviews, "Hit List" music reviews, our annual "Dad's Day" pictorial, our latest "Guide to Accessories," and much more!
FEATURES
›Japanese Flower
The Guyatone SG-22T
In the middle of Japan's progress from making idiosyncratic guitars of the early '60s to copies of American models then original designs, there appeared a few head-turners like this. | By Michael Wright
›First and Last
Fender Super Reverbs from 1963 and '68
Fender's blackface models are loved for their elegant control panels and toothsome, versatile tone; one in good original condition is a thing of beauty. We examine early and late examples of one of the most storied models of the era. | By Dave Hunter
›Startup in Music City
The Story of Jay Gower
For Nashville players in the '50s, he offered repairs with less hassle and short turnaround compared to the big factories. Later, he designed and built custom guitars like a glorious acoustic made for A-list picker Fate Vanderpool. | By George Gruhn and Staff
›Dad's Day 2017: VG's Annual Ode to Fathers Who Inspire
›Dan Auerbach
Nashville Collaborative
His fixation with B-list guitars began when he was a kid and served him well on the road to fame. His new solo album is a showcase for his work as producer, his recording studio (with its classic amps and effects), and some of the most iconic names in the realm of the guitar. We also take a close look at a recent – and very special – addition to his guitar collection. | By Ward Meeker
›Richie Kotzen
Solo and Salty
His new solo album is a showcase for guitar sounds and styles ranging from edgy, anthemic rock to funk-jazz swing revealing acoustic runs, all mixed with vocals that would serve well fronting nearly any rock band. | By Ward Meeker
›Treasures in Tennessee
Songbirds: Museum with a Mission
A fantasy land created by David Davidson and Memphis businessman Johnny Smith, it's home to a stupefying gathering of Les Paul Standards, custom-color Fenders, classic flat-tops and jazz boxes, historic Gretsches, prototypes, one-offs, and period-correct memorabilia. | By Rusty Russell
›Behind the Curtain
The VG Guide to Accessories
Before any guitarist or bassist can experience the joy of playing an instrument – whether in a bedroom, home studio, or onstage in front of thousands – they need the "little things." From picks and strings to cables and capos, we offer a look at some of the newest accessories.
FIRST FRET
Reader Mail
News and Notes
Blues Foundation Names Winners; Belmont University Opens GIG Exhibit
Marty Stuart
Country Roots Master
Ask Zac
Steve Hillage
Echoes of Earlier Times
Punky Meadows
Heavenly Guitar
Gretchen Menn
Abandon All Hope
Glenn Phillips
Cult-Guitar Icon
Reggie Young
Never Too Late
The Fast and the Friendly
L.A. Guitar Show '17
DEPARTMENTS
Vintage Guitar Price Guide
Order the 2017 VG Price Guide AND get the bonus digital edition FREE! The digital edition access code will be delivered with your print edition.
Upcoming Events
Vintage Guitar Classified Ads
Builder Profile
Demeter Amplification
Builder Showcase
Dealer Showcase
Readers Gallery
COLUMNS
The (Way) Back Beat
Dual Singularity: The Enduring Enigma of the Larson Brothers | By Peter S. Kohman
Fretprints
Jan Akkerman | By Wolf Marshall
Acousticville
Buyin', Not Lyin' | By Steven Stone
Dan's Guitar Rx
Return of the King: New Lesson in an Old Build | By Dan Erlewine
Shop of Hard Knocks
Little Off The Ends | By Will Kelly
REVIEWS

The VG Hit List
Deep Purple, Judas Priest, Tedeschi-Trucks Band, George Barnes, Coco Montoya, Roy Orbison, more!
Check This Action
The Blue Horizon Story, Part II | By Dan Forte
VG Approved Gear
Epiphone Masterbilt Century Deluxe Classic, Fryette Valvulator GP/DI Carvin VLD1, B&G Little Sister, Danelectro '66, EHX Canyon/Blurst, Fire Custom Shop Sweet Chilli/Carpe Diem, Fender American Professional Jazzmaster, Ball Amps 1950s GE TV, Zerberus Nemesis Stone-Top, more!
Gearin' Up!
The latest cool new stuff! To be included in Gearing' Up, contact us at vguitar@vintageguitar.com.
FROM READERS
› Reader Mail
Send letters to vguitar@vintageguitar.com or mail to: Vintage Guitar, Inc. Attn: Reader Mail, PO Box 7301, Bismarck ND 58507.
› Readers Gallery
Check out the current issue Readers Gallery or VG's Online Readers Gallery
Send your photos to: doug@VintageGuitar.com or mail to: Vintage Guitar, Inc. Attn: Readers Gallery, P.O. Box 7301, Bismarck, ND 58507.
Readers submit photos with the understanding that they may be used in any VG, Inc. project. Due to the volume of photos we receive, we are unable to return them, please do not send us your only print.
GIVEAWAYS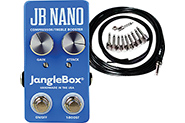 Win a JangleBox Nano and George L's Effects Kit valued at more than $330!
Two runners-up will each win a George L's Effect Kit, a $117 value!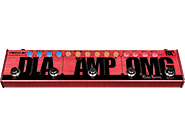 Win a Richie Kotzen Signature RK5 Fly Rig® from Tech-21 valued at $269!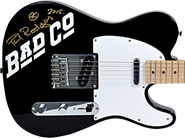 Win a Fender autographed by Bad Company's Paul Rodgers!
Must enter each giveaway individually (total of 3 current giveaways).
3 WAYS TO GET YOUR VG FIX!
1. Print › › Receive the print edition by subscribing now. Order the current issue and back issues in the VG Shop.
2. App › › Download the FREE "Vintage Guitar magazine" app at the Apple app Store or Google play. Subscribe to Vintage Guitar through the app or Digital Subscription Service for access to a downloadable version of VG.
3. Browser › › Read for FREE in a web browser (Chrome, Firefox, Safari, etc.). The browser edition works on most computers or hand-held devices.