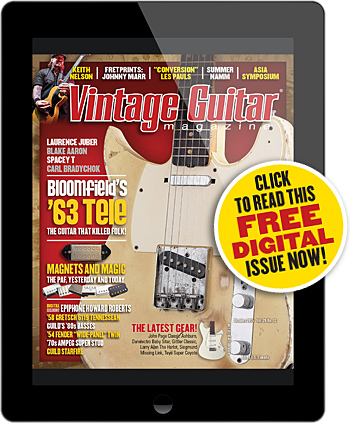 We study on the origin of Fender's custom colors and how they evolved through the 1960s, take a look at the history of the guitar string (with a guide to modern sets), feature the very funky Kustom The Bag effect, and profile four unique instruments – the '59 D'Angelico Excel made for Homer Haynes, Cort's Larry Coryell signature guitar, a 1930s classical made by Juan Galán, and the exceedingly rare Vivi-Tone Aggrandizer amp. We also dish out exclusive interviews with Buzz Feiten, Robin Trower, Randy Bachman, Joe Satriani, Bruce Kulick, Tony MacAlpine, Eliot Lewis, Larry Parypa, and Steve West. Wolf Marshall studies the stylings of Lonnie Johnson, Dan Forte reminds us of the historical importance of Lead Belly, Peter Kohman continues his look at Guild's famed Starfire model, Dan Erlewine digs further into a (very) vintage Glaesel acoustic, and Will Kelly walks us through the process of pickup potting. Our gear review staff tells you why the latest gear from Ibanez, Bohemian Guitars, Avid Technology, PureSalem, Cast Engineering, Strymon, Echopark, is Mu-FX are worth your time (and money!), while our music reviewers screen new releases by Mark Knopfler, Neal Schon, Sonny Landreth, Grant Green, Otis Taylor, Wes Montgomery, and others. 
Or download our app at iTunes for your iphone or ipad and purchase the current digital issue! Use the app to stay up-to-date on the VG newswire, and it's a great place to buy digital single issues and take advantage of the monthly subscription option.

---
CLICK the article title to be taken to the SPECIAL CURRENT FREE DIGITAL EDITION of Vintage guitar magazine

The Ampeg Super Stud
The Stud chapter of Ampeg's history was something of a debacle, but it did leave some pretty interesting guitars in its wake. By Michael Wright
The Fender "Wide-Panel" Twin
Though short-lived and not nearly as popular as other versions of the model, there's a lot to be said for Fender's 5D8 Twin – a variant closer to the origins of the breed. By Dave Hunter
The Gretsch 6119 Tennessean
Gretsch models bearing Chet Atkins' name have long been admired by high-profile artists, going back to Eddie Cochran and The Beatles. This one is representative of the company's penchant for experimentation in the name of keeping up with various market factors. By George Gruhn
Traditional, Temporary
Guild Basses in the Early 1980s
From a unique era, these instruments exemplify one company's struggle to overcome the "Gibson copy" stereotype. By Willie G. Moseley
This Guitar Killed Folk!
Michael Bloomfield's '63 Telecaster
Though he used many instruments, Michael Bloomfield is commonly associated with only a handful, including this one, which not only helped record some of Bob Dylan's most-noted music, but was part of an infamous appearance at the Newport Folk Festival in 1965. Plus, VG tech columnist Dan Erlewine gives it a thorough once-over. By Ward Meeker
The "Conversion" Les Paul
Myth, Magic – and Mojo!
One of the more-intriguing topics in guitardom, Les Pauls made from the early/mid '50s or other areas are converted to specs of a late-'50s version. Here, we explain why. By Pete Prown
Magnets and Magic
The PAF – Yesterday, Today
Gibson's second run at a pickup for its electric guitars has proven a key ingredient in the tone of many great players. Plus, we revisit a classic interview with Seth Lover, creator of the humbucking pickup. By Ward Meeker
51 Modern PAFs
The path carved by Seth Lover's PAF has arguably inspired more pickup builders than any other type. Here, we offer a look at 51 of them, from latter-day stalwarts to the latest newcomer.
---
News and Notes
Robinson Slates Acoustic Tour; Supro/Pigtronix Expands
Spacey T
Eclectic Journeyman
Blake Aaron
Melodic Passion
VG on Facebook
Laurence Juber
Still Wingin' It
Keith Nelson
Buckcherry Gear Jammer
Carl Bradychok
Rockabilly's Newest Guitar Wizard
Small Builders, Big Things
Summer NAMM '15
Kinship and Connections
The ASIA Symposium
---
The VG Super Pickup Giveaway
$5,000 in Prizes
Builder Showcase
Postal Guitars
---

The (Way) Back Beat
Oddballs and Curtain Calls: Guild's Starfire Saga, Part 3
By Peter S. Kohman
Fretprints
Johnny Marr
By Wolf Marshall
Acousticville
A Trip to the Farmer's Market
By Steven Stone
Dan's Guitar Rx
Tough Old German, Part 4
By Dan Erlewine
Shop of Hard Knocks
Fun With Stripes
By Will Kelly
---

The VG Hit List
Muddy Waters, Jeff Beck, Cash Box Kings, The Sonics, Jim Campilongo, Joe Satriani, more!
Check This Action
More Than Just a Country Boy
By Dan Forte
Vintage Guitar Gear Reviews
Danelectro Baby Sitar, Gittler Classic, John Page Classic Ashburn, Larry Alan The Harlot, Siegmund Missing Link, Teye Super Coyote
Gearin' Up!
The latest cool new stuff!