GET THIS ISSUE — order the print edition in the VG Shop, download a digital copy in the VG app, OR browse now, the FREE online digital edition.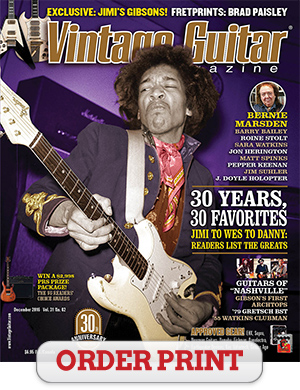 Jimi to Wes to Danny; we reveal 30 favorite guitars, as chosen by VG readers! Plus, we interview British legend Bernie Marsden, and feature two Gibsons played by Jimi Hendrix.
Read this and more…
IN THIS ISSUE…
FEATURES
› The Gretsch BST
Their history is one of derision and misperception, but among today's up-and-coming collectors, these models are cherished for their playability and beastly snarl! | By Michael Wright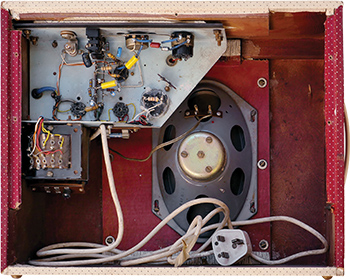 › The Watkins Clubman
Though its aesthetic screams "chintzy" and its electronics were rough by the standards of amps soon to come, it was nonetheless among the first British-built amplifiers to fuel the guitar boom, and played a major part in pushing skiffle into rock and roll. As a rule, it also sounded darn good. | By Dave Hunter
› Small Screen, Big Pickin'
Crew Strives to Keep it Real on "Nashville"
It's not often that prime-time network television captures an audience of working class professional musicians. But this contemporary drama – recently revived on CMT – has earned praise not only for exposing millions to vintage guitars, but for the way it realistically portrays the sights and sounds involved in creating music. | By Johnny Zapp
› Bernie Marsden
Brit-List Legend
His career includes stages and studios shared with some of the most respected names in the business, from Jack Bruce and Ian Paice to the original Whitesnake and UFO, and he draws respect from contemporaries like the Allman Brothers and Joe Bonamassa. Here, he reflects on the highlights of a laudable career and the gear that carved his sound. | By David Plues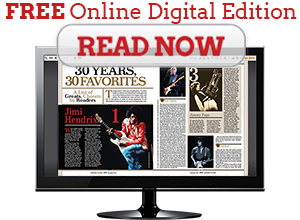 › 30 Years, 30 Favorites
To help mark its 30th year of publication, VG asked readers to submit a list of five favorite guitarists via written ballot in the August issue, and online. Here, we present the top 30 vote-getters in order of overall popularity.
› First-Rate Second Fiddles
Jimi's Gibsons at the Hard Rock Cafe
Yes, Jimi Hendrix was a Strat guy. But he was never completely loyal to any instrument, and in the final couple years of his life/career, he occasionally grabbed one of a small handful of Gibsons in his arsenal. Here, we offer a close look at two of them. | By Jim Carlton
---
FIRST FRET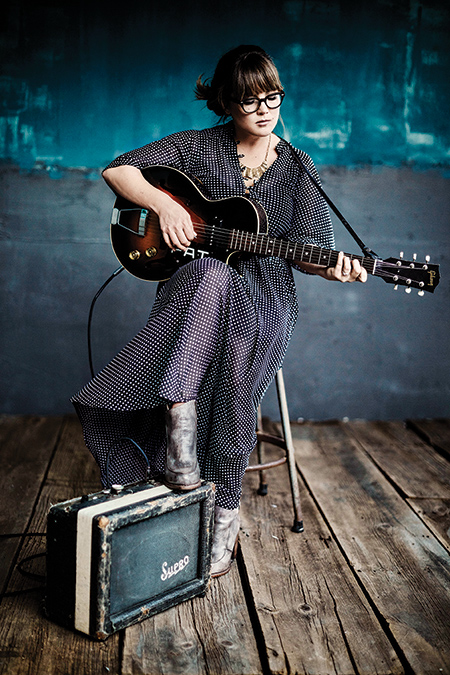 Reader Mail
News and Notes
Charities Aid Louisiana Musicians; Casady/Kaukonon on "Great Performances"; MIM Exhibits Inlaid Guitars
J. Doyle Holopter
Heartland Diversity
Ask Zac
Matt Spinks
Run What You Brung!
Sara Watkins
Authenticity
Pepper Keenan
Down With CoC
Jon Herington
Adult Entertainment
Barry Bailey
Remembering ARS
Roine Stolt
The Progfather
Jim Suhler
Double Duty
---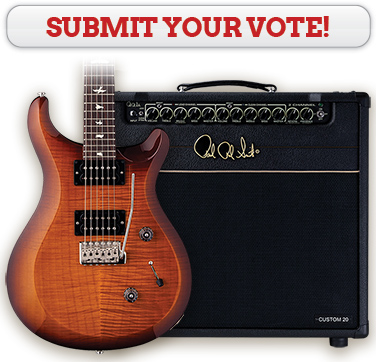 DEPARTMENTS
The VG Readers' Choice Giveaway
Vote for a chance to win a PRS guitar and amp worth $2,998!
Vintage Guitar Price Guide
Order the 2017 VG Price Guide AND get the bonus Digital Edition FREE! The Digital Edition access code will be delivered with your print edition.
Upcoming Events
Vintage Guitar Classified Ads
VG's Fall Dealer & Product Directory
Builder Showcase
Thompson Guitars
Dealer Showcase
Readers Gallery
---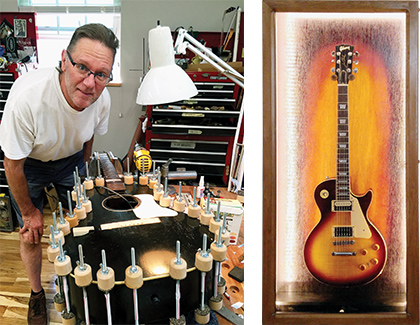 COLUMNS
The (Way) Back Beat
Every One a "Gibson-Ite" | By Peter S. Kohman
Fretprints
Brad Paisley | By Wolf Marshall
Acousticville
Armed and Ready for Arlington | By Steven Stone
Dan's Guitar Rx
A Bridge Too Far? | By Dan Erlewine
Shop of Hard Knocks
Case Closed | By Will Kelly
---

REVIEWS
The VG Hit List
Chet Atkins, Hound Dog Taylor, Beach Boys, Bill Kirchen, Ana Popovic, Avett Brothers, Barney Kessel, Wilco, Kris Kristofferson, more!
Check This Action
The Swinging….'70s? | By Dan Forte
VG Approved Gear
Supro Titan 1642RT, Newman Guitars LPB, EHX Cock Fight/Key9, Yamaha Revstar RSP20CR, Fishman Fluence Greg Koch Gristletone pickups, Danelectro '59 Resonator, Earthquaker Avalanche Run, Kay K161 Thin Twin, Valvetech VAC 25, Golden Age Pre-73 MkII/Ear Trumpet Edwina/Avantone CR-14
Gearin' Up!
The latest cool new stuff! To be included in Gearing' Up, contact us at vguitar@vintageguitar.com.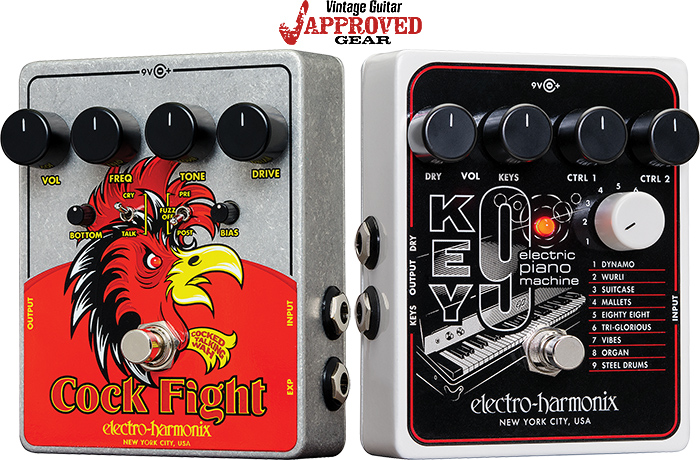 ---
VG'S GIVEAWAYS