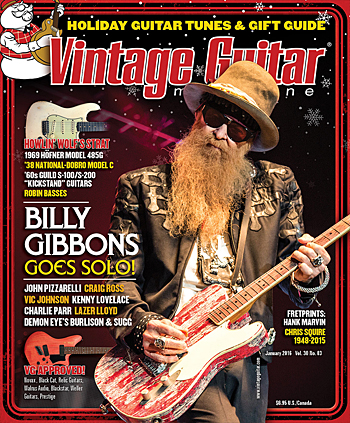 We sit for an exclusive interview with Billy F Gibbons to discuss his new – and first – solo album. Outside the ZZ Top box, the Reverend wades hip-deep into funky Cubano and African rhythms and super-modern sounds while continuing to employ classic guitar/amp tones. We also talk new music with Craig Ross, John Pizzarelli, Kenny Lovelace, Charlie Parr, Lazer Lloyd, Vic Johnson, and the guys from Demon Eye. Wolf Marshall offers a lesson – historical and musical – on Hank Marvin. And, of course, because music is essential for setting that holiday mood, we offer a list of suggested guitar-driven holiday tunes! Instrument profiles this month include a Strat once owned by blues legend Howlin' Wolf, as well as a '69 Höfner Model 485G, '38 National-Dobro Model C, Guild S-100/S-200 "Kickstand" guitars from the '60s, and Robin basses. Our music-review staff screens new releases from Led Zeppelin, Billy Gibbons, Keith Richards, Gary Clark, Jr., Lee Ritenour, Albert Cummings, Robert Cray, Chicago, Wilco, and many other artists. Finally, is Santa checking up on you? Well, if you've been nice, you might have some ideas for him after reading our reviews of new gear from Black Cat, Relic Guitars, Walrus Audio, Novax, Blackstar, Weller Guitars, and Prestige.  
Or download our app at iTunes for your iphone or ipad and purchase the current digital issue! Use the app to stay up-to-date on the VG newswire, and it's a great place to buy digital single issues and take advantage of the monthly subscription option.


Click the image above or CLICK HERE to read the entire Vintage Guitar Holiday Guitar Tunes & Gift Guide!
---

The Höfner Model 485G
Produced as electric guitars were becoming foremost on the minds of the masses, this model is proof that although Höfner could build good acoustic guitars, its focus may have been elsewhere. By Michael Wright
The National-Dobro Model C
Virtually untouched, this example lends a look at what National-Dobro – one of the first companies to build a guitar amp – offered in the way "latest and greatest" features at the end of the 1930s. By Dave Hunter
Guild's S-100/S-200 "Kickstand" Models
Though better known for its jazz guitars, Guild has offered some of the industry's most-unique solidbodies. To wit, these two guitars that jumped into the mix starting in 1963 and designed to relieve their owners of the "burden" of carrying a stand. By George Gruhn and Sarah Rose Jones
Robin Basses
A Photo Retrospective
From retro-influenced imports to its first full-scale U.S.-made instruments, for 15 years, Robin Guitars made a lasting impression on the bass market. By Willie G. Moseley
Festive Frets
Suggested Listening for Your "Guitholidays"
We offer a list of preferred guitar-centric holiday tunes, perfect for accompaniment on that trip through the woods, whilst roasting chestnuts, or just rocking around the Christmas tree? Plus, check out the 2015 "Holiday Buyers' Guide!"
The Wolf Strat
A Legend's Guitar, Discovered
After possessing it for several years, curiosity finally got the best of the owner of this 1963 Stratocaster. He had to know: Who is Lil' Bill? By Pete Prown
Rev Rock
Billy Gibbons Goes Solo
Given his many cultural influences – musical, visual, gastronomical, wearable, (internal) combustible, and otherwise – it's no surprise that for his first album sans ZZ Top, Billy Gibbons' freak flag is fully unfurled. By Ward Meeker
---
Reader Mail
News and Notes
Moore Inducted to MMHoF; In Memoriam
Craig Ross
Rock and Roll, Alive and Well
Ask Zac
Chris Squire
1948-2015
VG on Facebook
Lazer Lloyd
Blues in Israel – A Common Bond
Charlie Parr
A Muse From Olden Times
John Pizzarelli
McCartney Memo
Vic Johnson
At Your Service
Burlison & Sugg
Demon Eye, At Your Service
Kenny Lovelace
The Killer's Axeman
---
Vintage Guitar Price Guide
Builder Showcase
Vanz Houser Custom Guitars
Upcoming Events
Dealer Showcase
Vintage Guitar Classified Ads
Dealer Directory
Readers Gallery
---
The (Way) Back Beat
The Harp-Guitar Vogue: Strike a Pose – And a Few Extra Strings
By Peter S. Kohman
Fretprints
Hank Marvin
By Wolf Marshall
Q and A with George Gruhn
J-50 Two-Fer
Dan's Guitar Rx
Blasted Bass
Shop of Hard Knocks
Kauri On, Wayward Son
By Will Kelly
---
The VG Hit List
Led Zeppelin, Billy Gibbons, Keith Richards, Gary Clark, Jr., Lee Ritenour, Albert Cummings, Robert Cray, Chicago, Wilco, more!
Check This Action
Blondie Chaplin, Still Sailing
By Dan Forte
VG Approved Gear
Black Cat D&S/N-Fuzz, Relic Guitars The Hauge T-Style, Walrus Audio Bellwether Delay, Novax Sweet Annie, Blackstar Fly 3, Weller Guitars Stageliner, Prestige Heritage Premier P90 FM
Gearin' Up!
The latest cool new stuff!