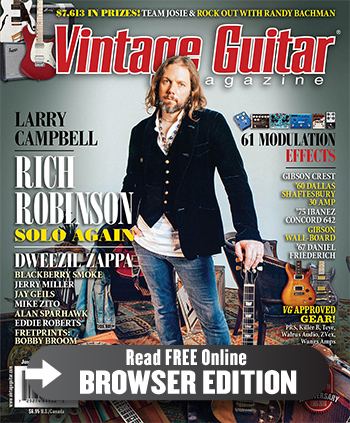 We speak with Rich Robinson, co-founder and guitarist/musical force in the Black Crowes. His new album, Flux, represents a new phase in his career. We also interview multi-instrument/backing guy to the stars Larry Campbell, as well as Jay Geils, Dweezil Zappa, Jerry Miller, Eddie Roberts, Blackberry Smoke's Charlie Starr, Mike Zito, Alan Sparhawk, and J.D. Simo. Our monthly trove of profiles includes the Ibanez Concord Model 642, Dallas Shaftesbury 30, Gibson's Crest, the fascinatingly one of a kind Gibson Wall-Board guitar. We take a look at modulation effects classic and new, and we're running three great contests. Register for a chance to win a John Page Ashburn HH and a Swart MOD84 price package in the Team Josie American Cancer Society Relay for Life Raffle, a D'Angelico guitar and Supro amp in the VG "Rock Out with Randy Bachman!" Contest, or two Dean Zelinsky guitars in the VG 30th Anniversary Giveaway. Peter Kohman digs into early 12-string guitars, Wolf Marshall offers a licks-filled study of Bobby Broom, and Dan Erlewine restores a Gibson Les Paul Junior, our music-review listens to new stuff by Vince Gill, Al Di Meola, Buddy Miller, Marshall Tucker Band, Buck Owens, Magic Sam, and many others, while the gear reviewers give their votes of approval to new gear by PRS, Killer B, Walrus Audio, Teye, Wangs Amps, and ZVex.
Read the June 2016 online browser edition of Vintage Guitar!
Or download our app at iTunes for your iphone or ipad and purchase the current digital issue! Use the app to stay up-to-date on the VG newswire, and it's a great place to buy digital single issues and take advantage of the monthly subscription option.

---
Ibanez Concord Model 642
A perfect example of how nosing around old guitars can unearth anomalies, this one is representative of an era when Japanese makers increasingly emulated American stalwarts… like the Martin 00-45
By Michael Wright
The Dallas Shaftesbury 30
Standing as evidence of life in the British amp industry before Vox and Marshall, this offering from a company better known for effects boxes is a solid effort within, even if its quirky design dives in looks-first. By Dave Hunter
Gibson's Crest Models
Brainchild of Gibson clinician/salesman Andy Nelson, who had a penchant for submitting unwelcomed custom orders, the Crest existed for three years as an L-5 variant. A decade later, the company offered it again – as a dressed-up thinline hollowbody. By George Gruhn and Staff
MOD Squad
22 Classic Modulation Effects
We celebrate devices that have altered the pitch, intensity, frequency, phase, and other characteristics in the sound, feel, and influence of our favorite heroes and songs. By Michael Dregni
Bend me, Shape Me
39 Modern Modulation Effects
Guitar sounds are the byproduct of many factors – fingers to strings, tubes to technique. And when its time to get funky, modulation effects from phase to flange to wah to chorus offer myriad ways to alter tones – and minds!
Larry Campbell
All-Americana Multi-Instrumentalist
Whether fiddling with Bob Dylan, supplying steel at the Americana Music Awards, playing lead for Springsteen, or sitting in with the Roots, as player or producer, he has taken many calls from big-name music makers. By Dan Forte
Out of the Woods, Off the Wall
The Gibson Wall-Board Guitar
In "guitarcheology," prototypes, one-offs, and bizarre custom instruments often surface close to their source. Such is the case with this one, which emerged at a guitar show in Michigan. By Deke Dickerson
Solo Again
Rich Robinson Re-Launches
With a new album, Flux, set for release, the former Black Crowes guitarist/musical force signed a deal to move his solo work under one label, and re-worked some of his catalog. By Ward Meeker
---
Reader Mail
News and Notes
Dickerson and Vivino Honor New Orleans Music; "Dad's Day" submissions; Grammy Museum Mississippi opens; In Memoriam
Jerry Miller
Back to Basics
Ask Zac
Eddie Roberts
Making It Up As You Go
Ds and LGs
Blackberry Smoke Unplugs
Mike Zito
Back to Solo Soul-Searching
Jay Geils
More of That Jazz
Dweezil Zappa
Solo Sounds
Alan Sparhawk
Lowdown
J.D. Simo
Remembering Duane Allman
---
WIN BIG! The Team Josie American Cancer Society Relay for Life Raffle
Win a John Page Ashburn HH and a Swart MOD-84 price package worth $3,379!
The VG "Rock Out with Randy Bachman!" Contest
Win a D'Angelico guitar and Supro amp!
The VG 30th Anniversary Giveaway
Win Two Dean Zelinski Guitars!
Vintage Guitar Price Guide
Upcoming Events
Dealer Directory
Vintage Guitar Classified Ads
Builder Showcase
Dealer Showcase
Readers Gallery
---
The (Way) Back Beat
The More-String Thing, Revisited
By Peter S. Kohman
Acousticville
Intonation and Acoustic Guitars
By Steven Stone
Fretprints
Bobby Broom
By Wolf Marshall
Dan's Guitar Rx
Junior's in Trouble
By Dan Erlewine
Shop of Hard Knocks
Tuning Shane
By Will Kelly
---
The VG Hit List
Paul Burch, Vince Gill, Al DiMeola, Buddy Miller, Marshall Tucker Band, Buck Owens, Magic Sam,
The Great British Recording Studios
, more!
Check This Action
But I Know What I Like
By Dan Forte
VG Approved Gear
PRS McCarty, Killer B Standard, Walrus Audio Messner Stage One OD, Teye Apache, Wangs Amps #2204 HW, ZVex Woolly Mammoth 7
Gearin' Up!
The latest cool new stuff!