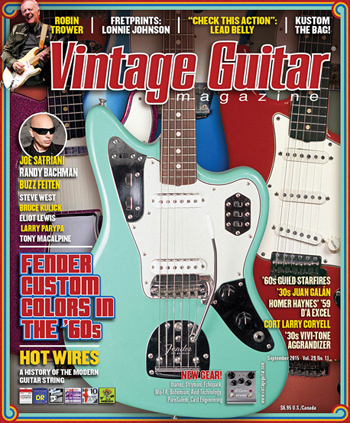 We study on the origin of Fender's custom colors and how they evolved through the 1960s, take a look at the history of the guitar string (with a guide to modern sets), feature the very funky Kustom The Bag effect, and profile four unique instruments – the '59 D'Angelico Excel made for Homer Haynes, Cort's Larry Coryell signature guitar, a 1930s classical made by Juan Galán, and the exceedingly rare Vivi-Tone Aggrandizer amp. We also dish out exclusive interviews with Buzz Feiten, Robin Trower, Randy Bachman, Joe Satriani, Bruce Kulick, Tony MacAlpine, Eliot Lewis, Larry Parypa, and Steve West. Wolf Marshall studies the stylings of Lonnie Johnson, Dan Forte reminds us of the historical importance of Lead Belly, Peter Kohman continues his look at Guild's famed Starfire model, Dan Erlewine digs further into a (very) vintage Glaesel acoustic, and Will Kelly walks us through the process of pickup potting. Our gear review staff tells you why the latest gear from Ibanez, Bohemian Guitars, Avid Technology, PureSalem, Cast Engineering, Strymon, Echopark, is Mu-FX are worth your time (and money!), while our music reviewers screen new releases by Mark Knopfler, Neal Schon, Sonny Landreth, Grant Green, Otis Taylor, Wes Montgomery, and others. 
Or download our app at iTunes for your iphone or ipad and purchase the current digital issue! Use the app to stay up-to-date on the VG newswire, and it's a great place to buy digital single issues and take advantage of the monthly subscription option.

---

The Cort Larry Coryell
Guitarmakers have been capitalizing on endorsements since the late 19th century. Thus, it's not surprising to find a signature guitar named for someone with the stature of the legendary jazzer Larry Coryell. What might be surprising is the brand on its headstock. By Michael Wright
The Vivi-Tone Aggrandizer
A fascinating look at one of the oldest – and rarest – amps we've seen, this was one of the first guitar amps built by Webster Electric and bearing the name of the company co-founded by Lloyd Loar. By Dave Hunter
Homer Haynes' '59 D'Angelico Excel
John D'Angelico produced some of the finest jazz guitars. This one, ordered by half of a famous comedy duo, was nonetheless every bit the serious instrument as the one built for renowned jazzer Johnny Smith – and to very similar specs. By George Gruhn
Kustom's The Bag
A far-out product marketed by a far-out amp builder, it was the creation of a teenaged music fan and made (almost!) famous by Steppenwolf's John Kay, who played through one on "From Here To There Eventually." By Michael Dregni
Misty Lakes, Foamy Shores
Fender Custom Colors in the 1960s
As rockabilly gave way to instrumental rock, America's fascination with the automobile spurred guitar makers to dress the solidbody as an object of similar desire – a colorful symbol of freedom and innovation. Fender started the trend by borrowing paint from autobody shops. By A.R. Duchossoir
Buzz Feiten
Unsung Hero
An inventor and builder with vast musical knowledge, his list of session credits could fill a phone book. Yet, he remains a grounded, inspired man whose status lends perspective possessed by precious few. By Oscar Jordan
Hot Wires
A Brief History of the Modern Guitar String
Before James Burton rendered pitch-bending solos on radio hits, guitar strings were available in few varieties. But Burton's antics inspired a legion of new players, including some who bent the ear of music-store owner Ernie Ball. Hearing their pleas, he began selling sets that included much thinner banjo strings. By Pete Prown
A Thing For Strings
A key physical connection between player and instrument, few elements draw the attention guitarists give to strings. Here's a look at several modern sets.
---

Reader Mail
News and Notes
Fred Gretsch Marks 50 Years; Team Josie Raises $13K; Southpaw Turns 30; In Memoriam
Robin Trower
20 Albums In
Ask Zac
Eliot Lewis
Growing Up With Legends
VG on Facebook
Larry Parypa
Sonics Thunder
Steve West
Life Since "Louie, Louie"
Tony MacAlpine
Post-Modern Neo-Classical
Joe Satriani
Shockwave Supernova
Bruce Kulick
B-A-C-K to KKB
Randy Bachman
The Album Title Says It All
---

Vintage Guitar Price Guide
Builder Showcase
E Lombardo Guitars
Dealer showcase
Vintage Guitar Classified Ads
Dealer Directory
Readers Gallery
---

The (Way) Back Beat
Semi-Solid As They Wanna Be: Guild's '60s Starfire Saga, Part 2
By Peter S. Kohman
Fretprints
Lonnie Johnson
By Wolf Marshall
Guitars With Guts
1930s Juan Galan
By R.E. Bruné
Dan's Guitar Rx
Tough Old German, Part 3
By Dan Erlewine
Shop of Hard Knocks
Hush, Little Darlings
By Will Kelly
---

The VG Hit List
Guitar Heroes, Wes Montgomery, Mark Knopfler, Neal Schon, Sonny Landreth, Grant Green, Otis Taylor, more!
Check This Action
A Bluesman of Incalculable Importance
By Dan Forte
Vintage Guitar Gear Reviews
Bohemian Boho Moonshine, Avid Technology Eleven Rack, PureSalem Bette, Cast Engineering Texas Flood OD, Ibanez PN1-NT, Strymon El Capistan, Echopark Clarence, Mu-FX Octave Divider
Gearin' Up!
The latest cool new stuff!