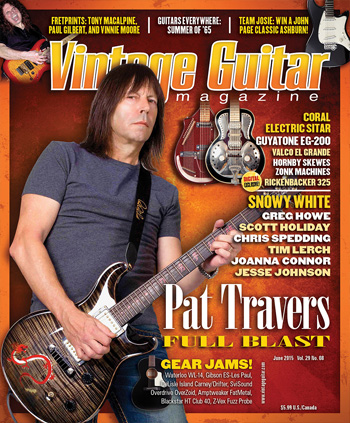 We interview Pat Travers about the songs, bands, and guitars that made him one of the greatest blues-rock players of a generation. We also speak with Snowy White about his famed '57 Gibson Les Paul Standard, then discuss new music Greg Howe, Scott Holiday, Chris Spedding, Tim Lerch, Joanna Connor, and Jesse Johnson. George Gruhn reminds us why the Coral Electric Sitar is a key piece of vintage history, Dave Hunter digs into the funky Valco El Grande amp, Michael Dregni offers details on the Hornby-Skewes Zonk Machines, and Michael Wright explores the Pacific-Rim flash of the Guyatone EG-200. Peter Kohman looks back at the impactful summer of '65, while Dan Erlewine starts one of the most challenging restorations of his career and Will Kelly modifies a classical guitar for a special customer. Steven Stone poses the question, "How many guitars is too man?" and Wolf Marshall breaks down all-star shredder licks by Paul Gilbert, Tony MacAlpine, and Vinnie Moore.
Wondering which new music you should listen to? Check our "Hit List" music reviews. If you're on the hunt for new gear, we give a hard run to Gibson's ES-Les Paul, the Waterloo WL-14, DeLisle' Island Carney/Drifter, the SviSound Overdrive OverZoid, Amptweaker's FatMetal, the Blackstar HT Club 40, and the Z-Vex Fuzz Probe.
Or download our app at iTunes for your iphone or ipad and purchase the current digital issue! Use the app to stay up-to-date on the VG newswire, and it's a great place to buy digital single issues and take advantage of the monthly subscription option.

---

The Guyatone EG-200
A true reflection of the company's early work, it's laden with eye-candy like fancy tuner buttons metal plates designed to recall guitars by National and Dobro. But it's also quite playable and, with its Guyatone single-coils, sings beautifully. By Michael Wright
The Valco El Grande
The Chicago-based Valco company made amps wearing several different badges – Supro, National, Airline, Oahu, Bronson, and others. This one, though, kept its parents' name. And, while named in spite of its diminutive size, it delivers considerable sonic girth. By Dave Hunter
The Coral Electric Sitar
After George Harrison embraced it and one was heard on songs by the Beatles and Rolling Stones, the sitar gained rapid popularity – and inspired amplifier designer/builder Nat Daniel to build this electrified version. By George Gruhn and Sarah Rose Jones
Fuzz Bonk
Hornby Skewes Zonk Machines
After "Keef" dropped some fuzz tone on "(I Can't Get No) Satisfaction," it suddenly became essential. As The Great British Fuzz Pedal Boom blossomed, music distributor Hornby Skewes moved quickly to design and build a box. By Michael Dregni
Snowy White
One Man, One Guitar
One of the finest blues and rock musicians to come out of the U.K., he quietly but confidently steered through a rewarding career with many highlights, all the while relying on just one guitar – a '57 Gibson Les Paul Standard. By Donald Wiedman
Pat Travers
Full Blast
Following the mid-'60s sojourn of Jimi Hendrix and before Brian Setzer's similar trip, he traveled to London seeking fame as a guitarist. Forty years later, he is widely recognized as one of the preeminent blues-rock guitarists of a generation. By Ward Meeker
---

Reader Mail
News and Notes
VG Helps Team Josie, PRS Opens Museum, In Memoriam
Greg Howe
Best of Both Worlds
Ask Zac
Scott Holiday
Unrivaled Son
VG on Facebook
Chris Spedding
Convergence of Legends and Friends
Tim Lerch
Tele Jazz Master
Joanna Connor
Going Viral
Jesse Johnson
Quad City Funk
---

Vintage Guitar Price Guide
Builder Showcase
Homegrown Tone Amps
Dealer showcase
Vintage Guitar Classified Ads
Dealer Directory
WIN BIG! The Team Josie American Cancer Society Relay for Life Raffle
Win a John Page Classic Ashburn Valued at $1,499
Readers Gallery
---

The (Way) Back Beat
The High Summer of '65
By Peter S. Kohman
Fretprints
Shrapnel School
By Wolf Marshall
Dan's Guitar Rx
Tough Old German
By Dan Erlewine
Shop of Hard Knocks
Classical Gas
By Will Kelly
---

The VG Hit List
Gov't Mule with John Scofield, Pokey LaFarge, Richie Kotzen, Smokin' Joe Kubek and Bnois King, The Complete Stax/Volt Soul Singles, Vol. 3, Immortal Randy Rhoads: The Ultimate Tribute, more!
Check This Action
Capturing the Blues
By Dan Forte
Vintage Guitar Gear Reviews
Gibson ES-Les Paul, Waterloo WL-14, DeLisle Island Carney/Drifter, SviSound Overdrive OverZoid, Amptweaker FatMetal, Blackstar HT Club 40, Z-Vex Fuzz Probe
Gearin' Up!
The latest cool new stuff!