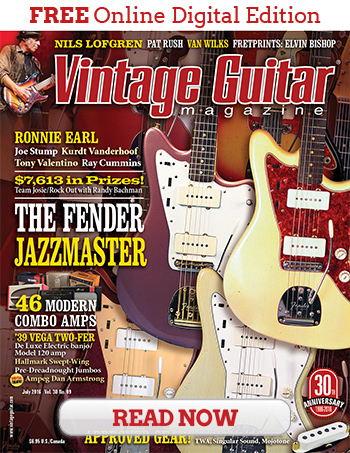 We revisit the story of Fender's lauded Jazzmaster guitar – none of the contemporary jazzers dug it when it was introduced, but many big-time rockers have since! Plus, we feature Ronnie Earl and show you the classic Strats that have helped him make historic blues music. We talk new music with Nils Lofgren, Pat Rush, Van Wilks, Joe Stump, Ray Cummins, Kurdt Vanderhoof, and Tony Valentino. Our reader-favorite instrument profiles include the Hallmark Swept-Wing and two notable Vega models from 1939 – the Deluxe Electric Plectrum Banjo and the Model 120 amp. Wolf Marshall offers an in-depth study of Elvin Bishop. Repair tech extraordinaire Dan Erlewine fixes the double truss rod on a Hamer bass, while Will Kelly explains the process of metal etching a distinctive guitar top. If you're considering a new combo amp, take a look at our survey of 46 current models (along with a few standout heads!). We also review Fender's BassBreaker, the Godlyke Black Cat Vibe, TWA's Triskelion, the LoL Soledad, the Mojotone '58 Quiet Coil, Singular Sound's Beat Buddy, and Xaviere's XV-950, along with new music by Black Sabbath, Pete Anderson, Tedeschi-Trucks Band, Clinch Mountain Boys, Johnny Winter, Bill Frisell, and many others.
Read the July 2016 online browser edition of Vintage Guitar!

You can also download our app from the Apple app Store or Google play and purchase the current VG app edition! Use the app to stay up-to-date on the VG newswire, and it's a great place to buy a single VG app edition and take advantage of the monthly subscription option.

---
The Vega De Luxe Electric Plectrum Banjo
In the rush to amplify stringed instruments in the 1930s, manufacturers dabbled in virtually every arena; when it came to the banjo, Gibson beat Vega by one year, but this Boston-made fiddle has a list of virtues all its own.
By George Gruhn and Staff
The Hallmark Swept-Wing
Brief Flight From South of Bakersfield
Rolling out of the Mosrite "factory" in 1965, Joe Hall went to work building guitars and basses using his own highly original designs. Today, the Hallmark name and tradition are carried on by Bob Shade, whose instruments are inspired by his collection of vintage pieces. By Willie G. Moseley
The Vega Model 120
When the electric guitar hit the ground running in the mid '30s, Vega emerged as a leader in amplification, and this is typical of the company's early efforts. By Dave Hunter
Dream Designs
A Celebration of the Combo Amp
In the 80 years since the first guitar amps hit the market, every major builder, along with scores of those working in garages and tiny shops, have been tweaking and evolving the concept, particularly the combo, which puts forth their their most complete form. We a look at 46 of the freshest.
Revisiting the Jazzmaster
Ill-conceived by Leo Fender and his design crew, it's not surprising the Jazzmaster has gotten little press compared to the volumes written about the Stratocaster. Still, there are plenty of reasons it was Fender's top-of-the-line guitar in 1958. By Michael Wright
Ronnie Earl
Redemption, Reconciliation, and Reinvention
One of the most prolific blues artists working today, his career spans three decades and shows no signs of slowing. Here, he talks about it all and chats about the vintage Strats that have accompanied him through the years. By Bob Dragich
---
Reader Mail
News and Notes
Gretsch Museum Displays Bachman Guitars; Heritage Guitar Sold; In Memoriam
Nils Lofgren
Great American Journeyman
Ask Zac
Van Wilks
Stormin' Out of Austin
Joe Stump
… And the Holy Trinity of Euro-Metal Guitar
Ray Cummins
Pal of Chet, Friend of Les
Pat Rush
Johnny, James, Et Al
Kurdt Vanderhoof
These Go to XI
Tony Valentino
75, Still Rockin'
---
Vintage Guitar Price Guide
WIN BIG! The Team Josie American Cancer Society Relay for Life Raffle
Win a John Page Ashburn HH and a Swart MOD-84 price package worth $3,379!
The VG "Rock Out with Randy Bachman!" Contest
Win a D'Angelico guitar and Supro amp!
Upcoming Events
Dealer Directory
Vintage Guitar Classified Ads
Builder Showcase
Dealer Showcase
Readers Gallery
---
The (Way) Back Beat
In Search of Bigfret: Pre-Dreadnought Jumbo Guitars
By Peter S. Kohman
Fretprints
Elvin Bishop
By Wolf Marshall
Q&A With George Gruhn
Dan's Guitar Rx
Strike Three, You're… In!
By Dan Erlewine
Shop of Hard Knocks
Etchings in Metal
By Will Kelly
---
The VG Hit List
Black Sabbath, Pete Anderson, Tedeschi-Trucks Band, Clinch Mountain Boys, Johnny Winter, Bill Frisell,
I Saw the Light
, more!
Check This Action
Country? Americana? What's the Difference?
By Dan Forte
VG Approved Gear
Fender BassBreaker, Godlyke Black Cat Vibe, TWA Triskelion, LoL Soledad, Mojotone '58 Quiet Coil, Singular Sound Beat Buddy, Xaviere XV-950
Gearin' Up!
The latest cool new stuff!