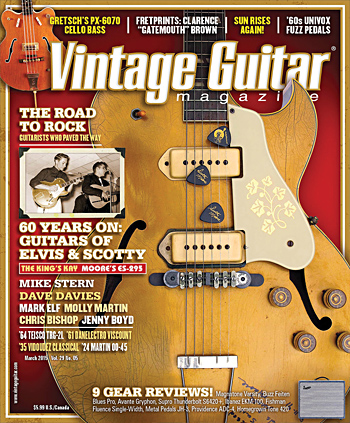 We take a ride down the Road to Rock, with a look at the pioneering guitarists who moved the form into the age of electrification – from Chuck Berry to Bo Diddley to Duane Eddy and others. Plus, to mark 60 years since Elvis made it big, we take a detailed look at Scotty Moore's famed Gibson ES-295 and other guitars that were key to the King. Other instruments in the spotlight include the Teisco TRG-2L, a unique Martin 00-45, a classical made by Alfred Vidoudez, the Gretsch PX-6070 cello bass, Danelectro's Viscount amp, and the Univox Uni-Fuzz and Super-Fuzz. Then, Wolf Marshall breaks down the style and licks of Clarence "Gatemouth" Brown, and we talk about new music with Mike Stern, Dave Davies, Mark Elf, Jenny Boyd, Molly Martin, and Chris Bishop.
Readers born with the DIY spirit and not afraid to get their hands dirty will want to check out the latest from Dan Erlewine and Will Kelly. And speaking of digging in, we let you know why you should take a good look at the Magnatone Varsity amp, Buzz Feiten's Blues Pro guitar, the Avante Gryphon, Supro's Thunderbolt S6420+, the Ibanez EKM 100, Fishman's Fluence Single-Width pickup, Metal Pedals' JH-3, the Providence ADC-4, and the Homegrown Tone 420.  Those jonesing for new music can read our the impressions of our review staff in regard to the latest offerings by Eric Clapton, Wilco, Todd Rundgren, Eric Gales, Bob Dylan & The Band, Jerry Lee Lewis, and more. 
Or download our app at iTunes for your iphone or ipad and purchase the current digital issue! Use the app to stay up-to-date on the VG newswire, and it's a great place to buy digital single issues and take advantage of the monthly subscription option.

---

The Teisco TRG-2L
Given that the Japanese were enthusiastic early adopters of transistor technology, it's logical they were first to incorporate amplifiers into a guitar, and this is the earliest example. By Michael Wright
The Danelectro Viscount
Young guitarists taking up the instrument in the '50s aspired to play through a Fender, Vox, or Marshall, but their allowance likely covered something more like this. Given its specs – let alone the cool tube-viewing window in the back panel – they could've done worse! By Dave Hunter
1924 Martin 00-45
While it mostly conforms to spec, there are elements of this guitar that force the question, "Has it has been re-worked?" Though Martin has remarkably accurate records, it didn't stamp model designations on the neck block until 1931. This one requires a deeper dig. By George Gruhn
Full, Fat, Fuzzzy
The Univox Uni-Fuzz & Super-Fuzz
Their origin can be traced to an early "super effect" – the Japanese-made Honey Psychedelic Machine introduced in '67 by a company made up of former Teisco workers, in a cabinet nearly the size of an amp head. A few years later, Shin-ei launched variations in these pedal forms. By Michael Dregni
Six-Strings, 60 Years Later
Elvis Presley rose from modest means to become arguably the greatest star of any generation, and the story of his ascent is well-known. Less told, however, is the tale of two guitars that played key roles in his life. By Michael Dregni
First Guitar of Rock and Roll
Scotty Moore's Gibson ES-295
Though Gibson couldn't have planned it, it became the first "rock guitar" after being used to record Elvis Presley's first four Sun singles, its fancy gold finish as outrageous as the music it suddenly represented. By Michael Dregni
Sun Rises Again
Thanks to the musical passion of Sam Phillips, a tiny studio in Memphis served artists wanting to record their blues, country, and gospel music. Though time saw the space used in various ways, today it is returned to its vintage glory. By Michael Dregni
Road to Rock
The Electrifying Sounds of Post-War Guitar
While rock's guitar pioneers are well-known – Chuck Berry, Scotty Moore, Bo Diddley, Buddy Holly, Duane Eddy, et al – there were plenty of other players pushing the envelope in the primordial ooze of the late 1940s and early '50s. By Pete Prown
---

Reader Mail
News and Notes
Howard Roberts Summit at NAMM; Fretware Changes Address
Mike Stern
Mixed Sources
Ask Zac
By Zac Childs
Dave Davies
Personal Songs and Power Chords
VG on Facebook
Mark Elf
After the Storm
Jenny Boyd
Searching for the Source
Molly Martin
D-35 Savior
Chris Bishop
Wizards and Technology
---

Vintage Guitar Price Guide
Builder Showcase
Iconix Pickups
Dealer showcase
Vintage Guitar Classified Ads
Dealer Directory
Readers Gallery
---

The (Way) Back Beat
The Brooklyn Behemoth: Gretsch's PX-6070 Cello Bass
By Peter S. Kohman
Fretprints
Clarence "Gatemouth" Brown
By Wolf Marshall
Guitars With Guts
1935 Alfred Vidoudez
Dan's Guitar Rx
Easier Said Than Done, Part 3
By Dan Erlewine
Q&A With George Gruhn
Shop of Hard Knocks
Secrets of the Chamber
By Will Kelly
---

The VG Hit List
Eric Clapton, Wilco, Sean Costello, Todd Rundgren, Eric Gales, Dylan & The Band, James Carothers, Jerry Lee Lewis, Tom Wheeler, more!
Check This Action
Boxing Day
By Dan Forte
Vintage Guitar Gear Reviews
Magnatone Varsity, Buzz Feiten Blues Pro, Avante Gryphon, Supro Thunderbolt S6420+, Ibanez EKM 100, Fishman Fluence Single-Width, Metal Pedals JH-3, Providence ADC-4, Homegrown Tone 420
Gearin' Up!
The latest cool new stuff!