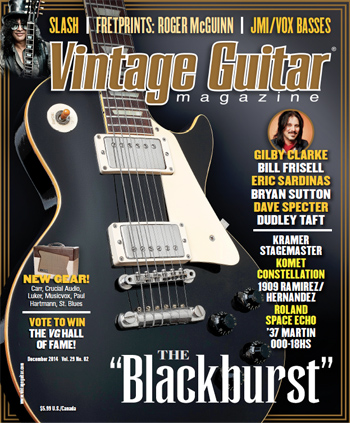 We reveal the details of the "Blackburst," a classic Gibson Les Paul Standard delivered to its first owner in 1960, after the company sprayed black finish over its flame-maple top! We speak with Bill Frisell, who has released more than 40 albums as a band leader who cross-pollinates jazz with folk, rock, blues, country, Americana, electronica, classical, and world music. We also sit with Gilby Clarke, who as a teen turned the tide on misfortune and used music to further his life – along the way, assembling  an impressive collection of instruments. We talk new music with Eric Sardinas, Bryan Sutton, Dave Specter, Dudley Taft, and Mark Sebastian, and lay out the history of the Roland Space Echo, Komet Constellation amp, a very rare Martin 000-18HS, a 1909 Manuel Ramirez/Santos Hernandez classical, and Kramer's Stagemaster. Columnist Steven Stone reminds us all to  be mindful of our instruments, even at festivals of the like-minded, Will Kelly walks us through a Firebird re-work, Peter Kohman digs into JMI/Vox basses, and Wolf Marshall breaks down a few licks from Roger McGuinn. Finally, our music-review staff offers a list of suggested listening, while our gear testers take a hard look at new stuff from Carr, Crucial Audio, Luker, Musicvox, Paul Hartmann, and St. Blues. You can jump online and vote in the VG Hall of Fame contest, which automatically makes you eligible to win a Dr. Z Z Wreck combo – a $2,999 value!
Or download our app at iTunes for your iphone or ipad and purchase the current digital issue! Use the app to stay up-to-date on the VG newswire, and it's a great place to buy digital single issues and take advantage of the monthly subscription option.

---

the Kramer Stagemaster
Love them or hate them, Kramer guitars played a pivotal role in the evolution of the modern solidbody. This gorgeously carved model was offered from the company's popular peak until it succumbed to grunge. By Michael Wright
the Komet Constellation
With just three knobs and no actual tone controls, this low-production amp is an oddball inside and out, and it grinds out one of the fiercest, thickest, richest, most-dynamic guitar tones you'll ever encounter. By Dave Hunter
The Martin 000-18HS
Special-ordered in 1937, this guitar – one of three likely ever made and the only one with a sunburst-finish top – recently found its way to Martin historian Dick Boak. By George Gruhn
The Roland Space Echo
Created by a self-taught watch repairman who progressed to radio servicing and was fascinated by music, it took a classic Japanese approach to refining the tape-echo effect. Unlike certain other vintage echos, it was sturdy and trustworthy, which ensured its status as a favorite amongst professionals. By Michael Dregni
The "Blackburst"
Les Paul Standard of a Different Shade
Among experienced, often jaded veteran guitar collectors, precious few things create an adrenaline rush. But, every so often, there emerges a guitar like this – a true classic that raises eyebrows simply because it deviates from the norm. By Ward Meeker
Grit & Glory
Gilby Clarke and His Guitars
A motivated rock guitarist, as a teen, he turned the tide on misfortune, using music as a personal comfort and social ice-breaker. Banging away with friends in the garage led to a notable career that included a stint with Guns 'N Roses, along with an impressive collection of instruments. By Ward Meeker
Bill Frisell
An Uncategorizable Guitarist Returns to His Roots
Equal parts adaptable and versatile, he has released more than 40 albums as a band leader, cross-pollinating jazz with folk, rock, blues, country, Americana, electronica, classical, and world music – with nods to Nashville, John Lennon, and the films of Buster Keaton. By Dan Forte
---

Reader Mail
News and Notes
PRS Hosts Kimmel Center benefit; Hendrix Park Set for Seattle; In Memoriam
Walter Trout
Battling Back
Ask Zac
By Zac Childs
Dave Flett
From "Blinded…" to a New Solo Album
VG on Facebook
Charlie Apicella
Swinging, and Growing
Halford, Tipton, and Faulkner
Judas Priest Redeems Its Soul
Ethan Brosh
Living The Dream
Return of the "Guitar Show"
Summer NAMM, 2014
---

Vintage Guitar Price Guide
The VG Hall of Fame Giveaway
CLICK HERE Vote for a chance to win a Dr. Z Z Wreck combo worth $2,999!
Builder Showcase
Trem King
Dealer showcase
Vintage Guitar Classified Ads
Dealer Directory
Readers Gallery
---

The (Way) Back Beat
The Rockets' Red Glare: Harmony's Thinline Electrics
By Peter S. Kohman
Fretprints
Billy Bauer
By Wolf Marshall
Q&A With George Gruhn
Dan's Guitar Rx
Small-Bass Brace, Part 2
By Dan Erlewine
Shop of Hard Knocks
Many Guitars, One Stand
By Will Kelly
---

The VG Hit List
Marty Stuart, B.B. King, Nils Lofgren, Johnny Winter, Joe Bonamassa, Tweedy, more!
Check This Action
Tribute to Johnny
By Dan Forte
Vintage Guitar Gear Reviews
Fender '68 Custom Deluxe Reverb, Gretsch G5655ST-CB Electromatic, Harmonic Design VP-90, Kammerer Pegasus, Providence Velvet Comp, Red Rock, and Phase Force
Gearin' Up!
The latest cool new stuff!