GET THIS ISSUE — order the print edition in the VG Shop, download a digital copy in the VG app, OR browse now, the FREE online digital edition.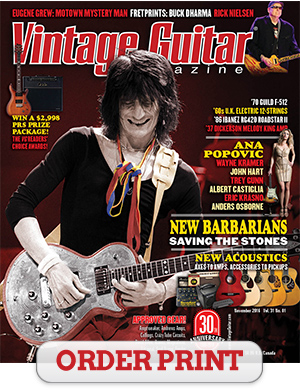 We speak with Ron Wood about how his New Barbarians saved the Stones, plus we offer a complete look at acoustic guitars and accessories.
Learn all this and more below…
IN THIS ISSUE…
FEATURES
› The Ibanez RG420 Roadstar II
Though the discussion could focus on several models, strong argument could be made that the story of the '80s "Superstrat" begins right here. | By Michael Wright
› The Guild F-512
Iconic '70s 12-String
Today, players typically equate the 12-string acoustic with Taylor and Martin. For its part, though, Guild's F-512 remains one of the most revered, and this particular one veers off-spec with its one-piece mahogany neck, stacked heel, and other unique features. | By George Gruhn and Staff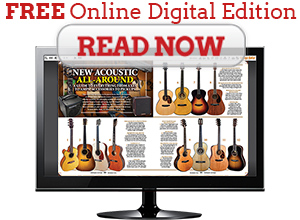 › The Dickerson Melody King
Few who love vintage amps can resist its art-deco appeal, let alone its luscious hand-wiring and edgy, touch-sensitive 6V6 tone. A tweed Champ doesn't stand a chance in a cage fight. | By Dave Hunter
› Eugene Grew
Long-Lost Motown Session Master
To the surprise of many Motown fans, a man emerged in 2011 claiming to have played guitar on "Money" and several other early songs produced by the legendary Detroit label. | By Brian F. Wright
› New Acoustic All-Around
VG's Guide to Everything from Axes to Amps, Accessories to Pickups
› Ear-To-Ear Violence
How Ron Wood's New Barbarians Saved the Stones
Today, the Rolling Stones continue to perform live, more than 50 years since their first gig. But few realize how an unsung side project formed and funded by Ron Wood played a pivotal role when the band was on the verge of collapse. Here's a look at the story. | By Michael Dregni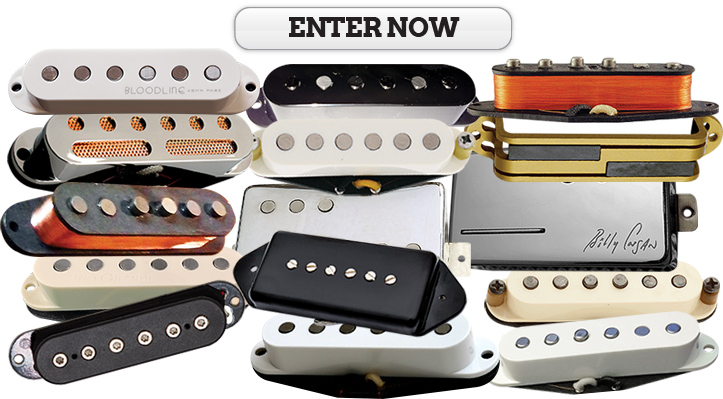 ---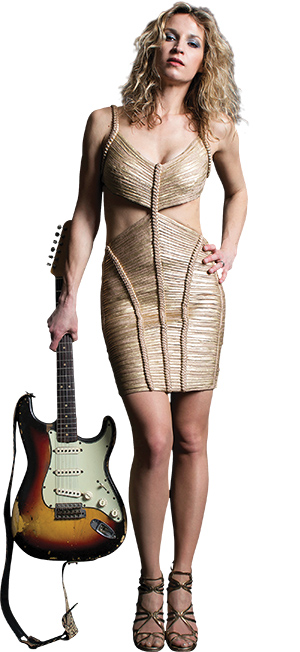 FIRST FRET
Reader Mail
News and Notes
Woodstock Luthiers Showcase
John Hart
Mainline Florida
Ask Zac
Rick Nielsen
Storied Career
Trey Gunn
Touch-Guitar Tip of the Hat
Wayne Kramer
Renaissance Man
Albert Castiglia
Righteous and Raucous
Ana Popovic
Blues, Jazz, and Soul
Eric Krasno
Front Man
Anders Osborne
Making Tracks
---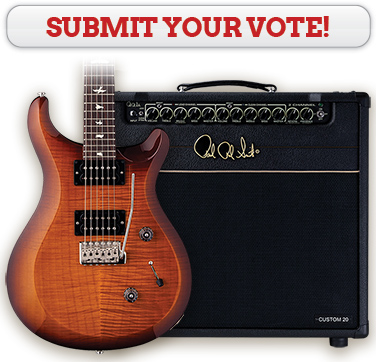 DEPARTMENTS
Vintage Guitar Price Guide
Pre-order the 2017 VG Price Guide AND you'll save $5 and get the digital edition FREE! Must Pre-order before October 14th.
The VG Readers' Choice Giveaway
Upcoming Events
Vintage Guitar Classified Ads
Builder Showcase
Todd Sharp Amplifiers
Dealer Showcase
Readers Gallery
---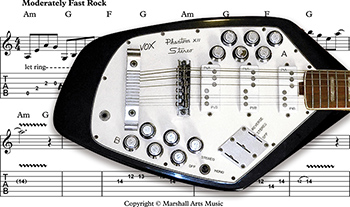 COLUMNS
The (Way) Back Beat
England Chimes, 1964: Stratocaster-Inspired 12-Strings from the U.K. | By Peter S. Kohman
Fretprints
Buck Dharma | By Wolf Marshall
Q&A With George Gruhn
Dan's Guitar Rx
The 68-Year Checkup, Part Two | By Dan Erlewine
Shop of Hard Knocks
Maintenance, Man: Basic Skills for Every Player | By Will Kelly
---

REVIEWS
The VG Hit List
Jimmy "Duck" Holmes, Paul Butterfield Blues Band, Heart/Ann Wilson, Kinks, Neil Young, Rich Robinson, Dinosaur Jr., Mike Eldred Trio, more!
Check This Action
Sonic Glories of Jazz on Vinyl | By Dan Forte
VG Approved Gear
Amptweaker Tight Drive, Andrews Spectraverb 16, Collings OM1-T, Crazy Tube Circuits SPT, David Allen Fat '59, Fender The Edge Strat and Deluxe, Ibanez BWM1, Magnatone Panoramic Stereo, National Dueco, Soul Tramp Tweed 12
Gearin' Up!
The latest cool new stuff! To be included in Gearing' Up, contact us at vguitar@vintageguitar.com.

---
VG'S GIVEAWAYS