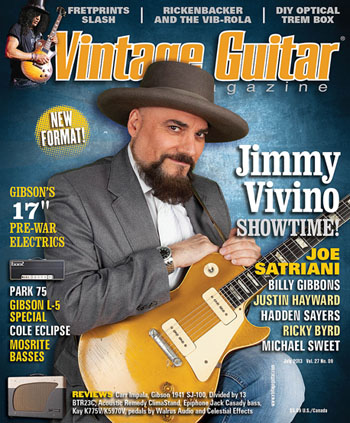 A performer since the age of eight, the Beatles lured Jimmy Vivino away from the trumpet and straight to the guitar. Today, he's the renowned bandleader on "Conan" and tends to some stellar vintage gear. We also speak with Joe Satriani, whose new solo album is testament to his impressive work ethic, and get back into A.R. Duchossoir and Lynn Wheelwright' breakdown of the Gibson ES-250, which though it remained in production barely a year, is an historically important model. Wolf Marshall shows us how to play the best three licks from the repertoire of Slash, and we offer the sort of enlightenment you expect on the Cole Eclipse Pro Special, the pretty-much-a-Marshall Park 75, Mosrite basses, and a Gibson L-5 that's so "Special" George Gruhn gives it props even if it's not all-original! We talk with Billy Gibbons about the Moving Sidwalks' reunion gig, and chat with Hadden Sayers, Justin Hayward, Michael Sweet, and Ricky Byrd. Peter Kohman continues his study of the Kauffman Vib-Rola, Will Kelly shows you how to build an optically-driven tremolo box, and Dan Erlewine repairs some vintage tuning machines.
If you're looking for the sweet-and-lowdown on some new gear, check our reviews of the Carr Impala, the Gibson 1941 SJ-100, the Divided by 13 BTR23C, Acoustic Remedy's ClimaStand, the Epiphone Jack Casady bass, the Kay K775V/K5970V, and pedals by Walrus Audio, Celestial Effects. And if you're wondering which new music to check out, we've taken a listen to the latest from Larry Carlton and Robben Ford, Stephen Stills, Deep Purple, Freddie King, Brad Paisley, and many others.
---
Creativity, Chaos, and Joe Satriani
Calling any player "the hardest working guitarist in the business" is asking for trouble. But if output equates to effort, there's no doubt Joe Satriani works his fingers off! His latest solo album provides all necessary proof. By Ward Meeker
Jimmy Vivino
SHOWTIME!
A performing musician since his childhood, Jimmy Vivino followed in his father's footsteps by playing trumpet for years. But then came the lure of wood, wire, and the Beatles. Now he holds down the bandleader/guitarist slot on "Conan" and spends his days caring for a handful of stellar vintage guitars and amps. By Ward Meeker
Gibson's 17″ Pre-War Electrics
The ES-250 of 1939-'40
The ES-250 was Gibson's first electric-Spanish guitar built with the same 17″ body as its advanced archtops. Though it remained in production barely a year, it's an historically important (and multifaceted) model. By A.R. Duchossoir and Lynn Wheelwright
The Cole Eclipse Pro Special
Straight-from-the-catalog instruments are fun, but there's a certain thrill and satisfaction when you find something totally off the radar – a mystery to be solved, like this banjo, which sports a Washburn headstock and atypical decoration. By Michael Wright
The Park 75
An amplifier made with the "Park" badge from 1965 to '80 is really just a Marshall by another name, and often, with a nifty twist. Made in relatively low numbers, they typically fetch more on the vintage market, and rumor has it Jim Marshall made many of them "a little hotter." By Dave Hunter
Mosrite Basses
The Golden Decade: Ventures & Beyond
Pop-music aficionados equate the Ventures with surf music from the '60s, or – if they're instrument-savvy – the band's affiliation with Mosrite. A closer look reveals much more. By Willie G. Moseley
The Gibson L-5 "Special"
Though collectors focus on instruments in fine original condition, every so often one emerges that, regardless of condition, is no less exciting than a paleontologist finding the "missing link." This is a good example. By George Gruhn
---

Reader Mail
News and Notes
VG's New Format: Crown of the Continent Guitar Fest; Gilbert Guitar Escape; In Memoriam, Stolen Gear, More!
Hadden Sayers
All the Way Back
Justin Hayward
Prolificity and Perceptions
Ask Zac
By Zac Childs
Billy Gibbons
On the Move
VG on Facebook
Michael Sweet
Frontman, Shredder
Ricky Byrd
Cool and Greasy
---

The Team Josie Relay for Life Raffle
Win a Fender American Vintage Strat and much more!
Vintage Guitar Price Guide
Builder Profile
Quilter Amplification
Dealer showcase
Vintage Guitar Classified Ads
Dealer Directory
Readers Gallery
---

The (Way) Back Beat
Birth of the Wangulator, Part II: The Kauffman Vib-Rola Meets Rickenbacker
By Peter S. Kohman
Acousticville
No-Flare Photo Share: E-Town in the Early '90s
By Steven Stone
Fretprints
Slash
By Wolf Marshall
---

Dan's Guitar Rx
Tuner Touchup
By Dan Erlewine
Shop of Hard Knocks
Fender-Like Fun
By Will Kelly
---

The VG Hit List
Larry Carlton and Robben Ford, Stephen Stills, Deep Purple, Freddie King, Brad Paisley, Jay Farrar, more!
Check This Action
Rock Guitar 101 (-80)
By Dan Forte
Vintage Guitar Gear Reviews
Carr Impala, Gibson 1941 SJ-100, Divided by 13 BTR23C, Acoustic Remedy ClimaStand, Epiphone Jack Casady bass, Kay K775V/K5970V, pedals by Walrus Audio, Celestial Effects
Gearin' Up!
The latest cool new stuff!