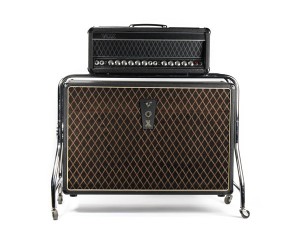 A Vox UL730 amplifier and cabinet used for the Beatles Revolver and Sgt. Pepper recording sessions is set for sale December 15 the London auction house, Bonhams. The amp was only recently discovered to have been used by the Beatles,
"Very few amps used by the Beatles have come to auction before, and to find one that was used on two such significant albums is truly rare and exciting," said Stephen Maycock, Bonhams Entertainment Memorabilia consultant. "Beatles fans all over the world will be eager to own such an important piece of music history."
Developed by amp engineer Dick Denney and introduced in 1966, the UL730  incorporated a solidstate preamp with a tube power section. The Ultra Linear (UL) was produced for both lead (700 series) and bass guitar (400 series). The initial 7 series models given to the Beatles by the manufacturers were 730s, to replace their Vox AC30 amps, and it is thought about six of these went to the band early in 1966. Lennon and McCartney moved to higher-powered models in the series later in the year, but Harrison continued using the 730.
Other Beatles items in the sale include an autographed black/gold label pressing of the Beatles' debut album, Please Please Me, and photos of Lennon from May, 1975. For more, visit bonhams.com.