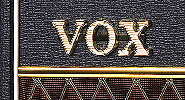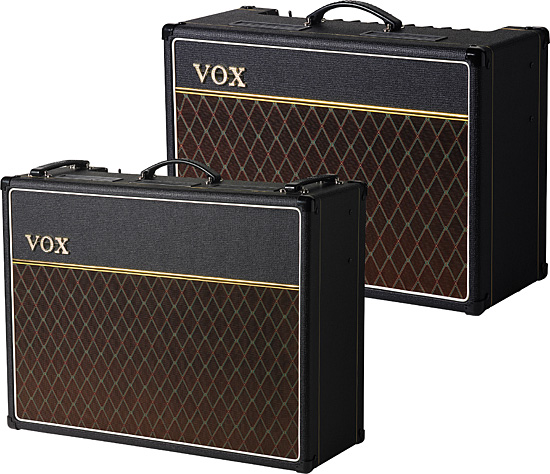 Fully appointed in classic Vox dress, the famed British amp maker's new AC30C2X and AC15C1 both sport enough of that beloved AC30 look to make most any player yearn for Beatles boots and Fab Four suits.
The AC30C2X is a 30-watt, 2×12 combo loaded with Celestion Alnico Blue speakers (there's another version of this amp with Celestion G12M Greenbacks – take your pick). There are two channels – Normal and the famous Top Boost, which adds more grit and presence. There are also High and Low input jacks for each channel, offering more options for guitars with different pickups. With three 12AX7 tubes in the preamp, there are a myriad of tone controls here, as well. While the Top Boost channel has its own Treble and Bass controls, the Normal channel does not; fortunately, there's a Tone Cut knob in the master section that can help you find the right tones for both channels. The reverb circuit also has its own Tone knob for dialing in brighter or darker 'verb flavors. No question, the AC30C2X is a tone-tweaker's dream come true. And aside from reverb, there's a Tremolo circuit for adding all sorts of wavy, pulsating effects to your guitar tone. For more, plug your pedals into the amp's effects loop, and there's also a footswitch jack to turn the reverb and tremolo on and off. There's a jack for an external cab, as well.
Powered by four EL84 tubes, the AC30C2X packs a nice punch for a 30-watter – you'll be pleasantly surprised by it's big, beefy sound. Using a Strat and a Les Paul, the amp is suitably retro, giving plenty of tonal options. Sure, you can get all the bright, chimey George Harrison sounds you want, but the AC30C2X is just as much a great blues, rock, and country amp. And with the built-in reverb and tremolo, surf guitarists are going to love it – the brawny tube tones combined with these essential '60s-instro effects are not to be missed. It also packs nice overdrive tones, but if you need more, an overdrive pedal on the front will deliver your favorite Stevie Ray/Bluesbreaker sounds. And if you want more old-school vibe, you can "jump" the two channels with a short cable, essentially linking the Normal and Top Boost sections for even more drive. All told, this is one amp whose charms are hard to resist. The only potential pet peeve is the upside-down control labels – which while they may be more authentic, require standing behind the amp to read, which is a minor annoyance. At 73 pounds, it's also a weighty beast, but that's fairly common for a 2×12 tube amp.
Its smaller sibling, the AC15C1, is a 15-watt/1×12 combo with a three 12AX7s and a pair of EL84s in the power section. Accordingly, the amp isn't as loud as its bigger brother, nor does it have the big low-end. But the effects sound killer, especially for surfy sounds.
This amp would be great for club gigs with a PA, or rehearsals. Or, just set it up in the living room for your own retro riffing.
Because these amps are made in China, their prices are quite affordable. You may think they lack the requisite British mojo because of that, but they're good-sounding boxes, with vibe out the wazoo – especially the 2×12 AC30C2X. No doubt, John, Paul and George would say, "Check 'em out, mates!"
---
Vox AC30C20X/AC15C1
Price: $2,000 list/$1,249 street (AC30C2X); $900 list/$599 street (AC15C1)
Contact: voxamps.com.
---
This article originally appeared in VG January 2011 issue. All copyrights are by the author and Vintage Guitar magazine. Unauthorized replication or use is strictly prohibited.
---
---