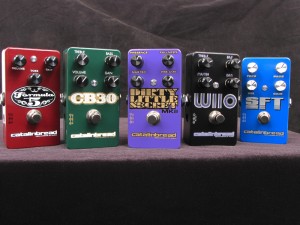 Catalinbread has introduced two new pedals to its Drive Line, the DLS MKII and the CB-30.
The DLS MkII is an overdrive pedal designed to create the sound and response of a '70s-era Marshall amplifier. A "foundation" overdrive, it forms the core of a player's guitar sound, and can be enhanced with boosters, fuzzes, filters, and other overdrives or by riding the guitar's Volume knob.
The CB30 is designed to give jangly, dynamic overdriven tones like a 30-watt "British" amp.  Its controls work the same as the actual amp – the more the treble and bass are increased, the more scooped the mids become.
All Catalinbread pedals are hand built in the U.S. Learn more at catalinbread.com.