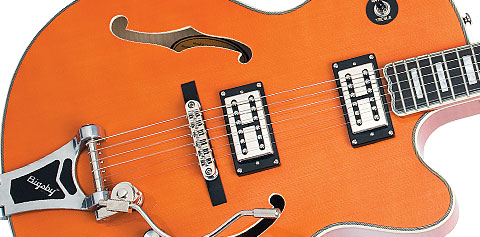 Though its high-point in terms of popular exposure may have occurred when McCartney, Lennon, and Harrison "discovered" the Casino, Epiphone has historically been most known for its archtop guitars. Today, that legacy is largely carried by the Emperor model and its variants.
The new Emperor Swingster is based on the popular Emperor Regent, with a few noteworthy differences. The Swingster has an arched spruce top and laminated/triple-bound maple body with maple veneer. The neck is three-piece maple and is also bound, then capped with a rosewood neck and block inlays. The look carries over to the headstock, with binding and Epiphone inlay.
What makes the Swingster "swing" is its electronics, coupled and a Bigsby vibrato tailpiece with a custom arm ideal for serious floating action. A roller bridge helps make its use and sound fluid, and helps keep the instrument in tune.
Epiphone created its new SwingBucker pickups for this instrument. With Alnico V magnets, they offer a blend of warmth and twang. Better yet, two push/pull pots on the Tone knobs allow for series/parallel function of both pickups. Throw in a standard two Volume/two Tone control configuration and a three-way switch, and you're ready to rock the roadhouse.
Overall build quality of the Chinese-made Swingster is impressive. It has no construction issues, and the binding is expertly crafted. Most striking is the finish work on the flame-maple laminate. Playability is also impressive; the setup on our tester was comfortably low, and the wide neck had a slight roundness to the profile reminiscent of classic archtops. It plays well and access to the upper register is easy. The Bigsby and the "pinned" rosewood base with roller tune-o-matic saddles are not typically found on budget-level entries, and makes a world of difference on the Swingster. Vibrato effects are smooth, with no awkward jumpiness you usually get with a roller bridge.
It's obvious where Epiphone was going with its SwingBucker pickups. The Alnico V magnets give a "best of both worlds" vibe to their tone, with the neck pickup sounding typically warm and round, perfect for jazz, big-band swing, and blues. The bridge pickup is arguably the crown jewel – if you need twang, it can deliver.
Another seldom-seen option on guitars of this style at this price point are series/parallel potentiometers. It's certainly a plus when you can get a single-coil-type sound out of a box like this – almost like a hollowbody Tele. The only nit to pick is that the Swingster is wired with the parallel portion of the tone with the knobs in the "pulled" position. This means you have to pull up on the knob to get your big boomy tone and push it in for your quasi-single coil vibe. Traditional wiring would have had these flipped. For some, this may be an issue, but it's probably not a deal breaker.
The Swingster is an impressive offering for the money. Its playability is good, its vibrato is smooth, and it sounds great. Epiphone knows its niche.
Epiphone Emperor Swingster
Price: $1,165 (MSRP)
Contact: epiphone.com.