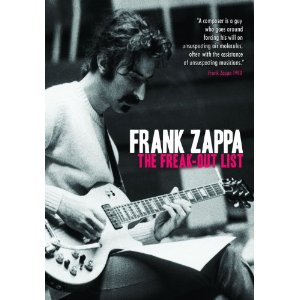 Though unauthorized, this 90-minute DVD attempts to get inside Frank Zappa's head by way of the influences he listed in the liner notes of the 1966 debut of his Mothers Of Invention, Freak Out!. There are interviews with various academics, music journalists, and three Zappa keyboardists (Don Preston, Ian Underwood, and George Duke), along with footage of Zappa onstage and in the studio and snippets of various songs (by him and others).
Said influences are divided into four categories – doo-wop, blues, classical, and jazz. That the latter two get the lion's share of attention speaks more to the producers' biases than Zappa's. Biographer Ben Watson speculates that Zappa's "scholarly nature" led him to ferret out obscure rhythm and blues, but it was actually extremely popular in San Diego, where Zappa grew up before moving to the desert town of Lancaster, California. Blues guitarists Matt Murphy, Guitar Slim, and Gatemouth Brown are mentioned, but only Johnny "Guitar" Watson is illustrated at any length, with a scene from The World's Greatest Sinner proving that Zappa, who composed and played guitar on its soundtrack, could do a more-than-passing impersonation of his hero.
In discussing doo-wop, which Zappa pronounced as "probably the renaissance of rhythm and blues back then" in a 1979 interview (Musician magazine), genre historian Robert Pruter refers to the idiom's ever-present "three chord changes," when in fact most songs revolve around four chords – typically C, Am, F, G. Two members of the Cadillacs ("Speedo," "Gloria") are interviewed all too briefly.
A lot of attention is paid to Zappa's classical side, perhaps because he established himself as a legitimate modern classical composer (to some, if not all, critics) more than any other rock star. The producers cover so much classical history – from Wagner to Schoenberg and Stravinsky to Webern, Stockhausen, Cage, and Varese – Zappa, the program's central figure, is nearly forgotten, at least temporarily. Focusing on Zappa's main classical influences, Edgard Varese, Igor Stravinsky, and Anton Webern ("probably in that order," he said in the same '79 interview), would have been more accurate and succinct.
Also, Zappa's occasional classical quotes (Holt in "Invocation And Ritual Dance Of The Young Pumpkin," Stravinsky in "Amnesia Vivace") are given more weight than they actually represent – although Lumpy Gravy's nod to Stravinsky's cut-and-paste technique is undeniable. But as Underwood states, "It was all rock and roll, really. That's what it was down to – even the classical pieces."
Even though it declares him a "fusion pioneer," the jazz section would probably be the most objectionable to Zappa, who listed only three jazz figures (Charles Mingus, Cecil Taylor, and Roland Kirk) in Freak Out!'s notes. An overly long discourse on Miles Davis by Prof. Stuart Nicholson eventually leads to Zappa's Hot Rats, recorded in '69. While Nicholson (a bit presumptuously) calls the album "an unequivocally strong jazz-rock statement, totally unambiguous in its musical intent," he also concedes that Zappa's work "goes beyond genres and comfortable pigeonholes."
---
This article originally appeared in VG's Jul. '10 issue.  All copyrights are by the author and Vintage Guitar magazine.  Unauthorized replication or use is strictly prohibited.
---