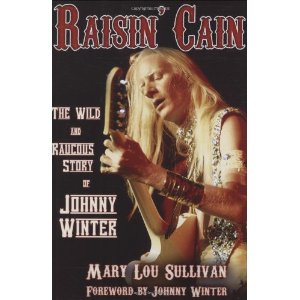 The biographer has a duty to get close to the subject in order to relay all the facts and get first-hand accounts of events while at the same time not getting so close that a story becomes sanitized and historically reinterpreted.
In this bio on bluesman Johnny Winter, author Mary Lou Sullivan gets close enough for Winter to feel comfortable recounting his sometimes-difficult past, but not so sympathetic that the difficult areas are glossed over. Winter is a bundle of contradictions; a white kid playing and singing the black man's blues as though he endured years in the cotton field; going from playing stadiums and winning Grammy awards with Muddy Waters followed by 20 years of obscurity. The story is well-documented here with commentary from major players and recollections by Winter himself.
Growing up in very conservative 1950s Beaumont, Texas, as an albino, Winter was ostracized by peers. But as an emerging artist in the '60s, his appearance was deemed hip and cool. But beyond his white hair and very pale skin, Winter was a walking blues encyclopedia. Combined with the fact he was an accomplished player, this earned him respect even among the true legends of the genre, many of whom he met, knew, and performed alongside. His only real downfall was that like so many before, he put his career in the hands of a manager who pushed his own agenda and fostered an "over-medicated" Winter who missed opportunities and released mediocre studio albums. There were exceptions, such as Winter's performance at the Bob Dylan tribute concert in '92, where Winter blew away some great guitar players on a scorching cover of Dylan's "Highway 61 Revisited."
A few years ago, Winter started getting proper medical care. Sullivan befriended him, and though Winter doesn't have a good memory of many things, Sullivan fills in details using information gathered from interviews with bandmates, producers, promoters, and family. The story that emerges is poignant – and all too common. However, this one has a happy ending, as Winter continues to tour and record. His performance at Eric Clapton's Crossroads festival in 2007 showed he still has the chops.
An appendix at the end of the book discusses Winter's guitar choices over the years, and period photos document his development.
---
This article originally appeared in VG's Jul. '10 issue.  All copyrights are by the author and Vintage Guitar magazine.  Unauthorized replication or use is strictly prohibited.
---