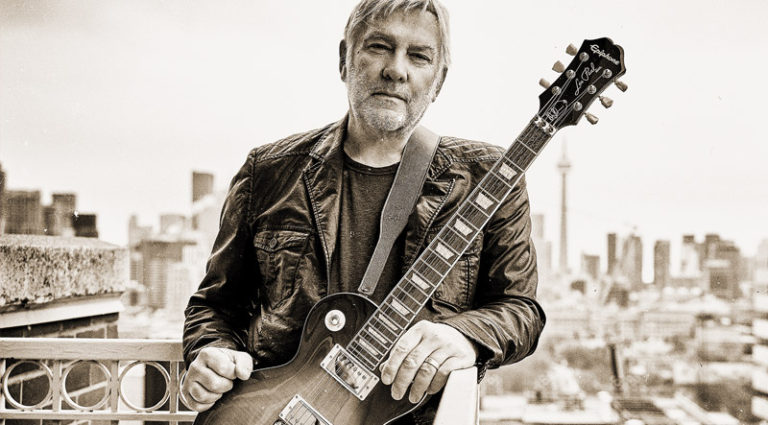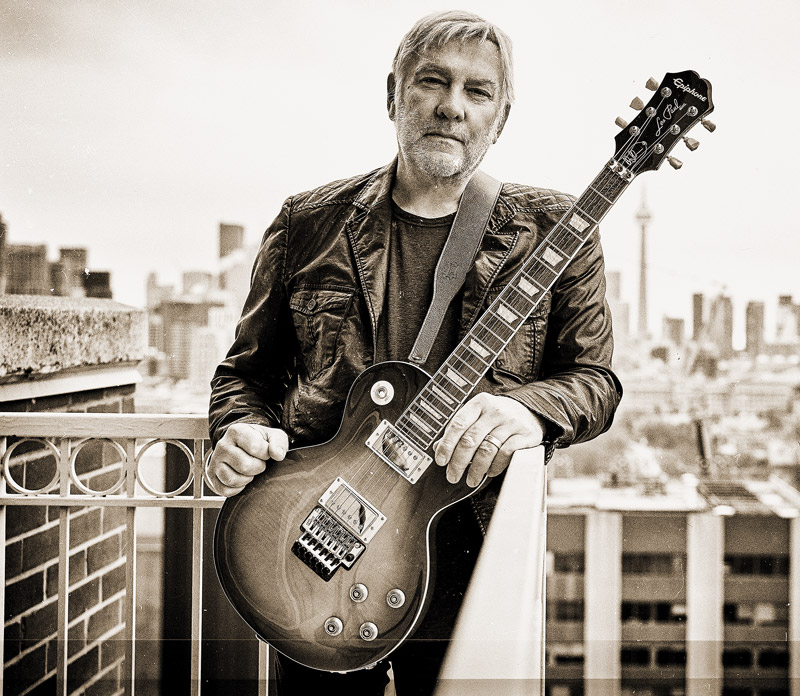 What do you do when you're the beloved guitarist in a legendary band whose career was ended by the premature passing of a core member? When you're Alex Lifeson, you move forward creatively, and explore a new realm of playing. The result is Envy of None, consisting of Lifeson, bassist/guitarist/programmer Andy Curran (formerly of Coney Hatch), guitarist/keyboardist/programmer Alfio Annibalini, and vocalist/keyboardist Maiah Wynne.
The project – Lifeson hesitates to call it a band – just released its self-titled debut, a mesmerizing blend of alternative, ambient, and industrial styles with pop melodies. It sounds nothing like Rush and, for Lifeson, that was the point. The seeds were planted when he released the instrumental songs "Kabul Blues" and "Spy House" on his website in 2021 to promote the new Epiphone Alex Lifeson Les Paul Axcess Standard. They've been updated for Envy of None.
Musically, this album is about layers and texture.
There are a lot of layers. It's texture. It's ambience. It's soundscaping. There are some synths, but a lot of the sounds you're hearing are guitars that have been manipulated. I did a lot of backwards stuff. My goal was to create otherworldly sounds from a guitar that are not recognizable as a guitar. I'm really happy with the way it turned out because I can hear all that stuff I did that sounds like a synthesizer, or not quite, but adds to the song and makes the song unique-sounding and very densely rhythmic. That was the other goal here – to make a record you couldn't stop tapping your foot to and moving to. There's so much movement in all these songs.
You do some soloing, but not a lot.
I spent 40 years playing crazy solos on just about every song we wrote and recorded in Rush. That was the thing. It was part of it, and I love doing it. It's a great creative outlet I very, very much enjoy. I'm just not there anymore. It seems superfluous, like it takes up air and space in a song now where you could have other things going on – vocal or dynamic events that brings more to the song than noodling.
It was a different mindset, even more so than when you did 1996's Victor?
Totally. That was 26 years ago. That was a solo record where I did want to express my songwriting as opposed to Rush's songwriting. I also wanted to show my chops and technique and all of that. It was a different time, and I was a different player.
Alfio and Andy are also credited with playing guitar. Who plays what?
Alf played the more-traditional guitar parts, so when you hear a line in a verse, it's primarily him. I loved everything he did, and I didn't want to replace anything. In my mind, I was not the "guitar player" of this project. I was just one of two and a half guitar players. I give Andy a half-credit because he's a bass player (laughs)! He wrote a lot of the basic parts, and would link them with a little guitar moment he put in. I got so used to them, and they were so cool, so we kept all that stuff. That allowed me to do stuff in the background and create these curtains behind what was going on – and make a beautiful platform for Maiah's voice, which is fantastic; her delivery is great and her lyrics are excellent.
How did you achieve your sounds?
Generally, I would record all guitars clean, and add effects later. There's such a library of plug-ins now – weird effect plug-ins – and it's better to have a clean signal. When I say clean, it could still be dirty, but unaffected, and you could do whatever you want. If it works, great, if it doesn't work, well, you can go back and try something else.
Which guitars did you use?
I used my '57 Les Paul goldtop for a lot of stuff, especially the earlier stuff like "Kabul Blues" and "Spy House." I also used a Gibson Alex Lifeson R40 Les Paul Axcess with a stop tailpiece custom-built for me, the standard Axcess with the vibrato on a couple of tracks, and a PRS CE 24. For acoustics, I played a PRS Angelus, including on "Western Sunset" [a bittersweet instrumental tribute to late Rush drummer Neil Peart] and a Martin.
---
This article originally appeared in VG's July 2022 issue. All copyrights are by the author and Vintage Guitar magazine. Unauthorized replication or use is strictly prohibited.