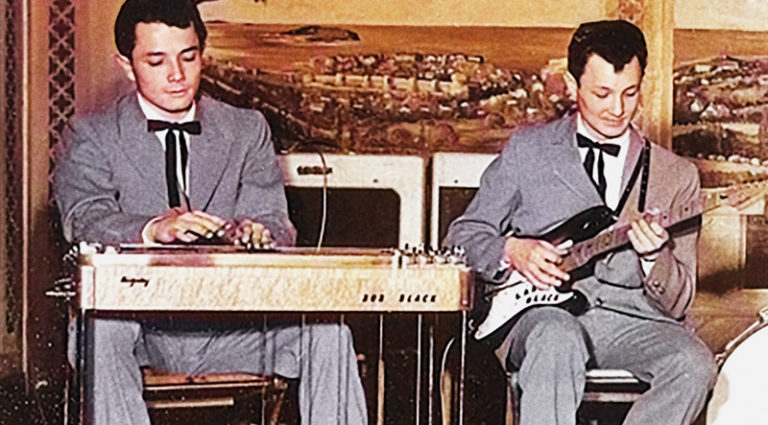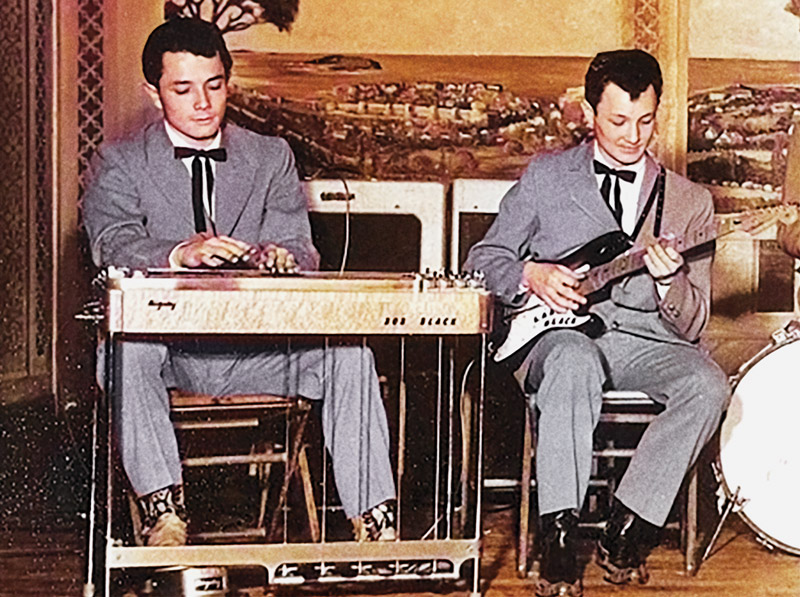 Few instruments are as synonymous with a genre as pedal steel and country music. But for a seemingly conservative style as country, steel guitarists are some of the most-sophisticated, adventurous musicians on the planet – from Buddy Emmons to Buddy Charleton to Paul Franklin and beyond.
The "mystery instrument," as Bobby Black calls it, evolved via experimentation from its practitioners – from single-neck Hawaiian guitar to more strings, more necks, different tunings, and the addition of pedals and knee levers to change chords.
Rock players and fans might know Black from his stints with Commander Cody and his Lost Planet Airmen or the New Riders Of The Purple Sage. But among steel guitarists, he's a legend. 70 Years of Swinging Steel! consists of never-released recordings of him and his younger brother, guitarist Larry Black. The dozen cuts, dating from the mid '50s to early '90s, showcase the pair's command with honky-tonk country, Western swing, boogie-woogie, big-band jazz, and even bebop. The most recent tracks are from an envisioned album of Duke Ellington material that was halted when Larry passed away.
"A lot of that was home recordings and stuff on the radio," Black says of the new release. "I never thought anyone would ever hear it."
Bobby's session credits include Maria Muldaur, Jim Campilongo, Tom Waits, Asleep At the Wheel, Kitaro, and fellow Cody alumnus Bill Kirchen.
"Bobby, for me, was the living link to the past," Kirchen told VG's Rich Kienzle in a December, 2011, feature on Black. "But he also was the most advanced player in the band. We could look all the way back and all the way forward with him. It was just extraordinary."
As the 85-year-old Black details, "I got my first steel in '47. I hated piano lessons, but I learned how to read music. Radio was the only source of entertainment – big-band stuff and all kinds of music. Every once in a while, they'd play a Hawaiian song, which was sort of popular then. Then the cowboy, Western swing stuff. I spent my allowance on records that had steel guitar. We lived in Burbank and North Hollywood, and L.A. was really a hotspot, with Spade Cooley, Tex Williams, Merle Travis, Ole Rasmussen. After we moved to San Mateo, I got a six-string Rickenbacker steel; I thought I had the world by the tail."
Along with Joaquin Murphey and Noel Boggs, an early favorite was Jerry Byrd.
"He played on WSM, and I bought every record he put out," Black said. "I wrote to him, and he answered with the most wonderful letter, very encouraging. Years later, we made fast friends – my boyhood hero."
Bobby talked Larry into getting a guitar so they could be a duo, and they were playing professionally while still in school.
"After I got the C6 tuning from Jerry Byrd, I talked Larry into taking guitar lessons. He was a fan of Barney Kessel and Jimmy Wyble. He became a real good player in no time – we both did. Pretty soon, we were doing four-note harmony together. There wasn't anyone else doing that where we lived."
Opening for name acts, the brothers earned a reputation and, still living at home, Larry had to turn down offers from Hank Williams and Patsy Cline. But Bobby eventually toured with artists like Webb Pierce and Rusty McDonald.
"Pedals came in the early '50s," he recounts. "I had Paul Bigsby make me a three-neck, and he put four pedals on the C6 neck in the middle. Right now, I have a double 10-string with nine foot pedals and eight knee levers. Add gadgets, and I was hauling around so much stuff, I had a guy named Bob Littleton make me a single-neck 11-string with no pedals. It's so light, I take that on gigs now."
Black's journey inevitably took him to Nashville for a period, working with the so-called A Team. "Most steel players didn't use charts," he notes. "The producer would say, 'Do fills and take the first bridge' or something. You'd hear the demo, and the players would write down charts with the number system. But I'd watch Pete Drake, and he wouldn't write down anything."
The relationship between country and jazz is perhaps most obvious with steel.
"I can't play like Charlie Parker, but I could hear what he was doing and the way he improvised," Black points out. "When I got a book on theory, I realized I knew all that stuff; I just didn't know the names."
Bobby's versatility has resulted in things like Tom Waits' rendition of the standard "Young At Heart," featuring lush backing from Bobby's steel.
"I feel today like I could fit into any kind of band," he states. "I never wanted to be pigeonholed, because I like all styles of music. I tell people, go exploring. It's an adventure. If you can remember all the things you discover, you'd be something else. If you're a good player, you never get tired of it. I play my guitar every day."
---
© 2022 Dan Forte; all rights reserved by the author.
---
This article originally appeared in VG's May 2022 issue. All copyrights are by the author and Vintage Guitar magazine. Unauthorized replication or use is strictly prohibited.