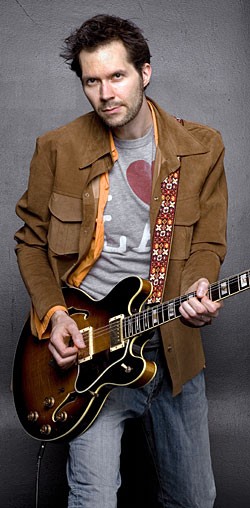 Paul Gilbert was a teenager when he appeared on the music industry's radar after Mike Varney of Shrapnel Records introduced him in Guitar Player magazine's "Spotlight" column. After attending Hollywood's Guitar Institute of Technology (GIT), Gilbert unveiled Racer X to the mid-'80s shred generation and made his mark as a top player in the genre. With his exceptional skills, he soon found himself on the cover of numerous guitar magazines and was embraced by those who admired his natural talent.
In the late '80s, Gilbert left Racer X to join forces with bassist Billy Sheehan, singer Eric Martin, and drummer Pat Torpey to form Mr. Big. After the release of the group's second album, Lean Into It, Mr. Big achieved international superstardom when the ballad "To Be With You" became a number one hit. With Mr. Big, Gilbert proved he was more than a metal shredder, and continued performing with the group until 1997, when he embarked on a solo career.
Two decades later, Gilbert and Ibanez are celebrating the 20th anniversary of the original Ibanez PGM100 signature model guitar, and the company will be reissuing various models as chosen by fans. In honor of this milestone, Ibanez hosted a party at the 2009 Winter NAMM show, which included performances by Gilbert's solo band, special guests, and was highlighted by a reunion of Racer X. Additionally, fans are elated by the recent announcement of a reunion tour with Mr. Big, along with the release of a new solo disc with singer Freddie Nelson, and tour dates to support it. This follows Gilbert's second solo instrumental album, Silence Followed By A Deafening Roar, released in '08. Furthermore, Gilbert co-designed a new Ibanez model for 2009 called the Fireman, which has a reversed Iceman body. It was used to record the new album with Nelson and is part of his touring arsenal.
While Gilbert has accumulated a bevy of Ibanez PGM models released through the years, along with all the prototypes, he is also an avid collector of vintage (that's right – vintage!) Ibanez models. A fan of classic axes, Gilbert was proud to show off personal favorites from his collection while explaining how most were acquired, and how some have become essential tools.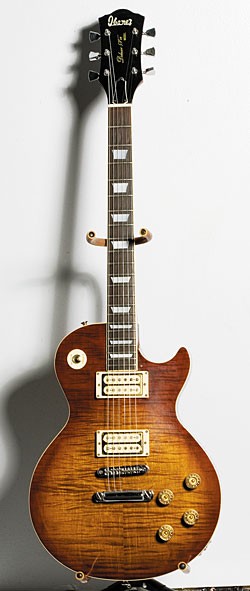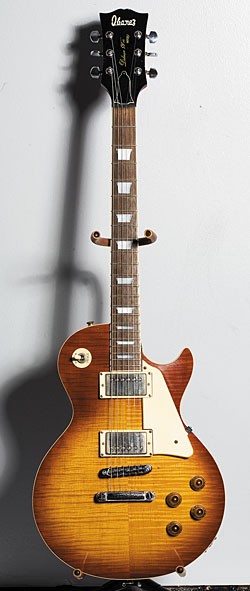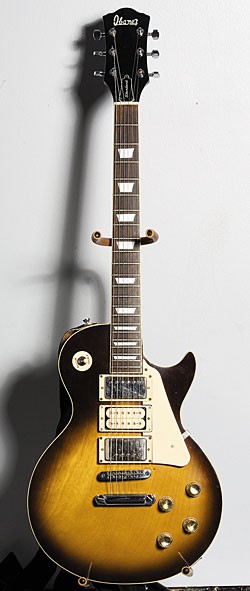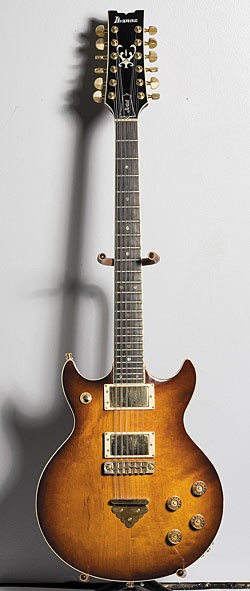 What was your first guitar?
My very first guitar was a short-scale student model Stella acoustic. The very first electric guitar I ever put my hands on was my uncle's Ibanez Destroyer, and it must have been a '77. I think he got it new. That was my first experience with low action, an electric sound, and the option of bending a string. It sort of blew my mind, and obviously left an impression. I didn't get to take it home, but I remember that first test run with an electric. And it was a great one.
Describe the vintage Ibanez guitars in your collection and how you found them.
Part of my collection is sort of nostalgic. I found a Destroyer just like my uncle's. During that period in time, Ibanez was making a lot of really great Gibson copies. I found a few Flying V copies – they look like korina, but I think they're ash stained to look like korina. They play and sound great. I've got two of those that are stock. But there's one that I kind of went crazy with. I got it really cheap and I had this crazy outfit made by a fashion designer who makes stuff for Bjork and Madonna. He made this wild clamshell outfit for me, and modified the guitar to go with it. So it's covered with pearls and white streamers. It's sort of a "glam from the sea" theme.
The nice thing about vintage Ibanez stuff is it's not insanely priced. If I get one that's dented up, I'm not scared to do some wild stuff to it, and that's a lot of fun. I've got some I really don't want to do anything to because they're in such great shape. But that one had a lot of dents and the neck had been repainted, so I thought I could do some experiments with it.
About half of my collection is made up of the copies that sort of put Ibanez on the map in America, though they certainly had guitars before then. One is a mid-'60s hollowbody I bought really cheap; it's got the wrong bridge, so it's not really functional as a musical instrument. But I used it on my Spaceship One album cover because it looks so cool. Ibanez still had some bugs in the quality at that time. In the '70s they started making quality instruments, and the first were those copies. I ended up getting some Les Paul copies, and in one I put a fake DiMarzio humbucker in the middle position because I did a tribute to The Who and wanted to make it look like a Pete Townshend guitar with a Super Distortion in the middle. I didn't want to cut up the guitar, so I used a "faux" pickup.
The Deluxe 59'er Sunlight Special is a Les Paul copy that's really cool; it's got a maple fingerboard. You don't see many Les Pauls with maple fingerboards, and it has an amazing tone.
To me, the copies fall into two categories – set-necks and bolt-ons. I've been lucky enough to find some really cool set-necks. I've got a white doubleneck that looks like Alex Lifeson's Gibson with 12-string and six-string necks. It sounds amazing. The 12-string is one of the best electric 12s I've ever played. I've been lucky enough to find some really cool set-necks. I've also got an SG-Custom-style guitar with three humbuckers. That's great, as well, and I use it a lot for recording. The V is called a Rocket Roll, and those are all set-necks. They're really good instruments. A few years after that, Ibanez started making original body styles. Of those, I have a really cool 12-string Artist. It doesn't have a scratch – it's really nice. Another original design is the Musician, which is a solidbody and was made when everybody thought guitars sounded better if they were really heavy and had lots of brass on them. So this is sort of like that. This one is a '78 or '79, laminated with different shaded woods; its neck goes all the way through the body and it has some pretty interesting pickups. I think they're potted. I don't know if anyone was doing that back then. It's got a sustain block in the bridge, so the thing weighs a ton, but it plays great. It even has a half brass/half bone nut.
Another one is an Ibanez Performer, which I think came in both bolt-on and set-neck versions. I managed to get a PF300 in Midnight Olive, which is dark green. It has a set-neck, and it's awesome. It's Les Paul-ish, but not completely solid. Whatever method they had of making the slightly arched top… instead of carving a solid piece of wood, they arched a thin piece of wood with a little hollow layer. Some people may say that's not the same, but it actually has its advantages; it makes the guitar lighter, and it has a unique sound that's a little bit like a semi-hollow. So I really like that one. It has an amazing tone and it plays really well.
All the guitars from this era used Gibson scale, or something close. Ibanez guitars of today, like the RGs or the PGMs, are more of a Strat scale. I like throwing a set of .010s on the older shorter-scale guitars because the string tension really feels good. On the newer guitars, I tend to use .009s. It's fun to use .010s because they have huge tone.
The vintage one I love best is a '79 Artist 2630. It's a semi-hollow with f-holes and looks a lot like an ES-335, but has a single-coil tap. I was surprised it was called "Artist" because the typical Artist looks like a double-cutaway Les Paul. I didn't even know they made a semi-hollow Artist. It's really a totally different guitar with a much bigger body style. Later in the '80s, they made smaller versions, which I think may have been the AS guitars, but this is a full-size semi-hollow. Whoever had it before me must have played it a lot, so I put new frets on it and DiMarzios in it. I use it all the time for recording and on some live shows. I feel adventurous with a semi-hollow onstage in front of a loud amp. But it's one of my favorite guitars. If my house was on fire, that's definitely one of the instruments I'd grab first. It's really an incredible musical instrument.
The next era of Ibanez includes my 1982 pointy guitar collection, like the Destroyer II and Rocket Roll II. They have sunburst and natural finishes, binding, and they're similar to an Explorer and a V. But Ibanez came up with a slightly different body style, and the headstocks are similar to what you see on an RG now, with six tuners on a side. I've toured with those quite a bit. They sound great and have the shorter scale, so it's less effort when I throw a set of .010s on them.
The last vintage Ibanez I have is a white Pro Line V [PR1660] from '85 that looks like Randy Rhoads' V. It's really pointy. The pickups have bars, like a DiMarzio X2N, and it's got a locking whammy. That's really the cut off for Ibanez vintage models for me, because after that, you start getting into the RG models and that stuff just feels a lot more modern.
The strangest one is the mid-'60s hollowbody. I should probably get the right bridge for it someday and see how it sounds. It looks cool, but it's in the "dime-store guitars" category. It's really not the same level of instrument as the stuff from the '70s, but it does have that funky '60s quality and looks great in a photo. I've got [Ibanez: The Untold Story by Paul Specht with contributing writers Michael Wright and Jim Donahue] and I saw something similar in there. That's an awesome book. Besides that, there's the hollowbody Artist 2630, which is just a real cream-of-the-crop awesome instrument. It's the one that's most valuable to me as a musical instrument. I play it all the time. It also looks great with that much binding, so many knobs and switches, the pickguard and inlays, and cool inlay on the headstock. It's a Cadillac in its own way.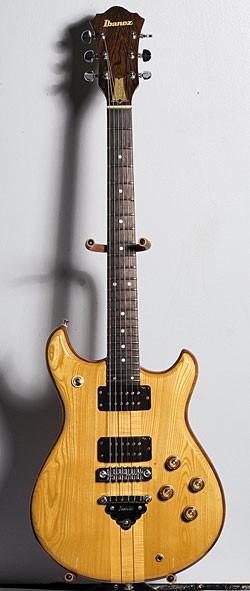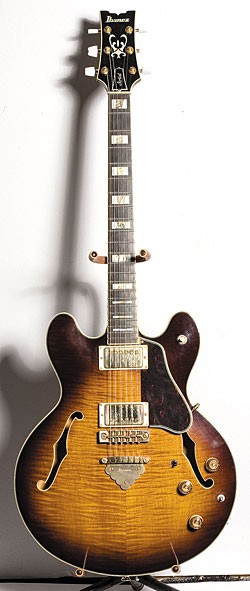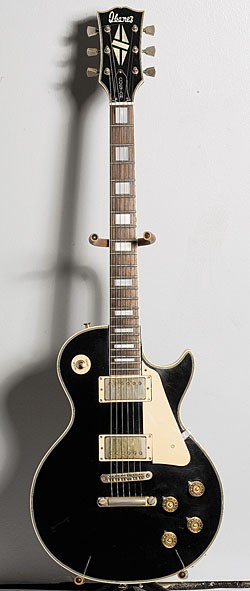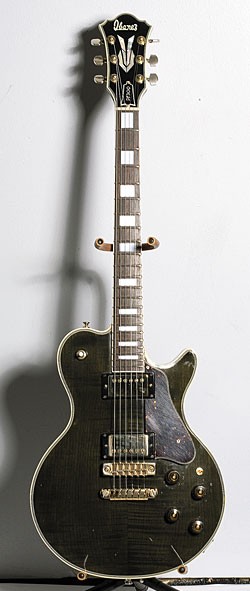 Are there any older Ibanez models you're still searching for?
Some of the copies they made really surprised me. They made a copy of Rickenbacker [model 2388] guitar that has the same body style as the bass. I always thought that was a really cool guitar. I've got a '70s Rickenbacker guitar with the slanted frets, and couldn't believe Ibanez made a copy of that one; I don't think theirs had slanted frets, though. I saw one in Germany and was drooling over it! But I've never seen another. It would also be cool to get the [Custom Agent] that was sort of Les Paul-ish with a headstock like a mandolin and crazy inlays on the body, but those were always a bit pricey for me.
What do you consider pricey?
Well, it depends. The hollowbody stuff takes more to build, so it's a more costly instrument in general. The 2630 Artist I've got, I think I paid about $1,830 for that, which was probably the most I've paid for any electric guitar. But it was absolutely worth it. I've got so many great tones and had great fun with that guitar. For a solidbody, the Destroyer was in perfect shape and had sentimental value because it reminded me of the first guitar I'd ever played. I think that one was $900-something. I had found it at Guitar Center years ago. Those are really my favorites. The Rocket Roll IIs and Destroyer IIs, those I've been able to find for anywhere between $450 and $650. That's pretty reasonable.
Have you modified the guitars you take on the road by changing the pickups or tuners?
With the '70s models like the original Rocket Roll and Destroyer, the original Ibanez pickups are potted, and they sound great. If you're running them through a loud, super-distorted amp, you get squealy things happening. For the newer ones, the pickup I use most is the DiMarzio PAF Classic. They're potted and have great tone. The tuners tend to be original, but I did change those on the 2630. They were what I'd call "ambitious" tuners. They had thumb adjustments on them. I think maybe they worked in the old days, but they had gotten kind of old, so I put new tuners on it that looked the same, and they're a bit more stable.
How many guitars are in your collection now?
Somewhere in the neighborhood of 80… might be close to 90 – I stopped counting. I've been working with Ibanez for so long. In Japan, I think they've released close to 15 PGM models of all different colors, shapes, and sizes. So I've ended up with a lot of production models, plus prototypes, various acoustic guitars, and other oddities.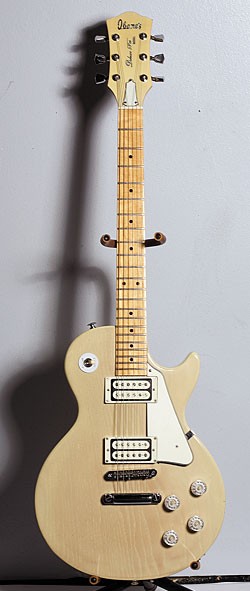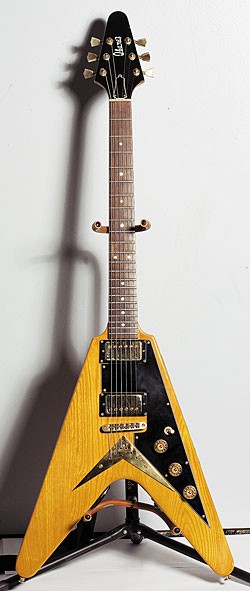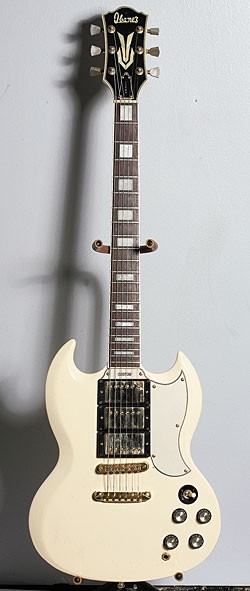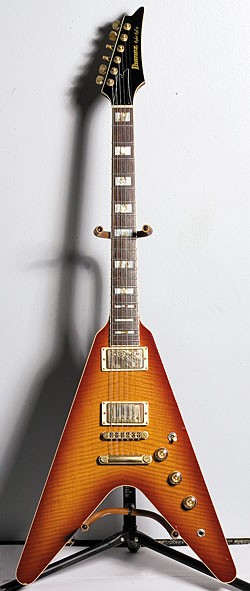 How many vintage Ibanez instruments do you have?
Probably 17 or 18. I've had a lot of vintage Ibanez guitars over the years and I've had fun tracking down the copies. I used to have a Firebird copy, a Thunderbird bass copy, and some of the early Iceman models. I had the one with the sliding pickup. Those I've kept have been my favorites because they sounded and played the best. But they're really great instruments. I used the Firebird copy quite a bit, but I was in the mood to get some new blood.
The really satisfying thing about Ibanez is that when you go back to the '70s, they made everything. I had a really good Ibanez Stratocaster copy at one point. I had a Telecaster Custom copy, too. It's sort of one-stop shopping.
The one guitar I'd love to get someday is a Barney Kessel. I've tried them in vintage shops and they play really well. I always thought the Gibson Byrdland was cool, but I tried one and the access to the upper frets was horrible. The Barney Kessel actually has really good access to the upper frets. The action on those I've tried has been really good, and it looks cool. Though it's a jazz guitar, it's super pointy. So to me, it has sort of a Satanic metal vibe to it. I'm just scared of it because I know it's hollow, and I know if you got it through any kind of volume or distortion, it will be howling like a pack of wolves. I'm scared to pay that much money for anything I can't use!
Do you collect amps or effects pedals?
I do collect some effects. I use the ADA flanger a lot. It's definitely one of the most amazing vintage pedals. I've always been a huge Pat Travers fan. Back in the late '80s, I was always looking in the Recycler, which is the L.A. paper, and I picked up three or four ADA flangers super cheap – all from the "golden era." But even then, there was a difference between them, and this one seemed to sound a little better than the others. I have it on my pedalboard now. It's my most irreplaceable pedal.
One of the coolest pedals I bought, because it looked cool, was a Mosrite Fuzzrite. It looks like a little robot, and I got it cheap in the late '80s at a guitar show. At first, I didn't really like it because it's definitely not meant for heavy metal. But if you want some early Jeff Beck/Yardbirds fuzzed-out kind of sounds, and as long as you stay away from chords and play a lot of single notes, it's really amazing. There's so much character. It's very '60s sounding, sort of an insane prototype for a Fulltone Soul Preacher. I don't know if the guts are even close, but it's sort of the thing where you bend a note and all these harmonics are flying out of it that you wouldn't expect. I still have a lot of vintage Electro-Harmonix stuff that I bought new. Mine have survived pretty well. I've got an Electric Mistress. It's the Alex Lifeson sound. Without that, I could never be in a Rush copy band! It's cool. I've got a newer Electric Mistress on my pedalboard now just because it's flatter; the older one is bigger and my pedalboard case wouldn't close with the older one.
The main vintage pedals I use are the ADA flanger, and I've got an old E-H Polyflange. It has a really great chorus sound. It's not on my pedalboard at the moment because it's too big. You can only fit so many of the E-H pedals! I tried a new one, but didn't like it as much. The old one has the magic.
The amps I'm using are vintage in design. I'm using a lot of Marshall reissues. My favorite is a 50-watt Vintage Modern 2266C 2×12 combo. I just did a theater tour and my sound man still tells me to turn down, so it's plenty loud. I still have some of the old Marshalls I had back in the day. I've got one 50-watt Mark II that was modified by Lee Jackson. It basically goes to 11 – tons of distortion if you want it. I think it has two Master Volumes so you could get it doubly distorted. Before it was modified, it had no Master Volume. I think this one was made in 1974. It's got a small logo. I really like the '74s. I've had a few and they've all been really good. The only other vintage amp I've got is a silverface Fender Deluxe Reverb that also was modified by Lee Jackson, so it barely resembles the original. It really doesn't sound very good until you turn everything all the way up, and then it's amazing. It was originally a combo, but he took it out of the box and made it into a head.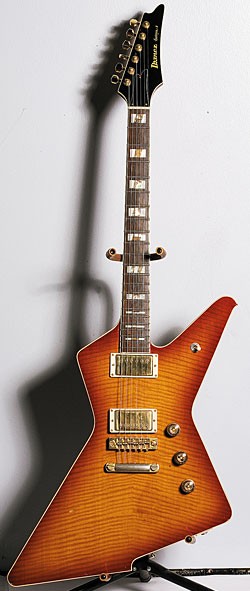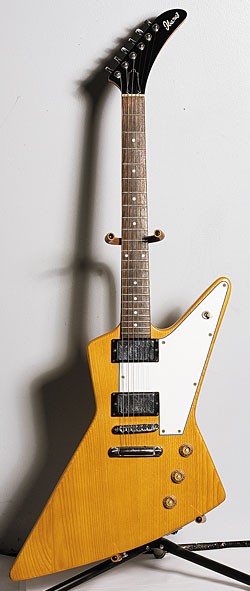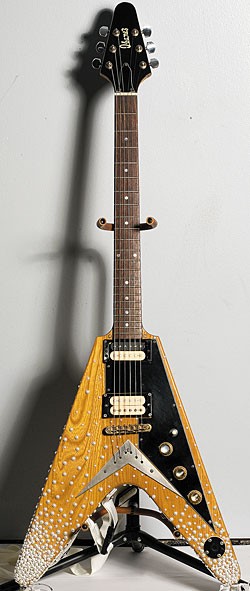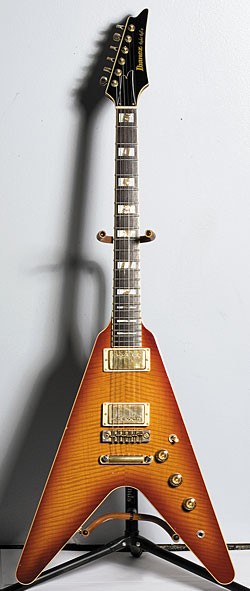 Is there anything you regret having parted with?
There's a Marshall amp that was stolen, that I regret losing. It was another one of those '74 Mark IIs. That was a great one. If I really love something, I try to hold onto it.
Do you have a go-to guitar for writing or find different guitars bring out particular characteristics in the way that you play and write?
That's one of the great things about having a guitar collection. I do believe in the theory that there's one great song in every guitar and having a new instrument always inspires you to go somewhere. In general, if I pick up a pointy guitar, I'll take a look at myself in the mirror and think that I've got to write a metal song. But the semi-hollow Artist has been a real inspirational guitar. I've written a lot of stuff on that. I also have an Ibanez Pat Metheny model, which is a crazy hollowbody, and I wrote the whole Spaceship One record on that thing. It's fairly loud, acoustically, and I didn't even plug into an amp.
How are your guitars set up and what type of picks do you use?
I use Ernie Ball standard .010-.046 strings. I especially like the Ernie Ball RPS because they have the reinforced ball ends. Since I don't use whammy bars, the strings never break. It's nice to have really low action, but I tend to use super-high, skinny frets, as opposed to the jumbo wide ones. One exception is my Ibanez SG Custom copy. That still has the original small frets on it. Initially, I though I would change them out, but there's something about that guitar. It has a really cool personality, and I didn't want to mess with it. So that's my one flat-fret guitar and it still has low action. But the first electric guitar I got was an old Les Paul Custom. I played it for a few years and the frets were so small that it was like having no frets. For picks, I use .60mm Dunlop Tortex.
When listening to music, do you prefer the comfort zone of your influences or seek out new artists who inspire you?
It's really hard to shake my early-'80s favorites – the stuff you hear when you're 13 will always be magical. So I can never get enough of Van Halen II, Pat Travers Go For What You Know, Robin Trower Bridge Of Sighs, Frank Marino Live, Frampton Comes Alive. The Pat Travers Go For What You Know record really saved my soul from being an Yngwie clone! I forever try to promote that album to save all the other Yngwie clones! But with newer stuff, if I listen to anything that approaches shred, it would probably be more classical music. I still listen to Bach, Beethoven and Haydn – the serious shredders! For contemporary music, I still like pop music a lot. I love the new Justin Currie record. It's an amazing pop record. A friend of mine – Linus Of Hollywood – does some great stuff, too. For rock bands, I like the Wildhearts. That was a cool band in the '90s. I like the Darkness. I think they were great. I like Amy Winehouse, too. But I'm pretty ill-informed on most new stuff.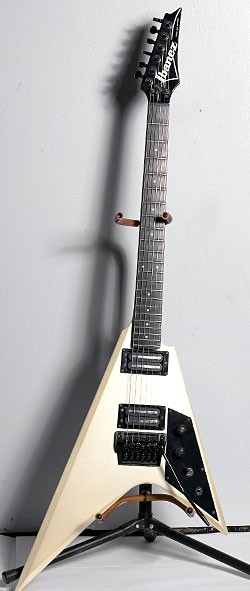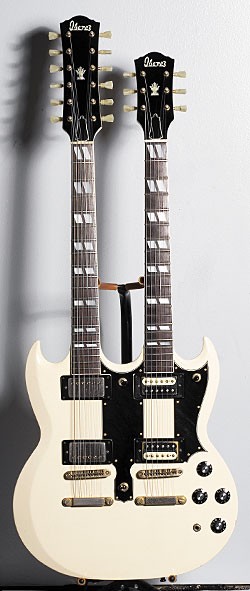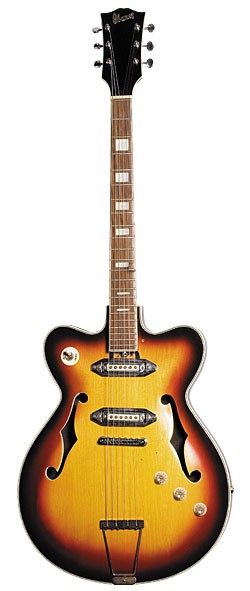 ---
This article originally appeared in VG's June 2009 issue. All copyrights are by the author and Vintage Guitar magazine. Unauthorized replication or use is strictly prohibited.
---