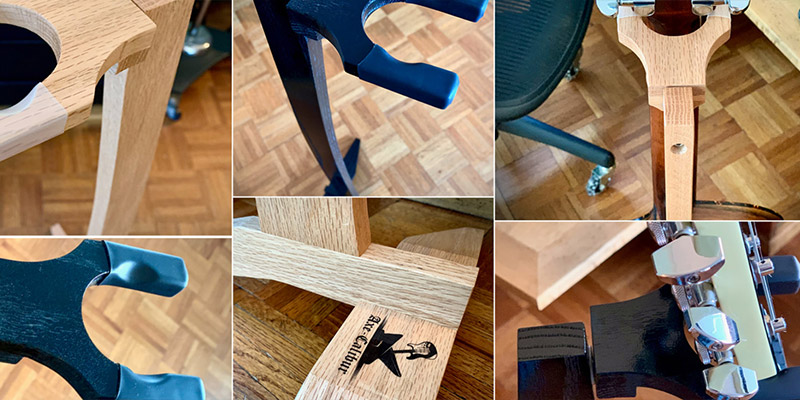 Enter for a chance to win a prize package of accessories including an Axe-Calibur guitar stand, valued at more than $149!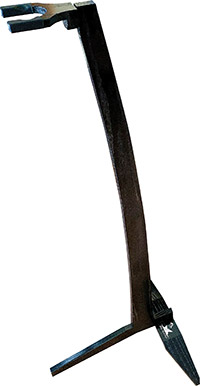 THE DEVIL'S NOT IN OUR DETAILS
Sure, there are a lot of words for it, but we like to call it exacting. Attention to detail. Maniacal focus. Or stubborn persistence. We just won't settle for anything other than the best. There's not a square inch on our stand that is not thought out, inspected, researched, and agonized over. But it's all worth it. The end product is a guitar stand that has timeless design and killer attitude.You will love it, and your guitar will too.
Made in America with solid Red Oak, the Axe-Calibur Guitar Stand displays your guitar with authority. Manufactured to an ultra-high tolerance, and with very easy assembly, you're ready to roll in a few minutes. Lightweight and stable and with a precise center of balance, it can hold your guitar with ease. The custom swivel top accommodates any headstock, and the tripod base keeps it study and steady on any type of flooring. It comes in two striking finishes: Translucent "Mid-Knight" Gloss and our original Natural Nitro Matte finish.This unique design is a beautiful addition to any studio or room.
Deadline is November 30, 2021.
Complete the survey below to enter giveaway. One entry per customer, any double entries will be automatically disqualified.
Complete the survey below to enter giveaway.
---
*ELIGIBILITY. VOID WHERE PROHIBITED OR RESTRICTED BY LAW. NO PURCHASE NECESSARY.
One entry per customer. Winners will be drawn at random. Prizes are not transferable or assignable and they are not redeemable for cash. All winners outside the continental United States are responsible for shipping costs. All winners are responsible for the payment of any and all taxes and/or licenses and/or other related local, State, Federal fees that may apply to such winnings. Taxes on prizes are solely the responsibility of the winners. Vintage Guitar magazine reserves the right to replace the advertised prize(s) with a prize of equal or greater value if the advertised prize(s) is/are no longer available. Vintage Guitar reserves the right to identify winners in all VG media.