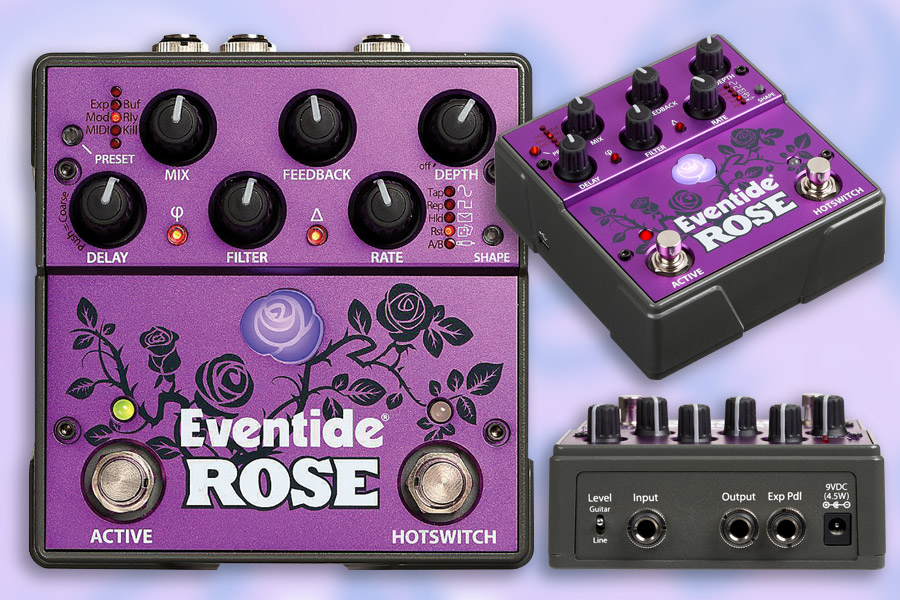 Eventide and Vintage Guitar are teaming up to Give you your chance to win the Rose delay pedal, a $299 value. Simply fill out the form below, Good Luck!
Rose is a modulated delay like no other. From reverse delays, slapback, chorus and everything in between, Rose is capable of producing a wide range of sounds. The perfect hybrid of analog and digital, the pedal features five different modulation sources, delay multiplier, phase invert/reverse, 25 customizable presets, true analog dry path, MIDI, and AUX/Expression via TRS for ultimate versatility, on stage or in the studio.
Features
Analog dry path with analog Mix, Filter, and Feedback
Comes with 25 factory presets (5 banks with 5 presets each)
Standard delay times from 10 sec to 10 μsec
Modulation sweep from 1/2 to 2x the standard delay time, simultaneously modulating pitch across a full octave +/-
Selectable modulation source: Sine / Square / Random / Envelope / External (CV)
Tap Division selection (quarter, eighth, dotted eighth, triplet)
MIDI Tap Tempo & Clock Receive
Reverse delay function for backwards delays
Invert function flips the phase of the delayed signal
Delay Multiply (2X, 3X, 4X, 5X) for delays up to 50 sec
Assignable Hotswitch: Tap Tempo / Infinite Repeat / A/B switching / LFO Hold / LFO Reset
Input Level Select Switch: Line / Instrument
TRS/TS Input for expression pedal, auxiliary Switch and MIDI
Selectable Bypass: Relay / Buffered / Input Kill
USB for use with Eventide Device Manager (manage presets, settings, MIDI and more)
Software V3 offers MIDI Tap Tempo & Clock Receive, Kill-Dry mode, and "Envelope Off" mode
Deadline is July 31, 2020.

Complete the survey below to enter giveaway. One entry per customer, any double entries will be automatically disqualified.
---
*ELIGIBILITY. VOID WHERE PROHIBITED OR RESTRICTED BY LAW. NO PURCHASE NECESSARY.
One entry per customer. Winners will be drawn at random. Prizes are not transferable or assignable and they are not redeemable for cash. All winners outside the continental United States are responsible for shipping costs. All winners are responsible for the payment of any and all taxes and/or licenses and/or other related local, State, Federal fees that may apply to such winnings. Taxes on prizes are solely the responsibility of the winners. Vintage Guitar magazine reserves the right to replace the advertised prize(s) with a prize of equal or greater value if the advertised prize(s) is/are no longer available. Vintage Guitar reserves the right to identify winners in all VG media.