Support Vintage Guitar and buy directly HERE.
---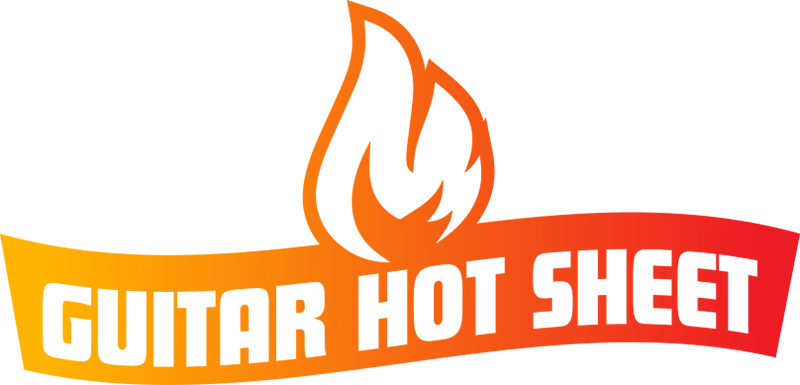 No. 003 Check out more great content at VintageGuitar.com
Place an Ad HERE.
Recieve Hot Sheet in your Inbox HERE.
Welcome to the Guitar Hot Sheet.
The first two edtions of Vintage Guitar's new weekly Guitar Hot Sheet have been hugely popular. The last one was opened and viewed by 10,845 gear heads! David Vought says, "This is great! I had a Soultone amp head for sale for quite a while. Even at guitar shows dealers would say 'I don't know what that is.' I listed it on the first Guitar Hot Sheet and it sold on the first day. Thanks Vintage Guitar!"
We want your input! Please leave a review or give us your comments.
The Hot Sheet is very simple, each Wednesday we email it to the thousands of Vintage Guitar magazine and VG Overdrive email newsletter subscribers. You can enjoy future editions of the Hot Sheet by simply signing up for the Free VG Overdrive at https://www.vintageguitar.com/overdrive/.
Listings for the next Hot Sheet are FREE! ONLY listings for individual, pre-owned guitars, basses, amps, effects and related items for sale/wanted will be allowed. See the end of the Guitar Hot Sheet for rules and guidelines to sell your gear.
Enjoy this new list and please share this email with all your friends
See the end of the Guitar Hot Sheet for rules and guidelines to sell your gear.
---
Alejandro Cervantes Master Built 2015 classical guitar. Excellent condition. Spruce top. Indian rosewood back and sides. 650 scale No cracks or repairs. Has a great even sound. Very robust with sweet trebles. Just a beautiful guitar! Comes with humi case also in excellent condition. Russellolsen@hotmail.com
---
Alleva-Coppolo 2002(?) s- style semi-hollow, only one he made, sunburst, nitro, 2 Suhr humbuckers, original owner, hairline crack bottom of six string tuner there since neck replacement 2014, $3500. STRAT1157@AOL.COM
---
Beard Resoluxe Guitar, 2018. Like new condition w/OHSC. https://reverb.com/shop/garys-gear-locker-16
---
Carvin Bolt strat style from kit, natural finish alder body, maple neck w/ebony fingerboard, gold hardware, 2 humbuckers w/ coil splitters & 1 single coil, Wilkinson tremelo, Sperzel locking tuners, G&L tweed hard case, great shape, $650.00 plus shipping. fotos@olypen.com
---
Casio MG-510, 1987 FujiGen made Black on Black stealth, Original pickups, electronics tested, MIDI capable with fast tracking using included USB adapter, HSS with pickup splitter for SSS sound. Low action. 12″ richardcopper@icloud.com
---
Collings C 10 2012, Exc ++ condition with OHSC, orig owner, custom ordered features mahogany b/s, sitka top, Ebony bridge and fretboard. Scalloped braced L 00 style body with OM headstock and guard. Plays and sounds superb. $3200 plus ship or local meet/pickup Philly area, Dstone2175@gmail.com
---
CryBaby Late '60s. Sounds spectacular! All original electronics unmolested. Trashcan inductor/Icar pot (D5'd and quiet)/white pressure pad. Scratched bottom plate, otherwise XLNT condition. Includes orig. vinyl bag, free Fedx Gnd to Cont. US (Int'l OK plus shipping/fees). Pix available. $430US. bruce@touch33.com
---
Demeter VTDB-201 tube inst. pre/DI. Custom 1 of 2 (other for David Lindley) with 2nd Jensen transformer on XLR jack. Use as 1/4″ bruce@touch33.com
---
Duesenberg Fullerton Elite, 2015 Black. Mint condition. $2500 plus Mint condition set of Duedenberg strings and genuine leather black strap. ronkresch@hotmail.com
---
Epiphone Excellente 1966 Mint all original including rarely found pick guard. Siska top, Brazilian back and sides, ebony finger board . Epiphone used this guitar in prototype development for new Masterbuilt reissue. Original hard shell case. william.kobin@verizon.net
---
Epiphone Newport Bass, 1961, all original, plays great, mohoghany body, single pickup…original case… $3000 or best offer. johnmazzocco@mac.com
---
Fender H1270 1969 12-String Acoustic Jumbo Guitar. Vintage original Fender Harmony Model H1270 (12-string Sovereign), faux tortoise shell headstock veneer, F-label tuning machines, 12-fretter, low action, straight neck, & great tone. Luthier repaired side crack, missing neck heal cap. $450 +ship. solardogsband@gmail.com
---
Fender 2-12 Cabinet, 60's-70's, New Speakers. Loaded with new Eric Johnson signature Eminence speakers EJ-1240-16's (40 watts, 16 ohms) Sounds great with Fender amps. $440 pick up in Austin, TX only. texasrocker@gmail.com
---
Fender American Professional CAR Jazzmaster. 2017, as new with all paperwork and case. No excuses. $1,175 plus shipping at true cost. fender64@bellsouth.net
---
Fender Bassman 1955 4×10″ tweed combo amp, 5E6 circuit, same as Rory Gallagher's. Condition at least VG+. $7500. Located in New Haven CT area; prefer not to ship. Email for pics/info: markwillecho@yahoo.com
---
Fender Custom Esquire, 1959, Sunburst. Featherweight. Beauty beyond compare. All original instrument with 60's case. $26,000. info@guitar-emporium.com
---
Fender Custom Shop 62 Strat 1988 with OHSC. First year CS Strat in Exc condition in super rare Surf Green Metallic, features RW fretboard, early CS logo, Scott Buhl signed neck, sounds and plays great with recent pro setup. $3200 plus ship, or local meet/pickup Philly/Balt area Dstone2175@gmail.com
---
Fender Esquire 1952. One owner black guard 100 percent original, neck never off, lots of play wear, original recovered case. 251-605-7981
---
Fender Jaguar. 1973. Sunburst with rosewood fretboard, binding with block markers. Tortoise pickguard. All original, plays and sounds great. (520) 990-4412
---
Fender stratocaster 1989 candy blue floyd floyd rose -locking strings-signed by Lester Russ Paul- fender lace pick ups- two single blue and double red excellent condition includes newer fender hard shell case-special guitar. hotguitar1@yahoo.com
---
Fender Stratocaster 2014 American Standard HSS. This guitar still has the plastic over the pickups & pickguard as well as the hanging tag. Never been plugged into an amplifier & never played. As new as a used guitar can be not a blemish anywhere. Sunburst in color comes with original case $1300. finisone3@yahoo.com
---
Fender Stratocaster Sam Ash 71st Anniversary: 1995 Rare guitar, 71 for 71st Anniversary of the Sam Ash Music. Dual Lace Sensor neck, Red/Blue bridge position. Pickguard is new . Back plate is new Fender. The guitar has just been re-fretted. Fender hard shell case, paperwork and Bill of Sale. jed1227@hotmail.com
---
Fender Stratocaster, hardtail 1974, Sunburst finish, all original parts, maple fingerboard, orig. hard shell case. Excellent condition not a scratch or mark. Australian seller so $US is great value to $AUD Jazzystjames@gmail.com
---
Fender Telecaster, 1968, Blonde, Ash Body, Maple Cap Board, honest wear, all original, Need frets. As Is $6500. Add $500 for re-fret and re-lacquer board. Includes case and warranty card. $6,500. jed1227@hotmail.com
---
---
Fender Telecaster, Near mint 1969 Rosewood Telecaster. Original case, no candy. $12k firm. 218-760-2503
---
Fender Vibro-Champ 1967 Blackface amp. Very good. Clean tube chart stamped QD. Old possibly original tubes: RCA 5y3GT, RCA 6V6GTA, USA12ax7A, GE 12ax7A. 3 prong power cord. No Vibrato pedal. Original Oxford. bruce@brucehayes.com
---
G&L Broadcaster 1985. SN 00377. Black. 1 of only 308 with maple fretboard. Neck pocket signed by Leo Fender. Small paint flaw near low E tuning peg, otherwise stunning condition. Original everything. Case, keys, strap, owner's manual, warranty card, certificate, Broadcaster promo materials. $2500. reachdavenow@hotmail.com
---
Garnet H-Zog  Model G 12 H preamp sustainer get that American Woman tone absolutely excellent condition. original owner $450 U.S. intnl shipping tbd. will send pic. vinylsurfari@yahoo.com
---
Gibson All American II 1997 Good +condition.Wine Red with non original case.Getting hard to find. $700. eharmicar@neo.rr.com
---
Gibson Byrdland, 1974, Sunburst, very nice condition, email for photos, $6500. info@guitar-emporium.com
---
Gibson ES 175, 1956, Nice shape . $4999. bustersodd@yahoo.com
---
Gibson ES-125TC 1966 , Plays/sounds great. Has some surface finish blemish on the back. The neck is excellent. I am not the original owner so I can't give complete history of the guitar. Lots of pictures available. Please check out comps on Reverb.com. At $1999.99 this is an excellent deal! spidercapo@gmail.com
---
Gibson ES-175D 1979 hollow body archtop electric for local pickup in NH or Mass. Excellent condition, made in USA, made in USA. With a fully hollow body and sharp Florentine cutaway, the Gibson ES-175 is an all-time iconic jazz guitar. Plays and sounds great. $3,475. www.NHGuitars.com
---
Gibson ES-335 TD 1965 Sunburst. 1-11/16 nut. Super nice, stoptail conversion original hardware pickups case. Professional re-neck using original board and inlays, can't hardly tell. Tone monster! $8500. jake@burningriverguitars.com
---
Gibson Firebird. This is a 2001 (serial number 010325) Gibson Custom Shop Historic 1965 Firebird V Reissue in Custom color Pelham Blue The guitar is in showroom condition. There is some light play wear on the pickguard and hardware. It comes with the COA, warranty card, and all of the other paperwork. sturge49@gmail.com
---
Gibson GA-8T Discoverer Crestline-era. VG+ condition. Non-original speaker. Write for more info/photos. Free delivery within 75 miles of Chicago. $399 obo. deadlybungalows@gmail.com
---
Gibson L00 1933 – black with white guard,14 frets clear, 24 ¾ scale, exc cond, minor repaired top cracks, few nicks and scratches but overall very clean, refretted, neck is straight, action is 6/64″ at 12th on low E. Lower action might require neck set. Killer tone.  $4,600 free shipping lower 48. matthewswoods@hotmail.com
---
Gibson Les Paul "1960s Classic" Excellent condition. 1999 Cherryburst plaintop with cool lookin' grain. 60s profile neck. Completely stock with no mods. Great frets and sounds great. Hard shell case with original case candy from 1999. Around 8 1/2 lbs. beaujango@gmail.com
---
Gibson Les Paul 50's Studio Tribute Goldtop, 2010, Excellent shape overall. Upgraded with Amalfitano Barrybucker pickups and Sperzel locking tuners. Guitar looks great and is ready to gig. Recently set up. No breaks, no issues, comes with HS Gibson case. Asking $899 plus shipping. drumbob417@gmail.com
---
Gibson Les Paul Standard, 2016, with OHSC. Gorgeous flame top,with super dark rosewood fingerboard,push-pull pots. Plays fantastically and weighs 8.4 lbs. No issues, all original, and in Very good condition. $2300. bonmanblue@hotmail.com
---
Gibson Nick Lucas Special, 1931, owned by Carson Robison. Info and pictures at www.humanrace.org/guitars/guitars.htm
---
Gibson rosewood Ray Whitley Recording King in very good condition. Rare rosewood sunburst version with pearl on the neck inlay. Some repaired cracks, phenomenal sound and play-ability. All original $18k. kgrosslight@aol.com
---
Gibson Roy Smeck Stage De Luxe, 1935, ROSEWOOD body of which only 2 or 3 were made: Info and pictures at www.humanrace.org/guitars/guitars.htm
---
Gibson Single Cut TV Yellow Les Paul Junior, 1959. Single Cut. Not many of these around and this one is really nice and super clean and super cool. Sounds great, and has the really nice 59 neck profile.  Weighs in at 7.5 pounds. Comes with a new Hard Shell Case. $12,500 plus shipping. seanevie@bellsouth.net
---
Godin Multiac natural finish w/gig bag. Near Mint Guitar was seldom played. $600. axeslinger1949@aol.com
---
Gretsch White Penguin relic with original case, bigsby, TV Jones Pickups, plays great, looks great, used on sessions with Butch Walker, Ryan Adams, no issues $2400. doctorpatt@yahoo.com
---
Guild X-175B Manhattan 2014 – $850 Exc. condition. Three piece neck; Guild Bigsby; original Guild HSC. The case has a few dings. Guitar has a 9.5 fretboard radius, just like a contemporary Strat. Inc. foam f-hole plugs from Phil's Plugs. These greatly reduce feedback issues at higher volume levels. ebbindem@gmail.com
---

---
Guitar Fetish Hand-Built Telecaster. Inspired by Slick Guitars but built BETTER using top of the line part. The SlickerCaster has a lightweight Ash Gloss Tele style body, RW Neck, '52 Pickguard, Repro 1960's HOT Alnico Tele Bridge Pickup, Wilkinson Bridge w/Compensated Brass Saddles, and more! adguy67@yahoo.com
---
Hohner Law Suite Gibson Les Paul, 1975. As new under the bed find, with original hang tags, and hard shell case.. still has the plastic covering on the pickguard.. 99% Mint and 45 years take you back in the day find. https://www.eddievegas.com/store/details/1975-Hohner-Law-Suite-Gibson-Les-Paul-NEW-NEVER-PLAYED.php
---
Kramer ZX30H, EMG-designed pickups, circa 1986 to 1989 in good condition. HSS with Soloist Designed by EMG passive pickups. This plays nicely and has some great high gain rip! Has some light scratching around the pickguard area. $275 + $100 shipping lower 48. www.NHGuitars.com
---
Laney Full Stack AOR Late 1980's-early 1990's. 100-watt Laney AOR series head (comparable to Marshall JCM900) "Pro Tube Lead" in great shape. New JJ tubes. A and B cabinets loaded with Celestion G12M-70 speakers. $1,100 Local pickup in Austin, TX. texasrocker@gmail.com
---
Martin 000-28 1970 This guitar is in near mint condition. I bought it from the original owner. It has had 50 years to age and develop beautiful rich tone. Located in Florida $2475. davecoppock@gmail.com
---
Martin 0-18T Tenor Guitar 1931 – fine tone, prewar scalloped bracing, 14 frets clear of body, great setup and playability, neck reset, repro bridge with nice tall saddle, clean with a few minor nicks and scratches but no cracks, modern Martin case. $3,000 with free shipping to the lower 48. matthewswoods@hotmail.com
---
Martin 1944 scalloped D-28 near mint, amazing figured rosewood and sound. All original and has a great set up. $58.5k. kgrosslight@aol.com
---
Martin 2-20 Guitar c1870 – light fan bracing, solid headstock, gorgeous Brazilian rosewood, bar frets, 24 ½ scale, neck reset, repro bridge with old bridge in case, pro repaired cracks, great setup & playability, balanced sweet tone, original coffin case, $3,200 free shipping lower 48. matthewswoods@hotmail.com
---
Martin 5-15 T 1950, Terz tenor in Excellent ++ cond with orig case. Features mahogany top, back and sides, BRW bridge and fretboard, super clean example, crisp and loud, great for old time fiddle backup, string band or jam. $1850 plus ship or local meet/pickup Philly/Balt vicinty, dstone2175@gmail
---
Martin D18 1944 , Located in Ramona, CA. Appraised by Gruhn's. Please email for description and pictures. Astro_crazy@hotmail.com
---
Martin D-18, 1946, excellent with old over spray, couple of pro repaired cracks (cleated), ebony rod, great neck profile, neck set, replica bridge, plays great, exceptionally fine sound, repaired jack hole on treble rim (plugged). Light and responsive dread. Newer Geib case. $7,495. oldgoatguitars@gmail.com
---
Martin D-18-l 1975 rare factory left handed model #363047 VG condition few very minor dings pro neck reset and replaced pick-guard june 2019 original hardshell case. If your a lefty and haven't found your vintage Martin yet this is it! $3,100 239-777-7075 leave a message will text or email photos.
---
Martin D45 Custom Tex Fletcher Acoustic/Electric, 1993 All original, excellent condition Low Action- 3/32" at the 12th fret low E string Fishman 332 piezo bridge pickup factory installed Singer/songwriter Tex Fletcher's name inlaid at the 14th fret Signed by CF Martin IV msge@optonline.net
---
Martin HD-28V, 2018 acoustic guitar. This is their Herringbone D-28 Vintage model dreadnought. It includes it's original hard shell case and is in MINT condition. $2850. plus $50 shipping in the cont. USA. 610-657-4000
---
Orange Rockerverb 50 MK II, 2017, 50-watt twin channel tube guitar amp head with a 90's Fender Tonemaster 4-12 loaded with Celestion Vintage 30's- virtually the same birch cabinet as the Orange PPC412. Matching Orange tolex roll included for cabinet. $1,650 Pick up in Austin, TX only. texasrocker@gmail.com
---
Paul Reed Smith PRS 1995 10th Anniversary Artist Dark Cherry Burst (#69 of 200) $4,750 – wide fat neck-stop tail-McCarty Treble and Bass pickups-gold hardware-engraved gold abalone birds-abalone bound headstock and fretboard-engraved PRS Eagle on headstock-all original-original owner. aceflyboy@comcast.net
---
PRS SE Custom 24 Zebrawood Vintage Sunburst 2018. Rosewood fingerboard with bird inlays. 3 position switch,humbuckers,w/coil tap. This guitar is like brand new barely used. Asking $729 w/free shipping (USA ONLY)Phone (631) 848-7804. I can send pics if interested..REAL BEAUTY! MAKE ME A REASONABLE OFFER!
---
Rebel Rockstar Pedal Board. Solid wood construction. Made in USA 2000s, now out of production. 18×24″. Holds 12 full size pedals, includes input and output jacks and cables. With custom Studio soft cover. Very good condition used mostly in home studio. $150 +$20 FedEx shipping in USA. jeffle310@comcast.net
---
Rickenbacker 360/12, 2000, Black, all original with original hardshell case. Guitar has never left the house. Great sound and extremely good condition. $1,995 call (501) 944-0827 between 10:00 am – 4:00 pm Central time
---
Ridgewing Chrysalis 2015 #8 of only 8 made. Almost unused in origanal hardshell case. The best one made according to the Luthier. $10,000. howden.bruce@gmail.com
---
Stahl Mandocello c1920 – Larson Brothers built, exceptionally clean condition and excellent playing order. 24 ½" matthewswoods@hotmail.com
---
Swart AST Reverb Tweed, 2011, in perfect (Never gigged) condition. This model has the 12 inch speaker, and you can switch out the 6V6 for more clean headroom with a 6L6 or EL34. Contact Robert for pics. $1150 shipped to continental USA. rohilong@gmail.com
---
Taylor T5-S -2005. Black. Very good condition. There are a few small marks that are hard to pick up with the camera. Some fret wear 1-5. Includes OHSC. Email for pics. $1000.00 plus $75.00 S & H; Fivein2soccer@aol.com
---
Vox Bossman guitar, 1967, red, nice shape showing normal wear & tear of a 50+ yo instrument, fully playable with no issues, good frets, distortion switch works great, mag pickup sounds fantastic. Incl. orig. Vox case(also in good shape) and the original Vox accessory pouch and Vox polishing cloth. robtho1@yahoo.com
---

---
Place an Ad HERE.
Recieve Hot Sheet in your Inbox HERE.
Rules and Guidelines for Selling on the Guitar Hot Sheet
Only one pre-owned instrument for sale per listing.
No generic "guitars for sale, call me" listings, or listings of new product allowed in the $5 ads. HOWEVER, you can purchase a banner ad on the Hot Sheet for those items. Contact James@VintageGuitar.com for details.
This is NOT JUST FOR VINTAGE instruments, all used guitar-related gear is welcome.
List the BRAND and then MODEL first (since that is how it will be sorted), followed by the date and rest of description. Example – Fender Stratocaster, 1995, black….
You can use up to 300 characters, which is about 40-50 words.
You have the choice of using a phone #, email or an URL for your contact info.
Deadline for each week's Hot Sheet is Tuesday at noon, Central Time.
Go to https://store.vintageguitar.com/hotsheet.html to enter your listing.
Your listing will appear in the next weekly Guitar Hot Sheet. If you want it again in later editions, you will need to renew the listing for each one.
Vintage Guitar reserves the right to refuse any listing for any reason.
Here is an example listing correctly placing the BRAND and MODEL first and using 300 characters:
Fender Stratocaster, 1995, black finish, all original parts, maple fingerboard, orig. hard shell case, I'm the original owner and it was only used around the house! Great player and in great condition. $850. 701-255-11XX. (300 characters total)
---
Tips for a good online buying experience
Practice good communications. Never assume anything. Ask for a detailed, in-hand description of all parts, including electronics, finish, fretwear, hardware, case, etc.
Find out what's original and what's not.
Spell out the deal, including amount, method of payment, shipping method, approval period, etc.
Keep all correspondence and receipts.
Condition definitions vary greatly; we suggest the use of the following:
Mint Condition: Condition the instrument was in when it left the factory. Very rare in older instruments.
Excellent Condition: Very clean, no wear, may be some minor finish and/or playing wear. All original parts and finish. The values in The Official Vintage Guitar Price Guide are for instruments in Excellent Condition.
Very Good Condition: This is a very wide range. Instrument is solid playing condition, but may have significant wear, non-original parts, or parts missing.
Good Condition: Still playable, but may have modifications and/or extensive playing wear.
Poor Condition: May have major problems or modified big time.