Powered by AmplifiedParts.
---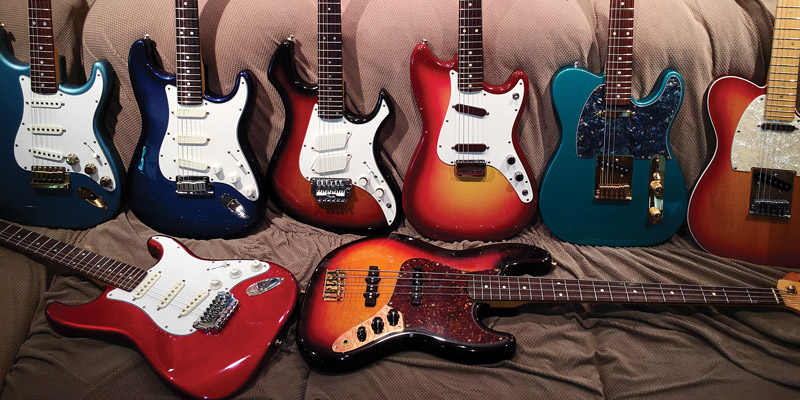 No. 008 Check out more great content at VintageGuitar.com
Place an Ad HERE.
Recieve Hot Sheet in your Inbox HERE.
All of the writers and staff at Vintage Guitar hope you have a great 4th of July weekend! Enjoy the summer weather, relax, and just play your guitar.
INDIVIDUALS, DEALERS and MUSIC STORES can all get MULTIPLE FREE listings in the next Guitar Hot Sheet, which will go out to around 30,000 VG fans. See the end of this email for details on selling your gear. Place a listing NOW!
Please share this email with all your friends and leave your comments HERE.
See the end of the Guitar Hot Sheet for rules and guidelines to sell your gear.
---
Eastwood P90 Special Lefty TV Yellow Very good condition. 1 P90 in the neck & 1 open coil humbucker in the bridge, Grover tuners, frets are in great shape. Just a couple of small scuffs and scratches, with Eastwood gig bag. $450. www.NHGuitars.com
---
Electro-Harmonix, Memory Man, solid state Echo/Chorus, original series, vgc+ $249. www.larkstreetmusic.com
---
Epiphone FT-30 Caballero Acoustic Lefty 1962 Fair condition, nicely playable, $695. A righty, converted to a lefty with a replacement nut and/or bridge, missing the pickguard and there is remaining glue residue. Headstock logo was removed, however original Epiphone label remains. www.NHGuitars.com
---
Fender Acoustasonic 30 combo amp, 2008. Sounds fine when strumming normally or when finger-picking, but there is a distortion when strumming hard. Might be speaker going bad – not sure. Some small tolex rips and scuffs. Price based upon condition. $70 + $85 shipping. brian_sholes@yahoo.com
---
Fender Bassman 1955 4×10" tweed combo amp, 5E6 circuit, same as Rory Gallagher's. Condition at least VG+. $7500. Located in New Haven CT area; prefer not to ship. Email for pics/info markwillecho@yahoo.com
---
Fender Custom Shop 62 Stratocaster 1988 Rare Surf Green Metallic, excellent condition, great playability and superb sounding first year CS re issue. With orig tweed case. $3200. Dstone2175@gmail.com
---
Fender Jazz bass 1972. Cream yellow, brass nut, BadAss adjustable bridge, DiMarzio pus, pu selector switch, 2 series/parallel switches, refretted 1990. Very Good Condition. Honest playing wear. All old OEM parts. A pro players dream. $3,000/Make Offer. sylveste1731@roadrunner.com
---
Fender Stratocaster 2018 AM Elite Strat, STRKD EB SBM, Serial #US18040XXX, Sky Blue Metallic finish with original Fender hardshell case and a Fender gig bag soft case, and the cases are in excellent condition. Guitar is PRISTINE! Located in Arkansas. Priced at $1,300. writereed@hotmail.com
---
Fernandes Strat, used, olympic white, Rosewood board, banged up but works great, vgc. $375. www.larkstreetmusic.com
---
Gallagher G-45 1971 dreadnought, Spruce top, Mahogany back & sides, perfect neck re-set and perfect refret, ebony board, V-neck, 1 11/16" at nut, 25" scale, ohsc, exc. $1950. www.larkstreetmusic.com
---
Gibson Les Paul Custom/ Black Beauty case, late 1950s Large grain tolex, plush yellow interior. You'll be hard pressed to find a nicer one than this – ask for some pictures and you'll see. Same day shipping. $3250. pinktownley@gmail.com
---
Gibson A1 mandolin, 1917. Classic pumpkin top. Totally original, No scratches, cracks, blemishes or playing wear. Absolute mint museum quality condition. Perfect action, good frets, plays loud and strong. OEM case. $2,000/Make Offer. sylveste1731@roadrunner.com
---
Gibson ES-335, 1958, Sunburst, bound Dotneck, but the orange label has a'60 serial number, but it has all '58 features including the FON, the thinner 3-ply body construction, nice fat neck with smaller frets, 2 original PAFs, the lead pickup has one white and one black coil, exc, brown case. $32,000. www.larkstreetmusic.com
---

---
Gibson Flying V2, 1979, Ultra rare First year possibly first ever V2. Production number 001, Jan 2, 1979. Pearl white factory paint, excellent condition. Looks and plays great. Gold hardware, brass nut original minus newer pots and wiring. 1 of 157 shipped in 79. Contact for photos $3600. Jfs2@live.com
---
Gibson Les Paul HP, 2018, Electric guitar in beautiful Blood Orange Fade finish on top. It is in pristine condition. There are two cases, one Gibson hardshell aluminum rolling case and one Gibson soft case, both in excellent condition. There are no odors such as pet or tobacco odors. Priced at $2,300. writereed@hotmail.com
---
GRETSCH G6120 Chet Atkins, 2011. Mint condition. As new. Never played. Beautiful vintage orange stain on maple. Dual Filter'trons. Adjusto-Matic bridge. Ebony fretboard. Grovers. Gold Bigsby B6G vibrato tailpiece. Includes OHC. $2399 + $95 shipping to lower 48. Glenn_17Public@aol.com
---
Guild F 20 Troubadour 1965, In vg condition, featherweight with natural Adi top, mahogany b/s, BRW bridge and fb, Hoboken NJ label, couple small pro repaired cracks, SKB HSC , $1600. Dstone2175@gmail.com
---
Guild S-300D, 1979, Black, 2 exposed double white Dimarzio Humbuckers, Chesterfield peghead logo, ebony board with dot inlays, frets are pretty good, selector switch and phase switch, good condition, ohsc. $850 www.larkstreetmusic.com
---
Guild X-175B Manhattan, 2014, With Vibrato, Blonde, excellent condition, maple back, top and sides, Mahogany three piece neck with maple stripe, inc. custom fit foam f-hole plugs, orig. HSC, 9.5 fretboard radius, original spec P-90 soap bars and Guild Bigsby tailpiece, tune-a-matic floating bridge. ebbindem@gmail.com
---
Harmony Roy Rogers Parlor guitar, '50s, sunburst, original case with graphics. $250. www.larkstreetmusic.com
---
Ibanez AS200 1980, highly desired guitar with a Sunburst finish, maple body with lots of flame. The guitar is in very good playing condition: minor playing wear, some gold plating wear. Non-Original HSC included. $2,200 + shipping (Pictures Available). bluesfingers@earthlink.net
---
Ibanez GB30 1986, George Benson model, with a Cherry finish over a maple body. The guitar is in very good playing condition: some nicks, dings and a pro repaired headstock. Original case has a broken latch and some wear. $1,400 + shipping (Pictures Available). bluesfingers@earthlink.net
---
Jason Wolverton Classical Guitar, 2019, Absolutely stunning. Like New. This guitar seems alive when played. Beautifully sweet trebles. Very even across the entire neck. Comes with mint Humicase. Bear Claw Spruce Top, Brazilian Rosewood back and sides, 640mm 50mm Nut. $5000 OBO. russellolsen@hotmail.com
---
Jerry Jones Double Long Horn Electric Guitar, 1991. Rare single pickup, gloss black, JJ hum-cancelling, Gotoh Vintage tuning keys, no case. Jerry confirmed serial # and pricing at $1100 + shipping & insurance. Made in Nashville, and Jerry closed the factory. One owner California. Email for photos/info: jcalitri_internationalphoto@yahoo.com
---
JTM45 clone/homebrew, tech built, 30 watts, Purple! Ex. cond. Mercury Magnetics Xformers, Sozo/F&T caps, Weber board/aluminum chassis, KT66'S, Mojo purple tolex head cab. Sounds like the real deal. Chassis pics available. Local pickup only, North NJ/metro area. Asking $700. dhostak@yahoo.com
---
Marshall Studio 15 Combo, 1×12" G12 Celestion, 2-6V6 power tubes, exc. $795. www.larkstreetmusic.com
---

---
Martin 5-15 T, 1950. In excellent original condition with original case. A super clean and original Terz tenor, no repairs, cracks or issues, loud and punchy, $1850. Dstone2175@gmail.com
---
Martin D-16 Adirondack, 2011, Looks like a D-18V, 1 3/4" at nut, aging toner on Adirondack Spruce top, scalloped braces, Nickel Waverly butter bean tuners, beveled tortoise pickguard, Rosewood board, Rosewood bridge with drop in saddle, tortoise binding, exc, ohsc. $1750. www.larkstreetmusic.com
---
Martin D-21, 1961, Vg orig condition, no repairs, cracks or issues, well maintained with light playwear and finish wear. BRW back/sides, sitka top. Nice action and playability, great bluegrass sound. With Martin ABS case. $5800. Prefer local sale/meet in Philly/Baltimore area, rather not ship. Dstone2175@gmail.com
---
Martin D-18L, 1975. Rare factory left handed model #363047. Ex condition a few minor dings. Pro neck reset in 2019, all original except pick-guard original hardshell case. If your a lefty and haven't found your vintage Martin yet this is it! $3,100, serious only please. Call for photos. 239-777-7075
---
Martin HD-28 Standard Series Lefty, 2003, Good condition w/Martin HSC, $2,250. Herringbone purfling, East Indian rosewood back & sides & Sitka spruce top. One small area of slight bridge lift. This has some light scratches and scuffs from normal adult use. www.NHGuitars.com
---
Paul Reed Smith PRS McCarty, 2001, w/ soapbar P-90s VG++, red stain top & back, maple top, mahogany body & wide-fat neck, 22-fret rosewood fingerboard w/abalone moons, stop-tail, vintage tuners, approx 7.5 lbs. w/OHSC asking $1,575. aceflyboy@comcast.net
---
PRS 1986 Second year of production. Moons, Mahogany body. OHSC. Great Shape. $3899. Email for more details and pictures. carsguitarsandmore@verizon.net
---
Rickenbacker Electro Lap Steel, ca 1948, Black 'Bakelite" body with Ivory white caps, exc+, newer formfit hard case. $1250. www.larkstreetmusic.com
---
Stelling Sunflower Banjo 2010, excellent plus condition, replacement bridge and spikes added with pro setup, original Stelling HSC, great playability, fine sounding bluegrass banjo. $3250. Dstone2175@gmail.com
---
Strat style, used, Candy Apple Purple finish, 1 humbucker, regular trem, Maple neck, hockey stick peghead, exc. $375 www.larkstreetmusic.com
---
Wanted
Epiphone G-1275 WANTED with no cracks or repairs to wood. Color does not matter. No bolt-on necks please. No copies. Johnlauren12@yahoo.com
---
Ibanez 1991 WTB: 1990's era Ibanez Jem, Universe and Satriani guitars. Also buying vintage Jackson and Charvel USA, custom shop Peavey Wolfgangs. Quick deals with no drama. Email me! brett8388@aol.com
---

---
Place an Ad HERE.
Recieve Hot Sheet in your Inbox HERE.
Rules and Guidelines for Selling on the Guitar Hot Sheet
Only one pre-owned instrument for sale per listing.
No generic "guitars for sale, call me" listings, or listings of new product allowed. HOWEVER, you can purchase a banner ad on the Hot Sheet for new product items. Contact James@VintageGuitar.com for details.
This is NOT JUST FOR VINTAGE instruments, all used guitar-related gear is welcome.
You can use up to 300 characters, which is about 40-50 words.
You have the choice of using a phone #, email or an URL for your contact info.
Deadline for each week's Hot Sheet is Tuesday at midnight, Central Time.
Go HERE to enter your listing.
Your listing will appear in the next weekly Guitar Hot Sheet. If you want it again in later editions, you will need to renew the listing for each one.
Vintage Guitar reserves the right to refuse any listing for any reason.
---
Tips for a good online buying experience
Practice good communications. Never assume anything. Ask for a detailed, in-hand description of all parts, including electronics, finish, fretwear, hardware, case, etc.
Find out what's original and what's not.
Spell out the deal, including amount, method of payment, shipping method, approval period, etc.
Keep all correspondence and receipts.
Condition definitions vary greatly; we suggest the use of the following:
Mint Condition: Condition the instrument was in when it left the factory. Very rare in older instruments.
Excellent Condition: Very clean, no wear, may be some minor finish and/or playing wear. All original parts and finish. The values in The Official Vintage Guitar Price Guide are for instruments in Excellent Condition.
Very Good Condition: This is a very wide range. Instrument is solid playing condition, but may have significant wear, non-original parts, or parts missing.
Good Condition: Still playable, but may have modifications and/or extensive playing wear.
Poor Condition: May have major problems or modified big time.