– – – – – – – –
Powered by The 2021 Vintage Guitar Price Guide.
---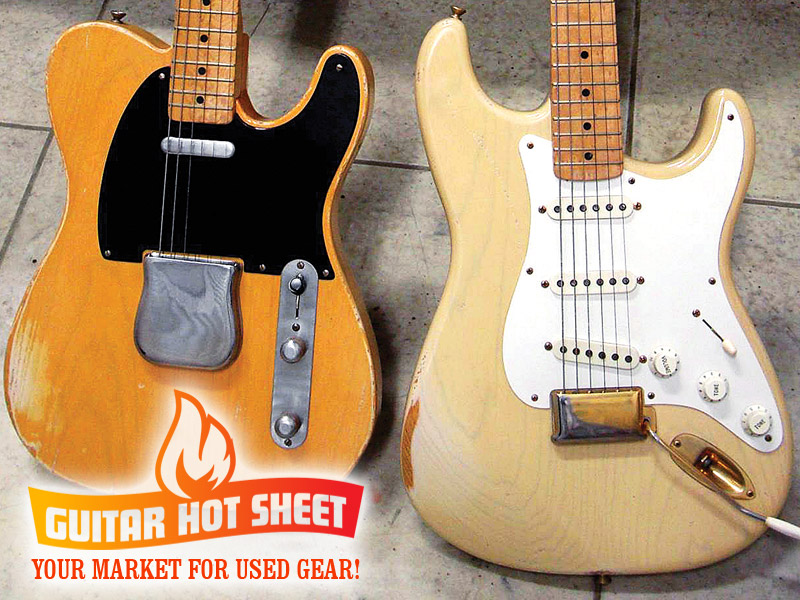 No. 023 Check out more great content at VintageGuitar.com
Place an Ad HERE.
Recieve Hot Sheet in your Inbox HERE.
BUY, SELL, TRADE
---
"Oh, it breaks my heart to see those stars
Smashing a perfectly good guitar.
I don't know who they think they are
Smashing a perfectly good guitar."
– John Hiatt (1993)
Send us your favorite "guitar" lyrics. Email Doug@VintageGuitar.com with Hot Sheet Lyric in the subject line.
Please leave your comments HERE.
---
ARIA ProII PE-190, 1978. Robert Conti model, Blonde finish, with a "Charlie Christian" style pickup. This is a 1978-1980 model. The guitar is in Excellent condition: Gibson HSC included. $3,750. Free Shipping in USA lower 48 states. bluesfingers@earthlink.net
---
Casio DG-1, 1981. Digital Guitar -MINT- 12 Tone Options: Guitar, Glock, Harp, Mandolin, Organ Trumpet + 6 more. 12 Rhythm Selections with adjustable Rhythm tempo, volume & internal speaker. Original box, packing material, Strap, manual & 2 hex wrenches Perfect! $450. Call or text. (585) 230-5778
---
D'Angelico Excel EXLl-1, 2019, left handed original archtop art deco inspired details single cutaway burst top seymour duncan floating mini humbucker floating rosewood bridge 11/16th nut hardshell case a great player with classic tone $1,100 + shipping call 239-777-7075
---
Danelectro U-1, 1956. Original except one replacement cupcake knob. Black w/silver foil pickup. Typical wear for its age w/ most wear on headstock, not body. No case. $775 and free shipping in continental U.S. sinnfein.rgo@hotmail.com
---
Del Langejans Hollland Michigan, Rare! Rosewood back / sides / spruce top. Beautiful inlay rosette and inlay around strap pin. Players Grade. A crack along the top middle seam and two small top cracks above the fretboard. One small crack around the in-lay where the strap button is as well. $2,375. bruceadolph@mac.com
---
Dobro, Round neck, 1930s. A circa 1930's blonde Dobro, round neck guitar, Green Regal headstock logo. Currently set up for fingerstyle and Spanish slide playing with low to medium action. Very good condition, with a beautiful body, nice finish no visible cracks or repairs other than neck reset. $950. mfalk@rap.midco.net
---
Fender Bassman, 1955, 4×10" tweed combo amp, 5E6 circuit, same as Rory Gallagher's. Original condition at least VG+. $7,000. Located in New Haven CT area; prefer not to ship. Email for pics/info. markwillecho@yahoo.com
---
Fender Jazz bass, 1972. Faded Vintage White, brass nut, maple neck, BadAss adj bridge, DiMarzio pus, pu selector switch, 2 series/parallel switches, refretted 1990. Very Good Condition. Honest playing wear. All old OEM parts. A pro players dream. $3,000/Make Offer. sylveste1731@roadrunner.com
---
Fender Musicmaster Bass, 1978, in trans red (cherry?) finish , with rosewood neck and original case. There is a very small chip on the fretboard (mostly above the nut) missing from a hit to the nut (I assume) since it has been replaced with a brass nut. $975. djayst@roadrunner.com
---
Fender Custom Shop 62 Stratocaster, 1988. Early CS, Excellent cond in rare Surf Green Pearl, plays and sounds great, with tweed G&G case, $3,200 plus ship, or local Philly/Baltimore/S Jersey area pickup/meet. Dstone2175@gmail.com
---
Fender Stratocaster John Cruz MasterBuilt 1962 Relic. Sonic Blue over S/B. L/W Body. Custom Neck. Dark AAA R/W Board. 60's Oval C Neck. 6100 Frets. H/W Pickups. Certificate. Case Candy. Build Sheet. Mint Condition. Original Owner. Bought this guitar this year. Very little playing time. $8,400. spiegelberg@rocketmail.com
---
– – – – – – – –
---
Fender Telecaster '98 – '99, USA American Deluxe Telecaster. Black, factory contoured body. 3 noiseless p-ups (2 Tele, 1 Strat), factory toggle switch, rosewood neck. Some surface scratches but otherwise clean. I'm thinking $1,400. Email for pics. guitarsandwords@yahoo.com
---
Fender Vibroverb, 1964. All original, with Jensen speaker and foot switch. The amp is in nice condition with killer tone! A unique opportunity to own a rare American classic. In N.Y. metro area, prefer not to ship. Email for pics and more information. $5,900. markgc@optonline.net
---
Gibson Korina Heritage Flying V, 1983, about the cleanest one you will find. Has original case and all of the tags with it. $8900. ronkim@fuse.net
---
Gibson A Mandolin, 1925, Loar era specs black snakehead OHSC very good all original complete with pickguard "The Gibson" logo, clean legible label $2000. bruce@brucehayes.com
---
Gibson HG-22, 1932. FON 206 places this guitar as one of the first 14 fret flat tops Gibson made. Oldest registered HG listed in Spann's guide & may have been a prototype. Tuners, truss rod cover, and nut/saddle changed. Repaired top, side, seam cracks, w/vintage case. $3900. wgarstecki@wi.rr.com
---
Gibson L5-CES, 1969. Lots of finish checking, binding cracking, and a couple of cracks near the controls, she's definately….uhhmmmm…. AGED! But with age, comes experience…and this one is SUPER experienced! Has the BEST set of Patent Sticker humbuggies I've heard in decades. Great clarity. OHSC $8000. info@guitar-emporium.com
---
Gibson Les Paul, 1978. Black finish, Creamtone Vintage PAF A3 pickups, 50s wiring w/ bumble bee caps, ABR1 bridge w/Brass saddles, aluminum tail piece and all plastics. Early 70s Gibson hardshell case. Great player in great condition – no breaks! $2,700. Trwillison@yahoo.com
---
Gibson Les Paul HP, 2018, in Blood Orange Fade finish/pristine condition. Gibson hardshell aluminum rolling case and Gibson soft case/excellent condition. No odors and the guitar kept in ideal temperature/humidity. Case candy included. The guitar/cases offered at $2,300 OBO. writereed@hotmail.com
---
Gretsch CB 5622T, 2010. Beautiful Black Gretsch guitar hardly used. I bought it to use in a group with whom I was playing that was unexpectedly disbanded so I won't need it. I have several instruments I have been using and continue to do so. No reasonable offer refused. rervast@aol.com
---
Gretsch G6120 Chet Atkins electric. 2011. Mint condition. As new. Never played. Beautiful vintage orange stain on maple. Ebony fretboard. Dual Filter'Trons. Adjusto-Matic bridge. Grovers. Gold Bigsby B6G vibrato tailpiece. Includes OHC. $2399 + $95 shipping to lower 48. Glenn_17Public@aol.com
---
Hofner Club 40 Guitar, 1959. John Lennon's model, excellent pro restore, added P-90 bridge pickup. natural refin, black neck. 4 pounds! reissue pegs and controls, Original neck pickup, tail, bridge, guard, leather strap rings. new case $800. bruce@brucehayes.com
---
Kona Weissenborn Style 3 Lap Steel Hawaiian guitar, 1926. Vintage. Made from Koa. All original. No repairs done or needed. Excellent condition. HSC included. Will ship worldwide. $US3500. bmccarrison@aapt.net.au
---
– – – – – – – –
---
Magnatone Mark 3, 1957. First year made, single pickup only modification is a refinish in natural. Designed by Paul Bigsby, neck through. Bigsby designed pickup. cleaned up and plays well. Interesting piece. Want a Bigsby guitar for under 6 figures? $1200. wnthomas@earthlink.net
---
Martin 5-15T, 1950. Excellent + condition with original case, All mahogany with nice BRW fretboard and bridge, all original in super clean shape, loud and punchy, $1,650 plus ship or local pickup/meet Philly/Baltimore area. Dstone2175@gmail.com
---
Martin O-17, 1938. Pre-War, serial #70094. 14 frets recently professional re-dressed on a fret board that shows very little wear & no pitting. Set up including heat press of neck & action is right on. 2 repaired cracks on top & 1 to side & new bridge. Vintage case, $3600. wgarstecki@wi.rr.com
---
Martin D-18, 1956. Excellent + condition, recent pro neck reset, original well cared for bluegrass gem, nice feeling neck, great action and tone, w/non orig vintage HSC, $6,300 Pickup/meet only Philly/Baltimore/S Jersey area. Dstone2175@gmail.com
---
Mesa Boogie V-TWIN PreAmp Pedal, 1997 – NEW & NEVER USED!-Still in Orig box w/all docs & pwr supply, 3 Modes w/4 stages of all-tube preamp circuitry. I had purchased this as a backup & never used it-BRAND NEW!!! $600. call or text. 585-230-5778
---
National Delphi Resonator, 2006. Excellent + condition, 12 fret round neck, black finish steel body reso with OHSC, spanky and loud, great neck and action, $1,650 plus ship or local pickup/meet Philly/Baltimore area. Dstone2175@gmail.com
---
Stelling Sunflower Banjo, 2010. Excellent + condition, Nice action and neck, great bluegrass tone and volume, with OHSC, $3,200 plus ship or pickup/meet Philly/Baltimore/S Jersey area. Dstone2175@gmail.com
---
Taylor 214ce, 2019, Acoustic-Electric. Purchased new in April 2020. Only played about 5 hours. Like new condition. Selling to purchase a smaller body Taylor. Will provide pictures if requested. $850 or best offer. Buyer pays for shipping. dennis.ingram1951@att.net
---
WANTED
Ibanez Jem, Universe, and Satriani guitars, 1990's era. Multicolors and graphics preferred. Collector also buying old USA Jacksons, Charvels, Ernie Ball and Peavey Eddie Van Halen signature guitars. Easy, no drama deals. brett8388@aol.com
---
LaBaye 2X4 6-string guitar, 1967. Reded, serial number 155622. I sold this guitar 20-something years ago and have missed it ever since. bob@rwkguitars.com
---
Looking for a reasonably priced 52/53 Les Paul. Modifications/changed hardware/top refins ok. Original case a welcome bonus. No drama cash/trade/combo buyer. Rock on. wrobinso63@yahoo.com
---
Taylor T series, Good Condition. taylor.bob1932@yahoo.com
---
Taylor K14 CE L30, 2004. Will consider other Koa guitars. jimkeriotis@yahoo.com
---
– – – – – – – –
---
Place an Ad HERE.
Recieve Hot Sheet in your Inbox HERE.
Rules and Guidelines for Selling on the Guitar Hot Sheet
Only one pre-owned instrument for sale per listing. BUT you can have several listings.
No generic "guitars for sale, call me" listings, or listings of new product allowed. HOWEVER, you can purchase a banner ad on the Hot Sheet for new product items. Contact James@VintageGuitar.com for details.
This is NOT JUST FOR VINTAGE instruments, all used guitar-related gear is welcome.
You can use up to 300 characters, which is about 40-50 words.
You have the choice of using a phone #, email or an URL for your contact info.
Deadline for Hot Sheet is the 2nd and 4th Wednesday of each month at 8:30 a.m., Central Time.
Go HERE to enter your listing.
Your listing will appear in the next Guitar Hot Sheet on the 2nd and 4th Wednesday of each month. If you want it again in later editions, you will need to renew the listing for each one.
Vintage Guitar reserves the right to refuse any listing for any reason.
---
Tips for a good online buying experience
Practice good communications. Never assume anything. Ask for a detailed, in-hand description of all parts, including electronics, finish, fretwear, hardware, case, etc.
Find out what's original and what's not.
Spell out the deal, including amount, method of payment, shipping method, approval period, etc.
Keep all correspondence and receipts.
Condition definitions vary greatly; we suggest the use of the following:
Mint Condition: Condition the instrument was in when it left the factory. Very rare in older instruments.
Excellent Condition: Very clean, no wear, may be some minor finish and/or playing wear. All original parts and finish. The values in The Official Vintage Guitar Price Guide are for instruments in Excellent Condition.
Very Good Condition: This is a very wide range. Instrument is solid playing condition, but may have significant wear, non-original parts, or parts missing.
Good Condition: Still playable, but may have modifications and/or extensive playing wear.
Poor Condition: May have major problems or modified big time.