Powered by The 2020 Vintage Guitar Price Guide.

---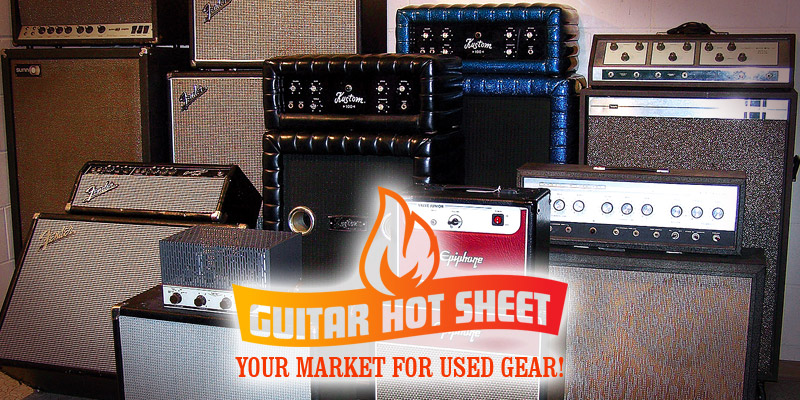 No. 013 Check out more great content at VintageGuitar.com
Place an Ad HERE.
Recieve Hot Sheet in your Inbox HERE.
Your Weekly Guitar Hot Sheet
Welcome to the lucky 13th edition of the Guitar Hot Sheet. More guitar nuts join us with each issue and this week's deals were sent to over 30,000 of them! There are many sweet pieces of gear in this one! So, join us next Wednesday to sell your gear – see the details on how to do so at the end of the list.
As always, please share with your guitar friends that, tragically, are not already getting the Hot Sheet.
Please leave your comments HERE.
---
All Parts Byrdland Tailpiece NEW OLD STOCK, in gold finish, (Byrdland engraved on the face), comes in the Original packaging. $250. FREE shipping USA Lower 48 States. bluesfingers@earthlink.net
---
Ampeg Dan Armstrong Lucite, 1969. There is a crack in the pick guard near the input jack but she seems stable. A slight chip on the top of the back of the headstock. Bridge is not original but was changed as were many of them as the stock bridge is inferior. Anvil type case. $3,000. dwcrusso@gmail.com
---
Banner 12 String, 1979. Not a factory made guitar. Banner was a renowned luthier who made about 200 guitars in his short life. Ebony fretboard, Indian Rosewood back & sides. Very good condition. Hard shell case with a broken latch. $750 + shipping. DickJ12@gmail.com
---
Califone Squire Bass (Murph), 1965. Very good shape Vintage bass. I have professionally refinished the body. The neck dressed, adjusted, cleaned and polished and also replace the 1st string (G) tuner. The pickups are EMG, not original. Pickguard is original. I would like to trade it for a Bassman head. paulmurph45@gmail.com
---
Celestion Vintage 30 speaker, 8 ohm, made in England, great working condition, paint scratched around mounting holes from star washers. Prefer local sale/meet north NJ/NY metro/east PA. (1) $60. dhostak@yahoo.com
---
Cerwin-Vega Dan Armstrong 1983 4×12 speaker cabinet. Highly efficient speakers capable of handling up to 150 watts each – cabinet can handle up to 600 watts! Prototypical open back cabinet. $250 pick up in Los Angeles area. guitarmaniax@msn.com
---
Charles Hoffman Dreadnaught 1974. Sitka Spruce top with Herringbone purfling, Indian Rosewood Back and Sides, ebony fretboard and bridge. Handmade, good condition, lots of finish wear, and lacquer checking. Great tone and volume, original hardshell case. nick-felice@excite.com
---
Collings C 10, 2012. Excellent +cond, features Ebony fb and bridge, dark stained mahogany b/s, OM style headstock and guard, non deep body, 1 3/4″ nut, superb sounding guitar w/ OHSC in exc cond, $3250 local Philly/Baltimore area meet/pickup pref. Dstone2175@gmail.com
---
Dallas Arbiter Fuzz Face JHF2, 1988. All original, Red Dot NKT transistors, very good condition, missing rubber feet. Comes in original box. $280 incl. US shipping. info@vintageinspiredpickups.com
---
Electro-Harmonix Big Muff Pi Crying Tone Wah/Volume pedal, 1975. 2 modes: Wah, Volume, reverse sweep control. 4 tone range position control for sweep range. 2 knobs replaced, new battery clip. Second owner, pedal never gigged. Very good condition. $290 +ship. tnixdorf@live.ca
---
Epiphone Casino, 2009. Inspired by John Lennon signature. Mint condition. Natural blonde finish. USA Gibson P 90 pickups. Original hard shell case. $1000 + shipping. Dickj12@gmail.com
---
Epiphone Triumph, 1952. NY Epi SB archtop guitar. Humbucker type electric pickup added. Very nice flat custom fretboard. Otherwise appears in original condition with a beautiful finish and very low action (no buzzing). Original case (rough). $600. mfalk@rap.midco.net
---
EV 12L Classic 12″ speakers X 2, 2017 NOS, 8 ohm, 200 watt. Bought for a project then didn't use them. Approx. $800. original cost, selling both for $400, local LA pickup or you pay shipping. merlejamesmclain@aol.com
---
Favilla F-5 1965 American made, mahogany steel string guitar. Pre-1970 but unsure of exact year (SN 924XXX). Two lengthy repaired side cracks, otherwise in excellent original condition with low action. $100 + shipping. no case. mfalk@rap.midco.net
---
Fender Custom Shop 62 Stratocaster, 1988. First year Custom Shop re issue in excellent + condition, rare Surf Green Pearl, tweed case, recent pro setup, $3200, local Philly/Baltimore area meet/pickup preferred. Dstone2175@gmail.com
---
Fender Custom Shop Relic strat 1955, Mint condition in Blonde. All Original Pickups, frets are perfect no wear, 9.5 radius Maple neck with .90 at the first fret sounds and plays incredible! OHSC tweed case with all case candy. $2900 Shipped. valdeeval@adelphia.net
---
Fender Jazz bass 1972, Vintage White, brass nut, maple neck, BadAss adj bridge, DiMarzio pus, pu selector switch, 2 series/parallel switches, refretted 1990. Very Good Condition. Honest playing wear. All old OEM parts. A pro players dream. $3,000/Make Offer. sylveste1731@roadrunner.com
---
Fender Jazzmaster, 1960. Sunburst, Slab board, Spaghetti logo, Clay dots, Tortoise Guard, Floating Tremolo, Wonderful instrument, Hang tag, Leather strap & cable, VG++, Original Brown hard case, $7,995. www.garysguitars.com
---
Fender P Bass & Bassman amp 1955. Matching 1955 (Sting) P-Bass and 5D6A Bassman Amp both in mint condition. All original, museum quality tweed hardshell case. Purchased new in 1955 by family member. The cleanest pair anywhere! Asking $27,500 or offer. No Oregon Sales Tax! roncascisa@comcast.net
---
Fender Precision Bass 1975. Sunburst w Orig. Hardcase All original. In Excellent Condition. Serious inquires only, email me for photos and questions. davidian9@yahoo.com
---
Fender Precision Bass 62 Reissue, 2007 NOS !! Still has plastic and stickers. All case candy. Olympic White w/beautiful red tortoise guard. Rosewood fretboard. Brown reissue case. Ex to mint. $1500. ponchoron53@kc.surewest.net
---
Fender Showman Amplifier, 1963. With 2X15 Cabinet with JBL D-130 speakers. All electronics date codes, of chassis, transformers, potentiometers, match for being 1963. This amp sounds amazing especially with a Stratocaster and reverb unit. whitener1@cox.net
---

---
Fender Telecaster, 1957. Gorgeous see thru Blonde finish, Fabulous feeling Maple "V" Neck, Bridge cover, All original, One owner, Low action, Stunning example, Amazing guitar! EC, Beautiful Original Tweed hard case with Red lining, $28,900. www.garysguitars.com
---
Fender Stratocaster, 1958, Sunburst finish, Spaghetti logo, Single ply White Guard, Kluson Tuners, Great feeling Maple Neck, Tremolo, Fabulous tonality, Lively player, Great vibe! EC-, Original Tweed hard case, $29,900. www.garysguitars.com
---
Fender Stratocaster Blonde, 1976. A killer vintage original in original and rare custom Blonde finish. Pickups are all original and there are no routes or alterations. Guitar is light and resonant. Pots are later pots dated '81. Tuners are original. All knobs and plastic are original. Comes with original four latch Fender logo plastic molded case. $2,999. www.rivingtonguitars.com
---
Fender Stratocaster 2005. MIM Strat in excellent condition. Arctic White. Maple neck. Plays & sounds great. Gig bag. $500 + shipping. Dickj12@gmail.com
---
Fender Stratocaster/Telecaster Blonde Tolex Case 1963. All hardware is intact and functioning. Handle is in good shape. Interior shows some minor wear. Exterior is in great shape including leather ends. Overall really nice condition $985. email me for pictures. pinktownley@gmail.com
---
Fender Telecaster august 1969. The guitar has a natural finish with a black pick guard. Originally white with a white pickguard. Currently, it has a Seymour Duncan Alnico II neck p/u and a Seymour Duncan Jerry Donahue lead pickup. I still have the original lead p/u which works fine. $4200, free shipping. Photos on request. swtuxcat@gmail.com
---
Fender Vibroverb 1964. Good condition and killer sound! Original Jensen speaker with foot switch. A unique opportunity to own an American classic. In N.Y. metro area, prefer not to ship. Email for pics and more information. $6400. markgc@optonline.net
---
Gibson A1 mandolin 1917. Classic pumpkin top. Totally original, No scratches, cracks, blemishes or playing wear. Absolute mint museum quality condition. Perfect action, good frets, plays loud and strong. OEM case. $2,000/Make Offer. sylveste1731@roadrunner.com
---
Gibson ES-225D 1958. All original, in excellent plus condition. Beautiful sunburst finish. With original Gator case in poor condition. $4,000. plus shipping. A great player in collector condition. Serious inquires only, email for photos and questions: davidian9@yahoo.com
---
Gibson ES-335 Dot, 2014. Semi-Hollow Guitar, Left Handed in Cherry Red, made in Memphis, TN. Purchased new from Southpaw Guitars in Houston, TX, in 2014. Never gigged out. Slim taper 60's type neck. Doesn't weigh a ton either. Classic 57 Pickups. Asking $2300 w/free shipping in USA. bgnsr@aol.com
---
Gibson Firebird HP, 2017. Pelham blue in near mint condition (replaced G- Sync tuners with Sperzel locking tuners.) No holes drilled in headstock. The original tuners included with guitar.  A deluxe Gibson gig bag is included. I'm asking $950 plus shipping or trade. qualityxman@gmail.com
---
Gibson GA83S Stereo Vib amp, 1959. Works great! New cord, caps, new tubes, original canvas cover. Has two 8″ speakers on each side,12″ center speaker. 125 made in 1959,128 in1960, 26 in 1961. Includes schematic, Gibson operation sheet. Plays stereo/mono, sounds fantastic. Appeared in V. G. article by Dave Hunter, May 2015. pjcalaf@gmail.com
---
Gibson Hummingbird Sunburst, 1990, a remarkably great sounding guitar with a great sounding K and K pickup installed, too. Action is low and plays with no buzz or issues. Neck is nice and straight. Guitar has been well set up here at our store and it's ready for gigging. It has a professionally repaired top and back crack and is priced accordingly. $2,699. www.rivingtonguitars.com
---
Gibson Les Paul Goldtop, 1953. Nice full neck! Two P-90 pickups, Trapeze tail piece, Superb example, Fine instrument! Excellent condition, Clean original hard case, $20,995. www.garysguitars.com
---
Gibson "The Les Paul" 1976. Number 17 of 33. Made in Kalamazoo with figured maple capped top, back, sides, and beautiful flamed neck. Ornate ebony and rosewood fingerboard. Special binding, abalone inlays, and hand carved rosewood parts. Gold plated hardware and PU's. Original case. Mint condition $12,000. vsnowden1@bellsouth.net
---
Gibson Les Paul Special 1998. Good condition, wine red, original Gibson P90 pickups, has dents and dings galore but just adds to its character. Perfect axe for blues and rock. Comes with SKB hard case, locking Grover tuners, and Schaller strap locks.$1000 + $50 shipping. (505) 417-1725
---
Gibson Les Paul Special 2005. Double cutaway. Yellow finish. This guitar has been gigged and is has a natural relic look, but no structural issues. P 90s are hot!! Plays great. Hard shell case. $1000 + shipping. Dickj12@gmail.com
---
Gibson ROSEWOOD Ray Whitley Recording King 1939 Very good plus condition ROSEWOOD sunburst Ray Whitley. Some minor repaired cracks. Perfect neck set and play-ability with the rosewood sound! Rare instrument around 172 made. Pearl on neck and headstock. Photos on request. All original but missing end pin. $18,000. kgrosslight@aol.com
---
Gibson SJN Country Western Model Natural, 1961, wonderful player and sounds just incredible. Action is great and neck is straight. Frets are still in good shape and have plenty of life still in them. Tuners have been upgraded to a nice set of vintage Grovers. The guitar has lots of signs of wear, a few minor crack repairs, and plays and sounds just fantastic. Comes with vintage hard case. $4195. www.rivingtonguitars.com
---
Gretsch Country Gentleman, 1962, in Ex+ condition, all original with beautiful OHSC. Beatles Harrison spec w/dual flip up mutes, Filtertron pickups and gold stairstep tuners. Original diaper, strap and set of strings! Near pristine & no issues. Owned 30 yrs. No Oregon Sales Tax! $4950. roncascisa@comcast.net
---
Ibanez ASS200 1980. Highly desired guitar with a Sunburst finish, maple body with lots of flame. The guitar is in very good playing condition: minor playing wear, some gold plating wear. Non-Original HSC included. $2,200 FREE Shipping in USA lower 48 states. bluesfingers@earthlink.net
---

---
Ibanez GB30, 1986, George Benson model, with a Cherry finish over a maple body. The guitar is in very good playing condition: some nicks, dings and a pro repaired headstock. Original case has a broken latch and some wear. $1,450 FREE shipping USA Lower 48 States. bluesfingers@earthlink.net
---
Ibanez Overdrive OD-850 Orange, circa 1974, clean and original. Works great with a nice warm and smooth distortion tone. $599. www.rivingtonguitars.com
---
JTM45 clone/homebrew tech built, 30 watts, Purple! Ex. Cond. Mercury Magnetics Xformer's, Sozo/F&T caps, Weber board/aluminum chassis, KT66'S, Mojo purple tolex head cab. Sounds like the real deal. Chassis pics available. Prefer local sale/meet north NJ/NY metro/east PA. $650. dhostak@yahoo.com
---
Martin 00-DB Jeff Tweedy 2015. Designed with Jeff Tweedy. Solid FSC Certified mahogany. 00 size, deep body. 14 fret. Mint condition. Signed & numbered by Jeff Tweedy. Hard shell case. $2250 + shipping. Dickj12@gmail.com
---
Martin 5-15T, 1950. Terz Tenor in Excellent condition with Original Case, shows minimal wear, a real case queen, no repairs, cracks or issues, loud and punchy tenor, great for old time fiddle backup, celtic, blues or couch jamming. $1800 prefer local Philly/Balt area meet/pickup. Dstone2175@gmail.com
---
Martin D 18, 1956. Excellent + condition, well maintained with recent neck reset, Re fret with EVO frets, and bone saddle. Otherwise all original, no repairs, cracks or issues. Well figured sitka top with pepperoni guard, Huge sounding bluegrass box, non orig vintage case, $6300. Dstone2175@gmail.com
---
Martin D-28 Authentic 1937, 2016, excellent-plus condition, VTS Adi top, Madagascar Rosewood back & sides, Ebony bridge & fretboard, original hard case. $4650. artie@mrmgtr.com
---
Martin D28, 1946. All orig and truly exc condition. Virtually no play wear. Neck is perfect. Non-orig HSC. Last year of herringbone purfling. Purchased years ago from a renowned Martin guitar restorer luthier who considered it to be an exc example of one. $20,000. Pls txt first. 516-382-4898
---
Mosrite Rare early Single pickup model, 1963. Sunburst, Smooth pickup cover, Set neck, Side jack, Flip up mute, Nitrate guard, Early knobs, Single line Klusons, Light weight, Extremely hard to find guitar!!! Rare original Brown hard case with Blue Plush lining, $6,995. www.garysguitars.com
---
Paul Reed Smith PRS 10th Anniversary Artist 1995. Dark Cherry Burst (#69 of 200) EXC condition- wide fat neck/stop tail/McCarty Treble & Bass pickups/gold hardware/engraved gold abalone birds/abalone bound headstock and fretboard/engraved PRS Eagle on headstock / all original / original owner. Pics available. Asking $4,750. Aceflyboy@comcast.net
---
PRS 1986 Second year of production. Moons, Mahogany body. OHSC. Great Shape. $3899. Email for more details and pictures. carsguitarsandmore@verizon.net
---
R E Brune Model #20 Classical Guitar, 1992. Very good condition minor wear. Cedar top. Indian rosewood b/s. Plays and sounds great! Russellolsen@hotmail.com
---
Rickenbacher 1933 Electro Spanish Flattop. Super rare! Pre-patent Horseshoe Pickup. Fitted pickguard. Straight neck with low action, very playable. Good physical shape for 87 years old, some repaired cracks and patches on treble side. $2000 plus $100 shipping. US only PayPal preferred. guitarmaniax@msn.com
---
Schecter Pete Townshend PT Telecaster Black, 1981, in original black finish. Guitar plays amazingly well, like a vintage tele, but with two great sounding original Schecter humbuckers. Features Kluson type tuners. Guitar stays in tune real well. A clean and all original example perfect for the player and collector alike. Comes with original tweed hard case. $2,499. www.rivingtonguitars.com
---
Silvertone 4-string Tenor Acoustic 1960s. Good condition, & playable. Slight increase in action up the neck. Nylon strings, 19 frets, rosewood board. ~ 23" scale, dreadnought style body. Stable bridge, 1 very thin surface crack. Great vintage vibe, has some stickers on it, age appropriate wear. $200, shippable. www.NHGuitars.com
---
Supro Silverwood/Val-Trol circa 1960. Very Good condition. $1750. www.mckenzierivermusic.com
---
Taylor 914-C Acoustic Electric Lefty 1997. Good condition w/ Taylor HSC. Was originally all-acoustic, an input jack & unknown electronics were added. Florentine cutaway, floral fretboard inlays. Has some cracks behind the bridge professionally cleated and secured, no open space in the cracks. $3,250, shippable. www.NHGuitars.com
---
Tone King Gremlin 5 watt – cream vinyl – in excellent used condition. Has built-in Iron Man II attenuator. Upgraded with the Eric Johnson/Eminence EJ-1240 Alnico 12″ speaker and a custom double-padded Studio Slips clam shell cover. $950, plus shipping. Pix available. 60wattcombo@gmail.com
---
Washburn Acoustic Electric Bass AB40, 201? Stu Hamm model. Dark red burst finish w rosewood board. 24 frets. Arched spruce top, maple back and sides. Custom piezoelectric electronics. Excellent condition. With factory hard case. $600. ponchoron53@kc.surewest.net
---
WANTED
Ibanez 1991 Wanted: Ibanez Jems, Universe, and Satriani models. 1990's multicolors and graphics preferred. Also buying vintage Jackson and Charvel USA, and Eddie Van Halen signature Ernie Ball and Peavey USA guitars. Quick deals with no drama. brett8388@aol.com
---
LaBaye 2 X 4, 1967. 6-string guitar, red, serial number 155622. I sold this guitar 20-something years ago and have missed it ever since. bob@rwkguitars.com
---

---
Place an Ad HERE.
Recieve Hot Sheet in your Inbox HERE.
Rules and Guidelines for Selling on the Guitar Hot Sheet
Only one pre-owned instrument for sale per listing. BUT you can have several listings.
No generic "guitars for sale, call me" listings, or listings of new product allowed. HOWEVER, you can purchase a banner ad on the Hot Sheet for new product items. Contact James@VintageGuitar.com for details.
This is NOT JUST FOR VINTAGE instruments, all used guitar-related gear is welcome.
You can use up to 300 characters, which is about 40-50 words.
You have the choice of using a phone #, email or an URL for your contact info.
Deadline for each week's Hot Sheet is Tuesday at midnight, Central Time.
Go HERE to enter your listing.
Your listing will appear in the next weekly Guitar Hot Sheet. If you want it again in later editions, you will need to renew the listing for each one.
Vintage Guitar reserves the right to refuse any listing for any reason.
---
Tips for a good online buying experience
Practice good communications. Never assume anything. Ask for a detailed, in-hand description of all parts, including electronics, finish, fretwear, hardware, case, etc.
Find out what's original and what's not.
Spell out the deal, including amount, method of payment, shipping method, approval period, etc.
Keep all correspondence and receipts.
Condition definitions vary greatly; we suggest the use of the following:
Mint Condition: Condition the instrument was in when it left the factory. Very rare in older instruments.
Excellent Condition: Very clean, no wear, may be some minor finish and/or playing wear. All original parts and finish. The values in The Official Vintage Guitar Price Guide are for instruments in Excellent Condition.
Very Good Condition: This is a very wide range. Instrument is solid playing condition, but may have significant wear, non-original parts, or parts missing.
Good Condition: Still playable, but may have modifications and/or extensive playing wear.
Poor Condition: May have major problems or modified big time.