Powered by The 2021 Official Vintage Guitar Price Guide.
---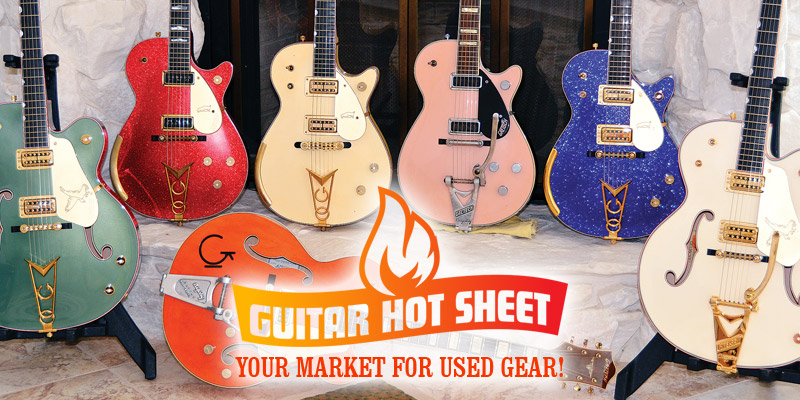 No. 019 Check out more great content at VintageGuitar.com
Place an Ad HERE.
Recieve Hot Sheet in your Inbox HERE.
Today's sermon
"Selleth that which you don't need.
Buyeth that which you desire!"
Text Ads in the GHS are FREE to all. See below for details.
Please leave your comments HERE.
---
Aria Pro II XX MS Michael Schenker Flying V, 1984. Black and White finish, She's all ragged out, rode hard, and put away wet…email for photos $600 with an Epiphone hard case. info@guitar-emporium.com
---
Black Volt Crazy Horse, 2017. Excellent condition. Photos upon request. Tung-Sol 6L6s, power tube swap w/o rebiasing. Celestion G12 Classic Lead 80 12" speaker. NO bids, price firm. $2,875.00 incl shipping. Selling b/c have two of these glorious amps w/ mods by Gio to the Crazy Horse I am keeping. Srvdmc2163@gmail.com
---
Bourgeois Country Boy Deluxe, 2005. Adirondack Spruce Top, Figured Mahogany B/S. Excellent Cond. PLEK'd, New Bone Saddle, OHSC, LR Baggs Anthem. Nut Width: 1 23/32", Scale Length: 25 1/2", Soft V Profile, Ebony Fretboard. Great Tone & Balance! Lots of photos. $3,750 + Shipping. daveemr65@gmail.com
---
Celestion Vintage 30 Celestion Vintage 30 12" speaker, 8 ohm, 60 watts, made in England (not china), great working condition, paint scratched around mounting holes from star washers. Prefer local sale/meet north NJ/NY metro/east PA. Save yourself shipping! $60. dhostak@yahoo.com
---
Certain-Vega Dan Armstrong, 1983. 4×12 speaker cabinet. Highly efficient speakers capable of handling up to 150 watts each – cabinet can handle up to 600 watts! Prototype with open back cabinet. $250. Prefer pick up in Los Angeles area. guitarmaniax@msn.com
---
Dan Armstrong 1976 Original Orange Squeezer compressor by Musictronics. Runs on 9V battery, designed to plug directly into guitar output but can be easily rewired to plug into amp. Color faded on face. $110 w/ shipping. bpmaloy@yahoo.com
---
Fargen Blackbird 40 (Naylor SD-50), Tuki cover, 2006. Excellent minus condition with only minor cosmetic marks on the tolex. Amazing Warm Clean Tone. Perfect Pedal Platform, Solid Working Condition. Naylor Sd-50 Speaker, No Mods or Repairs, Tone Clone Vibroverb Transformers, Custom made Tuki Cover. kitruscoe@yahoo.com
---
Fender 50th Anniversary Stratocaster MIJ, 1996. Leftie, Fuji Gen Gakki MIJ 50th anniversary model #U027467. 1956 SPECS Two tone burst Basswood Maple neck Professionally modified with 1954 Vintage Lace Holy Grail pickups (original MIJ pickups in the case) replaced output jack. Original owner. $995. 239-777-7075
---
Fender Custom Shop 62 Stratocaster, 1988. Exc cond, Surf Green Pearl, nice neck profile, action and playability, with tweed G&G case, $3,200 plus ship, local pickup available Philly/Baltimore vicinity. Dstone2175@gmail.com
---
Fender Katana, ca.1985. In black (two humbuckers, built-in neck), and two Squier Katanas from the same era (one humbucker, bolt-on neck). Will let them go for a nice price, either separately or together. Let's talk about these cool, V-shaped axes from the '80s. greenscene@earthlink.net
---
Fender Stratocaster, December 1965, one of the first of the large headstocks. Faded to beautiful 2 color Sunburst top. Refretted. This guitar is straight unusual and well played with original case. Lots of pics. Take L 00 or small pre war Martin in trade. $12,000. bluzee@outlook.com
---
Fender Stratocaster Neck, 1978. Original Strat 70s neck and tuners in very good condition. Some light nicks and fret wear, E and B tuners have some play with no string tension, but are tight when strung, no tuning issues. Stable, straight neck. Many photos available, original owners manual. $900, free shipping. steven@stevensquireandslowrain.com
---
Fender Telecaster, 1969. Natural finish, S. Duncan pups. Bought from original owner in 1974. Was white with white PG. Great condition, still have original lead pickup in great shape. Arthritis forces sale. Original HSC. Will ship in lower US. $2,395. swheartsongs@gmail.com
---
Fender Telecaster American Special, 2017. This guitar is an american made Telecaster in really good shape. I have replaced the pickups and bridge on it. I am looking for $800 but I am willing to listen to offers. Shipping will be calculated at time of sell and payment will need to be by paypal. kelleydon3@gmail.com
---
Fender Vibroverb, 1964. Nice condition and killer tone! Original Jensen speaker, with foot switch. A unique opportunity to own a rare American classic. In N.Y. metro area, prefer not to ship. Email for pics and more information. $5,900. markgc@optonline.net
---
Framus Graciela Electric/Acoustic Mandolin, 1960's. A very nice sounding and playing mandolin. Natural spruce top, , walnut ply sides. Funky pear shape, single "cat's eye" sound hole. Very good condition. $500, buyer pays shipping, CONUS only. 48 hour review period. mjbuonaiuto@gmail.com
---

---
G&L ASAT Classic, 2000. American Made Semi-hollow, Tobacco Sunburst, Alder body, G&L Alnico humbucker Neck position and a single-coil Bridge pickup designed by Leo Fender. Serial #: CLFxxxxx. The guitar is in Excellent condition: Non-Original HSC included. $1,200 Free Shipping in USA lower 48 states. bluesfingers@earthlink.net
---
Gibson ES-175D, 1957. First time on the market. Recently purchased from the original owners family. First year for Gibson guitars with humbucks. Cleanest one from this era (or most eras ) I've ever seen. Easily 9.8/10. Investment Grade. www.trademarkguitars.com
---
Gibson Rosewood Ray Whitley Recording King, 1939. Very good condition sunburst. Some minor repaired cracks. Perfect neck set and play-ability with the rosewood sound! This guitar sounds like a Gibson Advanced Jumbo. Rare instrument around 172 made. Pearl on neck and headstock. All original but missing end pin. $18,000. kgrosslight@aol.com
---
Gibson Super 400 CES, 1997. Sunburst, Gibson Historic and Arts 1959 reissue. Extra fine condition. Super flamed maple and tight-grained spruce. Sounds and plays incredibly. Local Denver area pickup only. $7800. johnthornburg@comcast.net
---
Gibson Norlin LP Custom, 1976. In the Randy Rhoads "cream" finish that started out white, but yellowed over time. Un-played over 20 years – pretty clean, but insanely heavy. HSC missing bottom skids. $4,000 local pickup – shipping/ins tbd. Offers considered if accomp w/ appropriate doc. stratman@scn.org
---
Gibson True Historic Ace Frehley 59 Les Paul, 2015. Aged/Unsigned, MONSTER Flame. Dirty Lemon Burst. Hide Glue. Accurate 59 neck profile, small shoulders. Tasteful aging, patina oozes that elusive 50s Gibson Mojo. 8.4 Pounds and Loud when unplugged. All Case Candy. Only 16 made. Rarer than Aged/Signed run. Ship USA only. $8500 +shipping. gregpedersenwork@gmail.com
---
GRETSCH G6120 Chet Atkins electric, 2011. Mint condition. As new. Never played. Beautiful vintage orange stain on maple. Dual Filter'Trons. Adjusto-Matic bridge. Ebony fretboard. Grovers. Gold Bigsby B6G vibrato tailpiece. Includes OHC. $2399 + $95 shipping to lower 48. Glenn_17Public@aol.com
---
Hofner Club 40, 1959. John Lennon model, excellent pro restore, added P-90 bridge pickup. natural refin, black neck. 4 pounds! reissue pegs and controls, Original neck pickup, tail, bridge, guard, logo. new case $850. bruce@brucehayes.com
---
Ibanez AR500, 1980. Antique Violin Finish, with Built In Preamp And Tri-Band Active EQ. Curly/flame maple top & ivoroid/abalone binding. The guitar is in Excellent condition: Original HSC included. $2,250. Free Shipping in USA lower 48 states. bluesfingers@earthlink.net
---
JTM45 clone Tech built, Ex. Cond. Mercury Magnetics Xformers, Sozo/F&T caps, Weber aluminum chassis/eyelet board, KT66'S, Mojo purple tolex head cab. Over $1200 parts alone. Sounds like the real deal. Pics available. Prefer local sale/meet north NJ/NY metro/east PA. $650. dhostak@yahoo.com
---
Kauer Banshee Standard. Gorgeous Pelham Green with Wolfetone P-90s. Near mint. Mono Gig bag. Photos upon request. $2,250 incl shipping. Price firm. Srvdmc2163@gmail.com
---
Kendrick 2410 Bassman amp, 1995. Recent service by Certified Fender Amp Tech. New filter caps, new reverb transformer, new tubes, sockets/pots/jacks cleaned. Includes 2 custom Kendrick footswitches, manual & black vinyl cover! Very fine condition! $1,500 obo. warmdude@bellsouth.net
---
Louis Electric/Buster. Recent 1×12 Combo Amp w/Jupiter 12LC. Excellent condition. The Buster is based on a 5E3 tweed Deluxe. Power output: 6V6-22W, 6L6-30W. $1,395. robertmickey@me.com
---
Marshall 4X10 Speaker cab, mid 1980s? Some dings but not bad. I put $500 worth of Ted Weber speakers in it. A Blue Pup 10, a Legacy 10, a Silver Ten, and a Weber VST Ferromax 10 (Chicago Jenson knockoff). $1000- Free shipping – Continental USA only. Paypal preferred. guitrailer@gmail.com
---
Marshall JCM 900 1960 2×12 cab. This cabinet is in good shape.Has 2 brand new Celestion G12H 75 Creambacks in it. Made in UK. Local Pickup in Coram N.Y. only. $375 FIRM. delleaxeman@gmail.com
---
Marshall JCM800 2204 50W Master Model Mk 2 Lead. Dec 1981. Desirable vertical inputs. Serviced w/ Tung Sol 6550s and new caps. Orig tranny. I have orig GE 6550s, caps and other orig parts. Contact w/ questions. VG outward cond. and Exc working cond. $1,800+shipping. Johnlauren12@yahoo.com
---
Martin 5-15 T, 1950. Excellent + condition, all original, no repairs, cracks or issues, Original case, nice mahogany terz tenor with big sound. $1,650 plus ship, local pickup available Philly/Baltimore vicinity. Dstone2175@gmail.com
---

---
Martin D 18, 1956. Exc cond, recent pro neck reset and re fret, clean and original, no repairs, cracks or issues, nice neck profile, great bluegrass tone, non orig vintage HSC, $6,300 Local pickup Philly/Baltimore area only. Dstone2175@gmail.com
---
MusicMan Hunter Hayes signature model, 2020. EBMM Hunter Hayes. Legendary roasted maple MM neck. SSS+PIEZO+20DB boost switch. Unique switching system allows you to blend all 4 pickups at once. Or any combo there of.OHSC $1950 + 450 to ship. hesgoneaz@msn.com
---
National Delphi, 2006. Excellent original condition, 12 fret round neck, black steel body, great action and reso tone and volume, with OHSC, $1,650 plus ship, local pickup available Philly/Baltimore vicinity. Dstone2175@gmail.com
---
PRS S2 Studio LTD Edition, 2018. This is a unique version of a PRS with a single/single/hum pickup configuration and updated switching system for multiple sonic options. Cool guitar, Mint condition. Pictures available on request $1,300 + $50 shipping. HSC. hesgoneaz@msn.com
---
Regal Dobro Pre-war, 1933 era. Nice with the round green label (Chicago?) in decent shape. Spanish neck with good action. Unusual vintage coverplate. Binding on top and back. Photos available. mfalk@rap.midco.net
---
Rickenbacher Electro Electric Spanish Flattop, 1934. Super rare! Pre-patent Horseshoe Pickup. Fitted pickguard. Straight neck with low action, very playable. Good physical shape for 87 years old, some repaired cracks and patches on treble side. $1,800. US only PayPal preferred. guitarmaniax@msn.com
---
Rock n Roll Relics Thunders, 2017. Amber TV Yellow. Excellent condition. Cool relic'd case. Photos upon request. '58 Fat Neck, 12" radius. Mahogany body. Rosewood fretboard. Kluson tuners. Tone Pros bridge. Dave Allen P-90. Srvdmc2163@gmail.com
---
Stelling Sunflower Banjo, 2010. Excellent + condition, OHSC, superb sounding bluegrass banjo, great neck and action, $3,200 plus ship, trade considered for pre 1960 Martin 0/00 18. Local pickup available Philly/Balt vicinity. Dstone2175@gmail.com
---
Suhr Classic JM Pro, 2018. Like new condition. Maple neck rosewood board. Compound radius neck 10"to14". SSV HH pickups. Master volume+ 2 tone knobs. Black finish, black pickguard. Original tortoise shell pickguard included. Suhr Gigbag. $1,950 + $50 to ship. hesgoneaz@msn.com
---
Taylor 710 BRZ ,1996. Excellent condition with original Taylor hard case. Brazilian Rosewood (BRZ code). Limited production due to the wood's availability. Englemann spruce top with abalone sound hole rosette. Gold tuners. Pearl "Koa" fingerboard inlays. Serial # 961203105. Appraised at $3,000. Asking $2,600. abe.wischnia@gmail.com
---
Waterslide S Style, 2020. Mint. Fiesta Red, Davoli-Wandre pups. Gotoh vintage tuners. Pearloid pickguard. Emerson pots. Cloth covered wiring. NOS cap. Switchcraft jack. Vintage style trem. Maple neck, rosewood neck. Soft V-C profile neck. 6105 frets. 1.685" nut width. 10" radius. Very nice SKB HSC, $2,150. Price Firm. Srvdmc2163@gmail.com
---
Yorkville BassMaster 200 watt 2×10 bass combo amp. This amp is in great shape. Never gigged studio use only. $300 Local Pickup in Coram N.Y. delleaxeman@gmail.com
---
WANTED
Hernandis Grand Concert Classical Guitar, 1972-1979. Looking for a Hernandis Grand Concert Guitar in nice condition. russellolsen@hotmail.com
---
LaBaye 2 X 4 1967 6-string guitar, red, serial number 155622. I sold this guitar 20-something years ago and have missed it ever since. bob@rwkguitars.com
---
Taylor K14 CE L30 2004 Will consider other Koa guitars. jimkeriotis@yahoo.com
---

---
Place an Ad HERE.
Recieve Hot Sheet in your Inbox HERE.
Rules and Guidelines for Selling on the Guitar Hot Sheet
Only one pre-owned instrument for sale per listing. BUT you can have several listings.
No generic "guitars for sale, call me" listings, or listings of new product allowed. HOWEVER, you can purchase a banner ad on the Hot Sheet for new product items. Contact James@VintageGuitar.com for details.
This is NOT JUST FOR VINTAGE instruments, all used guitar-related gear is welcome.
You can use up to 300 characters, which is about 40-50 words.
You have the choice of using a phone #, email or an URL for your contact info.
Deadline for each week's Hot Sheet is Tuesday at midnight, Central Time.
Go HERE to enter your listing.
Your listing will appear in the next weekly Guitar Hot Sheet. If you want it again in later editions, you will need to renew the listing for each one.
Vintage Guitar reserves the right to refuse any listing for any reason.
---
Tips for a good online buying experience
Practice good communications. Never assume anything. Ask for a detailed, in-hand description of all parts, including electronics, finish, fretwear, hardware, case, etc.
Find out what's original and what's not.
Spell out the deal, including amount, method of payment, shipping method, approval period, etc.
Keep all correspondence and receipts.
Condition definitions vary greatly; we suggest the use of the following:
Mint Condition: Condition the instrument was in when it left the factory. Very rare in older instruments.
Excellent Condition: Very clean, no wear, may be some minor finish and/or playing wear. All original parts and finish. The values in The Official Vintage Guitar Price Guide are for instruments in Excellent Condition.
Very Good Condition: This is a very wide range. Instrument is solid playing condition, but may have significant wear, non-original parts, or parts missing.
Good Condition: Still playable, but may have modifications and/or extensive playing wear.
Poor Condition: May have major problems or modified big time.