Powered by Gibson Garage.
---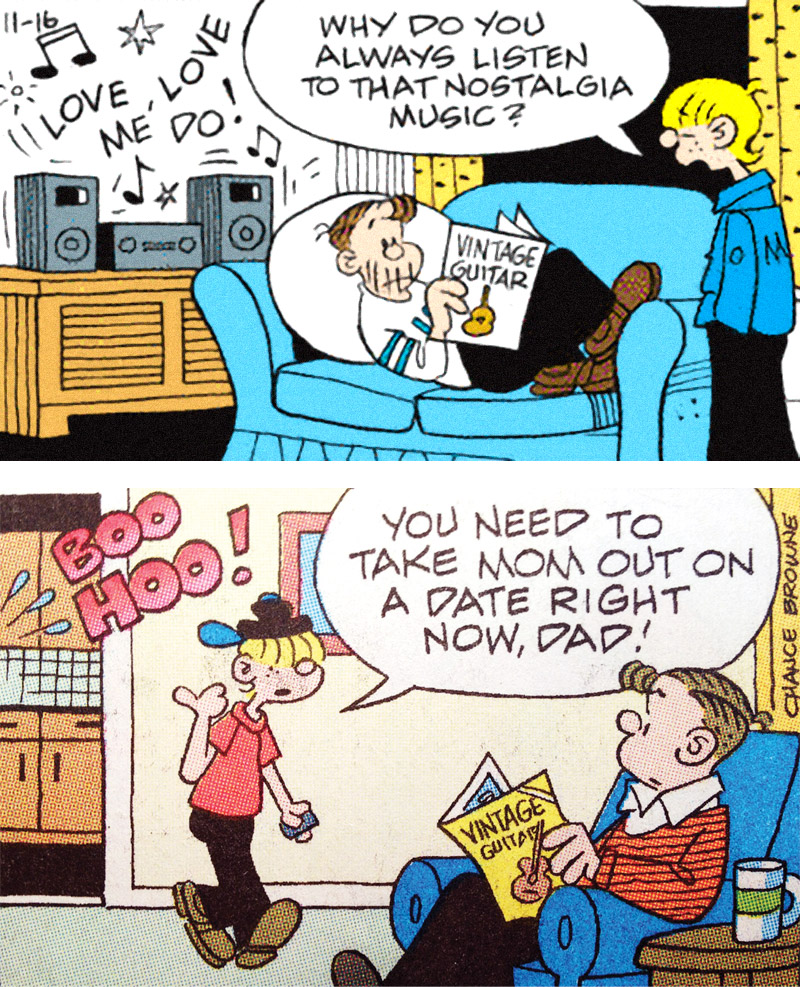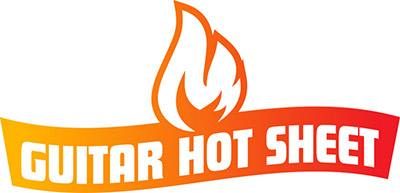 No. 038 Check out more great content at VintageGuitar.com
---
BUY, SELL, TRADE
---
The Guitar Hot Sheet is on a new schedule and is emailed on the 2nd and 4th Wednesday of each month. See details below to get your FREE listing in the next one, which will be sent on June 23rd.
Send any cool video links or funny guitar memes for the GHS to Doug@VintageGuitar.com.
Place an Ad HERE.
Recieve Hot Sheet in your Inbox HERE.
Please leave your comments HERE.
---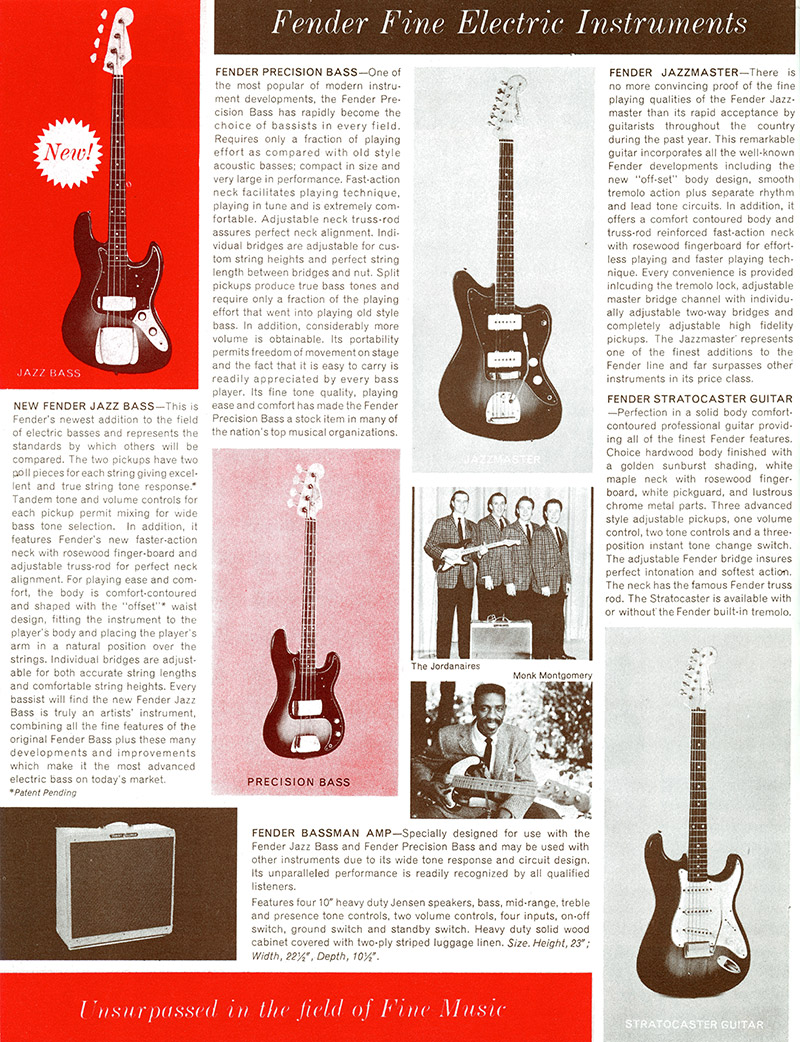 ---
Alembic Scorpion Bass. Used, natural blistered Maple top and back over a solid Mahogany body, Ebony board with pearl inlays, 2 Alembic pickups, Brass bridge, nut and tailpiece, 5 piece Maple/Mahogany Neck-thru Body neck, LED "on" light, gold Schaller tuners, dual truss rods, 24 frets, 32 1/4″ scale, exc. $10,000. www.LarkStreetMusic.com
---
Baldwin B1 Bass Combo Amp, 1960s. Very Good Condition , 45 watts solid state, one 12″ and one 15″ speaker, 2 channels, 2 inputs each channel, volume, bass, and treble control for each channel, a Full/Timbre switch on the back which is like a bright switch, if interested or have questions call or text. Asking $400. 516-592-2686
---
Crate CPB150 PowerBlock, 2006. 150 Watt Stereo Guitar Amplifier Virtually Mint In Original Box w/ Padded Traveling Bag, Carry Strap, User Guide, Warranty Card & Power Cord Features XLR Line Out Jack w/ level control, line in/ effects loop,CD line level stereo jacks, text. $225. 585-230-5778
---
D'Angelico Excel EXL-1 Left handed, 2019. Original archtop, art deco inspired details, single cutaway, burst top, Seymour Duncan floating mini humbucker, floating rosewood bridge, 11/16th nut, hardshell case, a great player with classic tone. $1,099 plus shipping. jeffrmangan@gmail.com
---
Danelectro Convertible, 1960s. Acoustic/Electric with Lipstick pickup and original case. $799. www.RivingtonGuitars.com
---
Ehlers 16″ small jumbo acoustic, 2006. With incredible curly walnut B&S, adirondack top, this was a prototype model built in Portland Oregon, HSC, -mail me for pictures. $4,500. grahamguitars@yahoo.com
---
Fender Bassman, 1955. 4×10" tweed combo amp, 5E6 circuit, same as Rory Gallagher's. Original very clean condition (including speakers) at least VG+. Located in New Haven CT area; prefer not to ship. Email for pics/info. $7,000. markwillecho@yahoo.com
---
Fender Deville 4 X 10". Speaker Cabinet with the 4 Original 10″ speakers with original cover, used only in the studio, clean excellent condition. $250 shefshef@hotmail.com
---
Fender Nate Mendel P-Bass, 2013. Specially contoured ash body with light Road Worn finish treatment. Maple neck with slimmer "C" profile and "F"-stamped neck plate – extra neck plate engraved with a special hybrid Foo Fighters/Fender logo. Seymour Duncan® Basslines SPB-3 Quarter Pound™ split single-coil Precision Bass pickup. Fender High-Mass bridge. $1,199. www.RivingtonGuitars.com
---
Frank Maglio Tico & the Man – "Don't Fear the Reaper"
Check out all of "Tico & the Man" videos HERE!
---

---
Fender Stratocaster Leftie 1996 MIJ 50th Anniversary model, 1996. #U027467 1956 specs, Two tone burst Basswood Maple, Fuji Gen Gakki neck professionally modified with 1954 vintage Lace Noiseless Holy Grail pickups (original MIJ pickups in case), replaced output jack, Original owner. $900. jeffrmangan@gmail.com
---
FUrman PL-Plus. Display of AC line voltage by a 20 LED bar- graph meter, reading from 90 to 128 Volts. 2 pull out Lights, text. $175. 585-230-5778
---
Gibson ES-335, 1960. W/PAFs. Refinned in 1984- 2nd owner & changed pots, otherwise all original. Priced accordingly at $15,000. rich@thefishingline.com
---
Gibson ES-335, 2003. Created specifically for Yamano, its Japanese distributor. Block inlays & finished in Antique Natural-gorgeous figuring – original Kluson replaced w/Grovers, w/OHSC, weighs 8 lbs. 6 oz. $3.300. rich@thefishingline.com
---
Gibson L-6S, 1975. Natural with original case. $1,699. www.RivingtonGuitars.com
---
Gibson Les Paul Standard '50s, 2019. Vintage sunburst, 9.2 lbs, exc, brown case. $1,795. www.LarkStreetMusic.com
---
Gibson Les Paul Stars & Stripes, 2006. Only 50 made. Pretty much mint! All case candy except COA, otherwise everything is here. Gibson will not reissue me or anyone a COA anymore. Case and guitar like new- pro set up with .10's, plays great. $5,000. rich@thefishingline.com
---
Gibson SG, 1976. Triple pickup, Walnut, original protector case. $4,195. www.RivingtonGuitars.com
---
Gretsch Town and Country, 1954. Natural top with sunburst sides and back. Triangular sound-hole. OHSC. $4,995. www.GarysGuitars.com
---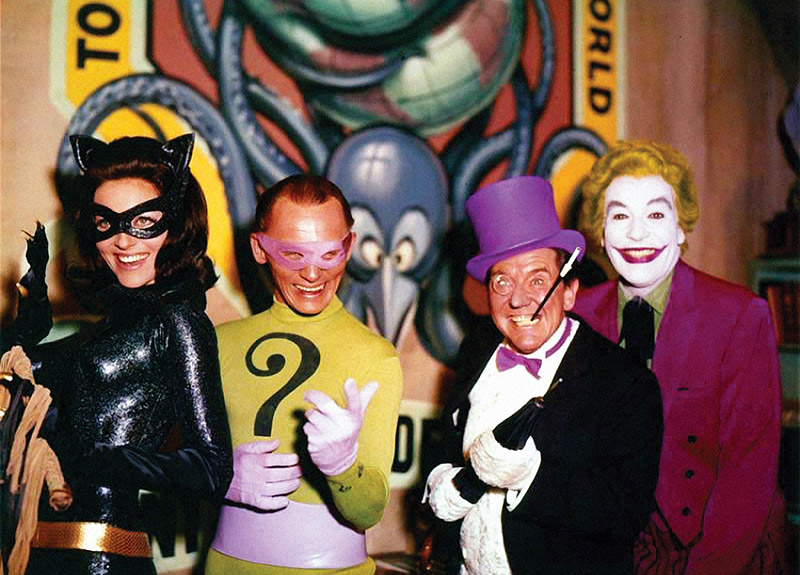 ---

---
Guild Starfire III, ca.1965. A fantastic guitar with the original anti-hum pickups.A very playable collectable guitar. Email for details. $3,250. ampman57@aol.com
---
Kirk Sand Steel String guitar, 1998. Modern style OM with cutaway, Cocobolo B&S, Sitka Spruce top, LR Baggs p.u. with volume/tone control, TKL HSC, e-mail me for pictures $5,500. grahamguitars@yahoo.com
---
Martin C-1 Archtop, 1931. Mahogany B&S, probably adirondack top, top has a gentle shading, original bar frets, neck is straight, orig. tailpiece, the bridge is not original, structurally sound, some minor scuffs etc. Newer Martin OM case, e-mail me for pictures. $2,800. grahamguitars@yahoo.com
---
Martin D18, 1949. Neck reset & full set up plays. Replaced unoriginal bridge with slightly oversize true Martin bridge. There is a small crack behind bridge that is cleated and fine. No breaks or other repairs, has been played for sure and sounds like a Martin from this era should! rich@thefishingline.com
---
Martin D18, 1958. Very strong, alll original-Action, tonality & intonation perfect, playability spot on- saddle and frets are good too. Tone & volume very strong-needs nothing. Well performed & stable repair lower section of top a couple of hairline cracks near the endpin that are stable. $5,200. rich@thefishingline.com
---
Martin D18, 1943. All original, clean, weighs 3.7 lbs w/pre-war build specs. Most balanced acoustic tone I've ever heard. Cleated cracks as expected-super clean all around. Complete neckset & full set. Comes w/Martin hard shell molded case. Really a fine piece of history and a rare clean piece. $16,000. rich@thefishingline.com
---
Martin HD-35, 2011. With scalloped bracing and herringbone trim, 1 11/16″ at the nut, exc+, ohsc. $2,495. www.LarkStreetMusic.com
---
Musitech OnBoard Mid/Booster. Designed by John McIntyre features 25db boost, Smooth & Creamy Low Mids, biting hi mids for extended open harmonics, extremely quiet operation, special wireless filtering, 3000 hour battery life, text. $175. 585-230-5778
---
National Triolian, ca 2010. Single resonator guitar with wood body, ƒ holes, brown/yellow sunburst finish, near mint, ohsc. $2,295. www.LarkStreetMusic.com  
---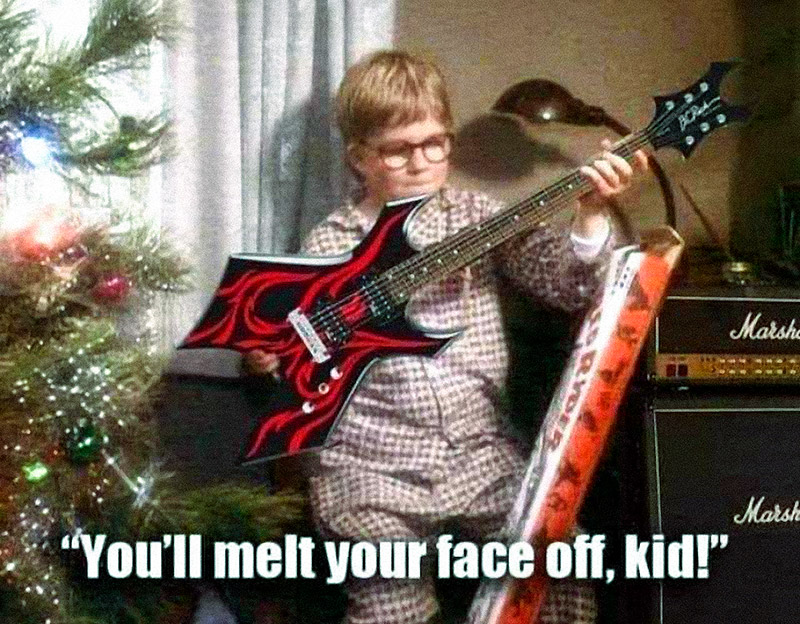 ---

---
ProCo Rat, 1996. Mint condition. Made in USA. LM308 chip on white board. Flat top & sides. Original Box, papers and wrench for battery screw. Rare to find a vintage unit in this condition. Text. 585-230-5778
---
PRS Custom 22 Left Handed, 1999. 10 Top, Birds, Trem Bridge. Trans Emerald Green Has a few minor dings, also has coil splitter. Great guitar, plays and sounds awesome. OHSC. Asking $2695. bgnsr@aol.com
---
PRS Wood Library Custom 24 Semi-hollow, 2016. light olive curly Maple 10 top, Korina body & neck, abalone birds, tremolo, 58/15LT pickups, mint, figured tolex case. $3,695. www.LarkStreetMusic.com
---
Pyramid Point Custom, 2016. Jazz-bass style custom 5 string, made from a one-piece slab of Michigan White Ash. Maple neck, plays great, made for me by Pyramid Point Custom Guitars. You can see pics on their Facebook page. Smokin' deal. $899. bdkinmc@live.com
---
Vintage 47 Amplifier. El Capitan, 1942 style Oahu tube amp. 46 of these made by David Barnes the original owner of Vintage 47. Moreland and Arbuckle used one of these for awhile, e-mail for pictures. $1,500. grahamguitars@yahoo.com
---
WANTED
50's Gibson Les Paul, 1953. Looking for a carcass of a 50's LP, part/no parts. paint/no paint-head stock repairs okay too. I have the parts to pout one together need the body. rich@thefishingline.com
---
Gibson ES-335 or 345, 1959, 1962-65 Looking to buy a carcass of a ES-335 body. Paint / no paint, parts / no parts, headstock breaks ok too. I have the parts to put one together. rich@thefishingline.com
---
Ibanez Steve Vai and Joe Satriani guitars, 1990s. Premiums paid for graphics and multicolors. Collector also buying vintage USA Jackson, Charvel, BC Rich, and Eddie Van Halen guitars. Quick, easy deals. brett8388@aol.com
---
LaBaye 2 X 4, 1967. 6-string guitar, red, serial number 155622. I sold this guitar 20-something years ago and have missed it ever since. bob@rwkguitars.com
---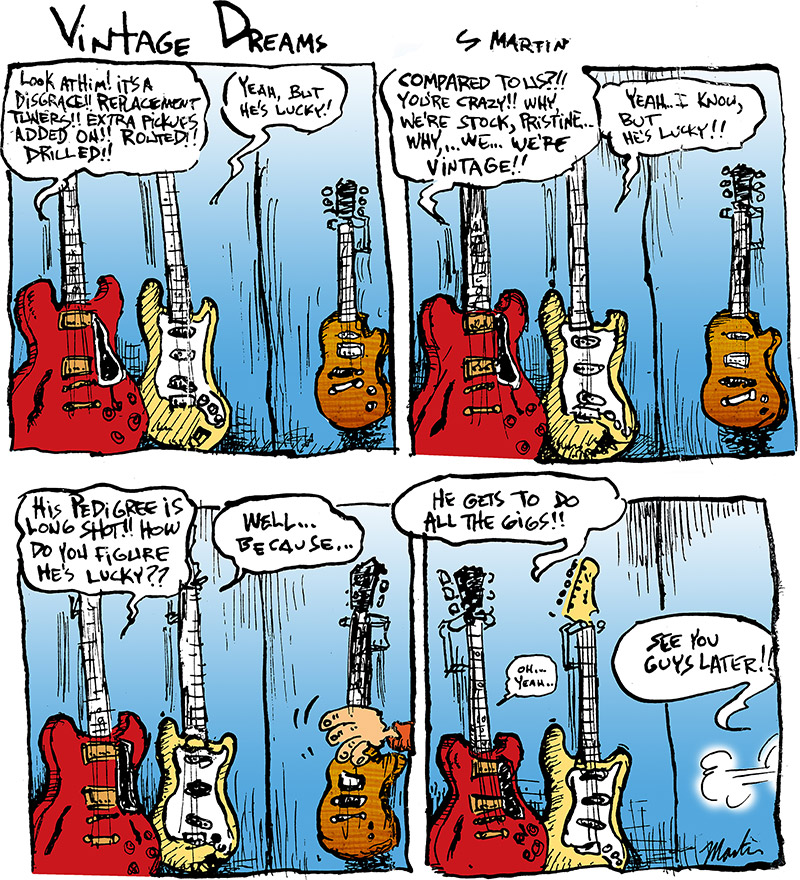 ---
Place an Ad HERE.
Recieve Hot Sheet in your Inbox HERE.
Rules and Guidelines for Selling on the Guitar Hot Sheet
Only one pre-owned instrument for sale per listing. BUT you can have several listings.
No generic "guitars for sale, call me" listings, or listings of new product allowed. HOWEVER, you can purchase a banner ad on the Hot Sheet for new product items. Contact James@VintageGuitar.com for details.
This is NOT JUST FOR VINTAGE instruments, all used guitar-related gear is welcome.
You can use up to 300 characters, which is about 40-50 words.
You have the choice of using a phone #, email or an URL for your contact info.
Deadline for Hot Sheet is the 2nd and 4th Wednesday of each month at 8:30 a.m., Central Time.
Go HERE to enter your listing.
Your listing will appear in the next Guitar Hot Sheet on the 2nd and 4th Wednesday of each month. If you want it again in later editions, you will need to renew the listing for each one.
Vintage Guitar reserves the right to refuse any listing for any reason.
---
Tips for a good online buying experience
Practice good communications. Never assume anything. Ask for a detailed, in-hand description of all parts, including electronics, finish, fretwear, hardware, case, etc.
Find out what's original and what's not.
Spell out the deal, including amount, method of payment, shipping method, approval period, etc.
Keep all correspondence and receipts.
Condition definitions vary greatly; we suggest the use of the following:
Mint Condition: Condition the instrument was in when it left the factory. Very rare in older instruments.
Excellent Condition: Very clean, no wear, may be some minor finish and/or playing wear. All original parts and finish. The values in The Official Vintage Guitar Price Guide are for instruments in Excellent Condition.
Very Good Condition: This is a very wide range. Instrument is solid playing condition, but may have significant wear, non-original parts, or parts missing.
Good Condition: Still playable, but may have modifications and/or extensive playing wear.
Poor Condition: May have major problems or modified big time.