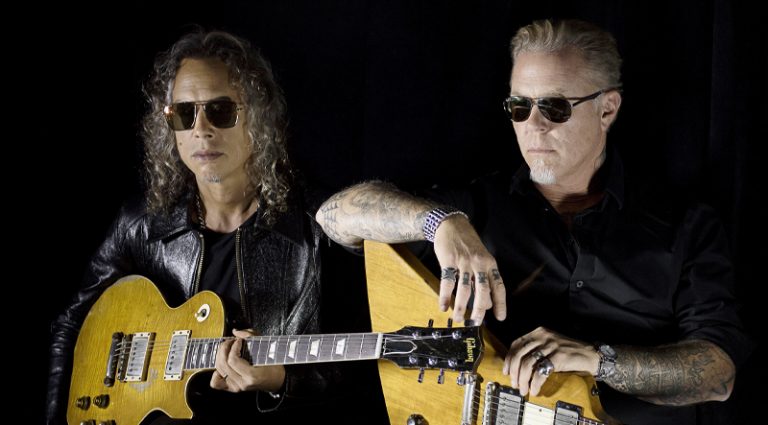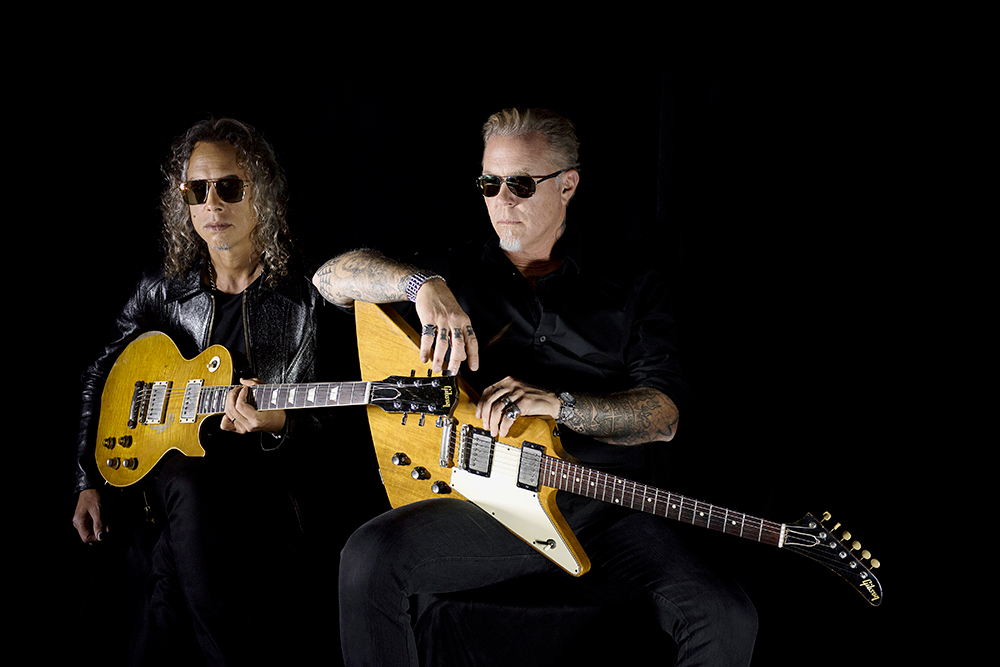 Metallica emerged as the antithesis to corporate rock and the "hair metal" that dominated L.A.'s Sunset Strip in the '80s. Proudly separated from that scene, the band often famously ventured from its home base in the Bay Area to inject SoCal with doses of real metal.
By the '90s, the band stood alone as the only metal (thrash, not heavy!) band too big to be quelled by the grunge steamroll that crushed the genre. As power-pop and proto-punk then turned the tables, Metallica remained a force by holding tight to a musical M.O. that simultaneously reinforced its standing amongst loyal fans and brought new ones to the fold. In November of 2016, the band released Hardwired… to Self-Destruct, it's 10th studio effort, first in eight years, and first on its own label. In testament to its staying power, the double disc set became the band's sixth consecutive studio album to debut at #1 on Billboard's Top 200 in the U.S. (it also reached the top spot in 56 other countries) and to date has sold more than three million copies.
Lyrically, Hardwired… is a mix of old-school Metallica in the way it calls to task the music industry and addresses drug addiction. In other ways, it's topical, as with "Dream No More," an ode to original bassist Cliff Burton, and "Murder One," written in honor of late Motorhead singer/bassist Lemmy Kilmister. For better or worse, the disc drew a lot of critical comparison to the band's early work, a fact (sort of) bemoaned by guitarist Kirk Hammett.
"There was a lot of comparing Hardwired to Ride the Lightning and the 'black album'," he said. "But I realized long ago that people see and hear things the way they want. You make an album, put it out, and don't try to predict what people are gonna say. Hope for the best, but brace yourself."
We spoke with Hammett and frontman James Hetfield during the first half of Metallica's European tour, which will resume in February and where, night after night, they stage two of the most valuable guitars on planet Earth.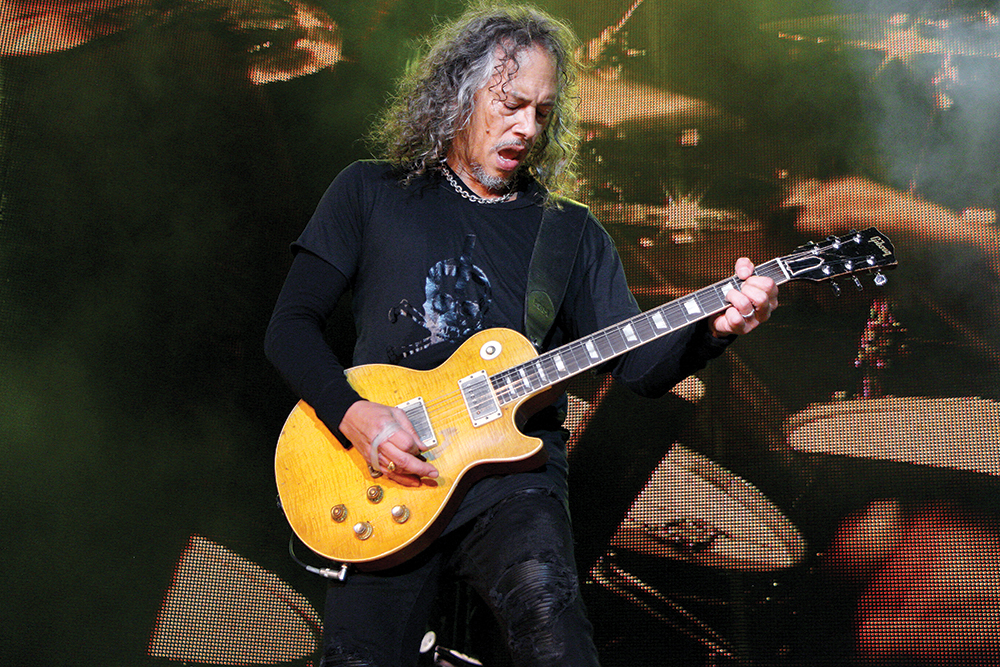 Kirk Hammett
What first drew your attention to a guitar?
Seeing a documentary about Jimi Hendrix, where he sits on a stool, playing a Zemaitis 12-string, I decided, "That's it. I'm getting a guitar." (Ed. Note: the 1973 film was titled Jimi Hendrix and the guitar is now at the Rock and Roll Hall of Fame). I traded $10 and a Kiss album to a friend for a Montgomery Ward guitar with an amp that was the size of a jukebox. I was on my way (laughs).
What were your first licks?
I tried to pick out bits and pieces of solos by Hendrix, Jimmy Page, and Jeff Beck – the simpler, more melodic stuff. The very first song I learned was "Purple Haze." I picked out parts of Page solos from The Song Remains the Same because I was listening to it day in and day out. I learned a lot of the simpler Zeppelin riffs, like "Dazed and Confused" and "Communication Breakdown."But from the get-go I was able to improvise. I'd only been playing for about two weeks when I formed a band with friends; one decided to play bass, another decided to sing, and we knew a guy who'd been playing drums for three or four years. I was always the lead player, even when I could barely play a song. Within the first couple months, we did 20-minute versions of "Purple Haze" with me in the middle trying to come up with some sort of solo; I'm sure it sounded like garbage. Thankfully, no one recorded it!

Were there influences beyond Hendrix, Page, and Beck?
Yeah, my main influences are mostly British and German guys – Michael Schenker and Uli Roth – and American guys like Ronnie Montrose, Pat Travers, Eddie Van Halen, and the guys from Aerosmith. I gravitated to anything that had a lot of energy and aggression and heaviness. I remember listening to the radio one day and realizing I how much liked loud drums, heavy guitar, power chords, and riffs. And I didn't like that Talking Heads s**t (laughs). Hard rock felt best deep inside my soul. It was fun, it was exciting, it kept my interest. I wanted to explore it, and I had something of a vision. Looking back, I'm surprised at how many decisions I made, as a 15-year-old kid, that ended up being right for me.
Were you into gear at the time?
Always – even when I couldn't afford any. A friend and I would hang out at Guitar Center, pretending we were checking out guitars but really we were waiting for cool players to come in so we could watch 'em. I'd go to the counter and look at effects, thinking, "One of these days…" I remember having $50 to my name, and I used it to buy a wah pedal. That set me on a course. I discovered the Tube Screamer when I was 16, and I lusted after Marshall amps and Flying V guitars. When I began to buy better gear, the first thing I got was a Flying V and a Marshall half-stack, which I bought with money from washing dishes at a country club.
What year was the V?
'78 or '79. I was aware of what was out there because I used to read guitar magazines cover to cover. That's how I became aware of active pickups; I got a DiMarzio Super 2 and decided,"Wow, pickups are where it's at, man. That's where we can get a heavier, more aggressive sound." I also saw an ad for EMG pickups, and as soon as I get enough money, in late 1984 I put them in my Flying V. It was like a new guitar. I couldn't believe it.
When we got signed to Electra and they gave us a bit of an advance to buy better gear, the first thing James and I did was go to Mesa-Boogie. The newest amp they had was the Mark IIC. The combination of EMG pickups and Mesa amps solidified the Metallica guitar sound on albums from Master of Puppets on.
You eventually became one of the higher-profile "superstrat" players…
Being way into Beck and Hendrix, I first got a Japanese Strat, but I struggled with the single-coil sound. So, I put an EMG double-coil in it, and it was great. I entertained the idea of routing it for a humbucker in the neck position, but then a friend said, "Check out these guys at ESP, they'll build whatever you want."
So I went for a Strat shape, two humbuckers, and a neck-through because Les Claypool was always going on about how great his Warwick bass was because it was neck-through. I asked ESP, "Can I get a neck-through with two EMGs and a Floyd Rose?" They said, "Sure." We did a few other changes like neck dimensions.

How long after did your love of monster movies merge with a guitar?
When I asked ESP for a skull-and-crossbones fretboard inlay at a time hardly anyone was doing that. Later, when ESP added a custom shop in '94  or '95, they asked if I wanted to do more crazy stuff. So I had them put different graphics on my guitars, and they built a few wacky ones like one with a Theremin in it, and the Wavecaster has a plexiglass body filled with blue oil to make it look like the ocean.
When did the first "monster" guitar happen?
I'd been into monster movies and horror since I was five or six years old, and while working with ESP, I acquired this incredible poster for the 1932 film The Mummy. So I took a bunch of pictures of it, cut them up, taped them to a blank guitar body, and sent a picture to ESP asking, "Can you do this?" It took them a year or so, but it was breathtaking. And it just so happened the elements came together in that guitar – the neck had the third set of dimensions I gave ESP for the KH neck, which is probably the best version. I loved the way it looked, and when I plugged it in, it sounded better than a lot of my other guitars. ESP hit it out of the park with The Mummy, which opened the gates for a bunch more. And we're still making 'em, man.
Was there a point where you went from being a guy with a lot of guitars to having a collection?
I've been "collecting" guitars since '88 or '89, and it started with a trip to Pete's Guitars, in Minneapolis. Pete Alenov was a good friend, and every time we were there, I'd leave with the greatest stuff. I love old Strats, old Teles, old Les Pauls, Flying Vs, Explorers, ES-335s, 295s, Super 400s and acoustics like J-45s and Martin D-18s and 28s.
You've been touring with a pretty special Les Paul…
Yeah, the Peter Green/Gary Moore guitar. Greeny found me… a dealer in England called and said, "Hey I got this guitar." And I said, "Bring it over." I plugged it in, and it sounded incredible. So we worked a deal. I've been collecting Les Paul Standards for a while and have five or six of 'em; I've been playing 'em in the studio since Load and Reload.
Word is you enjoy letting guitar players who know the story of the guitar sit and play it.
Yeah, anyone who knows what that guitar is can play it. If you're a fan of Peter Green or Gary Moore, I'll say, "Hey, check this out!" and let them sit with it for a half-hour. Play their guts out. It's an amazingly cathartic instrument, almost like f***ing Excalibur, man. It brings out the best in anyone who plays it. I just crack a smile; I can't help it because I know they're experiencing something they'll never forget.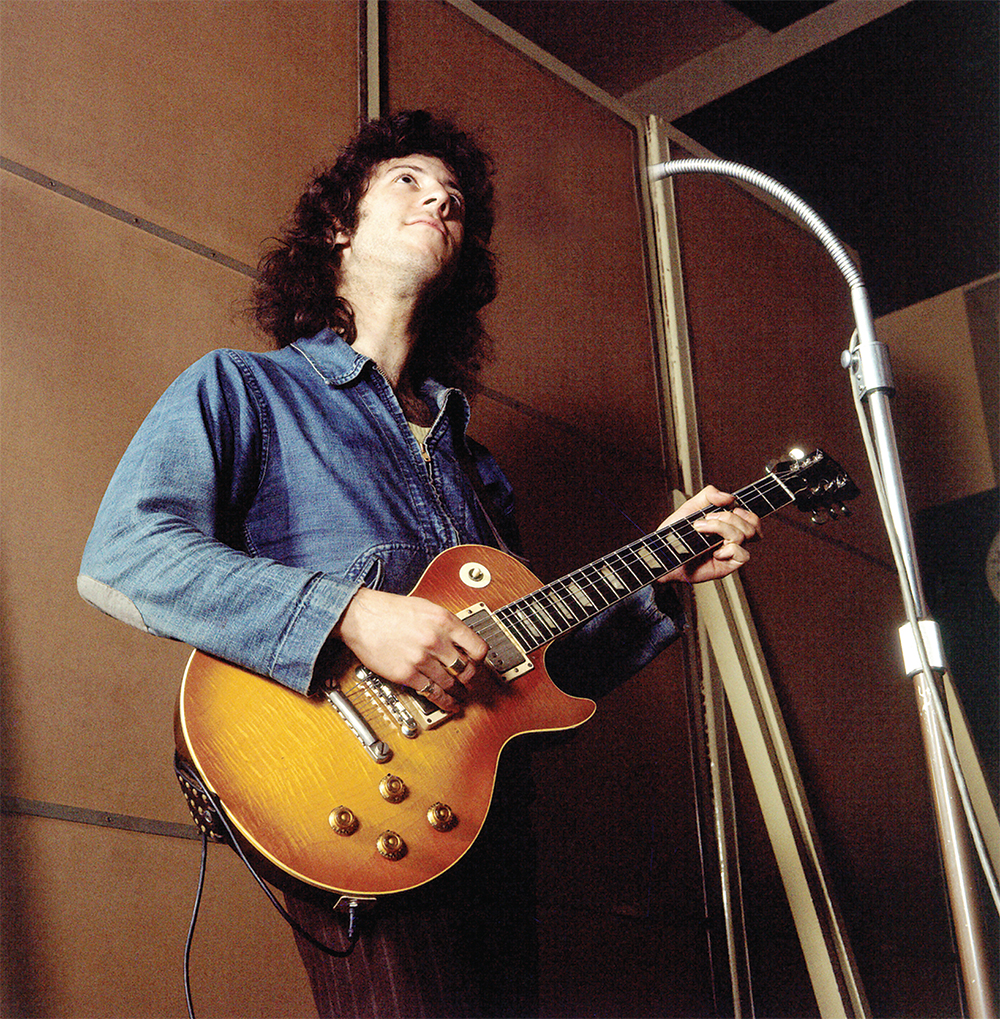 What are some other highlights from the collection?
Uh, I have some really crazy Strats. One of my favorites is a '64 in Sea Foam Green that I thought I might've lost in the Sonoma-Napa fires. But I was lucky enough to evacuate with it.
Did you lose any gear in those fires?
No, thankfully the fire stopped at my front gate – literally.
Whoa. Anyway, you were saying….
Yeah. I love L-series Strats with rosewood fretboards and maple necks. I also really dig '56 Strats because of the neck – it has a V shape, but not exaggerated. I love transitional Strats from '66/'67 because they had some crazy colors. I have a korina Strat.
There's only a handful of those. What was the first piece you paid crazy collector prices for?
The Sea Foam Green Strat; I paid $3,000 for it in 1991, which was a f***in' lot of money, man (laughs)! But I'm never gonna sell that thing, and I've been offered six figures for it.
Have you ever used it to record?
Yeah, I used it on the riff and solo on "Fuel."
Are there other Metallica tracks on which we hear your vintage instruments?
I used a korina V on the solo for "Fixxxer," on Reload. Most of the lead stuff on the new album, Hardwired, was done with Greeny 'cause it's such an amazing lead-sound guitar. I played Les Paul Standards all over Load, Reload, St. Anger, Death Magnetic. I have a blond front-loader Tele that sounds amazing – '57 or '58 – and it's all over Death Magnetic. I think it's on Reload, as well.
I have a prototype V – the second or third ever made. It has a black pickguard and a hand-routed body, which is an indication it was a prototype because they didn't use the routing machine because it wasn't calibrated.
Where'd you find it?
A dealer in L.A. had been sitting on it for years. It sounds f***ing great. It's amazing. I also have an old Explorer… I just had to 'cause I'm a "collector." (laughs)
Speaking of '58 Explorers, did you help James get his?
Well, the guy I got my Explorer from had three or four of them. I said to James, "Hey, this is the guy." And of course James knows a good opportunity when he sees it. So he left with it. We both have "the pair" of korinas – a korina Explorer and a V. That's what we like to call them. He has a pair, I have a pair. I might have two Korina Vs, I'm not sure (laughs).
You know how ridiculous that sounds, right?
But check this out, though; I'd wanted a korina V back in 1978, when I'd only been playing for six months. That price tag of $2,500 was unreachable then. But now… oh, boy.
Has James always been into gear?
Yeah, he's always had an interest in vintage guitars and recognized how cool they are. It's hard not to be when you're a dedicated player.
Were you with him when he got the '58 Explorer?
Yeah, the guy brought it to a gig, and usually when people bring guitars to gigs, him and I go off in the corner and have a discussion to see what angles we can use to work a deal.
How does his collection compare to yours?
He collects different Fenders; I collect more Strats, he's more into Teles and whatnot. But we both love Les Pauls, Flying Vs, Explorers. I love '60s Explorers. I think they're amazing-sounding instruments. I love the nickel parts on 'em; they remind me of my friends hot-rod toys growing up. When I look at that Flying V, it takes me back. I love Medallion Vs and I have a Medallion Firebird, which is pretty rare.
So, you've been taking Greeny out on the road, but how much do you use it?
Just for special songs.
It's led an interesting life…
Yeah, its neck has been broken twice and the repair was brutal. I was looking at it one day and asked a friend, "Should I do anything about this?" They were like, "No, don't touch it! It's part of the allure, part of the legend."
Where is the break?
Right at the head. It was broken first when Gary Moore's car got rear-ended while it was in the trunk. The second time, it might've just fallen or whatever. But it stays in tune and sounds killer. And you know, so what if it was broken twice? It still is what it is.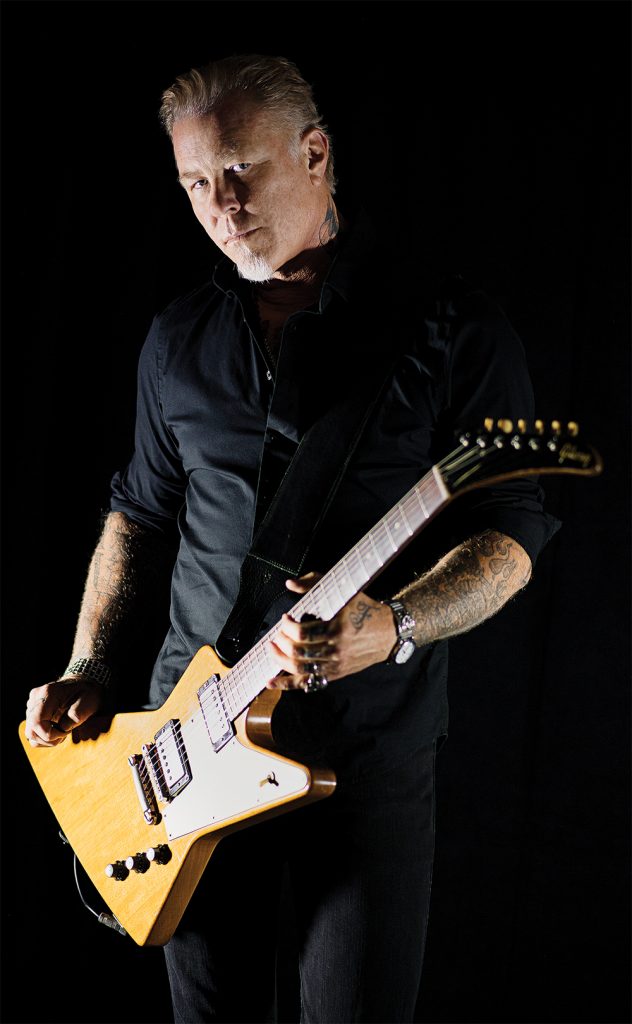 James Hetfield
How did you get into the guitar?
My brothers. I have two older half-brothers and there were always instruments around the house. One was messing around with the guitar and the other was playing drums in a band. They were doing cover stuff from the early '70s, late '60s – Hendrix, Jefferson Airplane, "Born to Be Wild." I'd hang out when they practiced in the garage, and just loved the sounds and the smell of amplifiers when they got hot. There was also the fact they were sneaking into the garage after our parents told them, "While we're away, do not practice in the garage." But of course they did. There was an attraction with the rebelliousness. It just felt cool.

Outside of the garage, what were you listening to?
I'd constantly raid my brother's record collection. There was Beatles, Jethro Tull, Black Sabbath, Love, and things like that. But I gravitated to Sabbath. I'd sit and look at album covers, and the riffs would scare me a little. It was awesome… the sound. I liked the heavier, riff-based stuff.
Do you remember the first time you picked up a guitar and tried to play something?
I do. It was a terrible acoustic that sat around the house. I'd pluck on it even before I knew to press on the fretboard to make a note; "How do they do this?" But watching my brother's band or seeing a picture of someone with a guitar, it was like, "Oh, he's making shapes…"
Did you start learning riffs on it?
Yes. My buddy in junior high had an acoustic, too, and we started learning around the same time. We'd show up with new knowledge; "Hey look at this." We were learning from and trying to be better than each other, which was a very good, healthy competition.
What was your first electric guitar?
I had a swap-meet special – five bucks for this off-brand with a log neck and action that was half an inch high. It was near impossible to play, and I painted it probably 10 times; at some point it even had Van Halen stripes. But the shape just wasn't cool, so I convinced my mom to buy a '68 SG being sold by a guy in the Downey High jazz band. I'd gotten into AC/DC by then, and thought the SG was what I needed – a real guitar. So, she fronted me the $200.
Were you playing in a band by then?
Yeah. I think it was my sophomore year of high school. We had a band called Obsession, and played probably 40 cover songs – Black Sabbath to Led Zeppelin to Deep Purple, Robin Trower, Cream, Thin Lizzy. We played three or four high school parties.
What amps did you use?
My brother had a Sears Silvertone that I "procured." He and I built a speaker cab for it – I wanted something tall and big, and we recovered the Silvertone. Of course I wish I still had that amp and that we hadn't re-covered it (laughs), but the first real amp I put money down on was a Peavey Deuce. It was cool – had a footswitch so I could pretend I was soloing. Really, it just made me louder than everyone else.
Was the SG still around when Metallica formed?
It was not. I wish it had been, but when I was 16, my mother passed away and I was uprooted. I had to move in with my brother, change schools, and be away from all my friends. It was brutal. But I thought, "I love music. Here's a chance to meet new people and form a band. Everywhere I looked, everyone was looking for a singer, so I thought I had a better chance getting into a band if I was singing. So, I traded the SG for a giant P.A. and a Carvin mixer that I kept in my tiny, tiny bedroom. I flipped it back and forth between singing or playing guitar depending on who needed what in a band. No one was a good enough singer or no one was a rhythm-guitar player, so I ended up doing both anyway.
When Metallica formed, what were you playing?
An Electra Flying V – made in Asia and with a bolt-on neck. All I cared about was that Michael Schenker played a V, and I wanted to be Michael Schenker. I painted it white.
Were you playing a Marshall amp at the time?
Yeah, and I'm not sure where the head came from; I saved for it or had some inheritance. I bought a Marshall cabinet from George Lynch. I didn't know who he was, but he was advertising it, so I picked it up at his studio in Hollywood. I had a half-stack and my Flying V, so I was pretty happy.
As Metallica gained momentum, superstrats were becoming popular, but you never got into them.
Strats were never my thing. They were more for lead players. Plus, Schenker didn't have one! The whole Charvel thing was the big deal at the time, and all these L.A. bands were playing them. That was not my scene. Later, I ended up playing a Jackson V, which was one of my first backups. The V and the Explorer shapes interested me. The V was nice and punchy for fast songs and the harmony stuff we were doing. But the Strat, to me, wasn't a cool-enough shape. Plus, everyone had one.
When did your first Explorer come along?
I saw a couple of bands in the Bay Area playing them. I loved the shape, and when I finally played one it fit my body really well. I could play it sitting down or standing up, and it balanced nicely. I also loved the hockey-stick headstock. The first was an '80s model with a black headstock and white body.
Were you like Kirk, replacing pickups right away?
Yeah, and I tried many pickups up in that V – Bill Lawrence to DiMarzios. I think I ended up with Super Distortions. Then, we met Matt from ESP and told him I was interested in an Explorer with a bigger headstock. They were very open to making it, and I started getting more into all the things I could modify. EMG pickups were just coming out, and Mesa Boogie amps. All of this stuff started to come together in developing our sound.
The first guitar ESP made for me was the So What?. I loved it, and it went from my backup into the number one slot really quick.
Was this around the time of Ride The Lightning?
The end of Ride the Lightning toward Master of Puppets. So '85/'86.
And you now have a handful of signature models.
Yeah. I've always loved the Les Paul shape, as well, so we did the Truckster and the Iron Cross. I've since done the V-shaped Snakebite and Vulture with them. Those are the three that feel best on me.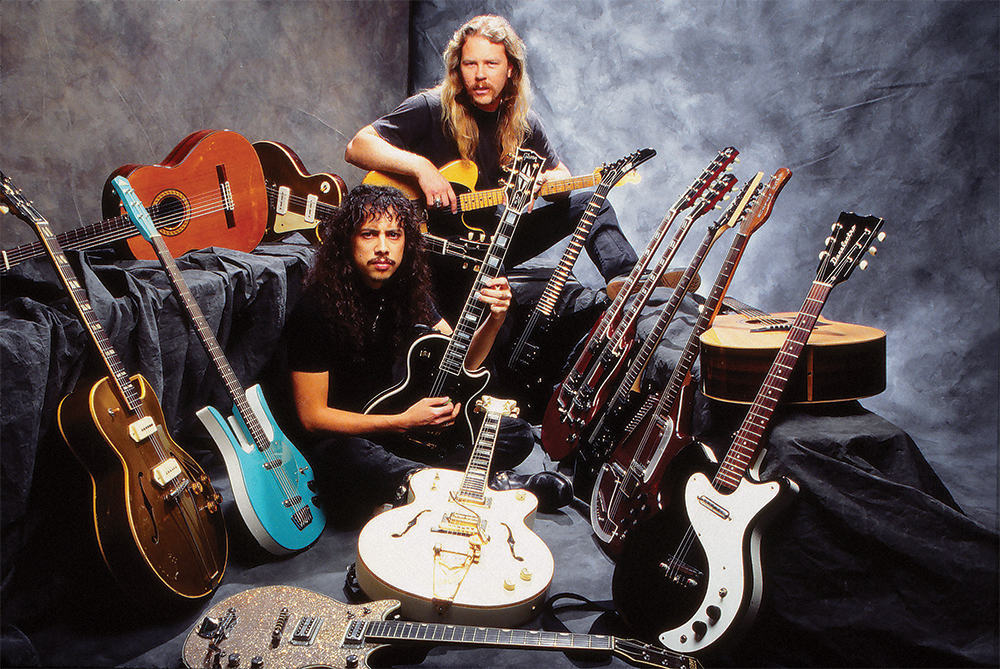 When did collectible/vintage guitars ping your radar?
Once we started having some money, we'd stop in cities and towns on tour and go, "What can we do here? Oh, let's go to a guitar shop." Then it became, "Hey, these guys got this guitar. Somebody's got this." And, people with guitars started showing up at our shows. At that point, I suppose I was collecting. Kirk was a lot more into it than I was, and it was him and [producer] Bob Rock who said, "Hey, you should get one." I remember looking at my first '59 Les Paul Standard and the guy said, "The prices on these are going to go up." He was right. I got one for $25,000 and now it's a lot more than that, obviously.
Were you focused on a particular brand or model?
My first interest was eclectic and weird, out-there stuff that no one else wanted. I liked the unique sounds of Kay guitars and other off-brands. Also, designer brands. I dove in.
There's something magical about getting a guitar that's new to you, even though it's vintage. There's something in a guitar that speaks to you or still has riffs. I put human emotions into it and get human emotions out of it. When I see an old car sitting in a field, I think, "Yeah, maybe it served its purpose, but it still wants to run." A guitar wants to play – there are riffs in it. The excitement of playing it… there's an energy that riffs come out of. I love playing a vintage guitar through an amp for the first time. Something comes alive with it.
You mentioned designer brands. Do you remember the first time you saw an old Zemaitis?
I think it was Keith Richards playing one. I really love artistry – tattoos, scroll work, patterns, Western scrolling, When I saw on one of the Zemaitis V copies, I had to look into it. I eventually got an old one and a new [GZV 500 MF] that Danny O'Brien engraved for me with designs from my tattoos. It's really, really cool.
How about other vintage models?
I have five '59s and one '60 Les Paul Standard, I've got a few '57s. I've got a black three-pickup, a korina V from '58 that matches the Explorer. I also have a Veleno and a few other unique guitars that I really love. I've got a really cool collection of Vs and recently found one in Silver Sky Metallic, which was pretty difficult.
How did you find the '58 Explorer you have on tour?
I'd been looking for one for quite a while. A friend who sets up our guitars and finds stuff for us said, "Hey, there's this pair available – '58 V and Explorer. Are you interested?" I had my guy go look over them with a fine-toothed comb and flashlight. It was no-brainer. It was not the cheapest set I've ever bought, but it's very worth it.
What made you decide it was okay to take it on tour?
Once Kirk started bringing Greeny out on the road, that inspired me to bring the Explorer. Also, going to see Queen; Brian May is a wonderful guy and we were talking backstage when his roadie walked past with a guitar on his back. I said, "Hey, what's that?" He was like, "That's the old boy." It was the guitar that he and his dad built – out on tour. I thought, "Hell, if he can have that out, I can bring the Explorer." Why not?
---
This article originally appeared in VG March 2018 issue. All copyrights are by the author and Vintage Guitar magazine. Unauthorized replication or use is strictly prohibited.