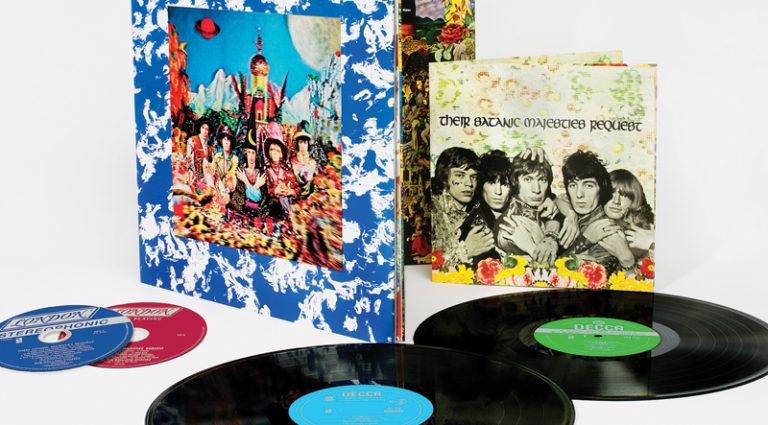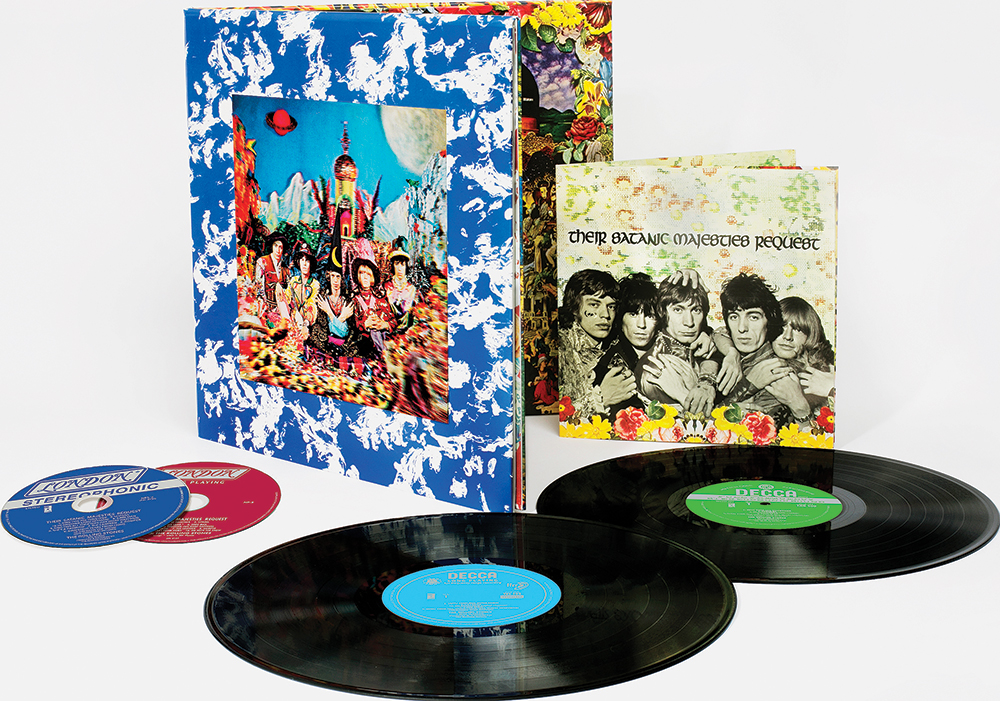 Once reviled as a self-indulgent, drug-addled wreck, the Stones' Their Satanic Majesties Request has been reconsidered in recent years and is now regarded as a one-off gem. Lodged between their early R&B-fueled hits and country-blues revival later in the decade, this LP is a snapshot of 1967 pop – it's messy, whimsical, ridiculous, and at times deliriously fun. To commemorate its 50th anniversary, the set is being reissued with stereo and mono versions of every song, in a variety of formats, from vinyl to hybrid SACD (which play on standard CD players).
One aspect that makes the album so unusual is that it barely rocks, as the Stones were both experimenting with pharmaceuticals and rarely in the studio at the same time. Certainly, it's not the same bad-ass quintet that exploded two years earlier with "(I Can't Get No) Satisfaction." One example, "Sing This All Together (See What Happens)," finds Keith Richards trying to get a groove going on his six-string, but caught between hapless brass lines and heavy percussion.
Conversely, "She's A Rainbow" is a lilting pop classic, aided by sideman Nicky Hopkins' crisp piano and Beatlesque acoustic from Richards. Fellow Stone Brian Jones plays little guitar on the album, making strong contributions on keyboards and other instruments instead. Brian makes his biggest stringed-instrument impact on the madcap "Gomper," playing slide on a Vox Bijou electric dulcimer.
"The Lantern" gives us a glimpse of Richards' fiery guitar licks, complemented by his trademark "Keith strum" on acoustic – indeed, the man's strumming technique is about as singular as his electric style. The majestic "2000 Light Years From Home" is dominated by Keith's menacing fuzz bass and Jones' thick Mellotron strings, sounding more like a cut from the Moody Blues or Syd Barrett-era Pink Floyd.
The most Stones-like rocker here is "Citadel," dominated by Richards' cranked-up chords, laced with heavy amp tremolo. Its stripped-down, aggressive approach foreshadows the '80s underground of R.E.M. or Husker Dü – you might even argue that New Wave and modern-rock began right here.
Perhaps best of all is "In Another Land," a track sung and written by bassist Bill Wyman. It sports tremolo-laced backing vocals from Steve Marriott and Ronnie Lane of the Small Faces, as they were recording down the hallway at Olympic Studios (Marriott also plays some 12-string acoustic). It's quintessential Brit-pop from that year.
Ultimately, Satanic Majesties may be one of the Stones' oddest outings, but it was a studio experiment that, at last, found the band outside its comfort zone. If you like acid-laced '60s psychedelia and don't have it already, this reissue is a good place to begin the trip.
---
This article originally appeared in VG February 2018 issue. All copyrights are by the author and Vintage Guitar magazine. Unauthorized replication or use is strictly prohibited.