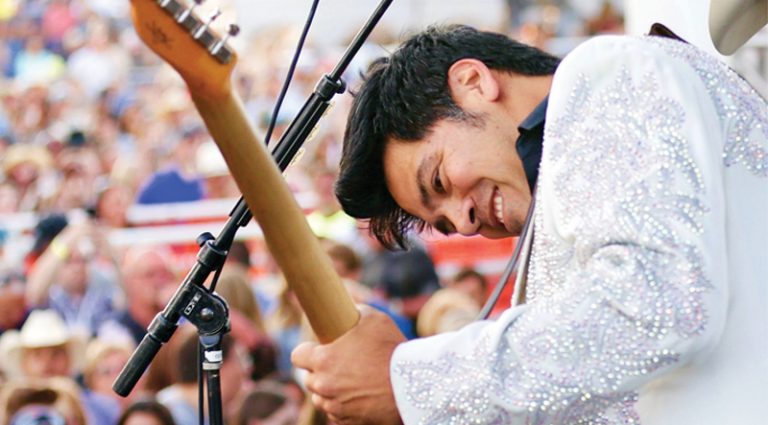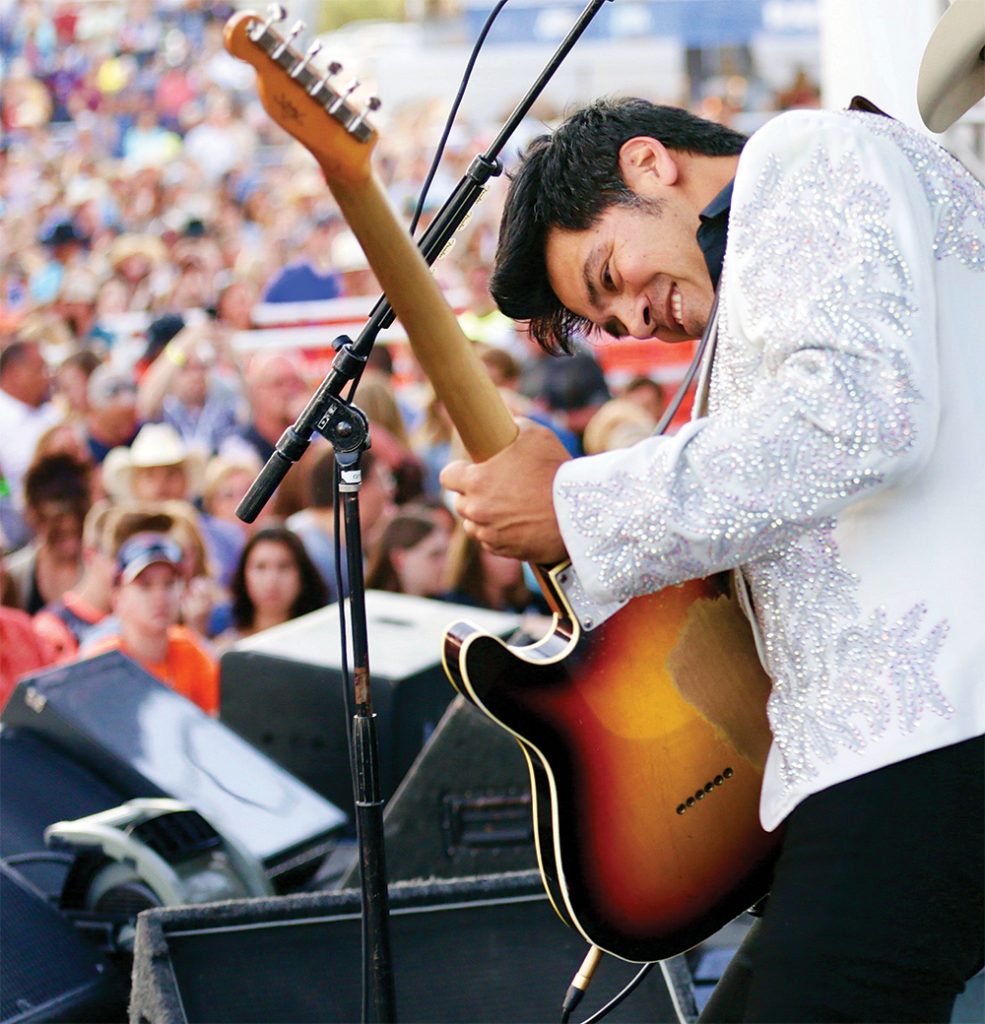 Country music icon Dwight Yoakam employs one of the hardest-working bands on the road today. A quintet including Yoakam, they're keeping alive the outlaw edge of the genre's past. With a take-no-prisoners approach, axe-man Eugene Edwards delivers a barrage of tasty licks spiced by the occasional Pete Townsend windmill while wearing a smile night after night.
"There's no trickery up there; what you see is what you get," Edwards explains. "It's a relatively lean machine when you count bodies, therefore, being adaptable is really important. You have to be willing to pitch in and sing harmony or grab a mandolin or a banjo and take the responsibility of helping Dwight do his catalog for his audience."
Edwards accepted that responsibility in 2012.
"Dwight was mixing his 3 Pears record and his previous guitar player, Eddie Perez, was going back to the Mavericks. My friend, Brian Whelan, was Dwight's utility player at the time and with live dates coming up, they were hoping to find somebody quickly and quietly; Dwight asked Brian if he knew somebody. So I went to the studio and talked to Dwight and there was a couple guitars lying around. We played some old Lefty Frizzell tunes, some Merle, some rockabilly stuff and one or two of Dwight's songs, then he said, 'The first gig's in a couple weeks. We'll get you anything you need to get ready.'"
When taking the stage, they prefer to keep it "all Tele if possible," Edwards said. "My number one guitar is a Fender Custom Shop 1960 reissue in Tobacco Sunburst. It has a rosewood fretboard, which is a preference of mine when playing Dwight's material, and it's very similar to what Pete [Anderson] played with Dwight early on. Then, there's a black '90s American Standard that we put a Bigsby on and updated with a Mastery bridge. We needed something for songs like 'A Thousand Miles Miles From Nowhere' or 'This Time' specifically, where Pete was using a Strat with a lot of the vibrato bar. There's also a blond Telecaster of Dwight's from the early '70s, strung with .13s with a wound G that I use in the portion of the show devoted to Merle Haggard. That music's so bold; you're playing voicings that have the major third on top, which is so much of what makes that Bakersfield thing so badass, so we take measures to make sure that we do it with the respect it deserves, and the heavy strings help with that. I also use a red Epiphone Dwight Trash Casino and a white one with .13s and a wound G. We track a lot with Casinos and we like heavy-gauge strings and the wound G for tone and stability of intonation."
True to the music and his predecessors, Edwards also incorporates a B-bender.
"The main riff in 'Blame the Vain' had a B-bender lick played by Keith Gattis. Dwight asked me, 'You ever use a B-bender?' I said 'No,' and he said, 'I've got one. Take it home and get used to it.'
"The story is that Gene Parsons himself made this one for Dwight and it's the original Clarence White version, so it's a double-wide Tele with that huge rod going through. If Dwight has an idea for a song or we're thinking about what the lead guitar should be doing, the bender ends up being a real go-to."
To deliver his tone, Edwards primarily runs a pair of Fender Deluxe reissues and minimal effects.
"Our amp guru, Bob Dixon, hot-rods them, taking the power tube out of stage one, sending all the juice to stage two and making them really aggressive. Then there's a blackface Super Reverb reissue and a late-'90s, British-made Vox AC30 and the Voodoo Lab Amp Selector to switch in by foot.
"My pedalboard sits back by the amps – that's how little I'm operating it. On constantly is a Wampler Talent Booster for a bit of boost so the Deluxes will cut through. I never pop down on a guitar; it's on 10 the whole time. So, being able to rely on touch for dynamics is huge, and that pedal is really helpful with that. I also use a Wampler Faux Analog Echo Delay and that's on all the time except for 'A Thousand Miles,' where I switch to an MXR Carbon Copy Analog Delay. For tremolo, I use the Danelectro Tuna Melt, and then there's an EP Booster I use when playing the Casino through the Super.
"In the studio I don't use pedals; it's guitars straight into amps. If we want slap-back, we'll use an actual tape machine or an echo chamber. Everything is the real deal. It's tremendous."
---
This article originally appeared in VG February 2018 issue. All copyrights are by the author and Vintage Guitar magazine. Unauthorized replication or use is strictly prohibited.