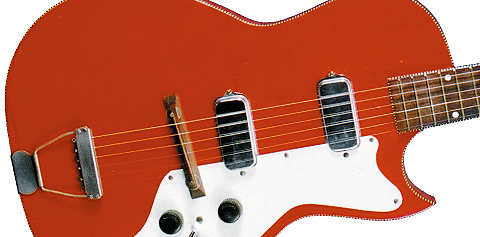 Most guitar aficionados are comfortable with the notion of guitar brands being made by the company of the same name. But when it comes to guitars made by one company and sold by another, we frequently stray out of our comfort zone.
Yet, some of the most significant players in American guitar history never actually shaved a neck or wired in a pickup. Major distributors such as C. Bruno and Buegeleisen & Jacobson sold many guitars made for them by someone else. No one did more for disseminating guitars to Americans than Montgomery Ward and Sears, and they never built one, though Sears did own Harmony for almost 30 years.
Another company that falls into this category is St. Louis Music (SLM). While SLM does some manufacturing (Crate and Ampeg amps), for more than 50 years, this distributor from the banks of the Mississippi River has provided significant numbers of guitars made for them by other manufacturers, including the Kay-built 1962 Custom Kraft Dynamic Color guitar you see here.
SLM was founded in 1922 by a violinist named Bernard Kornblum as an importer of German-made violins. Just when SLM began marketing guitars is unclear, but by January of '55 the distributor was promoting Magnatone Hawaiian lap steel guitars. They also carried guitars by Harmony, Kay, Alamo, Supro, and Rickenbacker. Shortly thereafter, SLM began to sell a limited number of Kay-made acoustic archtops carrying its own brand name – Custom Kraft. This was an interesting choice, since Kay had changed from being Stromberg-Voisinet to Kay using the Kay Kraft brand name in the early 1930s. In mid 1960, SLM added Kay's new Thinline electrics to its offerings. These were single-cutaway, Les-Paul-shaped hollowbodies offered in blond and sunburst finishes.
In 1961, SLM changed orders with Kay and converted its Thinlines to a new series of Custom Kraft Color Dynamic Electric Guitars. Basically, these were identical to their Kay siblings except for being available in cool new colors; the 4153 was the Red Fury in Bright Fire Engine Red, the 4154 was the White Crusader in Pure Snow White, and the 4155 was the Midnight Special in Dazzling Sparkle Black, all listing for $99.95 with a highly polished case, cord, and neck adjustment key. Beyond the names of the colors, these were some of the best model names ever!
The 4153 Red Fury is made of laminated maple with a bolt-on (probably) maple neck. The top and rosewood fingerboard are bound in cool checkerboard celluloid. The single-coil pickups are stock Kay units.
These are decent little guitars with respectable output, perfect for romping through Duane Eddy licks or the "Guitar Boogie Shuffle!" The pickups have that sparkling clarity only a single-coil can deliver. Plus, if you're not as young as you used to be, you'll appreciate the light weight of the hollow body!
The Kay Thinline series was offered through 1965, but SLM's Custom Kraft Dynamic Colors seem to drop from sight after '62. Whether or not they also made it through '65 is not known.
In '63, SLM made the plunge into electric solidbodies, this time with a line of Custom Kraft Ambassadors produced by Valco. This switch is easy to understand: Valco's Supro guitars, from which the Ambassadors were adapted, were way hipper than anything Kay was making at the time. Like the Kay-made Dynamic Colors, these were offered in cool colors. Several Custom Kraft acoustic flat-tops were also introduced.
SLM did not entirely abandon Kay as a supplier, however, as it also added a Kay-made "professional" solidbody called the Custom Kraft Golden Regent, plus another double-cutaway thinline called the Silver Caravelle. In '64, SLM ran a wonderful full-page pop-art ad in The Music Trades for the Valco-made Custom Krafts, which were then identified as the Ambassador model, with testimonial stating, "The IN sound is English… and the 'Liverpool Five' get it with Custom Kraft." Or at least Ken Cox, their lead guitarist did.
SLM's Custom Krafts apparently went into limbo after this, though the firm continued to sell other brands, including Danelectro. This may have had to do with industry realignments involving Kay at the time. In 1966, Seeburg (the jukebox folks) purchased Kay, though this didn't seem to have much effect on the brand. Seeburg must have realized it had bitten off more than it could chew, and in '67 Kay was sold to its rival Valco, effectively bringing together both of SLM's suppliers! In June, 1968, SLM announced new finishes.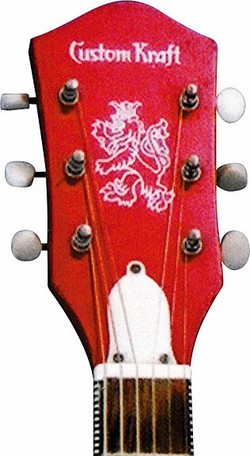 Alas, Valco/Kay bit the dust in August of '68. Curiously enough, SLM introduced its last Custom Krafts, the Mod line, in October. These included the Super Zapp six-string, Saturator 12-string, and Bone Buzzer bass. These were made of Valco parts. Whether Valco finished these before the collapse or delivered the parts for SLM to assemble is unknown. These were the last Custom Krafts. Valco/Kay was auctioned off in 1969.
Interestingly, SLM promoted its final Custom Krafts as being "all hand-made in America." This was, no doubt, to distinguish them from the growing numbers of Japanese guitars flooding the market, including some sold by SLM itself! By around 1967 SLM began importing its first Japanese-made, Burns-inspired solidbodies carrying the Apollo label. These probably lasted only a year or so. In 1968/'69, just as the Valcos and Kays disappeared, SLM introduced more solids with the Electra brand name. These are very rarely seen, which means probably few were brought in. One was modeled after a Hagstrom, and following the introduction of the Ampeg Dan Armstrong "see-through" guitar and bass, SLM was (along with Aria and Ibanez) right there in 1970 with The Electra "copy.
In the '70s, Electra became SLM's flagship brand, offering many excellent guitars, including the famous MPC line with built-in effects that eventually led to Crate amplifiers. SLM's Electra line continued until 1984, when SLM entered a joint venture with Japan's legendary Matsumoku company and changed its brand to Westone. When Matsumoku bit the dust in '88, SLM gathered its electrics under its esteemed acoustic brand name, Alvarez.
So there it is: St. Louis Music. So many great guitars, so many innovations, and never a pin router in the house!
---
This article originally appeared in VG's Aug '07 issue. All copyrights are by the author and Vintage Guitar magazine. Unauthorized replication or use is strictly prohibited.
---
You can receive more great articles like this in our twice-monthly e-mail newsletter, Vintage Guitar Overdrive, FREE from your friends at Vintage Guitar magazine. VG Overdrive also keeps you up-to-date on VG's exclusive product giveaways! CLICK HERE to receive the FREE Vintage Guitar Overdrive.