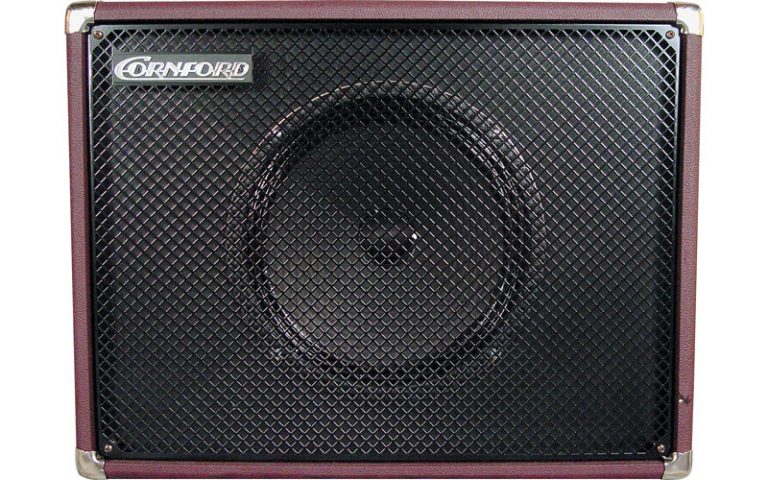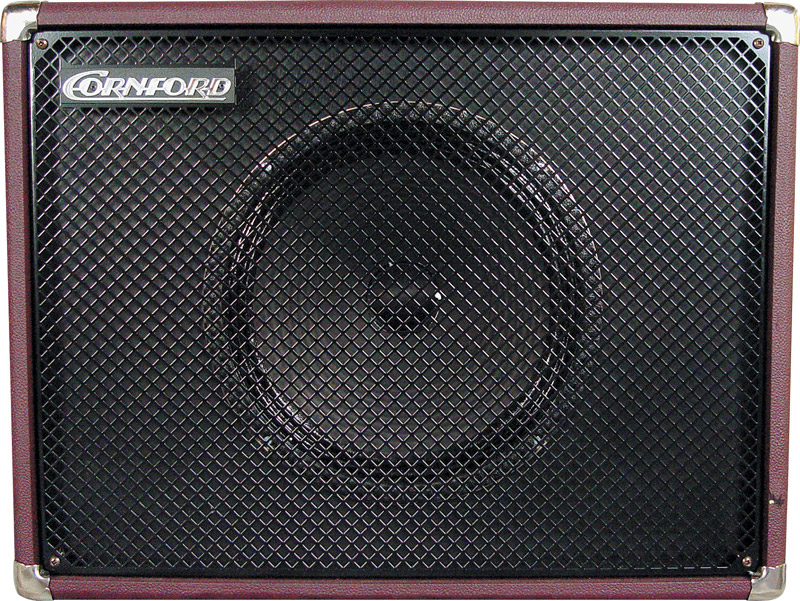 Since its introduction, English amp builder Paul Cornford's 6-watt Harlequin recording amp has had a reputation for great sound. Many an all-star Brit player, and notable Yanks like Joe Satriani, have been proudly pictured in-studio with one.
But for those wanting to perhaps stage a tidy little Cornford combo, but thought six watts probably wouldn't cut it, Paul and his minions have worked up another amp.
Enter the Hurricane. A 14-watt, reverb-equipped amp with all of the attributes that have brought acclaim to Cornford Amplification (top-notch components, masterful construction, and bloody good tone), the Hurricane is a more gig-friendly amp, with an tube or two, and a reverb circuit.
The Hurricane features a solid pine, dovetailed cabinet with oxblood-colored tolex and a nine-ply birch baffleboard dadoed into the cabinet sides for rigidity and sonic clarity. All hardware is chrome, and the punched steel grille is powdercoated black. It all adds up to a classy, stout appearance – vintage-looking, but unique in the densely populated world of "boutique" amps.
Inside, the Hurricane features two Sovtek EL84s (producing 20 watts), four Sovtek 12AX7s and high-quality caps and resistors, all hand-wired, and not on printed circuit boards (PCBs). Instantly, you're impressed by the fact the Hurricane looks like it might be able to survive a hurricane, with its hardware secured with nylon-insert lock nuts, welded steel chassis mounted with large bolts, and the porcelain tube sockets. In other words, everything in this amp is made and assembled to last for years, even if you gig heavily.
A single Celestion Vintage 30 and an Accutronics reverb tank with gold-plated RCA cables fill out the spec sheet. And Cornford also makes it a point to tell potential customers that it doesn't use oscilloscopes to figure out good tone, relying instead on the builders' ears.
The Hurricane's controls are top-mounted and include gain, reverb, bass, middle, treble and master. Jacks include hi and low inputs, effects send and return on the top, and 4- and 8-ohm speaker outputs, along with a reverb footswitch jack on the bottom.
Play Like the Wind
To test the Hurricane, we used a Hamer Studio with Seymour Duncan Antiquities, and a '79 Fender Stratocaster. The Hurricane is a single-channel amp, so cleaning or dirtying up the tone is a function of manipulating the gain control on the amp, or the guitar's volume control. With the gain control down and the master up, we were able to get a very respectable clean sound – a little dark, but still very usable. The amp's best overall clean sound was produced via the Strat – full, fat tone with some edge on the high-end. It cut through quite well.
As we turned up the gain, the Hurricane started to live up to its name; overdrive was abundant – very crunchy, with a lot of midrange bite.
When we turned up the master volume and started to work the two EL84s, the amp really started to scream, producing a big, fat tone with tons of sustain. The amp reacted well to our touch, noticeably more so than a lot of other tube amps; there's a strong "extension of your playing" vibe to the Hurricane.
With the Hamer, we got even more sustain and overdrive, with punchy mids, but the amp never threatened to blow into Mushville or Oversaturationland. And again, the reverb was dark and rich, and never obtrusive – the circuit is definitely voiced for overdriven tones.
And if you're thinking, "Yeah, it sounds good and all. But I gig. Is a 20-watter enough?" Fear not – the Hurricane can blow plenty hard; more than enough for studio/rehearsal work, and plenty for gigging. – Phil Feser/Bob TeKippe
---
Conford Hurricane
Type of Amp All-tube Class A.
Features Point-to-point wired, all-tube class A circuits, 20 watts of output, dual EL84 power tubes.
Price $2,595 (retail).
Contact Cornford Amplification, 48 Joseph Wilson Industrial Estate, Millstrood Road, Whitstable, Kent, CT5 3PS, www.corn fordamps.com.
---
This article originally appeared in VG's February 2004 issue. All copyrights are by the author and Vintage Guitar magazine. Unauthorized replication or use is strictly prohibited.