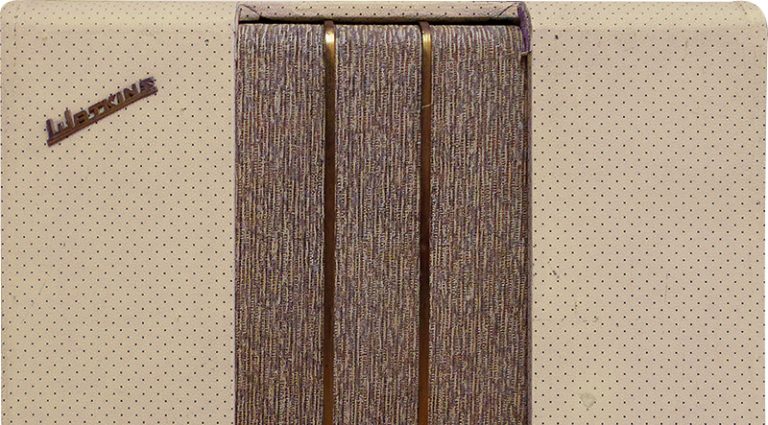 The hokey, amphetamine-tempo'd folk music known as "skiffle" was all the rage with Britain's youth in 1955, and rock and roll barely yet a glimmer in the collective eye, when this outrageously stylish Watkins Clubman hit the scene.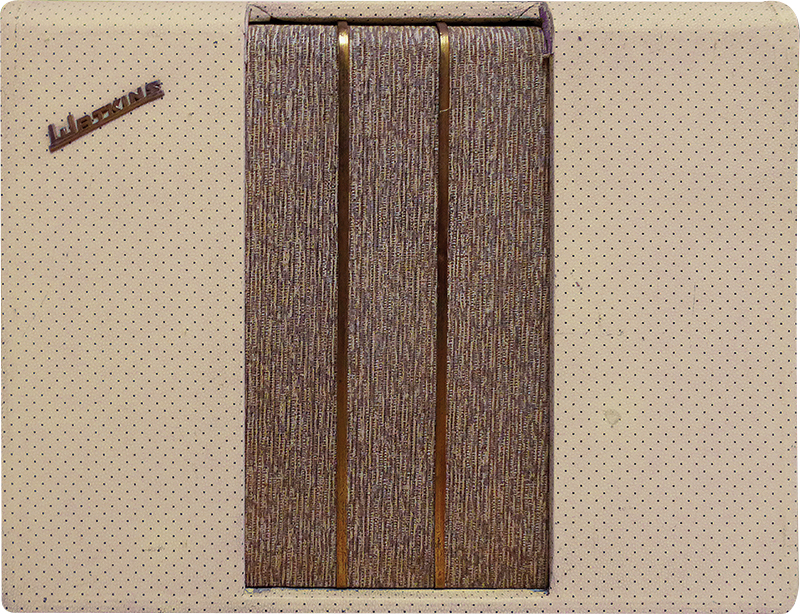 Admittedly, the Clubman's chintzy, pre-rock aesthetic is a big part of what makes it so appealing. Dubbed the "Odeon style" for the way its face and vertically-oriented speaker grille echoed the art-deco look of Odeon cinemas, this short-lived rendition of one of Watkins' long-running early combos would have been many guitarists' introduction to amplification, and today remains a nifty studio amp (and short-money collectible). Studio amp… this little chunk of candy-coated sweetness? Indeed, before passing into the hands of a British collector, this early Clubman was for years one of the tone tools at Toe Rag Studios, an East London recording facility that remains proudly analog in the face of a digital world and counts among its clientele White Stripes, James Hunter, Madness, Supergrass, The Kills, and other notable artists.
To fully assess the Clubman's place in history, it's worth noting that Watkins was in the game a few years before the arrival of Jennings Musical Instruments' fledgling Vox combos, and had dipped a toe in the amplifier market as early as 1952 – though that toe was pulled out quickly thanks to a figurative toaster tossed into the water.
Long before Tom Jennings (then an accordion and organ manufacturer) began thinking about electric guitars, another accordionist by the name of Charlie Watkins was seeing the potential in the new instrument. After returning from service in the Merchant Navy, Watkins – a native of Balham, in Southeast London – for a time made a living playing accordion in small outfits. As with so many musicians, however, he eventually saw the need for a "proper job," and in 1949 opened a record shop with his brother, Reg, in London's Tooting Market. After moving to a slightly larger premises in '51, they began selling accordions and other instruments; Charlie saw the guitar's potential, but despaired at fellow musicians' inability to be heard amid the noise of horns and accordions. As he told Gary Cooper in Sound On Sound magazine after Watkins' death in 2015, "I thought, 'I've put up with that long enough. I can do something… I'll make an amplifier.'"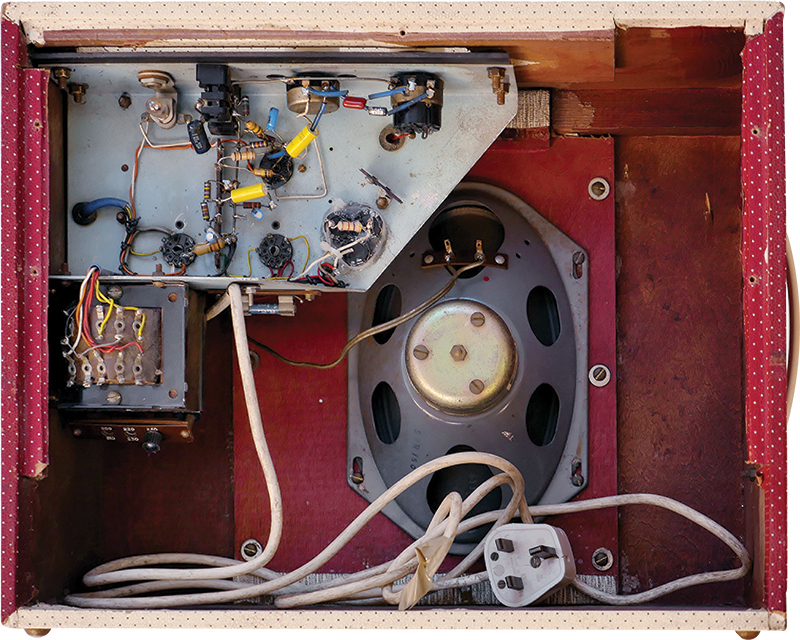 The result, the first Watkins guitar amps from circa 1952, were the combination of power sections from Premier Electronics and in-house preamps cobbled into combo cabinets. Like many other amps of the day, they could run on AC or DC current (both in use in Britain at the time). The duality was a convenience of sorts, but was extremely dangerous – deadly if used incorrectly.
"I'd sold about 20 of them by 1952," Watkins told David Petersen in The Guitar Magazine (UK) in May of 2000. "When one day I saw a piece in the Daily Mirror about a pop-group guitarist getting killed. Being a fatalist, I thought, 'It's bound to be one of my amps' – those AC/DC units were quite dangerous. I sent a telegram to the guy who was making them for me and got him to stop immediately. Somehow I managed to recall all those I'd sold and replaced them with AC-only units."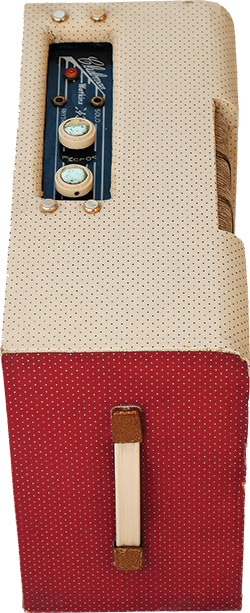 The scare put Watkins off the amplifier game for a time, but one skiffle musician after another kept coming into the shop, and the need remained for a reliable (and louder) electric guitar. Watkins again turned to Premier Electronics and commissioned a dedicated AC-powered combo that would be sold as the Westminster – the first proper Watkins guitar amp.
This combo had two inputs with individual Volume controls, a shared Tone, and pumping approximately 10 watts through its 10″ speaker courtesy of two EL84s. It was soon joined by what would become Watkins' most famous amp, the 17-watt "V-front" Dominator, with two 10″ speakers aiming away from each other for dispersion; and the diminutive Clubman, a "student" amp. The Watkins line was up and running, and these model names would endure for years, even after the brand itself had been changed to WEM (short for Watkins Electric Music) because Charlie liked the catchy branding of the by-then-more-popular Vox amps.
Electronically, Watkins amps were somewhat rough-hewn by the standards of better amps to come (perhaps Watkins' amps, WEM included, were when compared to those of more-prominent makers), but they were among the first British-built amplifiers to fuel the guitar boom, and played a major part in helping skiffle transition into rock and roll. As a rule, they also sounded darn good.
Advertisements of the day billed the Clubman as a six-watt amp, but this single-ended combo with one EL84 more likely put out about four watts RMS at best, not that you'd immediately hear much of a difference. An EF86 preamp tube gives the thing a robust front-end, and its high and low inputs are labelled "Solo" and "Rhythm" to better delineate their potential. The internal photo shows that a few signal and filter capacitors have been replaced to keep it up to snuff, but it is otherwise entirely original, including its elliptical Elac speaker and both transformers (note the exposed connection terminals – do not reach up behind the rear cover when this thing is plugged in!).

Owner Julian Marsh says this particular Clubman sounds wonderful.
"It has a beautifully warm but punchy sound, with huge levels of sustain when cranked up," he said.
By the close of the '50s, Watkins was one of the "big three" British amp makers, alongside Selmer and a rapidly-growing JMI/Vox. This was achieved partly on the back of the proliferation of the Clubman, Westminster, and Dominator models, but also thanks to one of Watkins's other extremely successful creations – the Copicat tape echo unit released in '58. The WEM amps that followed in the late '60s and early '70s are easier to find and remain an even greater vintage-tone bargain thanks to the usual laws of supply and demand. Watkins is where it all started, though, and many will tell you that Charlie's amps never again looked quite as tasty.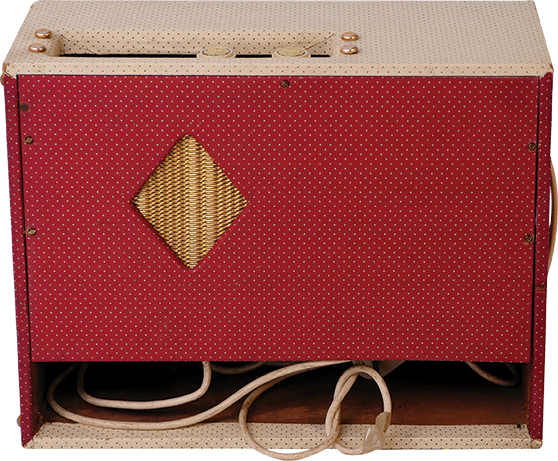 ---
This article originally appeared in VG December 2016 issue. All copyrights are by the author and Vintage Guitar magazine. Unauthorized replication or use is strictly prohibited.
---