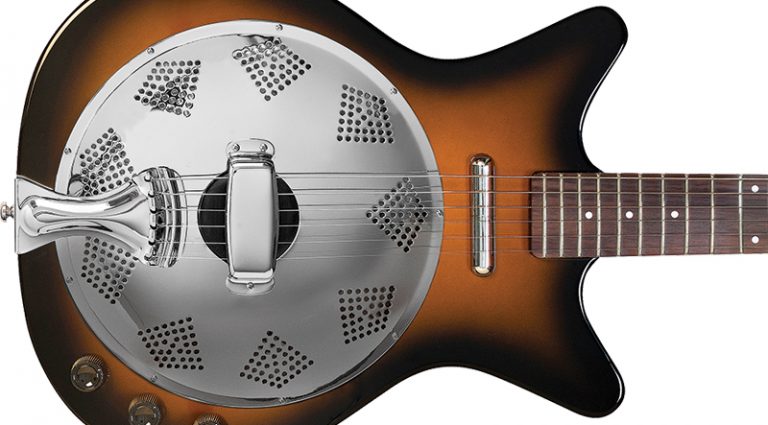 While guitar enthusiasts expend a lot of brain power waxing poetic about tonewoods, for many VG readers of a certain vintage, that gateway experience with an electric guitar may very well have involved a fair amount of Masonite. Of course, Danelectro and any of its once-ubiquitous "catalog brands" made ample use of the pressure-molded fiberboard.
Perhaps it was only the power of suggestion, then, that blew a brief whiff of Masonite into the room as this Danelectro '59 Resonator was unpacked. Rather than Masonite, today's Dano uses modern, environmentally friendly MDF (medium-density fiberboard) as the bread in its wood-frame sandwich.
Tricked out with the familiar Dano "Coke bottle" headstock, polished aluminum nut, and vintage-style tuners, this modern interpretation of the classic 1959 Dano double-cut shorthorn features a spun cone biscuit resonator, diamond cover plate, stamped tailpiece, and Danelectro's '56 lipstick pickup. Three knobs determine volume, tone, and the blend of the lipstick with a Schatten "special design" piezo mounted in the resonator cone assembly.
The 21-fret Canadian maple bolt-on neck with rosewood board is an accessible modern carve, with the fingerboard edges nicely rolled over for a comfortable feel. The truss-rod adjustment at the headstock is attached with four countersunk screws. The glossy finish, polished fretwork, and easy setup mean a solid fit and finish for the fussy, but there's also character galore for vintage freaks seeking that '60s aura in a modern axe.
There wasn't enough acoustic volume from the hollowbody '59 Reso for effective front-porch jamming (no soundholes!), but plenty for hotel room practice without rattling the neighbors. Easy playability was enhanced by light-gauge strings (including an unwound G with satisfactory intonation). The string height was conducive to fluid electric playing, but bottleneck and acoustic styles begged for heavier wire and a higher action for a harder attack – all quick work for a competent repair person.
Plugged in through the house PA at a folk/blues duo gig, the '59 Resonator was played with bare fingers and a stout plectrum underneath a National resonator mandolin. The first impression was of the extraordinary balance between the piezo and the lipstick. The center detent on the Blend knob proved to be the sweet spot, which made it easy to find a variety of good acoustic resonator sounds for blues and Americana styles in various tunings. The Tone knob was crucial for obtaining a spectrum of voices, from brittle tin pan to dark and gloomy. Percussive effects and slide guitar string noise were accentuated by the piezo, making the Blend knob useful for dialing in just enough lipstick pickup for quieter performance and added sustain.
Through a late-'50s Ampeg Jet, the lipstick was round and warm but lacked the raw attack one might want for blues and related styles. Bleeding in just a little piezo and opening up the Tone knob added the needed edge. Stomping in an overdrive pedal led to mixed results – too much piezo, and high-end feedback became excessive.
Soloing with the lipstick alone while working the Tone knob achieved a classic "woman tone" and allowed the acoustic nature of the body/resonator combination to produce a controlled midrange feedback from the overdriven repro Jensen speaker. Remarkable effects were created by suddenly kicking in the piezo on a sustained note – shrieks and whistles were rendered musical with a little finesse on the Blend knob. Bill Frisell, Marc Ribot, sonic improvisers: take note.
The Danelectro '59 Resonator isn't exactly your Masonite sandwich of yesteryear. And while it exhibits many of the sonic traits of those now-desirable classics, it also offers modern improvements.
---
This article originally appeared in VG December 2016 issue. All copyrights are by the author and Vintage Guitar magazine. Unauthorized replication or use is strictly prohibited.
---