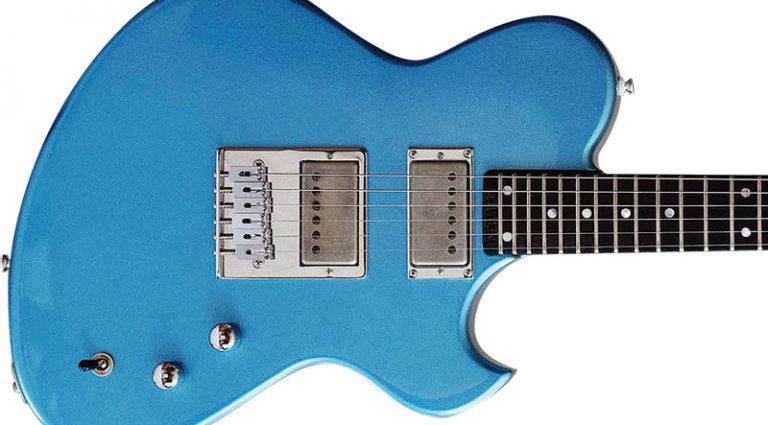 Excitement at the arrival of this offset beauty was dampened by the sad news that its creator had passed away July 1. Ted Newman Jones was known for building guitars in the 1970s for Keith Richards, who helped finance the workshop where Ted crafted customs for a who's-who of players. While Newman arguably gained most of his notoriety with the five-string open-G models he built for Keef, there's no mistaking the in-hand appeal of any Newman.
The Lake Placid's stunning finish covers a solid, swamp ash body shaped like a cross between a Jaguar and a melted Les Paul, with a single cutaway and a drooping lower bout. The curly ash neck has gorgeous cross-hatching in the grain, visible from certain angles, and is topped with an ebony fingerboard. The headstock, also in ebony, features the cool invertible Newman logo set in mother-of-pearl, like the dot inlays.
Design choices are so tastefully understated you don't quite realize the motherlode of character and range you have on your hands until the guitar is plugged in. It's responsive to a nuanced touch and roars when muscled. And despite the dual-humbucker setup, the tone is clearly in the Tele family. The guitar has an exceptional vocal quality for lead lines, marked by a pleasing nasal resonance. With the Treble rolled back just enough for low-string notes to cut through, double-stops to hum, and high notes to open a conversation, the neck position proved a favorite lead setting. The punch of a cranky, overdriven Stones riff is immediately available in the bridge position, and chords chime brightly in the middle.
In all three positions, the Newman occupies the right midrange zone to sit well in a mix – a quality that should be common among electric guitars but is not. A treble-bleed circuit helps maintain balance by filtering bass frequencies as volume is reduced.
While tone woods and construction have their influence on the Newman's sound, a hat tip is definitely warranted to the Jimmy Wallace PAF humbuckers. Voiced to emulate vintage '50s and '60s tones, the PAFs have a relatively low resistance for humbuckers (7.2k in the neck, 8.4k bridge), which accounts in part for how 'buckers could have the growl and rasp of a Tele setup. Wallace is so dedicated to a faithful reproduction of the early humbucker, right down to the butyrate bobbins, that he says his hand-wound PAF "not only sounds and looks like the original pickup, but smells like one, too!"
A signature of Ted's instruments has long been his asymmetrical neck profile, and it's a dream – a soft V shape with the depth running deepest behind the D and A strings rather than straight down the middle. The carve is subtle and ergonomic; the thumb is supported and the fingers have an easier reach across the strings. It's a substantial bolt-on neck, too – 12″ radius and 24 playable frets along a 24.75″ scale – contributing to tone and sustain. Thanks to the profile, it doesn't feel bulky.
The Hipshot locking tuners and all other hardware are polished chrome (save the distressed PAF covers), which sit handsomely against the blue finish and the ebony. Controls include CTS 500k Volume and Tone pots and a Switchcraft three-way toggle.
The passing of Ted Newman Jones is a loss to guitar lovers and to luthiery, but Newman Guitars will go on as he wished under general manager Jeff Smith and luthier Jacob Harper. And it's difficult to imagine a better testament to that continued legacy than instruments like this Lake Placid Blue.
---
This article originally appeared in VG December 2016 issue. All copyrights are by the author and Vintage Guitar magazine. Unauthorized replication or use is strictly prohibited.
---