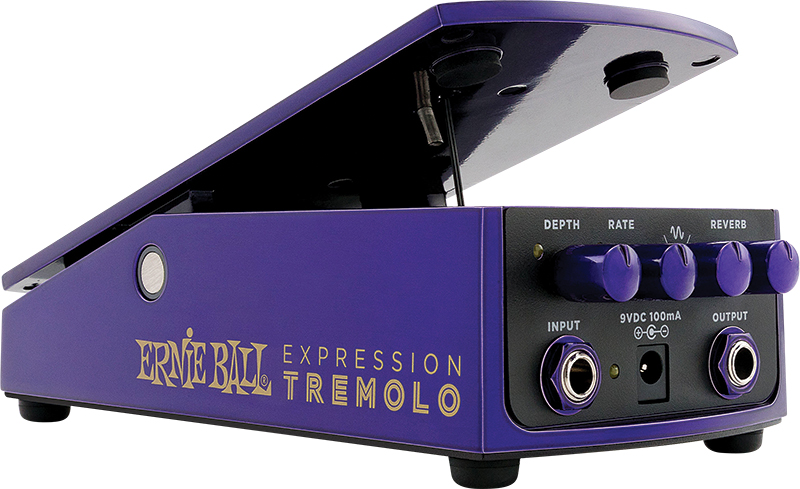 Enter to win a Ernie Ball Expression Tremolo, valued at $300!
The Ernie Ball Expression Tremolo delivers foot-sweepable tremolo control, all without taking your hands off the guitar. Each component was carefully designed for the highest sound quality and performance available. The sleek, compact design maximizes playability, while minimizing the footprint on your pedal board. Unlock a virtually limitless tonal palette that simply can't be matched by traditional "on/off" stompboxes.
The Expression Series' innovative design provides continuous, usable tonal control at your feet throughout the pedal's entire range of motion without coloring your tone. The pedals provide complete signal transparency in the zero position. Plug in and play this versatile new tool and unleash your creative expression.
The sealed aircraft aluminum chassis offers a mechanically and electrically superior experience by protecting internal components from outside elements. Leveraging the 40+ year heritage of our volume pedal, the usability, easy-access controls, and no-slip grip have been incorporated and modernized.

Complete the survey below to enter giveaway.
---
*ELIGIBILITY. VOID WHERE PROHIBITED OR RESTRICTED BY LAW. NO PURCHASE NECESSARY.
One entry per customer. Winners will be drawn at random. Prizes are not transferable or assignable and they are not redeemable for cash. All winners outside the continental United States are responsible for shipping costs. All winners are responsible for the payment of any and all taxes and/or licenses and/or other related local, State, Federal fees that may apply to such winnings. Taxes on prizes are solely the responsibility of the winners. Vintage Guitar magazine reserves the right to replace the advertised prize(s) with a prize of equal or greater value if the advertised prize(s) is/are no longer available. Vintage Guitar reserves the right to identify winners in all VG media.