Enter to win a Seaverb Reverb by Andrew Green Pedals, valued at $160!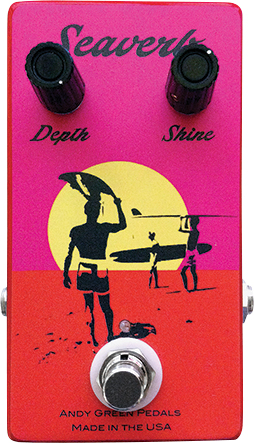 The Seaverb was designed to replace an onboard spring reverb with a quiet stable consistent alternative. Each unit is hand assembled, built with high-end 1% tolerance and hand tested audio parts. We use Wima and Panasonic Capacitors and Vishay-Dale resistors. Every component is tested and cleaned before being soldered to the high quality PCB with Kester solder. The potentiometers are soldered directly to the PCB and the jacks are wired with high quality Mil. Spec. 22 AWG wire. This attention to detail makes the build very clean and durable.
The 2 controls on the enclosure are Depth and Shine.
The depth control adds the amount of reverb needed from barely noticeable to deep spring like reverb.
The shine control is a subtle control and can be compared to the original spring Dwell control. Acting almost as a fine tuning to the amount of reverb that the depth sets. It is NOT a tone control, it does not add or cut treble or bass. It works with decay and the trails.
Inside the enclosure on the top right hand side of the PCB is the internal switch that will add some of the output back into the input giving a larger more cavernous effect. Of course this is best heard when all controls are set at maximum. Moving the switch to the up position will do this. The pedal ships with the switch in the down position for normal medium reverbs.
Power Requirement: 9v (does not support battery)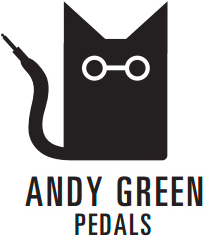 Complete this form to enter giveaway.
---
*ELIGIBILITY. VOID WHERE PROHIBITED OR RESTRICTED BY LAW. NO PURCHASE NECESSARY.
One entry per customer. Winners will be drawn at random. Prizes are not transferable or assignable and they are not redeemable for cash. All winners outside the continental United States are responsible for shipping costs. All winners are responsible for the payment of any and all taxes and/or licenses and/or other related local, State, Federal fees that may apply to such winnings. Taxes on prizes are solely the responsibility of the winners. Vintage Guitar magazine reserves the right to replace the advertised prize(s) with a prize of equal or greater value if the advertised prize(s) is/are no longer available. Vintage Guitar reserves the right to identify winners in all VG media.